Back in 2013 when I had my first taste of Korean food, it was still considered a niche cuisine in the subcontinent. Kolkata didn't have any restaurants and getting your hands on even a pack of ramen was nothing short of impossible. I had my first taste of Kimbap in Delhi. Delhi, unlike Kolkata, has a substantial Korean population and thus, exploring Korean food wasn't as difficult. There was The Shim Tur in Paharganj, Busan in Majnu ka Tila and, if you wanted a beverage to go with it, Kori's in Safdarjung Enclave wasn't a bad idea.
Since then, a number of Korean restaurants have opened up all over India. Kolkata still does not have as many restaurants, but fans of K-Pop and K-Drama have been visiting King's Bakery for a while. The menu is quite concise, but if you are looking for an introduction to Korean cuisine, they have you covered. They offer Kimchi-jjigae (kimchi stew), Doenjang-jjigae (stew made of fermented soyabean paste), Jjajangmyeon (noodles in black bean sauce), Tteokbokki (rice cakes in a red, spicy sauce) and different kinds of Kimbap. These are all good places to start.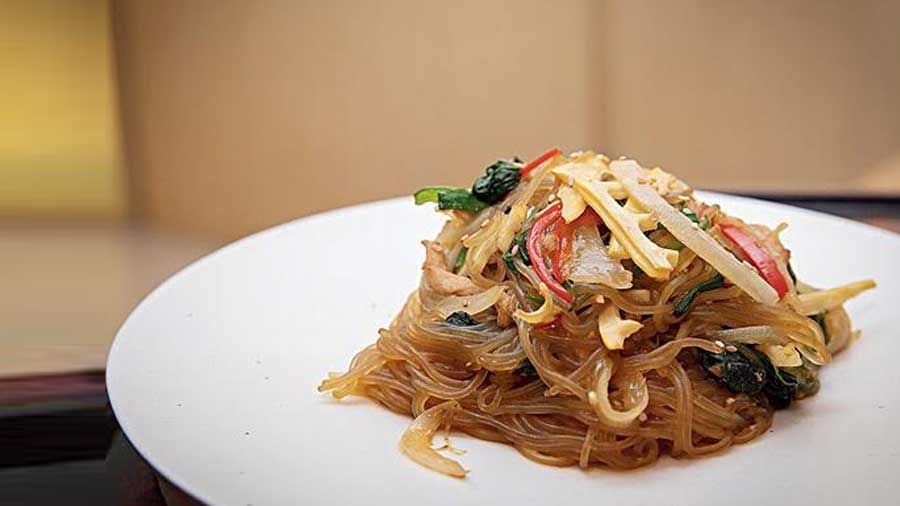 Japchae.
The Telegraph
KOREAN IN THE KITCHEN
But there is only so much you can eat outside. When I first began looking for ingredients to cook Korean food at home, it was quite a task. The shopping site Amazon had — and still does — a basic collection of Korean ramen (it's mostly Buldak Bokkeummyeon, made popular by the Korean fire noodle challenge, that requires a person to consume incredibly spicy food as fast as possible) and the shipping was somewhat hefty. You can find gochujang and doenjang but it is difficult to determine which brands are authentic. It's nearly impossible to find Tteok (rice cake) online and, believe me, I have tried.

Thus, when Seelamart, a Korean grocery store at the back of the AJC Bose Road outlet of King's Bakery, opened recently, I was thrilled. Seelamart already has a store in Delhi and the partners have plans to open up more in Chennai and Pune. But Kolkata, in comparison to the other cities, has a far smaller Korean population — the city does not have any major Korean companies — so a bulk of the customers are Indians. But it does not look like propreitor Seok Jung has any reason to worry. When I visited Seelamart sometime in mid-November, the shelves were quite bare. Most varieties of instant ramen and rice cups were gone and so were a lot of cooking essentials. Snacks and beverages have been pretty popular too, and when I requested for the Honey Butter Chips, Seok Jung graciously agreed to stock them when he can.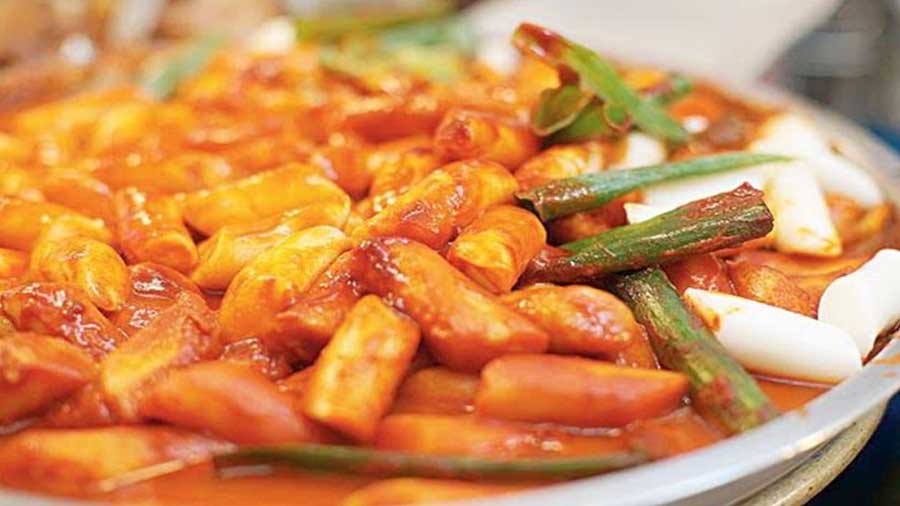 Tteokbokki
The Telegraph
In a city where the Korean population is sparse, Jung himself struggled with finding the right ingredients to cook at home. He would bring certain ingredients from South Korea in bulk but even the produce is not quite the same — lettuce, daikon radish or spring onion are essential to Korean cooking, but are rarely used in Indian food, if at all. Thus, as he says, he had a personal motivation in opening Seelamart.

But there is also a larger vision at play. Jung is aware of the growing interest in Korean cuisine among Indians and he wants to bring authentic products to the customers. When he opened his first outlet in Rajarhat four years ago, he would spend hours explaining to customers what was being put on the table. But these days, customers know exactly what they are looking for and there is little room for hybrid versions. There is a growing interest in the cuisine.
One of the problems, however, can be the size of the products. There is no use for a 1kg packet of Gochugaru (a version of chilli powder) or Jjajang powder (an instant blackbean sauce powder) in an Indian kitchen. Jung recognises the gap and has notified the suppliers. King's Bakery already sells smaller quantities of Gochugaru, Gochujang (hot pepper paste) and Doenjang (soyabean paste), but it remains to be seen if India emerges as a big enough market for companies to cater to these needs.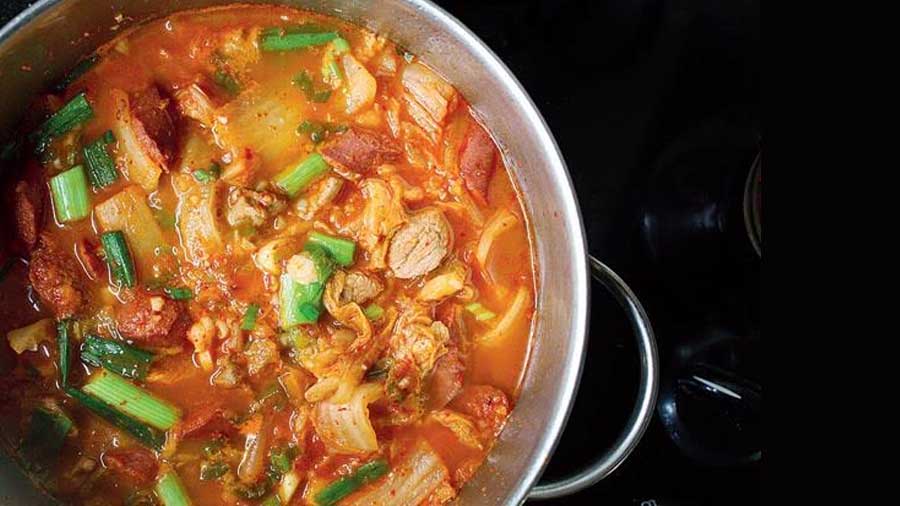 Kimchi Jiggae.
The Telegraph.
KOREAN IN THE KITCHEN
There is plenty to pick up at Seelamart, which will be expanding its stocks very soon. If you want to cook Tteokbokki, kimchi fried rice or even Budae Jjigae (a Korean fusion stew) you can head to Seelamart.

For those interested in exploring Korean food in Kolkata, a store like Seelamart was long awaited. There is everything from cooking essentials to fast-moving consumer goods under one roof. Pocky's chocolate sticks, shrimp crackers, Melona bars, and of course, BTS's Jungkook's favourite banana milk are some of the things they are looking to stock up on. Good enough for even the most dedicated K-Pop or K-Drama fan to not complain.
TIPS ON WHAT TO STOCK UP AT SEELAMART
● Cooking essentials: The must-haves include soya sauce (there are two kinds, but you can skip the soup soya sauce and get the regular one), Gochujang, Gochugaru, Doenjang, fish sauce, Mirin (a type of rice wine) and sesame oil. This will be enough to cover a majority of Korean dishes but if you can, stock up on seaweed sheets, glass noodles, short-grain rice, Ssamjang (a thick spicy paste), and black bean paste (Chunjang is different from Chinese varieties, so opt for this over Lee Kum Kee for this one).
● Ready-to-eat products: Seelamart has a wide variety of microwaveable instant noodles, rice cups and soups. But if you are looking for something a little less MSG-laden, Bibigo's dumpling packs, Japchae (a savoury and slightly sweet dish of stir-fried glass noodles and vegetables) or fried rice are good options.
Barley Tea.
The Telegraph
● Snacks and beverages: There are tons of sweet and savoury options to choose from. So it is likely that you will find something that you have seen in a
K-Drama and were hoping to try. The variety of beverages is quite delightful as well — ginseng drinks, barley tea, and the curiously named Pocari Sweat, which is an electrolyte drink, in addition to different kinds of coffee.

● Frozen meat and seafood: This is unfortunately somewhat expensive. Pork belly retails around
Rs 1,350 per kg and fish cakes would set you back by Rs 1,000 per kg. Half a pound of frozen mackerel is a steep Rs 750. Considering the domestic prices of fish and meat, these are unlikely to be as popular.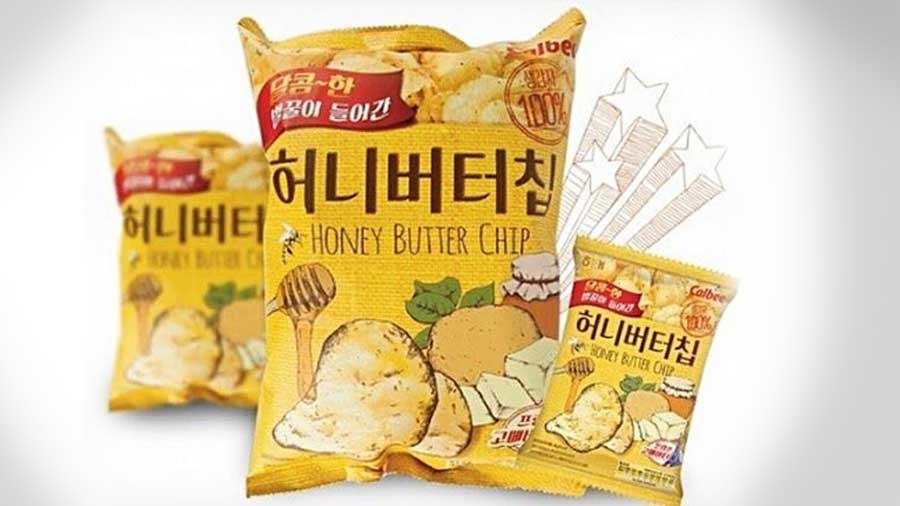 Honey Butter Chips.
The Telegraph
What: Seelamart
Where: Inside King's Bakery AJC Bose Road branch)
216, 3b, AJC Bose Road
Timings: 11am to 8.45pm, all days of the week