Thakurmar Jhuli: Princesses, Monsters and Magical Creatures (Reado Junior; Rs 295)
The wonderful world of Thakurmar Jhuli has now been translated to English where it can reach a much larger audience than just Bengali kids who grew up on its richly imaginative world. Few of Dakshinaranjan Mitra Majumdar's extensively collected folktales that have regaled children for decades were translated by Sutapa Basu, publishing director of Eupheus Learning. The award-winning author with a plethora of educational and fictional books to her credit, allows us to read our favourite fairytales in English, thus reaching out to a global audience. Rich with illustrations, tales of prince, princesses, ghosts and troubadours are bound to tickle the creative bone in every child. The tough task of maintaining the beautiful cadence of Bengali language and the fantastic world of magic has been executed flawlessly by Basu. A must addition to the bookshelf for every bookworm.
Enola Holmes: The Case of the Peculiar Fan (Hot Key Books; Rs 399)
If your little one is addicted to the screen, chances are they have already watched Netflix's film Enola Holmes starring Millie Bobby Brown. Adding to her Enola Holmes series based on the world's most famous detective's sister, author Nancy Springer is here with a new case. Sherlock Holmes's sister has now been on the run for over eight months, leaving a very amused Sherlock and a furious Mycroft. What adventure does she embark upon this time? After her very successful five cases in the series, here is a sixth offering. Dig in!
A Pandemonium in Pakshila (HarperCollins Children's Books; Rs 250)
There are animals waiting to be rescued in Pakshila and a whole lot of them and a few strangers have decided that you are JustIt –– the right person to lead this rescue mission. Just as the name suggests, this chaotic world of children is bright and sunny when you take the way of Cloud Street to float into Pakshila! It helps that you are accompanied by Anil the Excluded Squirrel. Bound to tickle your little one's fantasy, this is one book that you must include in your kid's diet while saying 'Hello chaotic fun!' Under your breath!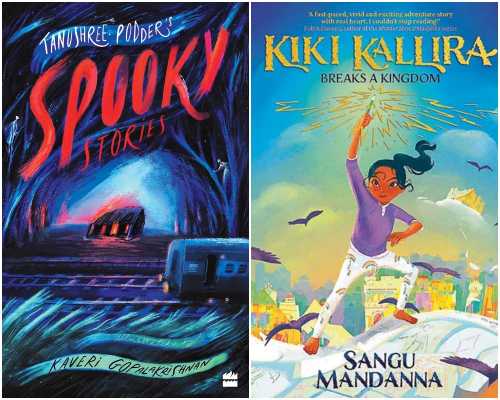 Sourced by the correspondent
Spooky Stories (HarperCollins Children's Books; Rs 199)
Tanushree Podder has provided a haunting setting to base multiple ghost stories and thread them into a single book for kids that will definitely have them spooked. An author misses a train at a tiny railway station where he encounters a dozen passengers who all decide to swap ghost stories. While the premise is maybe familiar, let each individual story take you to a different time and space, only exaggerated with haunting illustrations by Kaveri Gopalakrishnan.
Kiki Kallira Breaks a Kingdom (Hachette India; Rs 499)
Indian fantasy for kids have received a wonderful gift from author Sangu Mandanna who has brought to life Indian mythology through a gripping narrative. Kiki, our protagonist, finds joy in drawing, till the day her drawings begin to come to life. Fighting the good fight, she is up against an old Hindu god who is all set to take over the real world. "A girl in unicorn pyjamas armed only with a pencil", she has to build a rebellious army to stop this catastrophe. Will she succeed? Let your little one find out for themselves!