1. The Earthspinner by Anuradha Roy (Hachette)
The life of Elango the potter and his dog Chinna come alive in this tale told through the eyes of Sara who once learnt the traditional art of pottery from him. Elango's love for his artform transcends to the supernatural as it finds a muse in Zohra, a woman of a different religion. As she sits in the heart of cold British land, she reminisces a passionate story of love and betrayal in a place atrophying with religious discord. Poignant and stirring, Roy's prose is visual and visceral and it had to make our list of great reads of 2021.
2. The Eminently Forgettable Life of Mrs Pankajam by Meera Rajagopalan (Hachette)
One of the most stunning debuts to bless our shelves this year, Mrs Pankajam's tale is as endearing as it is sharp with self-deprecating humour that shines a light on patriarchy and societal oppression of women. In the fading light of her life lived, she narrates tales of her life with deadpan humour as a woman struggling to find her freedom, from the shackles of duties that are endlessly placed on a woman. As Mrs Pankajam's memory slowly fades, suppressed memories and emotions resurface in her diary, which we are fortunate to get a glimpse of. This is a book that stays with you long after you have turned the last page.
3. Moth by Melody Razak (Hachette)
Another stunning debut to make us sit up in our chairs, Melody Razak's Moth talks about Partition in India by focusing on a family of four — Maa, Baapu, Alma and Roop. The story delves into the effects of Partition on this liberal-thinking family as they prepare for 14-year-old Alma's wedding, much to the chagrin of her father who unwillingly agrees to this early marriage seeing no other way to save his daughter. Told in heart-wrenching prose, Razak doesn't mince words while narrating the gruesome fate of people caught in the quagmire of Partition politics.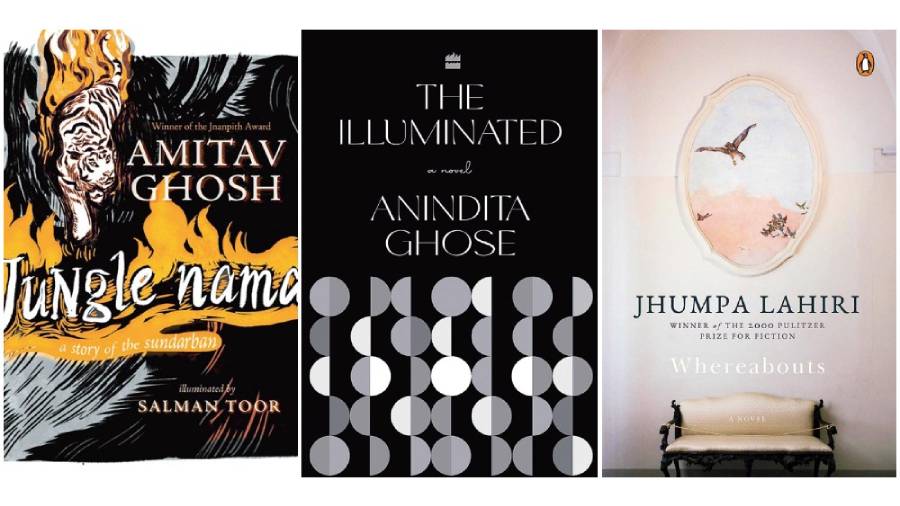 4. Jungle Nama by Amitav Ghosh (HarperCollins India)
This book written in verse by Amitav Ghosh about the legend of Bon Bibi, redefines the way we read folktales. With stunning illustrations by artist Salman Toor, Ghosh does a fantastic job of recreating the Bengali verse metre of dwipodi poyar. Telling the story of merchant Dhona, poor man Dukhey, his mother, the spirit Dokkhin Rai who appears as a tiger and Bon Bibi, the benevolent goddess of the forest.
5. The Illuminated by Anindita Ghose (HarperCollins India)
The third debut on this list, Anindita Ghose weaves a novel that is strung together by grief, loss, discovery of self and political flamboyance. Beginning with the death of Shashi's husband, the novel is anchored around her search for her identity in the absence of the overshadowing presence of her celebrated husband. On the other hand is her daughter Tara, a Sanskrit scholar embroiled in an affair with an older colleague, which overshadows her extensive handwork in her field. As the two women grapple with their identity, the country is being devoured by religious fanaticism making for a complementary backdrop of inner turmoil. A must-read this season!
6. Whereabouts by Jhumpa Lahiri (Penguin India)
After a decade, Lahiri wrote fiction in Whereabouts in Italian, which she later translated to English. Reading like poetry, these are seemingly disconnected chapters that read like the author's stream of consciousness. At the centre of this novella is a woman who is replete with conflict as she narrates encounters at coffee shops, bus stops, parks, bridges and pizzerias. She speaks of her friends while her words emote loneliness. As she searches for her own perspective in life, she takes us on a journey with her.
7. The City of Good Death by Priyanka Champaneri (Penguin India)
Yet another fascinating debut this year, Champaneri's book picks up the unique existence of death hostels in Benaras as its backdrop. The streets and lanes of Benaras come alive in this novel that revolves around one such hostel where aged people patiently wait for their death, convinced that it is the only path to their salvation. The author told The Telegraph this year that she had never been to Varanasi, which seems unbelievable after having read the book! Pramesh Prasad is the administrator of one such death hostel working with his wife Shobha by his side. However, a dead body with an uncanny resemblance to Pramesh shows up on the ghats of Ganga, turning the fates of those in the hostel who are alive and thriving as well as those patiently waiting for their death. Raising questions on birth, death and rebirth, this award-winning novel had to make it to our list.
8. Gods and Ends by Lindsay Pereira (Penguin India)
It is the late '70s and we are taken to Orlem in Bombay through the lives of multiple characters who inhabit a building that is as worn out as the lives of its inhabitants. Religion forms another important crux of this novel that ties together multiple narratives that all scream of declining hope and wasted lives. The dilapidated Obrigado Mansion is as much a character in this award-winning debut novel as are decrepit characters themselves. Fascinating is one word that comes to mind with Lindsay Pereira's Gods and Ends.
9. China Room by Sunjeev Sahota (Penguin India)
Booker Prize-shortlisted author Sunjeev Sahota's 2021 novel had him peeking into his family's past to unravel the story of Mehr, a young girl in rural Punjab in 1929. Mehr was married to one of three brothers, in a ceremony that wed the other two brothers as well. She and her now-sisters traverse the course of their lives not knowing who they are wed to. Their lives are controlled by Mai, the matriarch of the family who controls every aspect –– from consumption to consummation. Running parallel with Mehr's story is a young man who arrives in Punjab in 1999 to discover parts of himself as well as his past. Stunning and gripping, China Room definitely had to make it to our list of reads of 2021.