Kaasni India's story is woven around intricate design detailing, deft craftsmanship and creating classic pieces with a contemporary appeal. The four-year-old homegrown brand's forte lies in hand embroidery. Started by two homemakers who turned into entrepreneurs out of their shared love for the delicate art of hand embroidery, the womenswear brand makes Indo-western, ethnic and party outfits, focussing on making its creations heirloom pieces to be treasured through generations. On the occasion of her birthday(April 23), Tolly actress Swastika Dutta dolled up for The Telegraph in Kaasni India's outfits for a seasonal wedding lookbook and engaged in a heart-to-heart post-shoot:
THREAD TALES: Kaasni India's Story
"In this machine-dominated world, the craft of hand embroidery is slowly dwindling. People are making machine embroidery and highlighting it with hand embroidery. We have a fondness for hand embroidery and that is our USP," said Rinku Soni and Ritu Anand, founders of Kaasni India.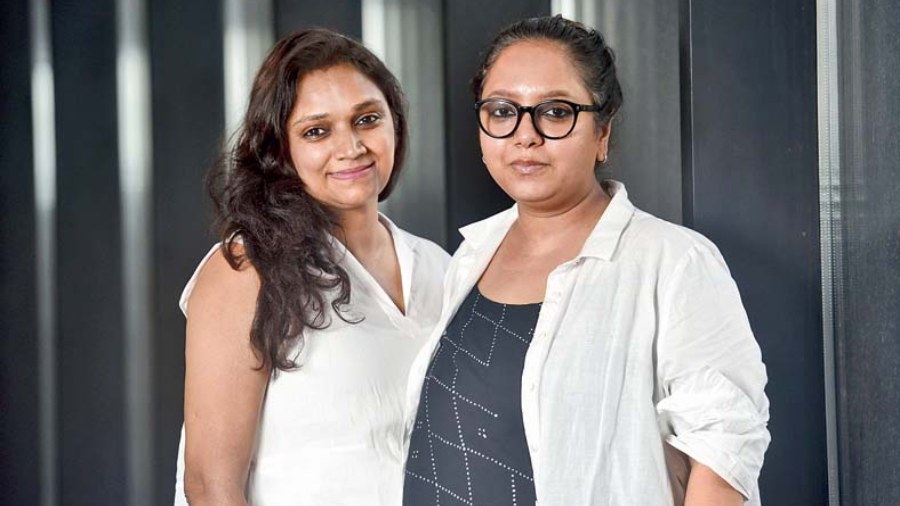 Rinku Soni and Ritu Anand
"The process is extensive and we get involved in it right from the first stage of imagining the designs. We are also promoting and reviving different kinds of embroidery work like Parsi, convent, zardosi. Through this initiative, we are also trying to support the artisans whose livelihood depends on this craft they practice. The process requires 1,500 to 2,000 hours almost to make an outfit and because of its strenuous nature and demand for easy machine work, their future generations are not willing to carry forward their art. It is an expensive process and our outfits are expensive," shared Soni and Anand.
Talking further about their creations, they added, "Since our kind of embroidery is so intricate, we like to attach an heirloom value to it. We try to use the best raw materials available in the market so that one piece can be carried forward for generations. We also use a lot of jewellery in our products as embellishments that are handmade by our team. We believe in customisation and want people to see and feel before buying, so we are operating out of our retail store in Ballygunge. Our embroidery work is mostly inspired by nature and animals, on fabrics like silks, chanderi, crepes, habutai. Our work is conventional because of embroidery and embroidery will never go out of fashion."
The Telegraph chats with swastika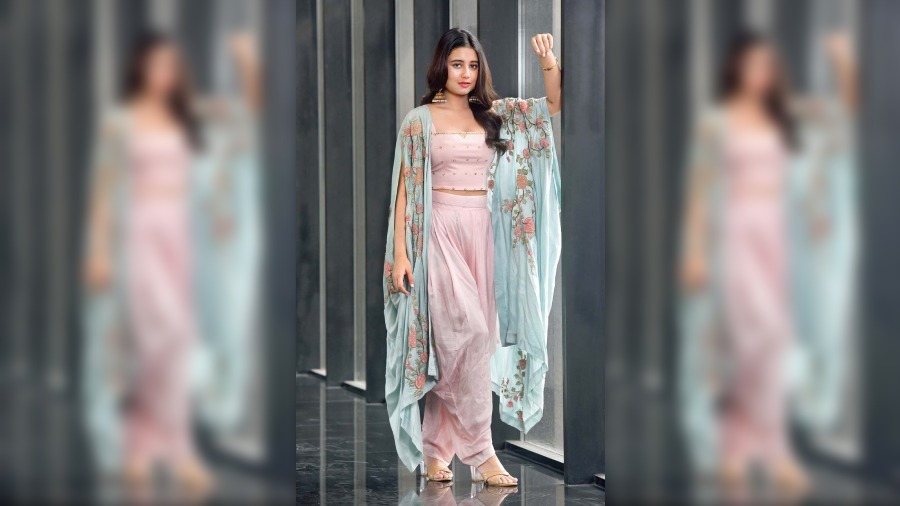 Keep your summer wedding bachelorette look easy-breezy to be carefree in the fun mood with your girl gang. The silk and cotton soothing pink embellished top is paired with cowl pants and a sky blue cape detailed with zardosi-style floral work with thread and beads.
Happy birthday! How are you planning to celebrate it this year?
(Laughs) thank you 'The Telegraph' for making my entire year special! I generally like to celebrate with my near ones and keep it very simple. Right now, I am following a very strict diet for my upcoming movie, so won't be able to indulge in yummy delicacies this year. Will definitely have a cheat day, but it will be a diet cheat meal. I took a day off from work and gym as well.
What's your birthday wish?
Well, another year added to my life and I wish to be happy, healthy and work as hard as I can. I want to keep travelling and will continue to be the person that I am from within.
Has the meaning of a birthday or the celebration changed in any manner for you over the years?
Definitely things have changed. Way of celebration has changed. As a child, I had less reliance on materialistic stuff and technology, so I could have more fun. I miss my grandparents a lot. The excitement of cutting a big cake isn't there anymore and the excitement of distributing candies amongst my school friends is missing now. I miss my childhood birthday celebration a lot. The best thing was wearing a colourful dress to school on my birthday and on returning home, ma used to serve amazing home-cooked food. There was no tension of gaining or losing weight either!
How has your style sensibility changed over the years?
My parents could never dress me because I was very particular about what I wore since childhood. Definitely my fashion sense has taken various shapes in different periods in life. But one thing is constant, I am crazy about clothes. I have always chosen comfort over style. I believe no matter what you wear, you need to have that bold body language and confidence which will make you look lovely. I am a casualwear person.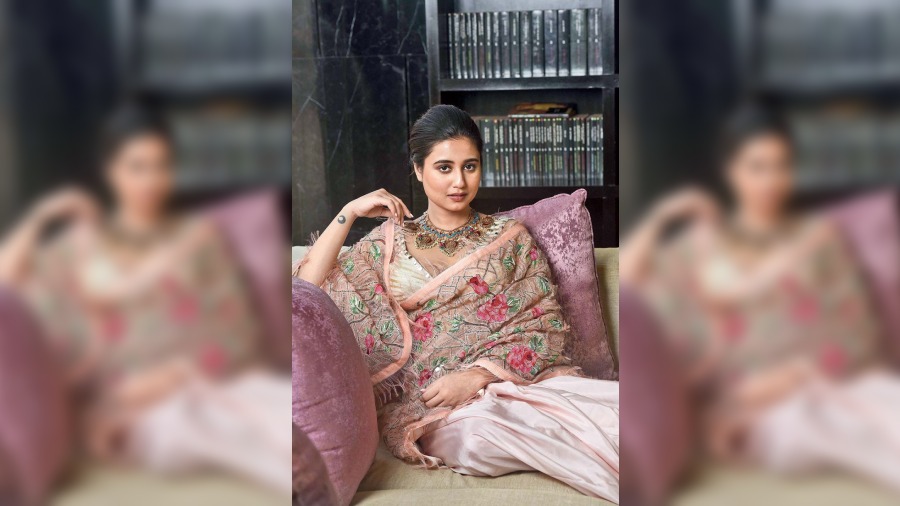 If the quintessential red is not a part of your big day, opt for the trendy and soothing pastel pink for the wedding day. Swastika shows how to keep it simple, minimal and subtle in this silk, net and organza hand-embroidered sari, exquisitely detailed with zardosi work, intricate aari and mirror embellishments.
Did your profession have a role to play in it?
When I am playing a role I will wear whatever the character demands if I am comfortable wearing that in front of the camera. I will wear dresses which I won't usually wear to an occasion or a party. My taste remains the same in life no matter what my profession is. If people accept me as actress Swastika Dutta wearing a bodycon dress then they have to accept me as Swastika Dutta wearing a torn jeans and white shirt to a glam party as well.
Would you call yourself fashion conscious?
Absolutely! I keep an eye on all the new and trendy fashion stuff, and one habit of mine which I really want to share is that I am not at all an online shopping freak. I prefer buying from shops or malls, sometimes just like that to get an idea of what's in and trending.
What does your summer occasionwear wardrobe look like?
Generally, I love to wear a pastel shade linen sari with a cool blouse or a zari-work pastel pencil pant and kurta, paired with some trendy jhumkas or choker.
Have you ever imagined yourself as a bride? What is the look like?
I am in such a profession that God knows how many times I have had the opportunity to dress up as a bride! So, now I have decided that on my special day I will be the simplest bride ever! But haven't really imagined the costume and all.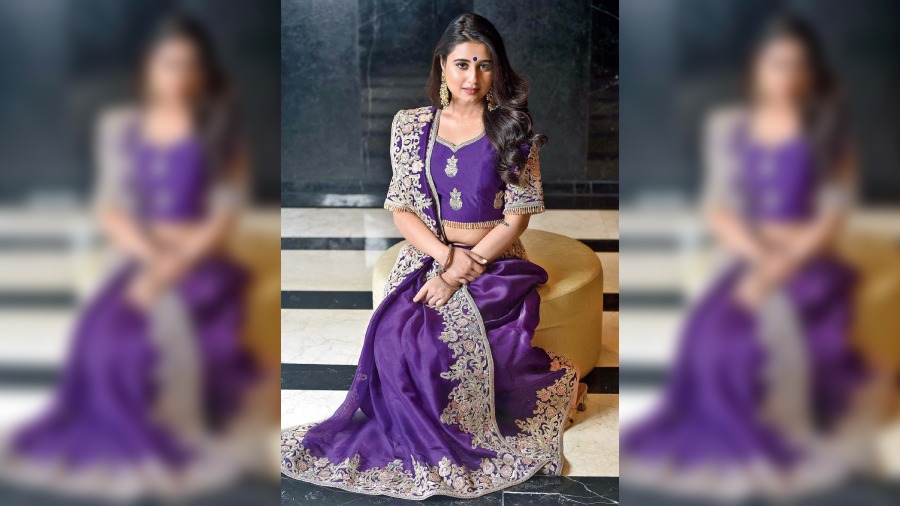 Opt for a glam evening reception look in this organza and silk sari designed with a heavy hand-embroidered dori border using the techniques of zardosi and aari, paired with an embroidered blouse. A pair of gold and beige earrings, a big bindi and bangles add the traditional touch to the look.
Wedding trends have changed a lot recently. Are you into the "big fat Indian wedding" concept or do minimalistic celebrations attract you?
The society we live in and the community we belong to, "big fat weddings" sometimes take place because of society or family pressure. But for me, marriage is a very special occasion for both the bride and the groom, and the entire occasion should be according to their wish. The concept of minimalistic wedding attracts me. My social circle is small but very close and honest. So I would love to have a very private yet social marriage.
How do you look at the idea of marriage? Has it changed over the years?
I am a bit old school. Marriage was, is and will never be a fashionable event for me. I believe the decision to marry shouldn't be taken hastily if one isn't sure of it. For me, it is very important to remain good friends with my partner after marriage. I have grown up watching my parents like that. A couple can date for years but as soon as they tie the knot nothing should abruptly change between them. I believe in love marriage.
You have been dating for some time now. Any plans of tying the knot soon?
(Laughs) I am not ready for it yet. The day I will feel confident about it, I will tie the knot.
Professionally, what's keeping you busy these days?
I am shooting Johnny Bonny for the web and I am getting ready for my fourth film Fatafati, a Windows production project. The character is very interesting and challenging. So I am preparing myself for it.
STYLING, HAIR AND MAKE-UP NOTES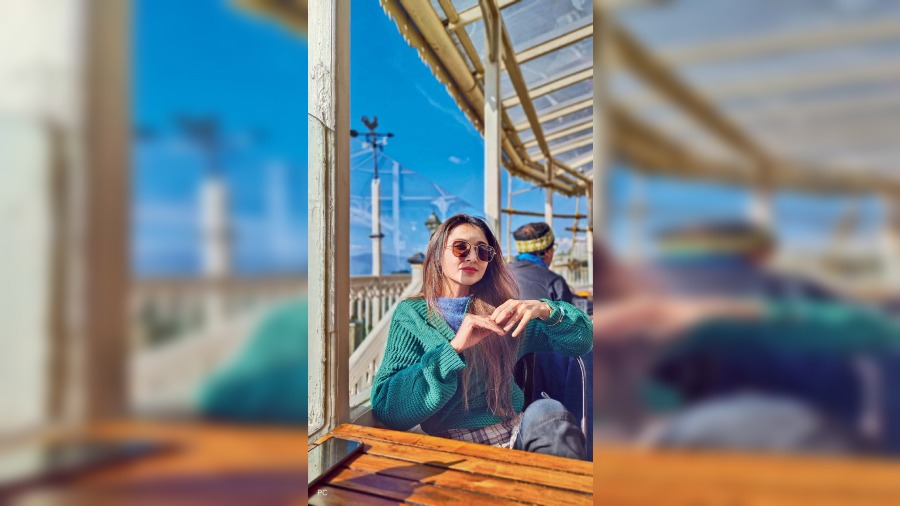 "The pastel cape outfit is very comfortable and easy to carry. We paired it with a heavy jhumka to keep the look simple and stylish. The yellow anarkali is traditional and chic, perfect for a day occasion look. We kept the look simple with matching earrings.The pastel pink sari is glamorous, so we have paired it with a heavy necklace and tied the hair up to enhance the neckline as the bustier gives a chic twist to the traditional attire. The purple sari is perfect for any occasion during the wedding season. The colour totally reminds us of the iconic Madhuri Dixit look in Hum Aapke Hain Koun. Instead of overdoing it, I decided to keep the look minimal as the sari and the blouse are already gorgeous," said Aisha Desmukh, stylist.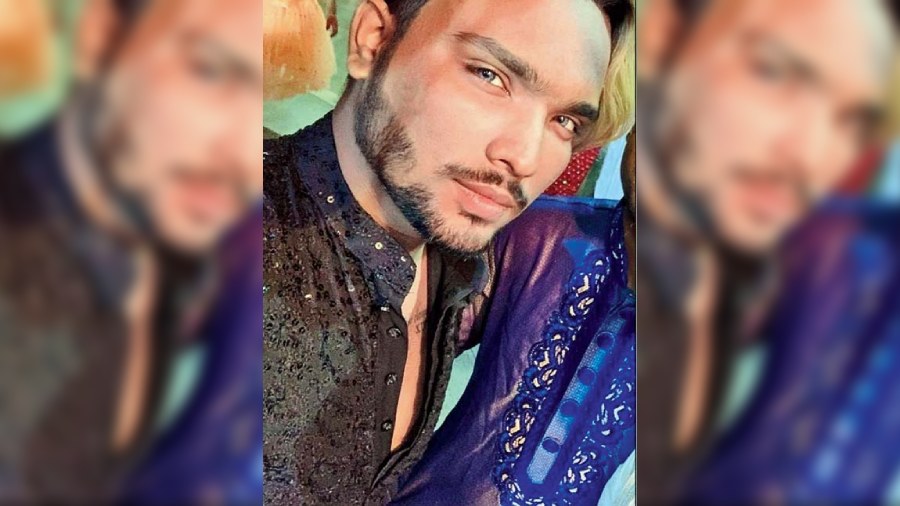 "For the bachelorette look, I kept the make-up natural with open curls. In the anarkali look, we tied the hair into a messy pony and kept the look simple with bindi, nude lips and light eyeshadow. For the minimal wedding look, we chose brown smoky eyes and nude lips with a textured bun. A big bindi and wavy hair completed the reception look," said Surojit Dutta, hair and make-up professional.
Pictures: Pabitra Das
Styling: Aisha Desmukh
Hair and make-up: Surojit Dutta
Location: Novotel Kolkata Hotel and Residences