Cosying up with a bowl of warm, flavour-packed comfort food is one of the many joys of the chilly wintry weeks. A bevy of cloud-based kitchens in Kolkata are catering to this with diverse, one-pot concoctions, delivered to your doorstep. These bowls are available all year around but are especially popular when the mercury dips.
If you're longing for a bowl that sparks joy, here's a handy list of soupy goodness, healthy bespoke bites, and Korean delights.
Wantan Mee from Jessie Yung's Kitchen
The Wantan Mee bowl from Jessie Yung's Kitchen is an inviting combination of freshly made egg noodles, pork wontons, Asian greens, a drizzle of oyster and soy sauces and char siu pork. Yung's signature oven-roasted char siu pork, has perfectly caramelised meat that gives a hit of smoky sweetness to the steamy noodle dish, making it a pop pick in the city.
"The sweet Char Siu Pork with blanched greens is the icing on the cake for this dish. The pork wontons are coated with a lard-soy dressing to give it additional flavour and the egg noodles are coated in a dark sauce mix of mainly oyster sauce. It's a simple dish that is combined together to create the perfect meal!" said Jessie Yung, owner of this heavenly home kitchen in Tangra.
If pork wontons aren't your cup of tea, they also have other marvellous meals-in-a-bowl including Hainanese Chicken Rice, Mala Mein, JjaJangMyeon, Lu Rou Fan and Soy Chicken Noodles.
(To order, call 9836945627)
Spaghetti and Meatballs Bowl from Fat Mamma's
Spaghetti and meatballs is a flag-bearer of comfort food, after all the dish has a seal of approval from the tough-to-impress Sheldon Cooper. Fat Mamma's, a cloud kitchen functioning out of Alexandra Court on Bishop Lefroy Road, rustles up a mouth-watering version of this Italian-American delicacy. Olive-oil-tossed spaghetti meets succulent lamb meatballs smothered in a zesty tomato-based sauce spiced with Italian herbs, in this hearty dish. Fat Mamma's also offers smoked chicken and exotic veggie (shitake mushrooms and broccoli) varieties.
"Fat Mamma's is a tribute to my mother. She loves American fast food. Spaghetti and meatballs has been on our menu since the beginning and is extremely popular. We marinate the meatballs with a host of spices and allow the meat to sit so it pulls in the spices, resulting in a distinct flavour," says owner Vishesh Marwaha.
Bonus points, Fat Mamma's delivers across Kolkata until 2am every day. Did your midnight snack just level up?
(Order via Swiggy and Zomato, or call 9674927964
Bibimbap from Crunchilicious
Crunchilicious, a home kitchen running from Tollygunge, cooks up a veritable Korean fare for lovers of the cuisine in the city. Their bestseller is the bibimbap bowl, rice topped with a smattering of sauteed meats, braised vegetables and a sunny-side up. Punching in the flavour in this fragrant rice bowl is the topping of gochujang sauce — a fermented chilli sauce made with fermented soybeans, glutinous rice, sweetener, red pepper flakes and spices. Gochujang lends spicy-sweet umami flavours, making it a dish to remember.
Owner Vishakha Roy Choudhury takes pride in the authenticity of her dishes. "My kitchen follows recipes given to me by a friend's grandmother who was born and brought up in Korea. Our ingredients are sourced from King's Bakery or we order them online but we make sure to use no substitutes to maintain an authentic flavour palate."
(To order, call 7003035404)
Lebanese Bowls from Beetbox Health Bar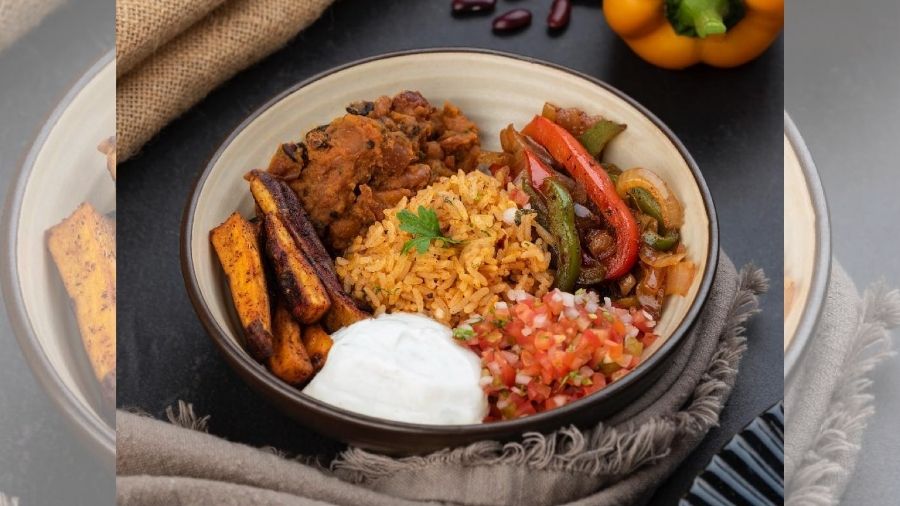 Burrito bowl from Beetbox Health Bar
The newest cloud kitchen on the block, Beetbox Health Bar is merely three weeks old. Their menu caters to various tastes with its selection of flavourful bowls that have vegetarian and non-vegetarian healthy eats, and keto-friendly, gluten-free, or vegan options.
Crowd-pleasers from this kitchenette are the Lebanese bowls — Shawarma, tagine couscous and falafel. Both vegetarian and non-vegetarian options come with a dollops of their regular and the beetroot hummus. The Lebanese spices, many of which are similar to traditional Indian flavours, are an instant hit with Kolkatans.
"We're a kitchen catering to healthier options, so we restrict the usage of flour and refined sugar and use healthier substitutes like wheat, jaggery and various natural sugar-free options. In every bowl, rice is usually substituted with cauliflower rice but if customers want herbed rice instead we make that as well," said Geetika Khetawat, founder of BeetBox Health Bar.
Beetbox Health Bar dabbles with Mexican fare as well, check out their Instagram reel.
(Order via Swiggy or Zomato, or through Beetbox Health Bar's Instagram handle)
Heaven's Bowl from Ramen Kitty
Ramen Kitty's Heaven's Bowl will bring you Asian flavour heaven. Strips of Japanese batter-fried chicken katsu is served on a bed of Korean jajangmyeon, a type of black bean ramen noodles, with fresh and crunchy carrots, Chinese cabbage and string beans. The jajangmyeon has a sweet chilli dressing and the katsu is flavoured with garlic and Japanese herbs.
Co-founder Spencer Lee spent six months studying in Taiwan and craved ramen when he returned to Kolkata but unfortunately didn't find a reasonably-priced option in the city. So he, and co-founder and chef Subhannita whipped some up! "We made a few bowls and they tasted pretty good so we decided to share them with everyone. And that's how Ramen Kitty was born."
(Visit https://showroom.dotpe.in/ramenkitty to place orders.)