Last December, Asahi Kasei, a Japanese multinational company, marked the 90th anniversary of the sustainable cupro fibre Bemberg (much like rayon, lyocell, and tencel, cupro is a hybrid fabric). Asahi Kasei is the only manufacturer of this fabric and is produced in a plant in Japan's Miyazaki Prefecture.
The regenerated fibre is made from biodegradable cotton linter, which is a pre-consumer material obtained from the manufacturing process of cottonseed oil. Bemberg is known to be biodegradable, ecotoxicity-free and compostable. Fashion giants like Gucci, Giorgio Armani and Hugo Boss have consistently used the sustainable Bemberg as suit interlining, whereas fast fashion brands like H&M and Zara reportedly also use the material.
Bemberg has also snuck into the Indian luxury market, as alternative, man-made fibres steadily gain ground in the Indian fashion circuit. Anita Dongre, for instance, has been consistently steering towards conscious, sustainability-focused fibres. For her Spring/Summer line Paradise Found collection, Dongre lines up breathy vegan and eco-conscious fibres. And in the last few months, several A-listers have been spotted in Dongre's Bemberg georgette saris. 
Katrina Kaif was seen in a pre-draped, Bemberg georgette sunflower sari by Dongre for a promotional event for Sooryavanshi, while Manushi Chillar was spotted in a flowy pink Bemberg drape, also by Dongre.
"Bemberg has a goal to achieve carbon neutrality by the year 2050. By 2030, we aim to reduce emissions by 30%, compared to 2013. Moreover, we will pursue enhanced added value with Bemberg as a one-of-a-kind material in demand throughout the world," says Mikio Ota, general manager, Bemberg sales department, Asahi Kasei Corporation.
Bemberg is innately breathable, anti-static, anti-cling and low in abrasion, which explains why it offers a fluid drape and fall in saris. Moreover, fabrics woven from Bemberg offer more colour depth, since numerous tiny waterways in Bemberg fibres increase their ability to quickly absorb the dyestuff. 
For her newest collection, JAVA, designer Payal Pratap makes use of Bemberg in various avatars ranging from satins, muslins, mulmul, and silk blends. "The fabric takes printing and colour beautifully and has a slight sheen and glazed feel which resonates with chintz," Pratap tells us.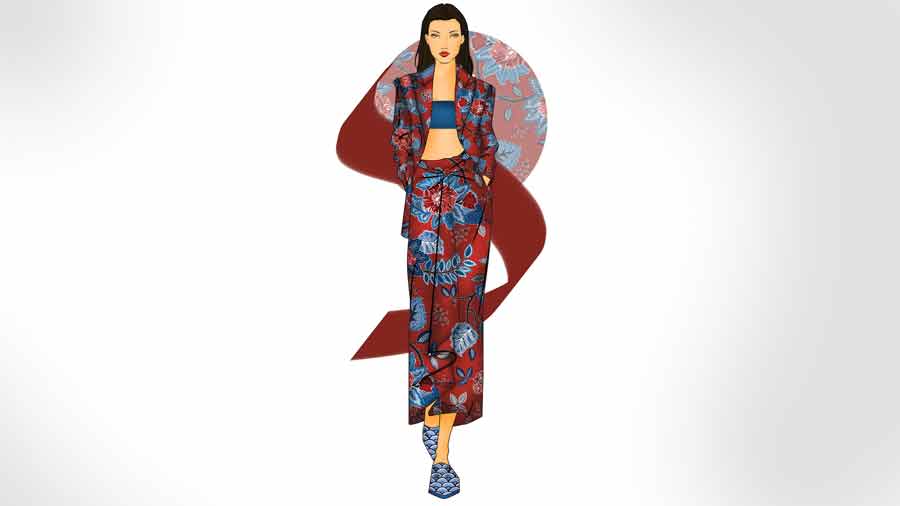 A glimpse into Payal Pratap X Bemberg line
On Sustainable Fashion Day (March 24) FDCI X Lakmé Fashion Week is set to hold a showcase featuring Bemberg's collaboration with Payal Pratap, who has used environmentally friendly and biodegradable material in her collection. In the swimwear and shapewear market, Bemberg and Tencel are experiencing a steady boom. Anjali Patel Mehta's Verandah, which is known for its Italian-made swimwear made from regenerated Econyl yarn (that reduces ocean waste) has come up with beach-ready Bemberg satin scarf tops.
Though it may come across as the new 'It' trend, Bemberg has been a part of the Indian textile industry for decades now. "We've been providing sustainable solutions for nine decades to the world, and almost four decades in India," says Ota. The company is steadily ramping up its prominence in the country. "In recent years, we've been collaborating with new stakeholders and would like to continue to deepen our cooperative relationships and productive discussions with stakeholders, and hope that we develop together," he added.