A monkey that has evolved from a pebble travels the forests and land to explore lifestyles and a life that would lead him to the ultimate meaning of 'Brahma'. On the Himalayan mountain, an ibex accidentally kicks a pebble in the air which floats down the river to turn into a monkey in Manindra Gupta's novella Pebble Monkey. Translated from the Bengali novella Nuri Bandor, the great Bengali poet and author's work has been translated to English for the first time by Arunava Sinha. Sinha, whose oeuvre needs no introduction has thus completed 69 works of translation, quickly expanding Bengal's precious literature to a larger audience. Winner of the Crossword translation award and Distinguished Translator Award, Sinha has previously translated works of the likes of Sankar and Anita Agnihotri. Pebble Monkey is published by Jadavpur University Press which is more known for its academic catalogue. The pebble monkey's experience makes up for the breath of this novella that is at the juncture of anthropomorphism, foundational texts and philosophy. There are animals conversing with each other and animals interacting with humans in the monkey's ultimate quest for the eternal truth.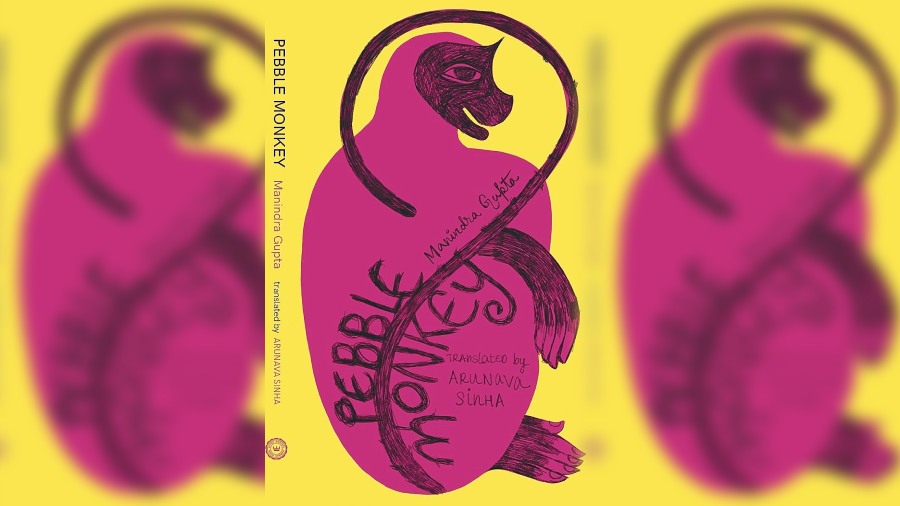 The striking cover of Pebble Monkey has been designed by Paramita Brahmachari
The book asks and answers life's existential questions through the pebble monkey's journey. He encounters a hermit who drags him into a life of asceticism only to have the monkey flout his rule on the very first day of abstinence. However, from this hermit, the monkey learns of the existence of Brahma in his many forms and the tug of war between the good and bad on a seemingly balanced scale. The monkey goes on top to have an inter-species relationship with a doe and even settles land disputes between families and with each chapter, Gupta tries to gently unravel life's mysteries. Who does the profit belong to if a tree is allowed to grow as it pleases and reaps an enviable harvest? Are the animals stakeholders? Are the trees or the earth? The resounding yes to these questions is as surreal as this book that is told in the simplest of languages. Perhaps that is the charm of Sinha –– the carefully created careless abandon with which he flavours his translations.
The contemporary world peeks into the storyline in various instances that create a loud pause in the reader's mind. As a family of six with a woman married to five brothers embark on a journey tracing the trails of Draupadi and Mahabharata, the monkey gets restless about reading the religious text. The more he gets informed, the sharper his choices become. Fifty years of the monkey's life gets documented in this 124-page novella that makes for a fine Sunday afternoon reading.