Raw, almost like an open wound. And so intimate that you get goosebumps. Tanushree Sarkar's space design installation 'The Skin Is Red —Half Woman Half Dream' is a powerful narrative of freedom and loving oneself, unconditionally. The acclaimed and award-winning art director of films like Parineeta, Laaga Chunari Mein Daag and Eklavya who left it all in Mumbai to pursue art and now lives in Kolkata, is travelling with it to Jaipur Art Week. In a chat with The Telegraph, Tanushree decodes her work.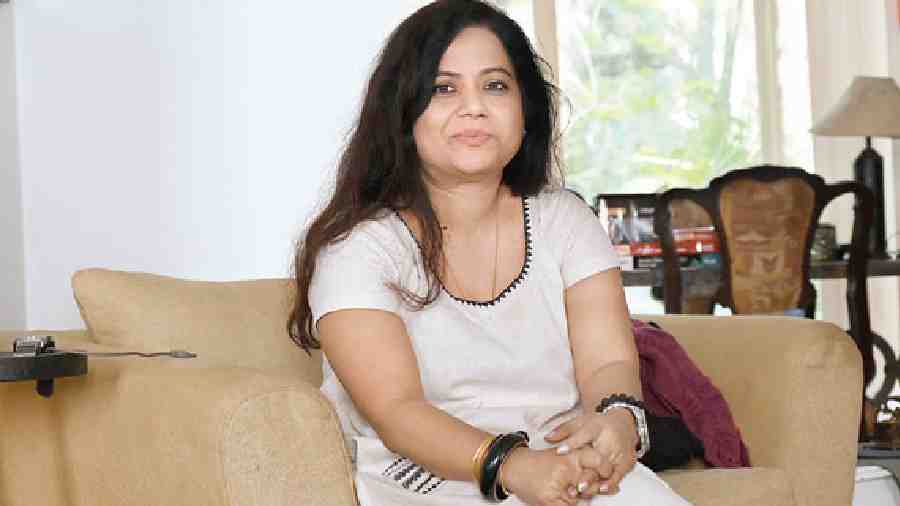 'The Skin Is Red — Half Woman Half Dream' sounds like poetry. Since when have you been toying with this idea?
'The Skin Is Red — Half Woman Half Dream' is a poetic memoir and a journey of my body, mind's triumph over fear. Since the narrative is a memoir, I think subconsciously this was meant to translate into my artistic practice as an outlet and awareness for quite sometime. For the last two years, however, I have channelised all my creative energies into my quest for personal artistic excellence trying to find answers to the questions that are deep-rooted from my personal experience.
Your art is all about a woman's space. Was there a particular trigger for this?
Yes it's true my art is a lot about the woman's space, however I would say it is more about her everyday journey and the various roles that she has to play on a daily basis.
I wouldn't use the word trigger. For me it's more about bringing awareness to the forefront. Most of the time we live in this body and mind fear, which arises from personal pressure or social rules. I simply want to say through my art that our body is protected by ourselves, which in turn is made of a higher source, 'our ancestors'. And it is this awareness that I bring about in my art.
Tell us about the various layers of 'The Skin Is Red — Half Woman Half Dream' ?
I have shown the main sculpture like meat hanging in a slaughter house with exposed ribs, bones, skin, blood dripping with a lopsided breast — all this depicting fear and weakness — Half Woman. The naked exposed torso depicts the secret of every woman — to stop being a victim and to embrace the truth 'that I am the source', through the womb and breast.
The torso is engulfed by an iron partition in three parts, which has copper reflective mirrors embedded in each graphical boxes — Half Dream. This iron grille is an allegory of the human skeleton in its bare form, yet it bedazzles jewel-like with reflective surfaces — dreaming, aspiring for that freedom that has been existing within and somehow it is unknown to most women.
Three oil paintings depicting freedom of being a woman, wanting to rise above politics and gender, is embedded into each panel. Each painting's narrative is different from the other and there is an attempt to purposely bring an awareness of the body as being divine.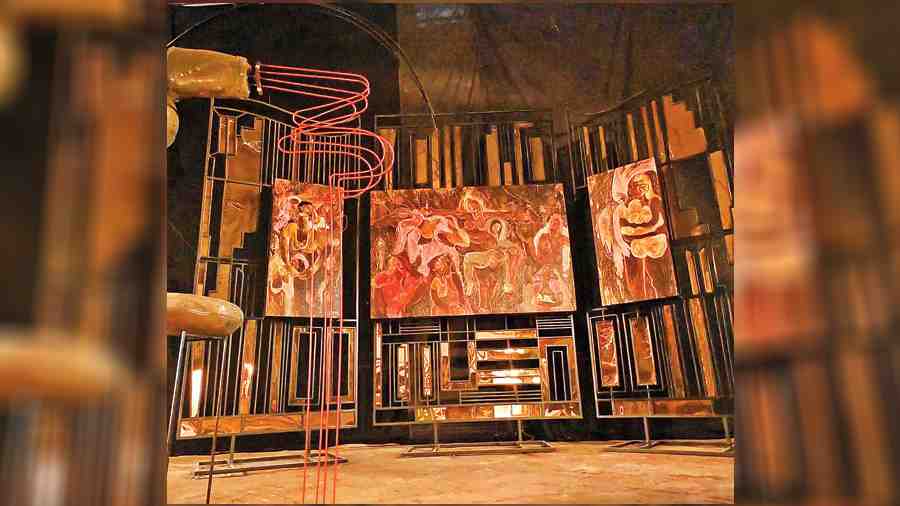 As an artist what is your take on how women are made to feel about their bodies? And, how do you think women feel about their bodies?
The awareness that women have about their body is almost negligible. The fear, embarrassment of what others say and think is so deep-rooted within that it becomes difficult to do a self introspection. As an artist this is exactly what I want to change. I want women to look at their body as divine and as a powerful weapon. I want them to know that their body is a beautiful mix of nature and ancestors which makes every woman. When loving the body is so fierce, social norms like gender issues cannot play an active part.
No one can make you feel less than what you are if you choose not to. Most of the time we are our own kryptonites; and we let the outside power influence us and make the body helpless, but the body is always protected and healed by the mother inside. The mother's umbilical cord protects at all times even when the body is bruised. The body comprises timeless nature and the elements of the universe within us. Then why the fear and hesitation?
What is the concept of freedom that you talk about? Do women need to free themselves first from how they think they are perceived?
Absolutely. Most of the time women don't even realise that they are in captivity with their own thoughts and body inhibitions. Not every time it is about being a victim or a survivor. Many times we create a sense of darkness with our preconceived ideas.
I want women to first know and understand their body. The entire process is internal, it's not the external that needs freedom. The internal acceptance... are paths to freedom of the mind and the freedom from being one's own enemy. It's not about how they are perceived, it's about how you would perceive yourself. To love the body unconditionally and fearlessly is freedom.
'Red is in my veins the umbilical unbroken'
And yet therein it lies? my broken wings — bruised
Like nature herself
Open yourself mother says for I am in your womb
and in the trees — I rise and confront — tears fading to waterfall.
Is that a distant dream though?
Women have come a long way; I wouldn't say it's a distant dream. It's achievable as long as there is constant awareness and fearlessness. It's also important at the same time to support the less privileged if possible and make awareness a habit.
Who did you collaborate with for this project?
Capturing this massive sculpture in artistic photographic frames of 14ft (width) x 10ft (height) x 10ft (depth) was a challenge. It was also important to keep the narrative of pain, elation, and dream going. I was fortunate enough to collaborate with the talented artist photographer Rukhen Rawla who captured cinematic shots and created the desired narrative through his powerful frames and lighting. Every frame spoke about pain and dream simultaneously and seemed seamless.
We loved how you related Hawa Mahal with freedom. What else is on your Jaipur itinerary?
Talk shows, viewing other artists' works and performances are some of the events I am looking forward to at the Jaipur Art Week (January 18-25).