Artist Swagata Bose who started her career with miniature paintings and then went on to create a colossal repertoire on large canvases with her 'Nude' series, 'Making of the Raavana', 'Sadhus in Transit', 'Talsari — The fisherman folk of Orissa' and many more has turned a part of an old bungalow in Alipore into her atelier. Named Garden of Joy, the 500sqft space is a tribute to her patron Joydeep Mukherjee and is stocked with her artwork that reflects her unique style of creating a 3D effect on the canvas with her deft strokes. A tete-a-tete with the affable artist. Excerpts.
What led to the decision of converting this old house into a studio?
Since I have been painting for three decades, I had a functional studio in the north-east side of the old house. However, in 2012, when I went to Florence and visited the Casa of Michelangelo di Lodovico Buonarroti Simoni, the Renaissance master sculptor and painter, the idea of converting this section of the old bungalow germinated. I felt the need and understood the significance of an atelier or a personal space of expansion and growth of the artist.
How long did it take to ready the place and were there challenges, given that it was closed for so long?
Converting and renovating old depleted structures always have their challenges. This section of the bungalow is the outhouse and was used by house helps as live-in and as storage. The first hurdle was to rebuild the ceiling that required permission and sanctions from the municipal corporation. The electric wires were re-laid and the old walls reconstructed and repaired before the inner area was touched. We chose to keep the same doors and windows and reviving them to their original form was a huge challenge. For interiors, I used my mother-in-law's sewing machine as a table in the corner to honour and give value to her sentiment. The entire process took several months. I have dedicated the space to my patron Joydeep Mukherjee, who was an art connoisseur.
Your style of creating a blurred texture over a painting, like dripping water, is unique. Tell us about the idea behind it.
As I am an artist who is inspired by what I see rather than what I imagine I work with direct brush strokes and acrylic paint and my palette is inclined towards monochromatic even though in some series I am partial to using more colour if I think the concept so demands. I give value to the composition and I also believe in achieving the 3D dimension within the frame of the canvas and the composition.
My technique is to apply strokes of paint to structure the mass in a rough background as the first applications on the canvas as an underpaint. I splatter water generously at intervals as I build on the composition and I then begin to correct myself with a tool — the toothbrush. I call it my correction method of painting. My personal interest lies in finding the third dimension within the 2D of the canvas space, so if I can reach out and seemingly touch the subject as if it is ready to walk out of the canvas, my motive is met. Also, if the mood and the tension of the moment is captured, then my purpose is achieved.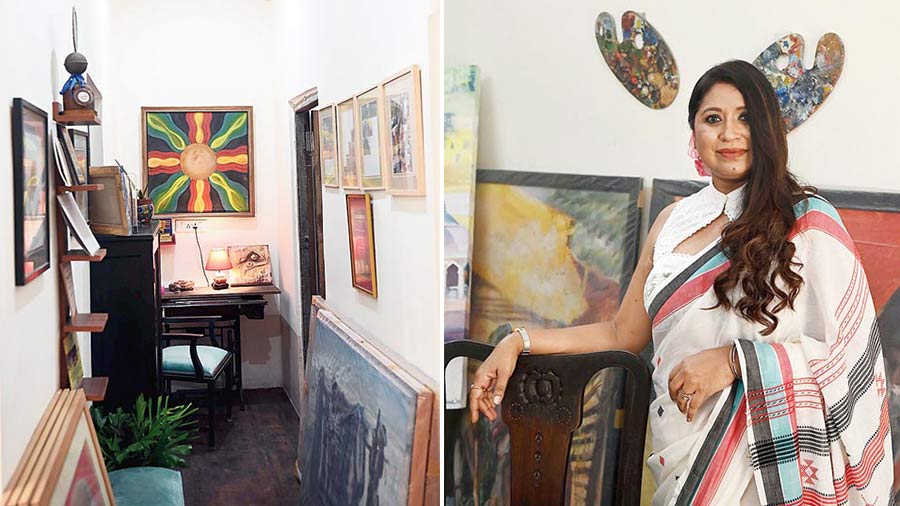 You started with miniature paintings and are now mastering large canvas. How has the artist in you evolved?
I completed my degree in Applied Art from College of Art, New Delhi, in 1989. I worked as an illustrator in Capital Advertising and with Children's Publishing Houses and also as an in-house illustrator for a leading publication and received the NCERT National award for illustrating. I had my first exhibition of miniature landscape paintings at Artkonsult, Hauz Khas Village, New Delhi. Later I decided to experiment on larger canvas with my colourscape paintings.
My invitation to an artist group called The Group helped me redefine my oeuvre and realise my strength as a figurative artist. After a few years, I decided to take a sabbatical from The Group to understand myself in depth. It is during this period that I came upon my style in 2010, almost 15 years of experimenting and trying to understand and discover myself.
I decided to work with the most difficult in figure, nudes and did 29 large canvases and painter Wasim Kapoor, who I consider my mentor, guided me and also was instrumental in organising the exhibition La Venus — The Being and The Body, which was applauded and also got me my Bharat Nirman Award for Creative Art in 2011. Moving beyond figures, I sketched animals, people, places and everything that moved or inspired me, like the plight of the migrant workers of India during the pandemic. A collage of the paintings were creditably used by ace film director Goutam Ghose in his film Samayer Smritimala, Memories of Time.
Apart from Wasim Kapoor, who are the artists from India and abroad who have inspired you?
The Indian artists who I am inspired by are Amrita Shergil. I love her boldness and her persona. Biren De's colour usage helped me understand colours better. Rameshwar Broota's magnanimity of form inspires me as does Bikash Bhattacharya's figures and Jogen Choudhury's restless creativity in monochrome.
Among foreign artists I try to understand the strokes, light, composition, perspective and the thought process and read the biographies of master artists like Vladimir Van Rembrandts, Edgar Degas, Van Gogh, Toulouse Lautrec and Picasso, and sculptors Michelangelo and Rodin.
Now that you have a studio, what else can we expect in this space?
I can throw it open for public viewing, invite guests, art lovers and artists who want to see my work. I am hoping to build on interactive programmes with artists from India and abroad. There can be workshops, tea sessions and more.
What are you working on?
I am an artist who must have a narrative in my mind before the actual process of painting begins. I have a Durga canvas playing on my mind. I am proud to announce and grateful that my last decade of work since 2011 to 2022 is being curated by eminent art historian and art critic Prasanta Daw for a solo art exhibition at a city gallery soon.
Pictures: B Halder