The Apple Vision Pro headset is a completely new way of approaching technology. It's not about a platform or a few apps, it's about looking at where technology will be tomorrow. There are four questions to look at. First, why would anyone strap a computer to the face? What kind of apps can justify the price tag? Third, what happens to the competition? Fourth, what does the name mean?
A different kind of reality
Nobody is going to spend $3,499 just to video chat with a friend. So there have to be people for whom such technology is integral to everyday life. And that happens to be enterprise customers. There are professionals — in health, security, sales and emergency — who need ambient computing experience.
"It's the first product you look through, and not at. You can see, hear, and act with digital content just like it's in your physical space. You're no longer limited by a display. You can relive your most important memories in an entirely new way," Apple CEO Tim Cook said, adding that Apple Vision Pro will introduce "spatial computing" in the way the iPhone introduced mobile computing.
There's a key difference between the approach of Apple and other companies. The Apple headset doesn't dive into anything like the metaverse, instead, it moulds reality differently. It allows the wearer to see the real or physical world around them, unlike VR headsets that fully envelop the face and limit visibility.
The headset is all about 4K displays, infrared cameras and LED illuminators. The field of view is not limited. That means there is less chance of using the waveguide lens technology that's used on other augmented-reality headsets; it refracts light and casts virtual objects in the wearer's eyes. There are two chips that run the headset — Apple's M2 and a new, mixed-reality-specific R1 chip.
Most headsets make you feel isolated because you are cut from the world. Apple has tackled that by offering a physical dial that lets the user bring their immediate surroundings in and out of view. Further, when a person physically approaches you while you are wearing the Vision Pro, they'll materialise in front of you while a screen on the outside of the device shows people around you a view of your eyes, giving the message that nobody has to feel left out.
The entire story is yet to unfold
In the Apple universe, not everything is unveiled unless it's ready. For the moment, Apple is promising that Vision Pro will let people see apps in the spaces around them. The competition has clumsy hand controllers but not the Apple headset. You can navigate the Vision Pro universe with your eyes and hands minus the controller. Simply look around to pick an option.
The headset can be used to watch movies, including in 3D, with spatial audio, view your own pictures or videos, and play video games. There is also room for video conferencing apps, Microsoft Office tools and Adobe Lightroom.
The partners Apple have announced are among the best. Disney CEO Bob Iger appeared on stage to announce that Disney+ would be available on the Vision Pro from day one of its release. Unity shares spiked 26 per cent on Monday when Apple announced it was working with the game-development software maker as part of the release of its Apple Vision Pro headset.
For photographers, there's the option to take a spatial photo or video from directly within the headset, which is made possible by the built-in 3D camera. This same 3D camera will capture your image and create a realistic 3D avatar of you.
What happens to the competition?
Rivals have been developing headsets for close to a decade now. The Google Glass was announced in 2012. On it, you could view turn-by-turn walking directions and share live videos with friends. The company discontinued the project early this year. Oculus VR — which Facebook (now Meta) acquired for $2b in 2014 — released a $599 consumer model in 2016. Meta continues to release headsets in the form of Quest but success hasn't come in plenty. Microsoft has spent years promoting HoloLens, pitching it to schools and businesses but this year the company made cuts to the HoloLens division.
The issue is: Headsets have come across as solutions to a problem that doesn't exist. Apple decided against a soulless metaverse and showed how people can wear this headset around a house, an office or even on a plane.
According to researcher International Data Corp, headset sales grew during the pandemic, doubling to nearly 11 million units shipped in 2021. It dropped 21 per cent to 8.6 million units in 2022. IDC expects shipments to grow 14 per cent in 2023 and to continue growing in the five years after that. Apple entering the arena is a validation of the technology.
The first iPhone sold for $499 in 2007 and that was an eye-watering figure at that point. The App Store arrived with the iPhone 3G in 2008, changing everything, making the iPhone synonymous with the smartphone as an idea. That will be the case with Vision Pro.
Look at the name
Any Apple device with the 'pro' tag signifies that the device is meant for early adopters and heavy-duty users. At the same time, it leaves room for the simple Apple Vision, Apple Vision Lite and even the Apple Vision Ultra, which means there will be a wide range of headsets.
Apple executives and the headset
No photographs have been seen of Apple executives wearing the new headset. The closest we have seen is Apple CEO Tim Cook standing next to it. Why? It's a calculated decision. CEOs of other companies readily wear the headsets and these pictures often become memes. Apple perhaps wanted to avoid such pictures/memes. Some years ago, Mark Zuckerberg walked into MWC conference in Barcelona while media representatives were wearing the headset. It became a meme. Also, the Apple product hasn't been released to the public, so it's best to avoid such photo-ops.
Will you get to try it?
Apple Vision Pro starts at $3,499 and it will be available early next year in the US with more countries coming later next year.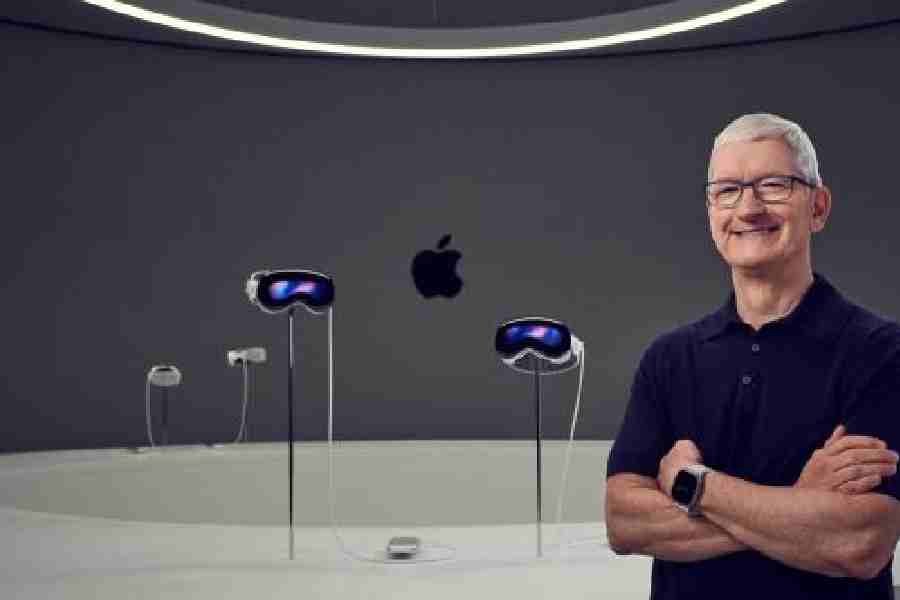 Apple CEO Tim Cook with members of the media next to Apple's new Vision Pro virtual reality headset, during Apple's Worldwide Developers Conference (WWDC) at the Apple Park campus in Cupertino.