Privacy first. It's something Apple keeps in mind while delivering any new feature, product, service or app. It's something that forms the crux of a new campaign from the company, focussing on the importance of health data privacy.
Voiced by Emmy Award-winning actress and comedian Jane Lynch, the ad shows how Apple protects data stored in the Health app on iPhone and in HealthKit.
THE ZAP MOMENT
The 1.25-minute video is hilarious but drives home many important points. The "troublesome haemorrhoid" enters a room full of patients. There he meets Hillary who says she cycled to the chamber though in reality it was an e-bike. Then there is Mary whose period is due to start in three days while her friend hasn't washed his hands since… Monday though they are sharing a packet of crisps. How does the narrator know so much about everyone in the room? The answer is simple tells the narrator: "It's your health data and you've been sharing it without realising it." No wonder the narrator knows about Kevin's rash. Who's next the voice asks and the camera focuses on a girl using the Health app on the iPhone. Zap! The message: "The Health app helps keep it private.
The Health app and HealthKit have been designed to offer data minimisation, on-device processing, transparency and control, and security
The campaign follows an effective path, one that has already told us that "what happens on your iPhone, stays on your iPhone" and has connected products with security with a simple slogan: "Privacy. That's iPhone."
The biggest problem at the moment is how much data are we willing to share versus how much is being shared without one realising it. Five-six years friends laughed at the mention of the word privacy but that has changed drastically. The real importance of this fundamental human right will perhaps not be understood until one loses it.
The company has been trying to build privacy into all its products and services. "It's the fabric of everything we do. It's such a part of how we think. Honestly, I don't know any other way. We take privacy so seriously that from the beginning, when we're designing, how we are going to build the science or the study to build the features that we do, we think about privacy from day one. So do we have to take extra steps? We do. We feel so strongly about privacy that we don't want to sacrifice privacy for speed. We'd rather be slower and be private, science-based and accurate.
The truth is, these things take quite a bit of time. And it's because of our attention and our focus on how we handle data," Dr Sumbul Desai, MD, told us a few months ago. She serves as vice-president of Health at Apple, overseeing health initiatives including clinical product development, medical research, and innovative clinical partnerships.
The Health app and HealthKit have been designed to offer data minimisation, on-device processing, transparency and control, and security. To have the iPhone locked with a passcode, Touch ID, or Face ID, helps all health and fitness data in the Health app — other than Medical ID — to remain encrypted. If any Health data is backed up to iCloud, it is also encrypted both in transit and on Apple's servers. For users with a recent version of watchOS and iOS with the default two-factor authentication and a passcode enabled, health and activity data is backed up in a way that Apple cannot decrypt the data. In other words, it's impossible to be read. As of August 2022, over 95 per cent of active iCloud users have two-factor authentication enabled.
It's also important to remember that data in the Health app and HealthKit doesn't get shared with any third party without the user's explicit permission, and if users decide to share their health data, the Health app provides users with granular control over the types of data they share and who they share it with. It's always possible to review, manage, and withdraw permissions at any time.
The new campaign will run across broadcast, social, and billboards in 24 regions worldwide this summer. In India, there will be billboards present in Calcutta, Mumbai, Delhi, Bangalore, Chennai, Hyderabad, Pune and Ahmedabad.
AT A GLANCE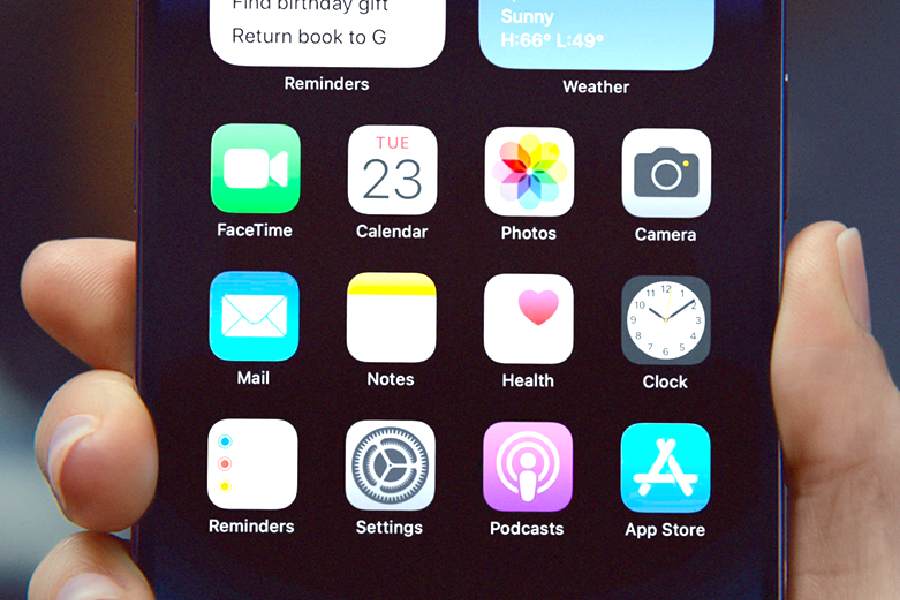 The Health app helps keep your health-related data private
To review any health data you're sharing with loved ones…
Tap Sharing at the bottom of the screen.
Tap the name of a person.
Scroll down, then tap View Shared Data.
Make any changes, then tap Done
To review any health data you're sharing with apps and devices…
In the Health app, tap your picture or initials at the top right. If you don't see your picture or initials, tap Summary or Browse at the bottom of the screen, then scroll to the top of the screen.
Below Privacy, tap Apps or Devices. The screen lists the items that requested access to Health data.
To change the access for an item, tap it, then turn on or off permission to write data to — or read data from — Health.