The 10th edition of Sanmarg Aparajita Awards 2021, partnered by t2 and held at JW Marriott Kolkata on December 22, celebrated women and their feats. The decade mark made it even more special. This year's awards recognised women achievers in the fields of academia, creative arts, performing arts, enterprise, health and wellness, social service and sports. The categories in this year's award ceremony were not only about a woman's exemplary contribution in the particular field but also about women who are "compassionate, graceful, invincible, inspiring, tenacious, creative, dynamic, resilient, fearless and unstoppable", felt Ruchika Gupta, executive director, Sanmarg and founder, Aparajita Awards. "What started as an award ceremony is today a platform to encourage women from all walks of life . To celebrate her journey and share her story with the world. Aparajita today has a clear vision to give every woman the power to empower herself and those around her, embrace her identity, emote without fear and be herself. Aparajita salutes womanhood and these beautiful 10 years have helped her become a "consciousness", " the chetna," she said. Snapshots: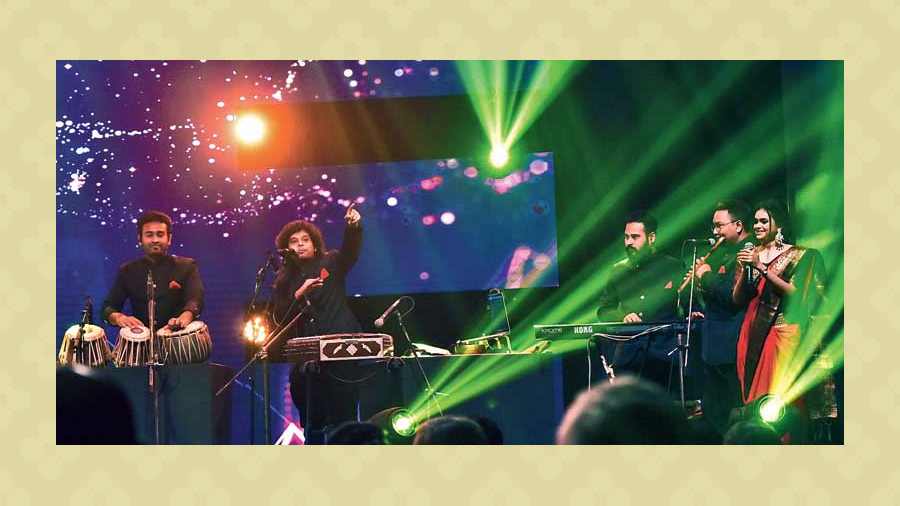 The band Blendz kept the audience entertained with their performance.
Awardees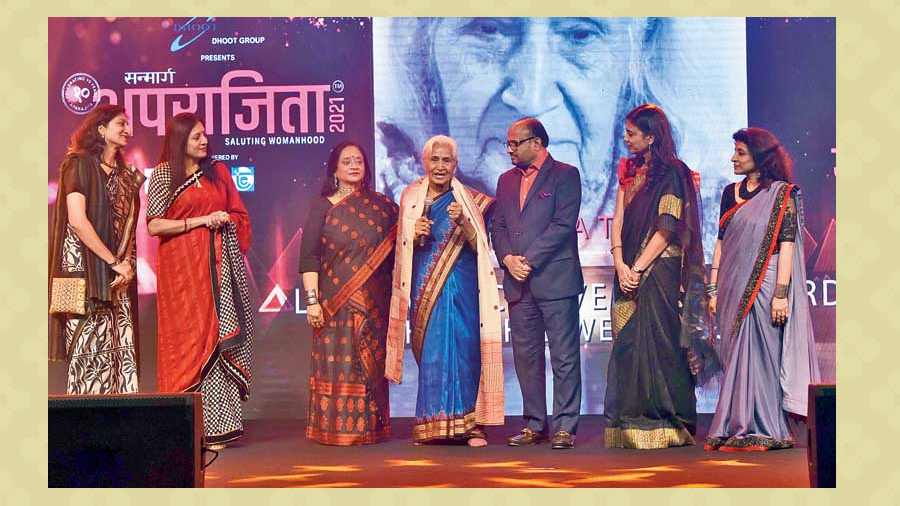 Salila Tiwari (fourth from left), founder chairperson of Swastha Bachao Aandolan received the Lifetime Achievement Jury Award for her remarkable contribution in making people aware about maintaining good health through naturopathy, yoga and drugless therapies. She works closely with the grassroots, who are actively involved in her movement. She was awarded by jury members (l-r) Supriya Newar, Madhu Dugar, Nayantara Palchoudhuri, Pawan Dhoot, Vinita Bajoria and Mamta Binani. "The Aparajita award should have gone to my mother, when she was a part of the freedom struggle. We were seven siblings and my mother would work day and night to educate and provide for us. She would always be the greatest promoter of education in our lives and would encourage us and push us to study hard so that when we grew up we could make a lifestyle of our own choice, one that would be healthy and beautiful," she said.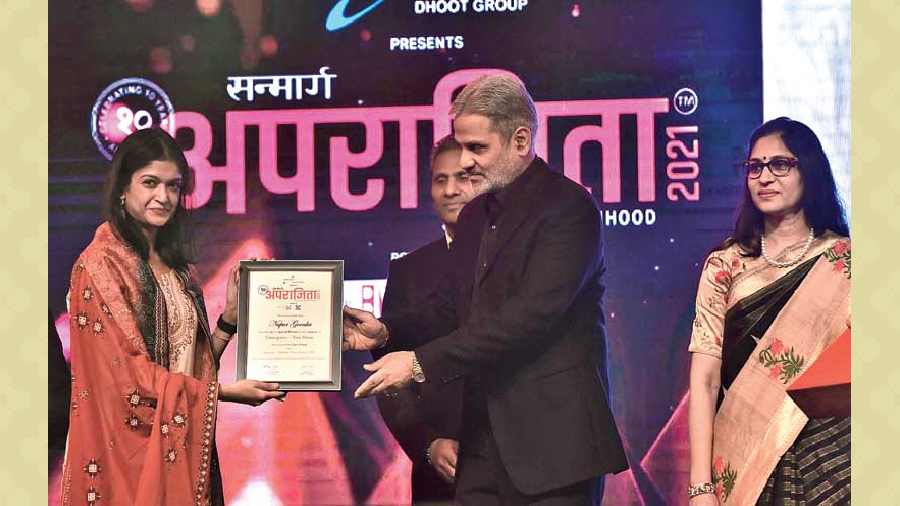 Nupur Goenka, executive director of Tally Solutions was honoured with the You Shine-Enterprise jury award by Kamal Dugar,director, BMD group.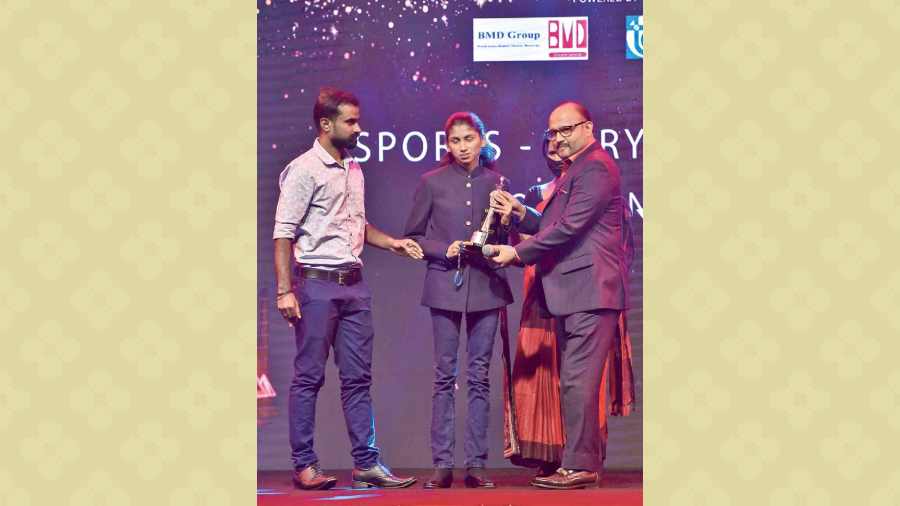 Rakshitha Raju, a para-athlete from Karnataka's Chikmagalur, who is visually impaired and has bagged gold in several international championships, was present with coach Rahul B. (left) to receive the You Shine-Sports Jury Award from Pawan Dhoot, chairman, Dhoot Group. Raju along with her coach also demonstrated a run in the hall for the audience.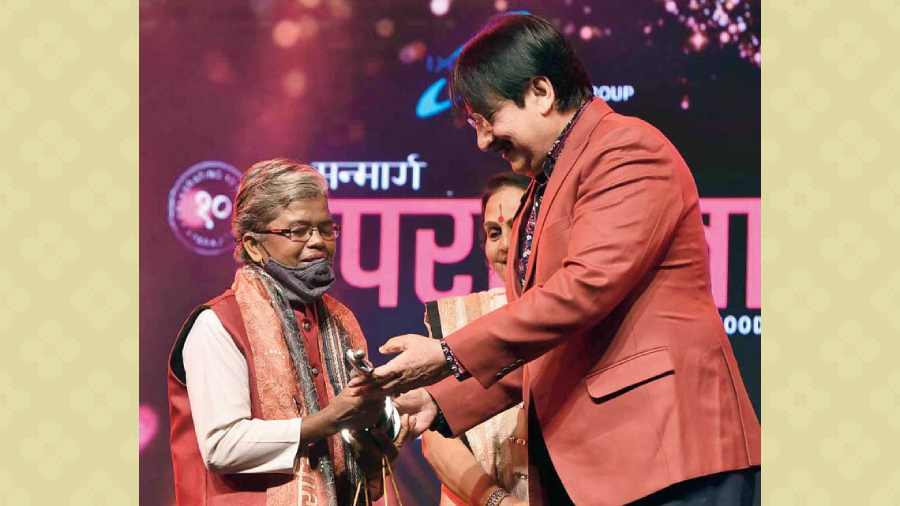 Reba Murmu, who started and runs the Lakshmi Murmu Prathamik Bidyalaya for the upliftment of indigenous people of her village and trains women in organic farming, received the Unsung Story Jury Award from actor Arjun Chakraborty.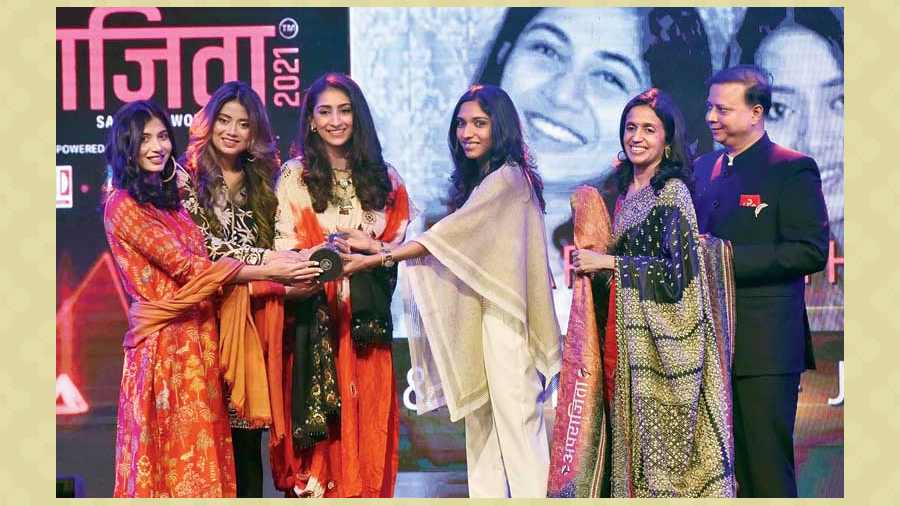 (L-R) Ahilya Mehta, Mallika Sahney and Pragya Saboo of Aara Health, a women's health platform for building awareness and providing services around feminine health along with co-founder Navya Naveli Nanda (who could not be present at the ceremony) were honoured with You Shine-Health and Wellness Jury Award by Avantika Gupta,director, Techno Electrical & Engineering Co, Ruchika Gupta, director of Sanmarg and founder of Aparajita and Vivek Gupta, director, Sanmarg.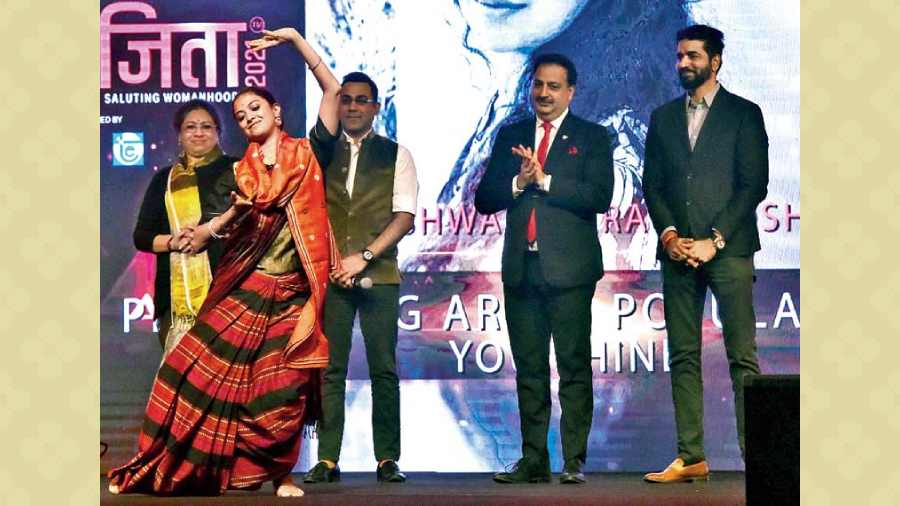 Shashwati Garai Ghosh was honoured with the You Inspire-Performing Arts Popular Award by (l-r) Tanusree Shankar, Sourav Kothari, Sumeet Suri and Anand Kulthia. Shashwati also mesmerised the guests with an impromptu performance, on request.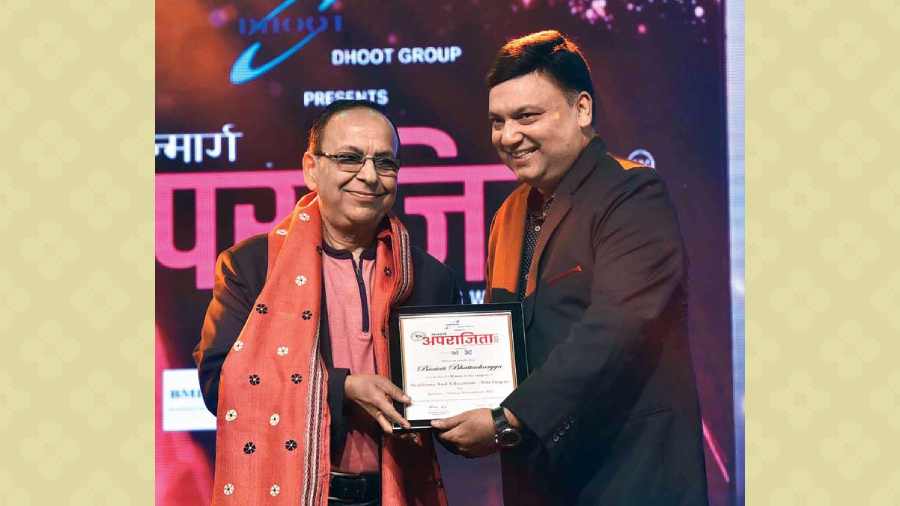 Vinod Agarwal received the You Inspire-Academia and Education Popular Award on behalf of Bratati Bhattacharyya, from Sanjay Agarwal, managing director, Dilip Group of Companies.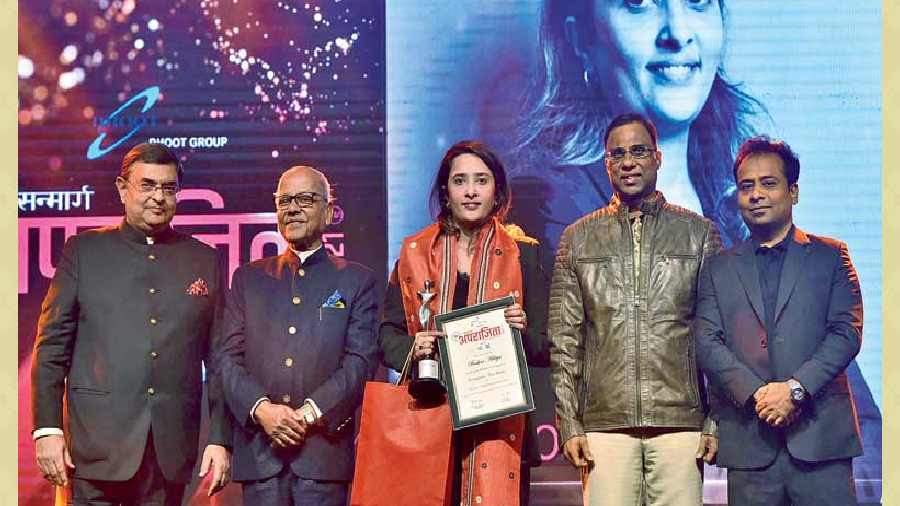 Roshni Aditya (third from left) received the You Shine- Enterprise Popular Award. (L-R) Utsav Parekh, director, SMIF Capital Ltd, P.D. Agarwal, Sumit Binani, director at Value Wise and Vijay Soni, director, Mahabir Danwar, were also present.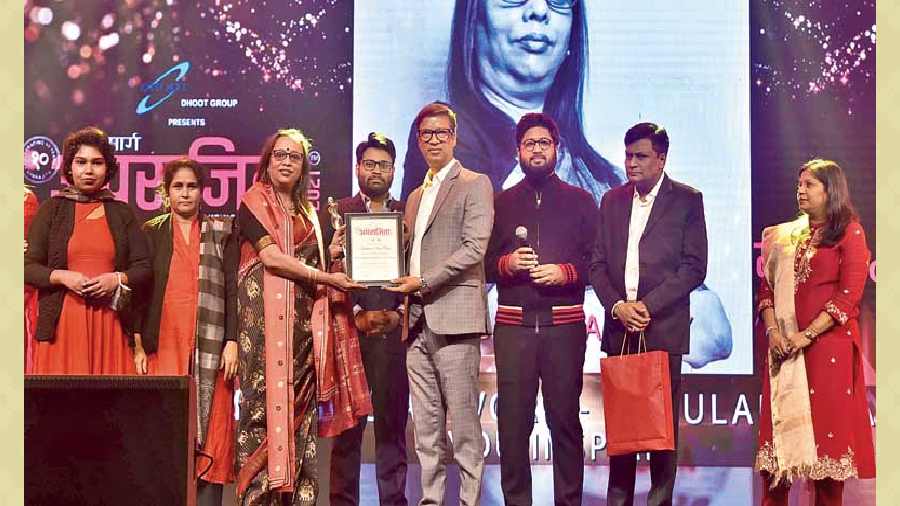 Sarbani Das Roy received the You Inspire-CSR and Social Work Popular Award from Namit Bajoria, managing director, Kutchina Homemakers in the presence of (l-r) Arihant Baid, managing director, Gennex Laboratories,Gyanesh Chaudhary, managing director, Vickram Solar, Om Jalan, Bengal Energy and Suman Jalan.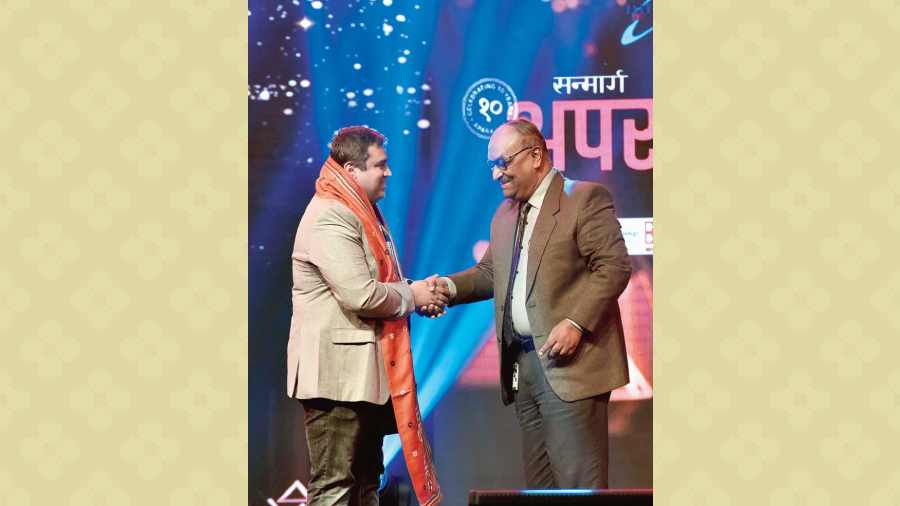 Prashant Pandey (left) received the You Inspire-Health and Wellness Popular Award on behalf of Reena Nair, from Rana Dasgupta, CEO, eastern region, Apollo Multispeciality Hospitals.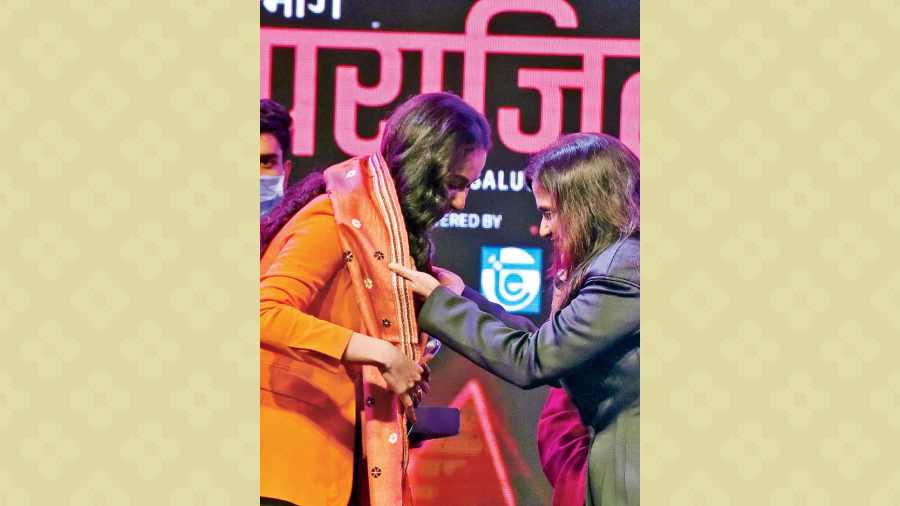 Ushoshi Sengupta received the You Shine-Creative Popular Award on behalf of Ashwika Kapur, from Anita Agarwal, owner of Minu Sarees.
Pictures:B.Halder