June 3 is special for both Anindya Sengupta and Shruti Das. They make their film debut with X=Prem, directed by Srijit Mukherji, on that day. The film is a futuristic love story but the The Telegraph chat drifts towards things that are classical in the beginning. Anindya and Shruti talk about the intrigue of black-and-white and the whiff of nostalgia attached to it. They have fond memories of signing autographs in the age of selfies. "It felt really nice. It was so unique," they smile. The Telegraph chat...
What was it about acting that hooked you?
Shruti: It is an interesting and intriguing exercise to experience someone else's life and come back to your own. I like being other people. You get to live so many lives in one life. Also, I am trained in Indian classical and I feel at home on stage. I am from Calcutta. I have done my masters from Rabindra Bharati in theatre direction. I shifted to Bombay four years ago. Before that I was in Dubai for work... I was there for two-and-a-half years. It made more sense to me to shift to Bombay for work opportunities. Then one day I got the call for X=Prem.
Anindya, you had interviewed Srijit Mukherji....
Anindya: He had noticed me while I was doing the interview. If we go back a bit, I started doing amateur theatre from 2015. I joined radio in 2016. While doing a play in Pune I felt something inside. I realised that I want to be in performing arts. I needed a perspective and then I left the radio job. Within that time frame I interviewed Srijit Mukherji. We thought that we had created an impression which was the objective. Much later I got a text from Srijitda and I called him up. The next day I went for the script reading of Oti Uttam, and then the journey of Oti Uttam happened. During the dubbing of Oti Uttam, he told me to go for an audition of X=Prem.
Shruti: Which scene?
Anindya: The introduction scene where I impress you! Then one day he finally called and told me that I was doing Khilaat.
Your first film is releasing this Friday. Do you follow box-office figures? How important are they for you?
Shruti: Very important. Of course it matters. But I'll go into hiding... because my anxiety will take over. I am very sure of it. (Turning to Anindya) Let me know!
Anindya: When we are putting it out for public consumption, it does matter. I would like to refer to a certain incident. In an interview Farooq Shaikh was asked, 'Did it ever matter to you that you weren't as popular as Rajesh Khanna though you had an illustrious career'. He had said, 'Yes, it mattered because more salability meant that I'd have had access to more kinds of work'. The more saleable you are, you can take more risks.
Is it a similar feeling for you?
Anindya: To some extent... at the same time one needs to have that capability of detachment. As an actor, I'll try to do my best. Millions of people are vying for the position I am in right now... for that opportunity.
Shruti: To get a platform like this for our first work is huge.
Anindya: I cannot take this for granted. I have to give my 500 per cent.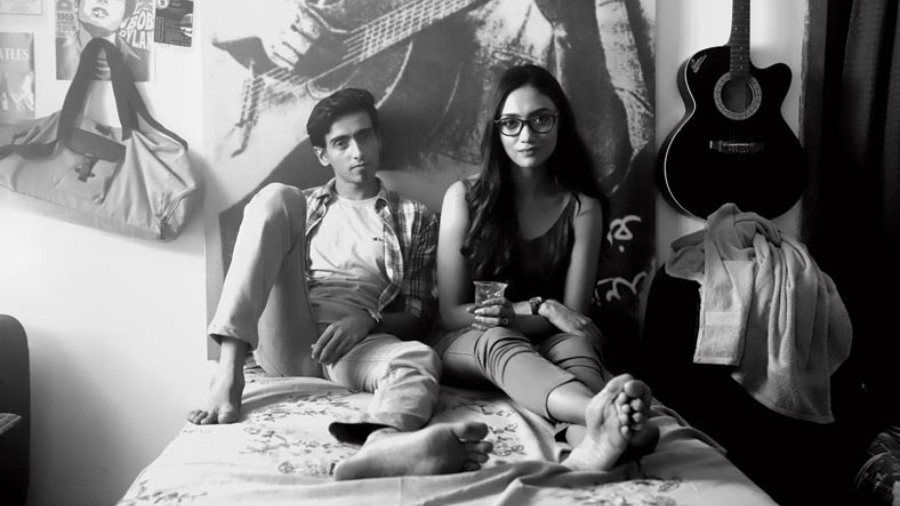 Both of you have been to various colleges for promotional events. We see people talking to you, taking selfies with you. It's a new chapter of your life. Does it make you more responsible? Do you conduct your life in a certain manner now?
Shruti: It is too early to comment on it now. It feels nice to know that people appreciate your work. I also want to live my life. I want to have normal experiences. If I don't live the full life, I won't have anything to bring to the table. I want to give something new to each of my characters. I don't want to live in a bubble and sit at home. I am happiest on the sets.
Anindya: You want to work and absorb. It is important to maintain a sense of normalcy. I don't want to take myself too seriously. I want to lead a normal life.
How do you navigate the world of social media?
Shruti: Anindya forgets at times. I remind him to update or post certain things. His sister handles his social media.
Anindya: I am on Facebook to do the basic stuff, to update and post. And I want to promote my work. I am a very social person but I am not a social media person. My sister handles my Instagram account. It is very overwhelming for me.
Shruti: Of course, I like to meet up and hang out with friends. And I also like to be on my own at home. I would rather watch or read something... I have a cat. I am not a very outgoing person. As long as I am working I am a different person.
Did X=Prem bring back college memories?
Anindya: I like my me-time and I am a social person as well. I want a bit of everything. I was like this in school as well. I have been asked questions like, 'Can you be friends with your ex?' and I believe in it. Friendships happen organically... and that friendship has stayed with one person.
Shruti: I was somewhat like Joyee in college... boisterous. College was the best time of my life... because of the friends... and I got to study natok. One develops a really nice camaraderie. That was a brilliant experience. I am friends with some of my exes... really good friends. I have been able to maintain a civil, nice, happy relationship with them. Now, the only love of my life is my cat.
Anindya: The film should make the audience think of their college lives. As actors, it shouldn't make us do that!
Tell us about your characters....
Anindya: In college, there was a brashness about Khilaat. He was arrogant in a charming way. Post that it was a much more evolved character emotionally.
Shruti: Joyee is all heart... very passionate. She is driven by desire. She is a headturner... she walks into a room, and you'll look at her. She has that magnetic force.
Anindya: We have all become very good friends while doing this film.
There's a beautiful scene of the two of you kissing against the backdrop of the Howrah Bridge...
Anindya: We were on a boat... the visual is so iconic. And the bridge was packed with on-lookers, which of course one can't see. They couldn't spot the camera at first. Initially they just saw two people kissing on a boat. That kiss was not planned.
Shruti: We had gone to shoot montage shots.
Anindya: It was the second or third day of shoot... and we followed instructions. Subhankarda (DoP) is brilliant at what he does, and he shot it beautifully. He is so helpful and supportive. Shruti is such a delight to work with. When I see that person pushing herself to the hilt in every scene, it motivates you too.
Picture: B. Halder