Suman Ghosh's Nobel Chor brought together two legends of the Indian screen, Mithun Chakraborty and Soumitra Chatterjee. Though the latter had only a guest role as a schoolteacher, he brought his characteristic attention to detail even in that, working on getting the accent of the Bolpur area just right. However, his greatness as a co-star came to the fore when he realized that Mithun Chakraborty was having problems with the accent. The film also witnessed a wonderful bit of collaboration between the two actors to help the film-maker out of a spot when rain threatened to upset the day's schedule.
— Shantanu Ray Chaudhuri, editor of Soumitra Chatterjee: A Film-maker Remembers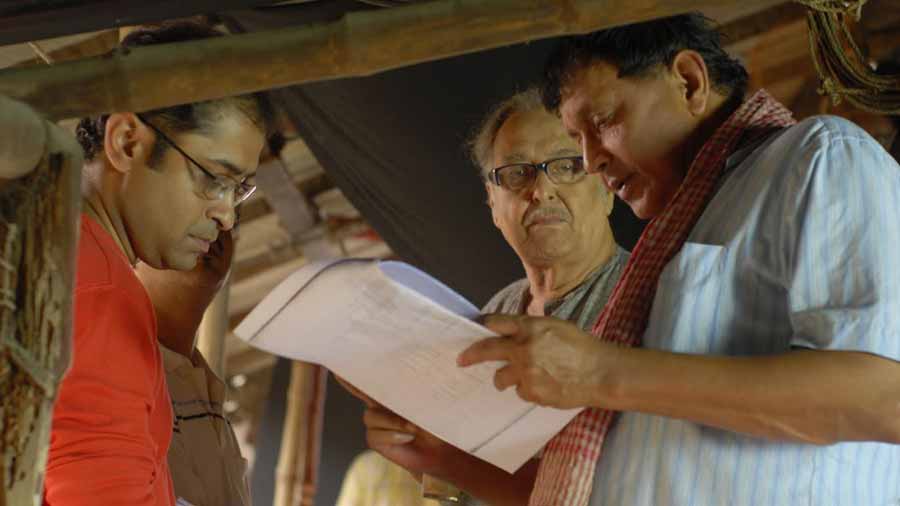 On location, 'Nobel Chor', Soumitra-kaku and Mithun-da… extreme understanding and cooperation amongst the actors, not to mention mastery over their craft
Courtesy: Suman Ghosh
The extract
My first two films – Podokkhep and Dwando – had Soumitra-kaku as the protagonist. When I wrote Nobel Chor, I did not have him in mind for any of the characters. But my producer, Ashwani Sharma, wondered whether I could ask Soumitra-kaku to play the part of a 'mastermoshai' in the film. He was lured by the idea of having two of India's greatest actors, Mithun Chakraborty (who was already cast as the protagonist) and Soumitra Chatterjee, in the film. I was elated by the suggestion too since my association with Soumitra-kaku would continue, though he would have a guest role. Soumitra-kaku also readily agreed to act in the film. It was only a few days of shoot with him in Bolpur and a day in a village near Kolkata but it was nonetheless fun to observe his dynamics with Mithun-da.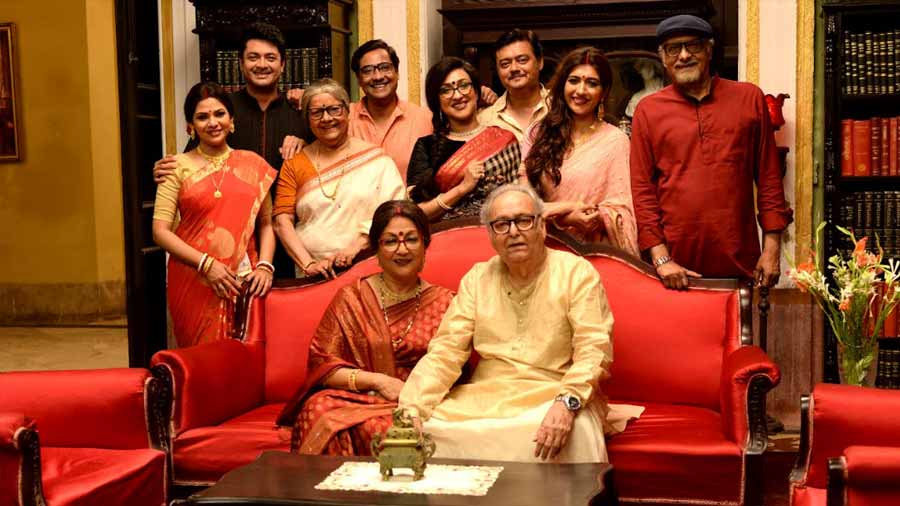 The cast of 'Basu Poribar'. By the time the script was ready, the film had acquired the dimensions of a multi-starrer. As one of my assistants playfully commented, it was almost a snapshot of Bengali cinema history
He was playing the role of a village schoolteacher. As usual, his preparations for even a guest role were top notch. The first thing he wanted to perfect was the Bolpur accent. I need to mention here that he had an amazing ability to master different Bengali accents from different parts of the state. In the process, I noticed one thing that really touched me and is a lesson for all actors. Soumitra-kaku had mastered the accent but in his first scene with Mithun-da he noticed that Mithun-da was not being able to speak in that dialect. Instead, he was speaking in a normal dialect with certain words enunciated in a way to convey a rustic feel. Amazingly enough, Soumitra-kaku sacrificed his authenticity and started speaking the way Mithun-da was. 
As far as actors' dynamics go, this needs to be emphasized. Usually, I have observed that there is a subtle tussle among actors on sets. Oftentimes it is healthy, namely, it is good for the scene and the film, but all too often it becomes unproductive. Each one tries to outdo the other which ultimately harms the scene. And here was a perfect illustration of how Soumitra-kaku gave way to his co-actor in order not to outshine Mithun-da in their scenes together.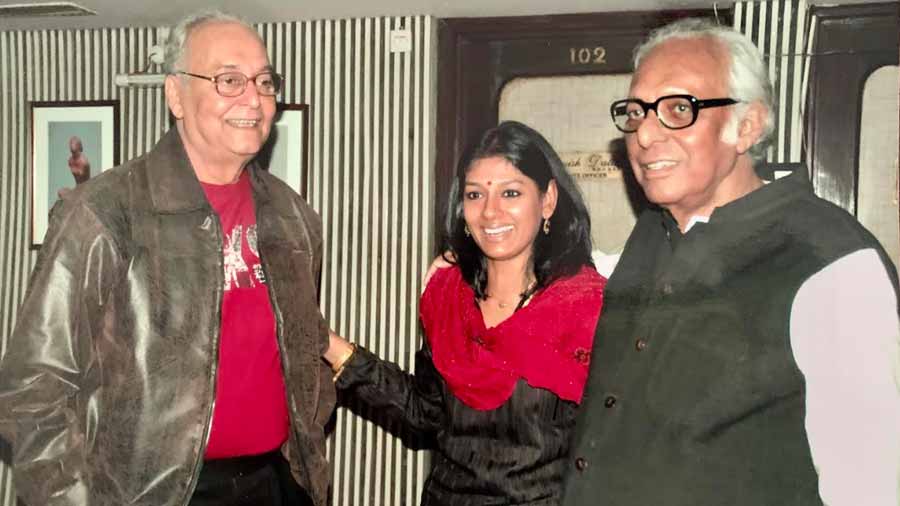 Soumitra-kaku with Nandita Das and Mrinal Sen at the premiere of 'Podokkhep' at Nandan
Courtesy: Suman Ghosh
Another day involving a shoot in a village near Kolkata is memorable for a different reason. Mithun-da and Soumitra-kaku were part of the sequence. It was Mithun-da's last day of shoot. He was supposed to leave for Mumbai the next day and his dates were not available for months after that. There were predictions of rain and the sky was overcast. By the time we reached the location, the weather had worsened. We would have at most an hour or so in which to complete an entire scene. I had made my shot divisions carefully but given the immense pressure, I could not figure out how to complete such a scene in an hour. 
Mithun-da and Soumitra-kaku took over. They saw my shot divisions and restructured them so as to economize on the time it would take to shoot without sacrificing the detailing of the shots that I had planned. Basically, that would entail them breaking their acting rhythm and shoot in order to minimize time. The last part of the scene, which had its acting arc at one level, would be shot right after the establishing shot, and then the interim shots would be canned. In a few instances, the reactions would be shot first and the other actor would act out as per the reaction of his partner. Usually, it's the other way round. And those were very specific reactions, not random cutaways. I understood how difficult it would be for them, but I knew I was working with two of the best in the profession. It also needed extreme understanding and cooperation amongst the actors, not to mention mastery over their craft. 
What unfolded was pure magic. This is the scene where Bhanu (Mithun-da's character) comes to Mastermoshai with the Nobel medal, not knowing what it is. Mastermoshai explains its significance to him and the fact that it was stolen the day before from Santiniketan. It was a pivotal scene and both of them performed with unbelievable fluidity. The general chaos with the approaching rain and the time pressures did not seem to affect their performance at all.