The BAFTA awards, the precursor to the Academy Awards next month, was held in London on Sunday night. The ceremony this year, which marked its 76th year, was held at Royal Festival Hall — located in the iconic Southbank Centre in London — for the first time, moving away from the iconic Royal Albert Hall which has hosted the BAFTAs for many years now.
In an evening peppered with a ho-hum host, largely deserving winners, a near-total shut-out for 10-time nominee Everything Everywhere All At Once and some sparkling off-stage moments, it was German anti-war film All Quiet on the Western Front that proved to be the big winner, taking home seven golden gongs. The Telegraph picks the highlights.
GERMAN DOMINATION
Nominated for a whopping 14 BAFTAs, All Quiet on the Western Front scooped up seven trophies, including the biggies of Best Film and Best Director for Edward Berger. The Netflix film, an adaptation of Erich Maria Remarque's 1929 novel about an idealistic German soldier sent to the trenches, broke the BAFTA record for the most awards won by a film not in the English language, getting past Italian coming-of-age drama Cinema Paradiso, which won five in 1991.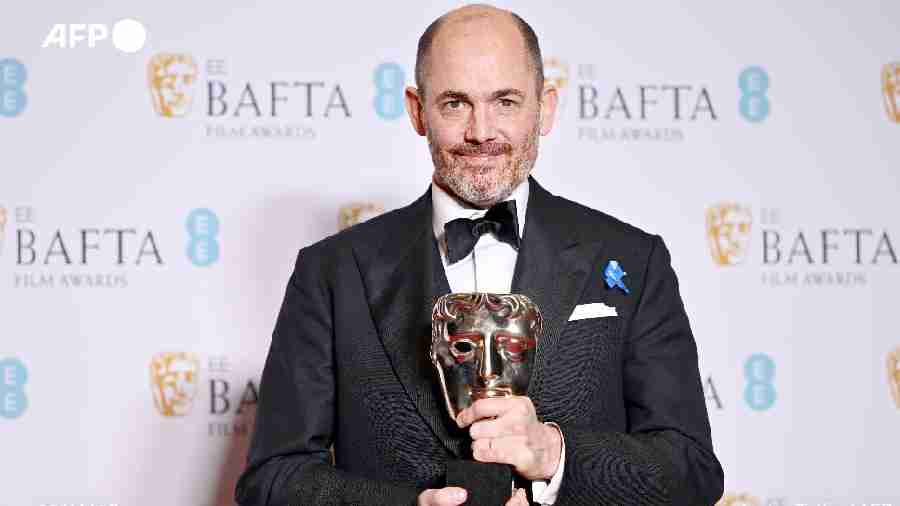 Edward Berger with his Best Director gong for All Quiet on the Western Front, which won a total of seven BAFTAs
The film also took awards for Best Film not in the English language, Cinematography, Adapted Screenplay, Original Score and Best Sound. Picking up his Best Director gong, Berger said that the makers of the film "grew up with a responsibility to tell the story" and also asked the audience to remember the people of Ukraine ahead of the one-year anniversary of the start of the war with Russia.
WINNER WOW
The other big winners of the night were Elvis — the biopic of rock 'n' roll legend Elvis Presley — and The Banshees of Inisherin, a tragicomedy about two lifelong friends finding themselves at an impasse when one abruptly ends their relationship.
Both films won four BAFTAs each, including Best Actor for Austin Butler for Elvis. "I want to thank the Presley family. I cannot thank you guys enough for your love, and for sharing with me who Elvis truly was. I hope I've made you proud. This means the world to me," said the actor who, notably, was accompanied by Lisa Marie Presley, Elvis's daughter, to last month's Golden Globe awards. Lisa Marie passed away just a day later.
The Banshees of Inisherin, an Irish production. was adjudged the Best British Film, prompting director Martin McDonagh to joke on stage: "Thanks to Rosie, our stand-in donkey, who was British! She never actually made it on screen — she was a bit too tubby— but Jenny (the starring donkey) loved her, and we couldn't have made the film without her."
CATE'S 4TH
Cate Blanchett, looking fetching in black, took home her fourth BAFTA award, winning this year for her impactful turn as Lydia Tár, a renowned lesbian conductor whose life slowly begins to unravel as her inappropriate relationship with a student gradually becomes more twisted in Tár. "I didn't prepare anything because it's been such an extraordinary year for women," she began. "As you've seen in those clips, all of my fellow nominees, the conversation with all of you off the screen and on the screen has been nothing short of remarkable and we know that we're just the tip of the iceberg," said the 53-year-old stunner, who beat the likes of The Woman King's Viola Davis and Everything Everywhere All At Once star Michelle Yeoh.
SNUBBED!
Everything Everywhere All At Once, a favourite in the US awards circuit, was totally ignored at the BAFTAs, scoring only one win — for editing — out of its total 10 nominations.
The other notable snub of the evening was reserved for hosts Richard E. Grant and Alison Hammond who just couldn't work the audience. A visibly nervous Grant got off to a decent start with a video skit comprising a set of dos and don'ts of hosting from actor Steve Martin. "One single gag can ruin your life and career," Martin warned him before offering up "rules" for how to be the perfect awards show host. "Don't wear white," Martin warned Grant, already clad in a white tux. "Start working out your monologue at least a year in advance"; "Don't pick a fight with Judi Dench"; and "Don't invest in Helen Mirren's cryptocurrency, she's a scammer." There, of course, had to be a reference to Will Smith's Oscar slap last year with Grant saying, "I'm trying my best to make sure nobody on my watch gets slapped tonight."
It was, however, all downhill from there with a series of jokes from Grant and Hammond that didn't land at all. One of the very few emotional moments of the night came via Helen Mirren's tribute to Queen Elizabeth II who passed away last year, with William and Kate — now the Prince and Princess of Wales — in the audience.
Indian hopeful All That Breathes, in the running for an Oscar, lost out in the Best Documentary category to Navalny, a film about dissident Russian Alexei Navalny.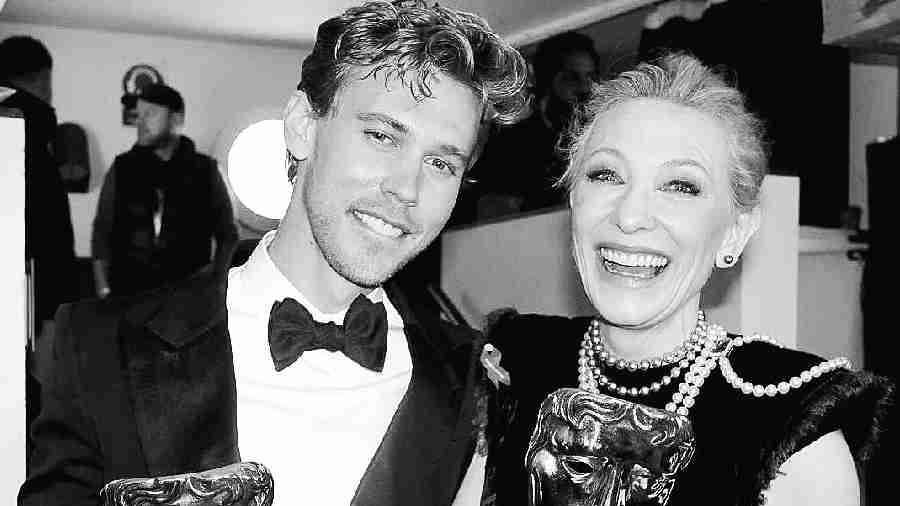 Austin Butler and Cate Blanchett with their Best Actor (for Elvis) and Best Actress (for Tár) trophies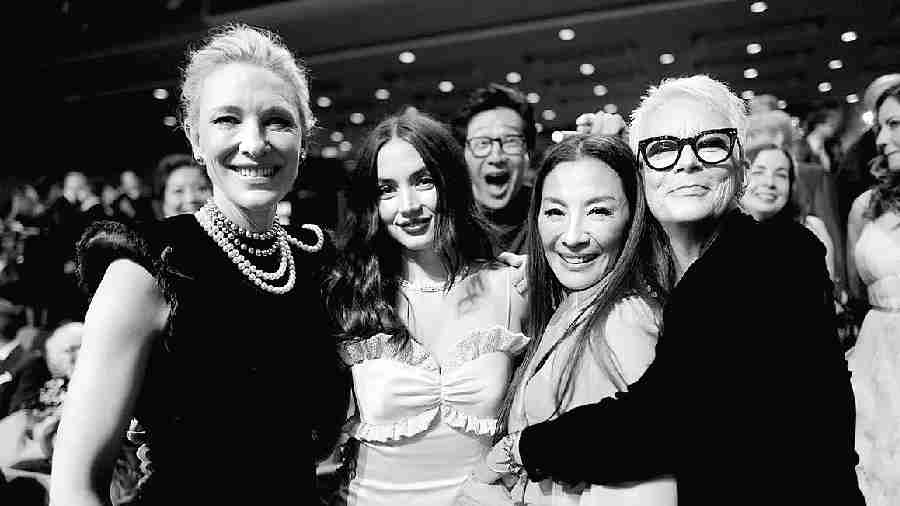 Among the numerous off-stage moments, this capture of Cate Blanchett, Ana de Armas, Michelle Yeoh and Jamie Lee Curtis (shot by Greg Williams), with Ke Huy Quan photobombing the ladies is one for the album
Prince William and Kate Middleton, now the Prince and Princess of Wales, attended the BAFTA awards after a twoyear gap
AND THE BAFTA GOES TO...
Best Film: All Quiet on the Western Front
Outstanding British film:The Banshees of Inisherin
Outstanding debut by a British writer, director or producer: Charlotte Wells for Aftersun
Best Film not in the English Language:All Quiet on the Western Front
Best Documentary: Navalny
Best Animated Film: Guillermo del Toro's Pinocchio
Best Director: Edward Berger, All Quiet on the Western Front Best Original Screenplay: Martin McDonagh, The Banshees of Inisherin
Best Adapted Screenplay: Edward Berger, Ian Stokell and Leslie Patterson, All Quiet on the Western Front
Best Actress: Cate Blanchett, Tár Best Actor: Austin Butler, Elvis
Best Supporting Actress: Kerry Condon, The Banshees of Inisherin Best Supporting Actor: Barry Keoghan, The Banshees of Inisherin Best Original Score: Volker Bertelmann, All Quiet on the Western Front Best Cinematography: James Friend, All Quiet on the Western Front Best Editing: Sven Budelmann, All Quiet on the Western Front EE Rising Star: Emma Mackey