Season after season, London Fashion Week continues to be an event full of contrasts and surprises. Every edition, the runways are filled with an array of elegant, edgy, and unique looks from the most talented and innovative designers. This year was no exception, as the Fall 2023 collections showcased a range of styles that ran from prim and tailored to quirky and wild.
When it comes to fashion, one of the biggest trends to come out of the Fall 2023 runways in London was the idea of using clothing as a way to make a statement without saying a word. One of the most striking looks to come out of London Fashion Week was a combination of oversized sleeves and exaggerated shoulders. Designers such as Emilia Wickstead and Erdem pushed the boundaries with their dramatic and voluminous sleeves, while Christopher Kane and Chopova Lowena opted for more subtle designs that still made an impact.
The oversized silhouettes created a powerful statement while the bright colours added a playful touch. The colour palette was dominated by shades of red, from fire-engine to cherry, as well as classic black and white. Frills and lace were everywhere, adding a sense of delicacy to the collections. The materials used were equally diverse, from classic wool, tweed and velvet, to more unexpected fabrics such as PVC and rubber.
Another key trend that was seen on the London Fashion Week runways was the use of print. From subtle and delicate floral prints to bold and graphic pieces, the prints on the Fall 2023 collections really stood out and injected a sense of fun and playfulness. Designers such as Richard Quinn and Simone Rocha used print to add a unique twist to their designs, while labels like Molly Goddard used it to create a statement piece that made a lasting impression.
Let's take a look at the top trends spotted across the Fall 2023 runways in London…
1) RED HOT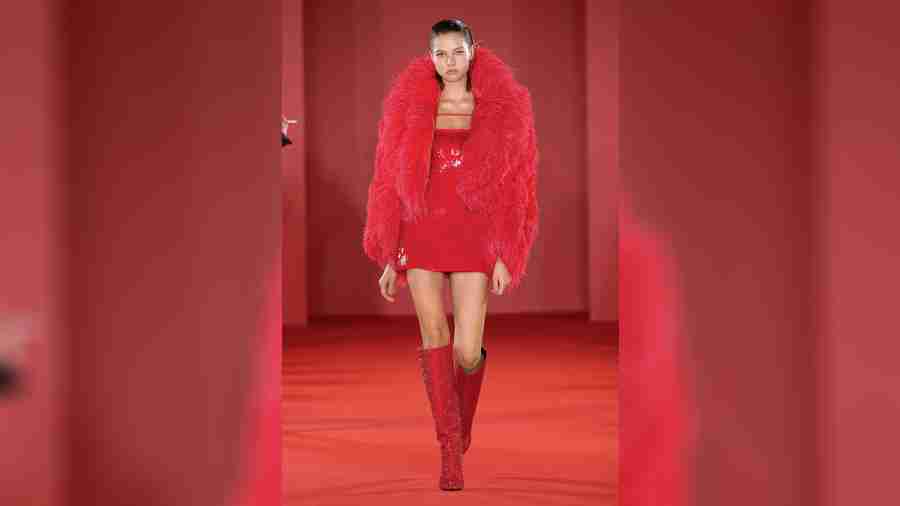 Red was the dominant hue across the Fall 2023 collections in London, ranging from neutral to head-to-toe styling. Rather than appearing sweet or romantic, the effect at Eudon Choi or David Koma was surprisingly intense and pleasurable; it was like biting into a hot pepper — pleasurable, yet packing a punch.
2) SLEEVE DRAMA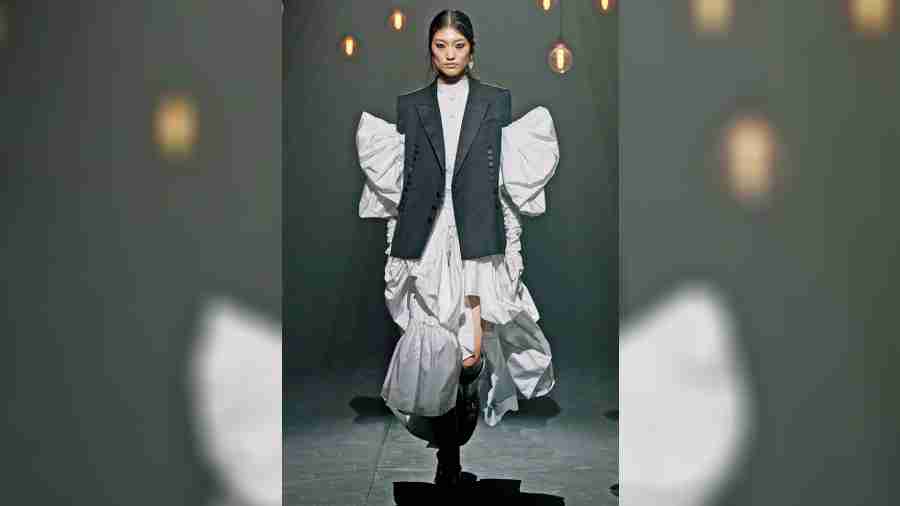 Sleeves are getting a dramatic touch for Fall, with frills, billows and bells leading the way. Thanks to designers such as Huishan Zhang and Roksanda, you'll have plenty of reasons to confidently flaunt your sleeves and showcase your individual style. So, make sure to embrace the season's new look and enjoy the freedom of waving your arms with flair!
3) FABULOUS FLORALS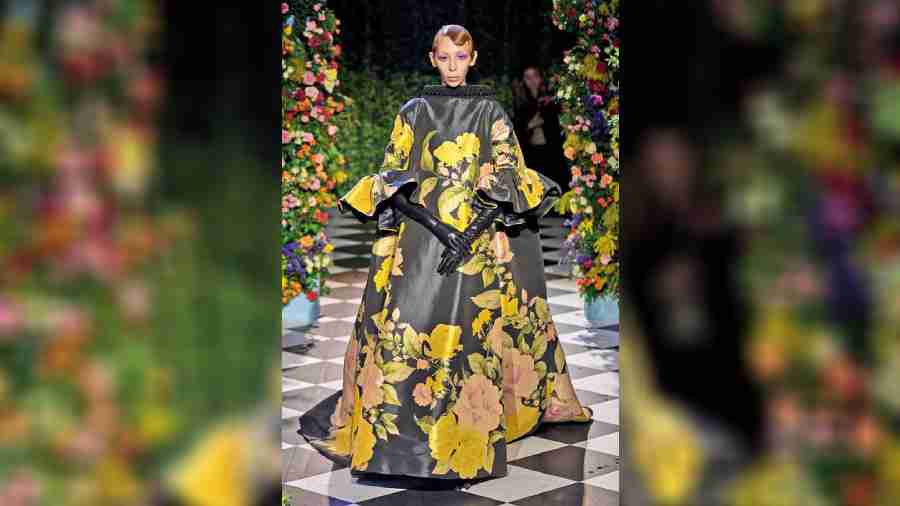 This spring, traditional floral prints have been given a fresh new twist. Whether it's the dark, dramatic florals of Erdem or the lighthearted details of Molly Goddard, lilies, roses and daisies are reborn and ready to be embraced. Don't be afraid to shake up your wardrobe and give a nod to the blooms of the season.
4) BOW IS BACK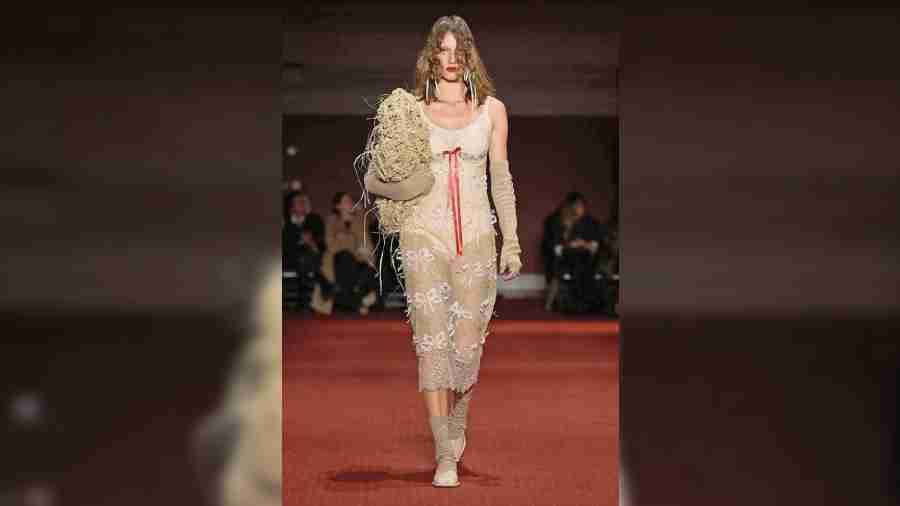 This year, the timeless and delicate detail of a bow is making a fashionable comeback in a variety of stylish and modern ways. From Simone Rocha's delicate dresses to the more dramatic takes from Pam Hogg and Chopova Lowena, the sweet drape of a bow is a feminine detail that is sure to make a statement in any wardrobe. Whether you opt for the subtle and delicate styles or the more daring and edgy designs, the bow trend will surely be a standout this season.
5) STRUCTURE WORKWEAR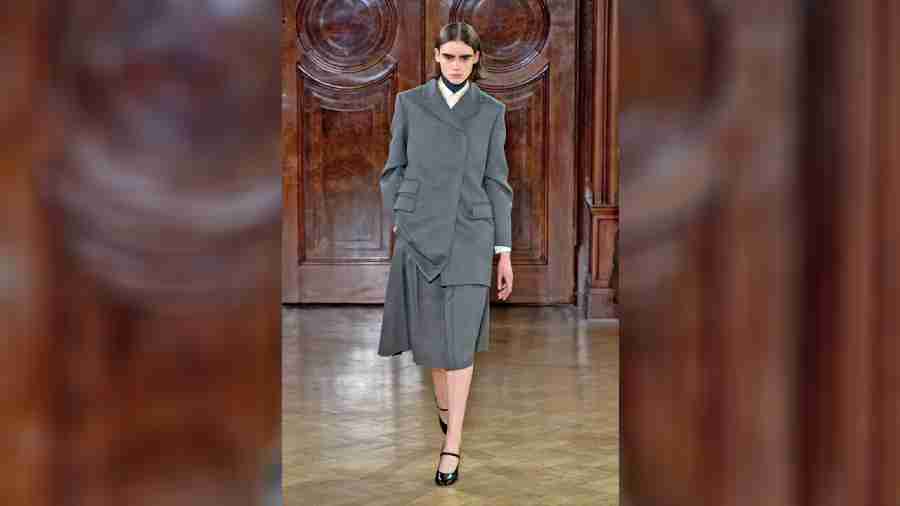 The modern wardrobe is changing. We are seeing a transition from a relaxed, casual style to one that is more structured and tailored. Workwear essentials, such as blazers, chinos and trousers, are making a comeback, but in a fresh, modern way. Whether you prefer the minimalist elegance of Tove's designs, or the slouchy suiting of Connor Ives, now's the perfect time to explore the possibilities of tailoring.
6) SHEER FABRICS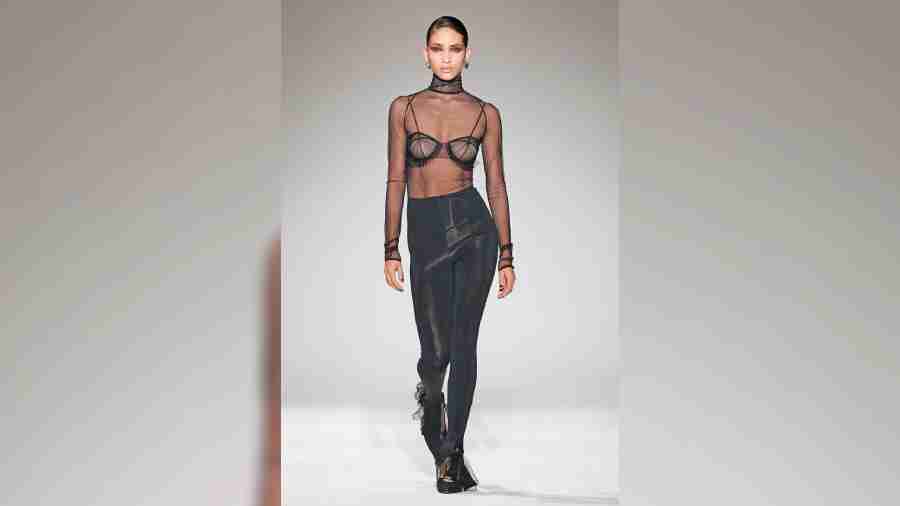 The concept of "naked dressing" is not a new one, but this autumn, it's about to take on a whole new level. From sheer fabrications to gauzy over-layers, designers are pushing the boundaries of traditional dressing and creating looks that are both daring and incredibly stylish. For those who want to show a bit of skin without going fully 'au naturel', there are plenty of options out there — from Dilara Findikoglu's overlays to Nensi Dojaka's stunning sheer ensembles.
7) POLARIZING PEPLUM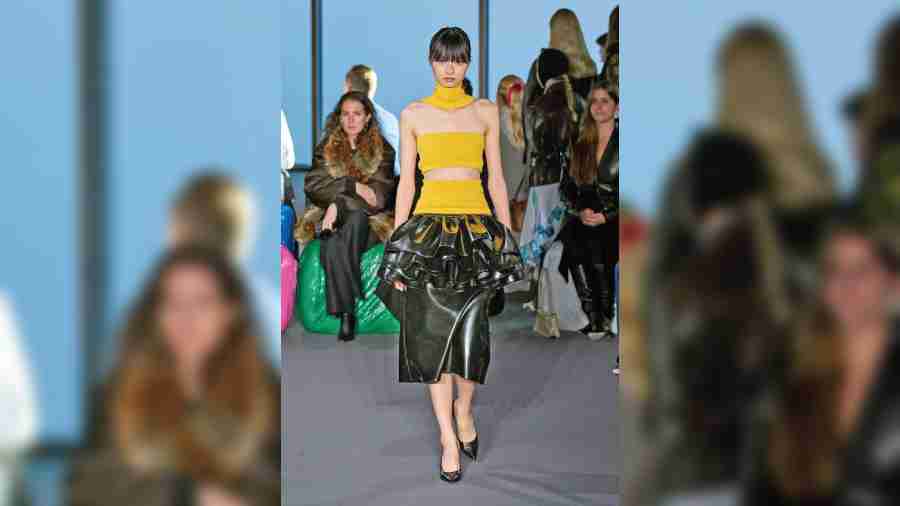 The peplum is back and causing quite a stir. Whether you love it or hate it, there's no denying that this voluminous skirting or top with a flared bottom is making a big splash in the fashion world. With its presence on the runways at New York and now London, it seems that the peplum is here to stay.
9) GRAPHIC QUIRKINESS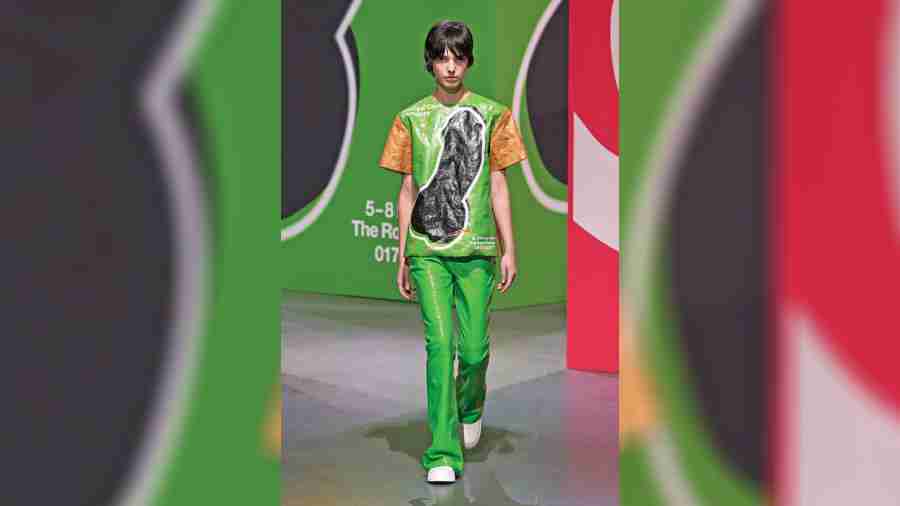 It's time to let your imagination run wild! Bold graphics and fun designs have infiltrated the fashion world, and it's turning the industry upside down. Whether it's surrealist prints, superhero motifs, or vibrant colours, this season is all about having fun with your wardrobe. So ditch the boring basics and let your style shine with these standout graphic attire!
10) HIGH VOLUME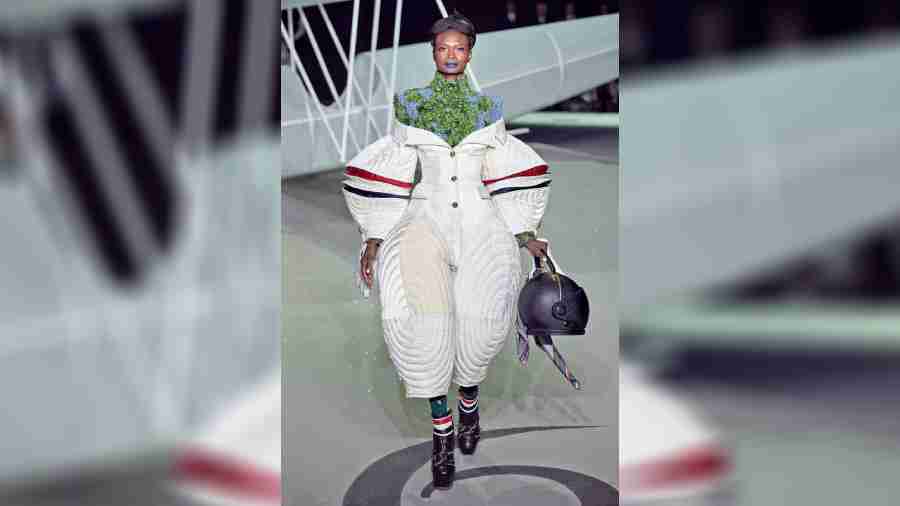 This season, volume is making a statement. From dramatic gowns to poofy pants, designers are creating looks that are sure to turn heads. Thom Browne's balloon pant silhouette looks like the sails on a boat, while Richard Quinn opts for something more traditional. But, no matter the look, it's all about making a statement and demanding to be respected.
DRAMATIC SHOULDERS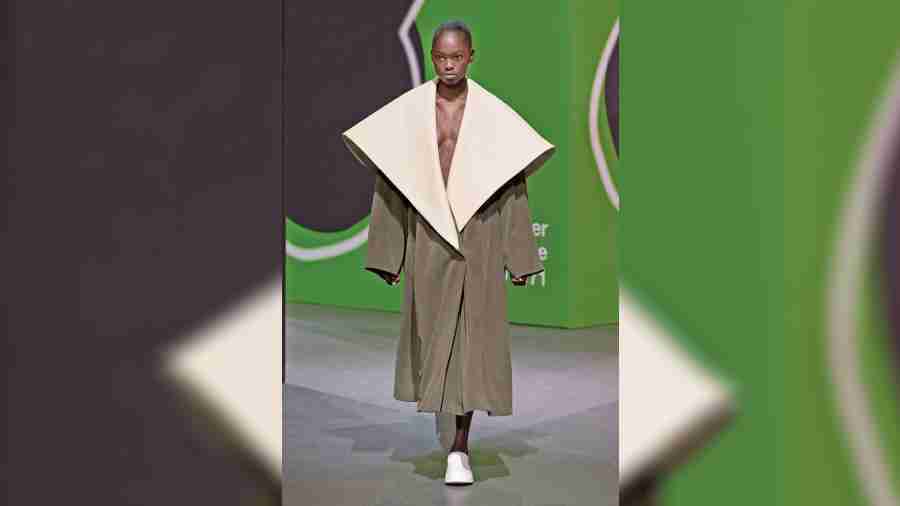 The shoulder pad trend has been making a major comeback in the fashion world over the past few seasons. From dramatic, oversized shoulders to sculptural designs and exaggerated silhouettes, designers have been bringing the look back in full force. Whether you are looking to make a statement with a bold piece or simply wanting to add a bit of drama to your wardrobe, it's time to take a closer look at the power of the shoulder pad.