Just days head of Rakhi, Akshay Kumar breezed through Kolkata on August 8. Reason? To promote his latest film Raksha Bandhan that releases in theatres today. Accompanying the Khiladi at Cinepolis in Acropolis Mall was the film's director Aanand L. Rai and actors Sadia Khateeb, Smrithi Srikanth, Deepika Khanna and Sahejmeen Kaur.
This is Akshay Kumar's second film with Aanand L. Rai after Atrangi Re that released late last this year on an OTT platform. "In Atrangi Re, I had played a magician but in real life, he (Aanand L. Rai) is a magician. In front of the media, I am saying this today that this is my career's best movie," said Akshay. While Rai lauded the actor saying it, "It didn't feel like I was making a film. Mujhe lagaa main apno ke saath film jeeta jaa raha hoon."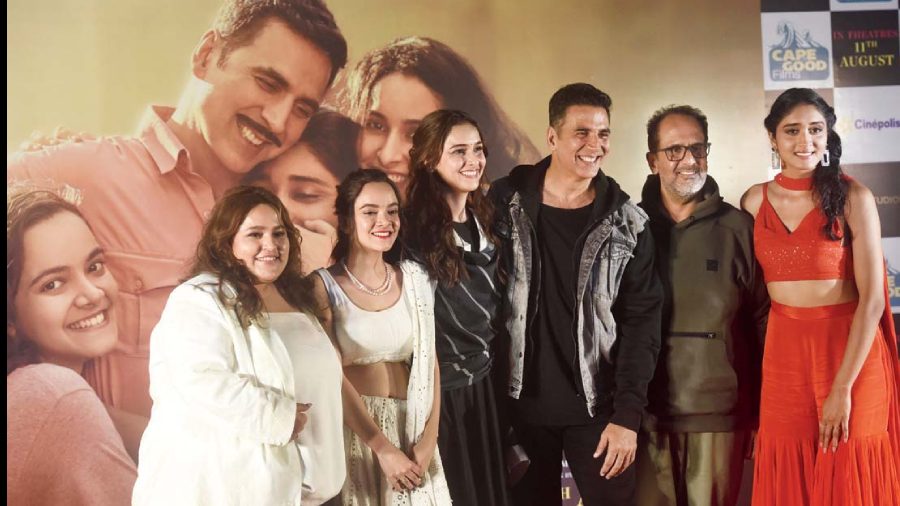 (L-R) Deepika Khanna, Sahejmeen Kaur, Sadia Khateeb, Akshay Kumar, Aanand L. Rai and Smrithi Srikanth. This was the first time Akshay's reel sisters are working together with him and talking about the experience. Deepika said, "I learned a lot from him every day, kuch na kuch chhota chhota. I feel grateful. Unka ek maan na hain that time is very precious, once wasted it will never return. I feel very happy to have this time with him because it means a lot to him." "For me, it's been an honour working with these lovely reel sisters of mine. They are absolutely raw, they haven't faced the camera so much, but there is something in that rawness, the simplicity. I learnt from them. I can look at their eyes and see how simple they are, they are not corrupted. So it was great working with them," said Akshay.
Speaking of the film, the actor said, "This is a family movie, made with a lot of love. When you watch this movie, you will feel you have got more attached to your family. The movie is like gum, yeh sab cheez jod deti hain."
Raksha Bandhan, as the name suggests, is a movie based on the brother-sister relationship with Akshay's character wanting to get his sisters married first before tying the knot himself. The movie has a strong anti-dowry message.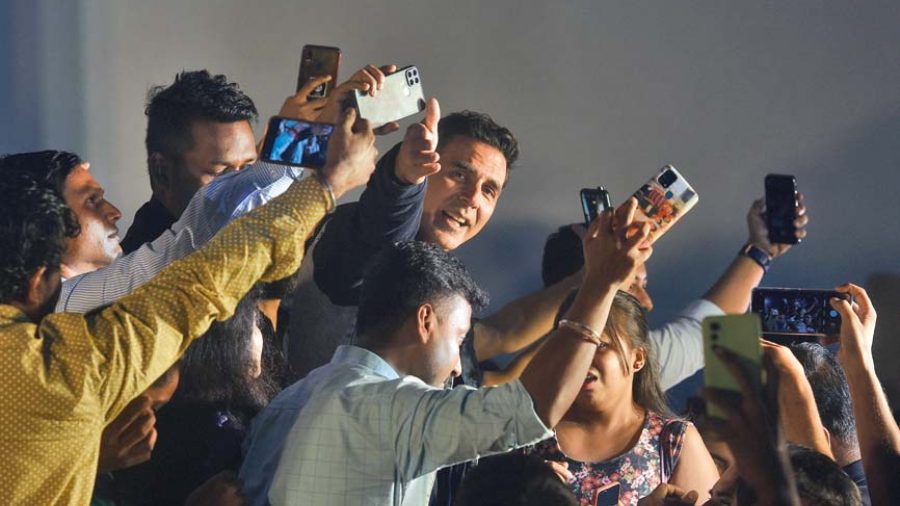 When you have a superstar like Akshay Kumar in the house, there is no missing taking a selfie. The actor's fans swarmed around him for a picture and he obliged!
This is not the first time Akshay is doing a movie with a social message. "When I joined the industry, I actually came to make money but slowly, the film industry and films became my passion. Today, I can make a lot of commercial films, but I make all these kinds of social films where I am trying to say things to people. Isme itna kamayi nahin hain but uske andar jo sukoon hain woh bahut accha hain... Raksha Bandhan has a lot of things which you will relate to when you watch. You will understand what Mr Aanand Rai and us have tried saying. The movie talks about the problem and the solution but we are not trying to give any message, it is on us, whoever likes what can pick it up and take it. By watching this film even if 10 families say, 'Nahin, dehej nahin lena', I will think my film is a huge hit," said Akshay, who is all set for his third theatrical release this year, the last being Samrat Prithviraj in June.