For decades, chikankari has been a favourite fabric among fashion lovers of all age groups. However, now, a close cousin of this textile has come under the spotlight quite out of the blue. Hakoba, which has been around for years, has suddenly caught the world's attention because of its easy-flowing texture and intricate detailing. 
This fabric has cut-outs of various shapes, which is then embroidered by hand. So, it is not only a labour of love, but also a creator of fantastic textural detail to whatever outfit it is made into. While hakoba is usually on white cotton fabric, it is now being dyed to create apparel in a number of colours. 
If you too want to add some of this fabric that highlights impeccable craftsmanship to your wardrobe, here are our picks for you…
Anti-fit
Hakoba is fluid and creates an easy-breezy anti-fit shape for this dress. The white lets the intricate hakoba design shine through, while the V-cutout at the back adds some fun to the look. Actress Anchint Kaur styles this dress as minimalistically as she can, and that just adds to the charm of the whole look. 
Summer dress
This pink hakoba dress gives off the vibe of apple-picking in the orchards of southern France, doesn't it? Well, if cute cottagecore is your vibe, you will love twirling in this dress. The layered ruffled details add a quaint charm, while the puffy sleeves give off quite a retro vibe.
Blouse
This white-and-blue hakoba blouse has a vintage 'Rani Kadambini' vibe, and we love it! The subtle sweetheart neckline is flattering as always, while the white lace detail in the front and back complement the hakoba seamlessly. Pair this with your favourite handloom saris and you've got a fabulous retro outfit all good to go.
Kurta
If your work wardrobe includes kurtas and suits, you will fall in love with these hakoba kurtas, which are available in a variety of colours. Each kurta is unique from one another not just because of the colour, but also because of the hakoba design. While some are shaped like flower petals, others have a geometric shape to them! Pick any one and pair it with jhumkas and a dupatta, and you're all set. 
Wrap top
Body-hugging, yet absolutely flattering on all body sizes and shapes — that is why we love a good wrap top. Add in hakoba to the mix and you've got a great brunch date OOTD. This pastel shade is cool and paired with white denim, will look glam!
Jumpsuit
A good jumpsuit is a must-have in everyone's closet and this lavender hakoba jumpsuit is like a VSCO girl's dream. The spaghetti straps and A-line fit of the jumpsuit makes it easy to style. You can layer it with a shrug, or even wear a t-shirt inside. Pop on a pair of white sneakers, and the world is your runway!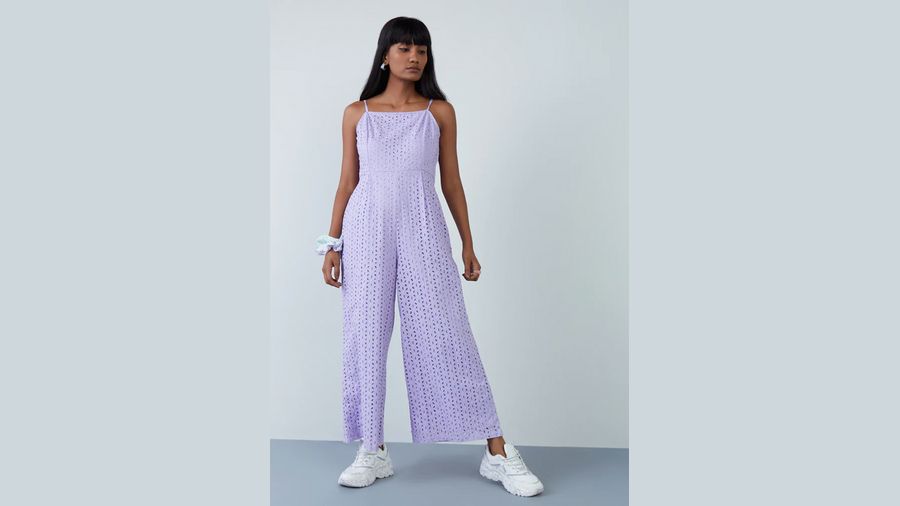 westside.com