Anyone would be spoilt for choice when they walk into Art in Life, the annual lifestyle exhibition at CIMA Gallery, and Rituparna Sengupta was no different. From scarves, saris and dress materials to jewellery, bags and masks to bed linen, dhurries and sculptures, the actress had a tough time choosing just a few, when she dropped by on Sunday morning.
In the end she picked a mix of jewellery, saris and bags that appealed to her personal sense of style.
One of the first things that she found herself drawn to while walking through the exhibition was a silver ring with a flower motif done in pearls.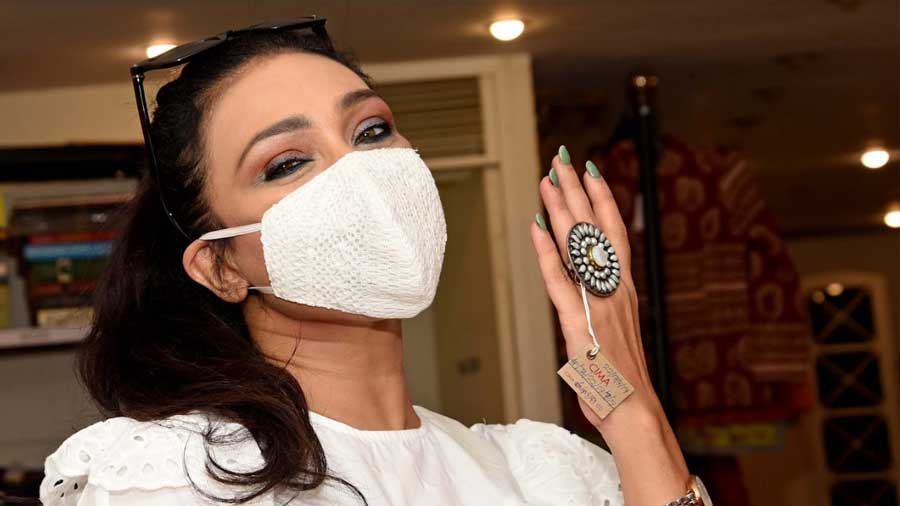 Rituparna's first pick was a silver and pearl ring
"This ring has a very interesting feel with the pearl setting. It is so unique. You can team it with Western outfits as well as Indian ones," said Rituparna, flashing the ring and a smile.
She was intrigued by the collection of batua bags on a small coffee table, which led her to an ivory coloured laptop sleeve made by the ladies of an organisation called Ek Tara. They repurpose fabric waste from the fashion industry and employ women from disadvantaged backgrounds to create accessories and more. A perfect fit for an exhibition that is themed around the idea of sustainability.
The next thing that caught Rituparna's eye was this laptop sleeve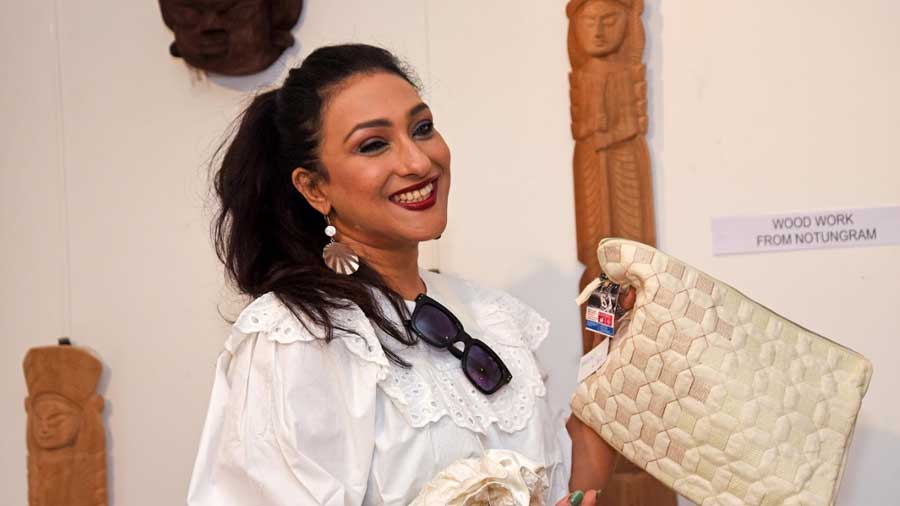 "It is really pretty! There is something elegant about its simplicity. I would love it for my laptop," she said.
Her third pick was a designer blouse by Parama Ghosh. The vibrant blouse was a Kalamkari patchwork with tie detail on the sides.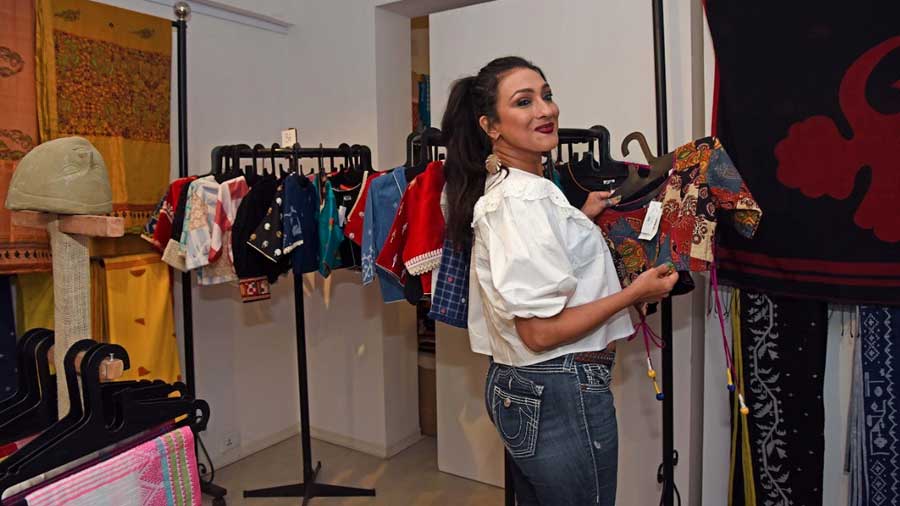 Rituparna's next pick was a Kalamkari patchwork blouse
"This blouse can go with many different types of saris because of the many colours. And I love Kalamkari which is why it caught my eye," she smiled.
As she walked over to the saris, Rituparna said that while she personally wasn't a Murshidabad silk kind of girl, she loves her Kanjeevarams and cottons.
She picked a Benarasi sari with an off-white base with a wide woven border in hues of violet and leaf green with mandala motifs.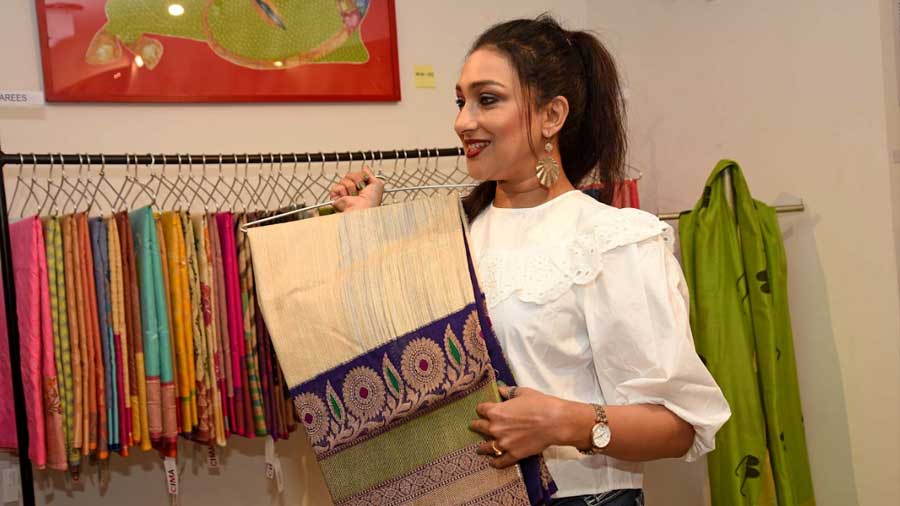 An off-white Benarasi sari was one of Rituparna's Puja picks
Photo: Amit Datta
"This sari has such gorgeous colours, I seem to be loving all the greens today! A sari like this could be worn on any one of the Durga Puja days," said a delighted Rituparna.
A regal Maheshwari silk sari in red and ivory with a hint of gold hanging from a display stand also caught her eye.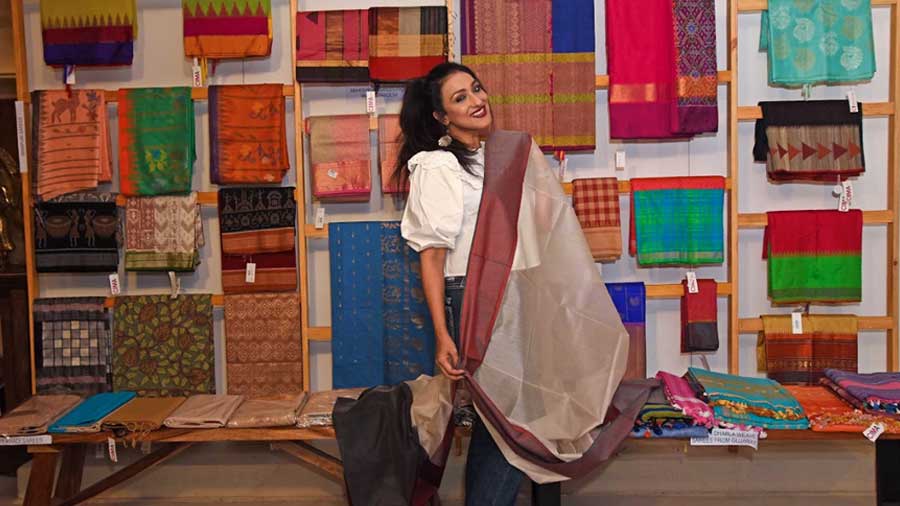 This Maheshwari silk was Rituparna's choice for a Puja morning
"The colour combination is so elegant and attractive. One can just team it with silver junk jewellery, which I absolutely love, or even traditional gold jewellery. It is perfect for any of the Durga Puja mornings," she said.
The next piece that caught her eye was one of the centrepieces of Art in Life 2021 -- the Dolabedi sari from Chhattisgarh, woven with motifs of elephants and geometric shapes. With bright colours on a black sari, the artwork is an inspiration from Holi, the festival of colours, which explains the vivaciousness of the weave.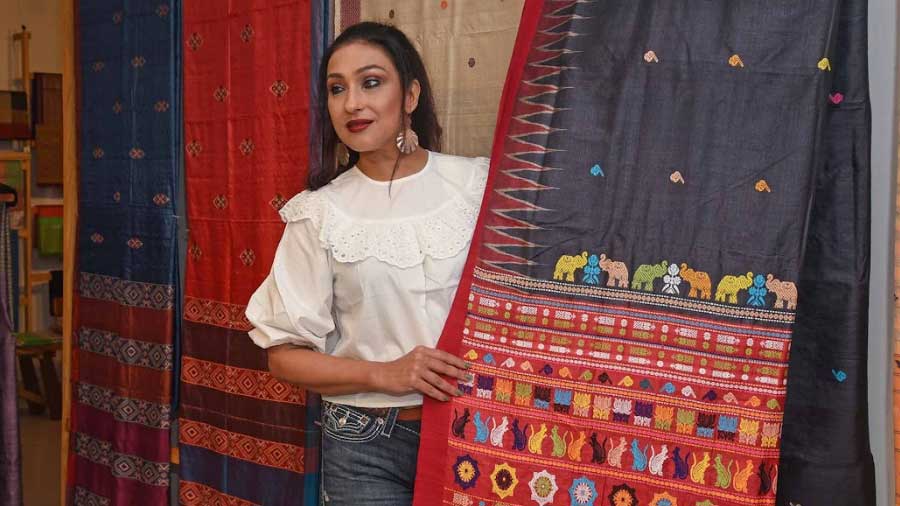 This Dolabedi sari deserves minimal accessories to show it off, said Rituparna
"I would love to wear this with a plain blouse to highlight the beautiful work on the sari, and wear very minimal jewellery with it. The weave and the work on the sari should be the main focus," she explained.
For Rituparna, Art in Life is truly a place that gives a platform for artisans from across the country. "I am so happy that the artisans are getting recognition and that CIMA has given them a place to showcase their products. It's a beautiful way to give back to society."
CIMA Art in Life is on till October 11, daily from 11am to 8pm, at CIMA Gallery, Sunny Towers (second floor), 43, Ashutosh Chowdhury Avenue, Kolkata 700019