In Karnasubarner Guptodhon, which releases on September 30, Arjun Chakrabarty plays Abir Lal Roy, who is a trained lawyer, a hardcore foodie and a trekking enthusiast who is the perfect partner/boyfriend to Jhinuk (Ishaa Saha). "He can be heroic when necessary and is usually known to be the ever-smiling, funny, boy-next-door. We all know someone like him and every circle needs someone like him to brighten up any situation any time. I'd use the term lovable or adorable to describe how the audience perceives Abir Lal," smiles Arjun. A candid chat...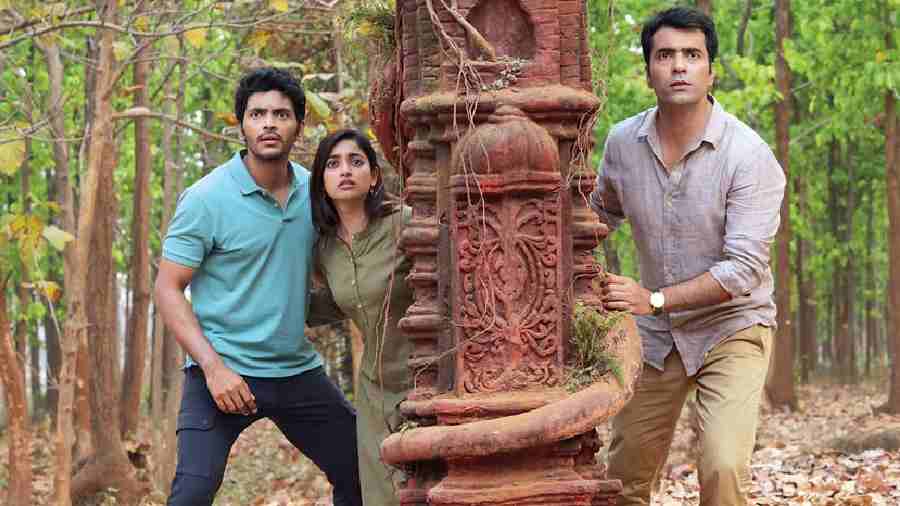 A moment from the film, which releases on September 30
What was your first reaction when you got to know that Karnasubarner Guptodhon will be made?
I was overjoyed to know I'd be reuniting with the team. Ever since the first film which we shot in the winter of 2017, we've been a closely knit family of sorts. Even though some crew members have come and gone, the core team remains the same. Right from the script reading stage, there's this palpable excitement in the room, which, as expected, carried all the way to the floor till the last day of the shoot.
How did you start preparing yourself?
Thankfully I only needed to go through the script once to return to being Abir Lal. It's a realistic character and I had already played him twice before, so it wasn't difficult. There was no preparation in particular, especially this time. Arjun and Abir Lal definitely have a few traits in common (though they're more different than alike), which is probably why the lines sort of come naturally to me. And Dhruboda (Dhrubo Banerjee, director) by the third film already knew which lines would sound best when I said them my way. That probably helps the writing too.
How do you get into the headspace of a character after a gap of three years?
It's like there was no gap at all. Abir Lal is a boy that every extended family knows/has. A foodie and an adventure enthusiast — there's hardly anything fictional about him. And like I said, the writers (in this case Dhruboda and Sougata) know very well how I sound and how I'm going to say a line, so they make it as organic as possible. Helps an actor immensely.
What are some of your favourite memories while making the first two films of the Guptodhon franchise?
Dealing with a real King Cobra in Guptodhoner Shondhane and diving into a lake on a frigid rural Bengal night in Durgeshgorer Guptodhon. That apart, the best memories always have been the times we spent in between shots, with this team. That off-screen bonding is the reason this trio is so loved by the Bengali movie-going audience. We actually, genuinely "click" off camera. Dhruboda, Soumikda (Haldar; DoP), the three of us and all the crew members. We feel good when we work on this series.
Why do you think the Guptodhon franchise is such a huge hit?
The three primary characters are probably members of every Bangali poribaar and they do what we all do or did as children. Going on holidays, celebrating festivals, celebrating life and intrigued by the smell of adventure, history and literature. It's a very believable setting every time, with a "dushtu lok" and grand settings of treasure chambers thrown in. The right mix of a family entertainer.
Does it put added pressure on you — of living up to expectations — while you were working on Karnasubarner Guptodhon? How do you deal with the pressure?
Somewhat. But because Abir Lal is so ingrained in me at this stage, I'll never feel that pressure when working. Maybe after the release, but never when we're shooting for it. We genuinely feel the fun that we try to create for the audience. Pressure in the sense, will the audience enjoy this as much as the previous? Will part three outdo part two or one? I personally think it will. But you can't help but wonder because there's no sure-shot formula for a hit film.
Is the shooting process as adventurous as the film?
Yes. Dangerous stunts, new locations, challenging schedules, minor injuries for everyone, car and bike chases, all of it is as adventurous as they are hectic. Thankfully, we do it over many hours and many days and then it's summed up in two hours. But every minute of that schedule is a new challenge.
How was your shooting experience this time?
Tougher than before I think. The previous two were shot in winter. This was peak summer. In Purulia mostly. Temperatures were close to 50°C. And we slept an average of four hours a night. The crew had it tougher but we all braved it together. As long as the end product looks good if not better than last time, as long as our audiences return to theatres, it will all be worth it.
Did you get to discover a new side of Abir, Ishaa and Dhrubo Banerjee while shooting for this film?
Dhruboda has become more of a perfectionist and demands the best from everyone. He knows what we're all capable of and there's no going easy on anyone. This applies to the entire crew. Abirda and Ishaa were what they always are with me. We shared the struggle of delivering perfect shots under the merciless sun, since we are together in almost every scene. We bonded well as always off camera. The difficult conditions tend to bring out the worst in people, but thankfully apart from the occasional lost temper, we had things under control.
What is the storyline?
Like every time, the trio go on a trip and find themselves in a "situation". That's all I can say for now I think. There will again be long-lost lessons from history, plenty of comic relief, equal amounts of thrilling sequences and a visual treat all over. The trailer already mentions Raja Shashanka, so history enthusiasts have a fair idea of which age Sonada will transport us to.
What is the secret to this lovely chemistry you share with Abir and Ishaa?
I really cannot explain. It's been this way from 2017 and it has needed no work to keep the chemistry alive or try to rekindle it when we reunite. We just hit it off when in a room together and it just keeps getting stronger with every scene we work in, together. Every setting we meet in. Maybe this casting was destined to happen or maybe we got to know each other better as Sonada, Abir and Jhinuk than as Abirda, Arjun and Ishaa. I don't know which.
The three of us have that bond that stays positive and keeps strengthening whenever we work together. Dhruboda has a huge role to play in all this and I cannot help but name Arindamda (Sil) who brought us together initially before the first film began. I hope Abirda and Ishaa have all the success in every project. Good people, great team.
Does this film or the film-making process take you back to your childhood days, when you would go for jungle safaris or watch adventure films?
I never had adventure travels like the trio do. Family jungle trips, yes. But those were planned vacations, unlike the dangerous stuff this trio gets involved in. This series definitely makes me nostalgic of the time when Ma and Baba used to take Dada and me to watch films. Especially Hollywood action/adventure films in New Empire and Chaplin. The Guptodhon series is similarly for family viewing and it's heartwarming to see Bangali families coming together to watch us. They genuinely can relate to the trio.
Do you get to discover new facets of Bengal's culture and landscape while filming this series?
With every script I've discovered something new. We've all read Siraj- ud-Daulah and Mir Jafar's story but few of us know about Jagat Seth's role in Bengal's history. The first film gave me the eagerness to read more about that age in Bengal's history. In Durgeshgorer Guptodhon there was a lot about Durga Pujo. The festival, the mythology, the history, all of it. Every film speaks of a different historical era and it makes me want to study history in more detail, with a renewed enthusiasm.
What was it like this time?
This time it's larger and grander. The art department deserves a pat on the back. So does our cinematographer Soumik Haldar. And of course Dhruboda and Sougata for that research. It automatically ignites an interest in us to do justice to our characters.
Picture: B. Halder
Arjun's wardrobe:
Darshika Menswear
Styling: Bombae by Aisha