A few years ago Abir Chatterjee had made an interesting observation. "Byomkesh and I have grown together now," he had told The Telegraph. "The truth seeker is very sharp, physically and mentally agile. He is confident and has a presence of mind and knows how to tackle a problem. He has always been honest about the truth. That's a rare quality. He has a fantastic observation power, which I think I have," smiles Abir. 
The August 11 film Byomkesh Hotyamancha (directed by Arindam Sil) sees Byomkesh Bakshi concerned about socio-economic changes. He gets involved in a story of vengeance when he decides to attend a play at a theatre and becomes witness to a crime unfolding on the stage. The Telegraph chat with Abir...
This year has been good for you as you made your Hindi web debut with Season 2 of Avrodh. How are you looking at the changes? How special is the year for you?
We were working to a different rhythm till 2019. Then Covid and the lockdown happened... and then a new journey started for me with Sa Re Ga Ma Pa. From 2021 I started talks with Team Avrodh. I had always wanted to reach out to a wider audience, and I felt it was the right time. As an artiste I felt the need to explore myself, and create a new image for myself. I was waiting for the right opportunity and I was prepared.  Avrodh 2 was finalised then.
It was a new experience for me, from working with a new set of people to travelling extensively. It gave me the exposure and I realised how flexible I am. I had to adapt and unlearn so many things. It was a learning experience. Now you know why I waited for so long.
The way they have portrayed me as the central character, the way they have positioned and promoted me and gave me respect, I am quite happy. I am getting amazing feedback and appreciation. I am happy but I also know that the stakes are higher. My responsibilities are more. Going forward, I'll be more selective. I know people in Bombay have noticed my work.
What are your thoughts on doing Bengali films now?
There are so many things beyond our control, and number one is Covid. My re-learning was that one has to be ready and prepared for everything. For Bengali films, I was not on a signing spree but I also felt that I have to work more. Because we don't know what might happen next. And I enjoy my work. So I have been selective with my Bengali films too. I am exploring new things here. Each director has their own process and I am enjoying it. All the films that I have shot for recently are so different from one another. I am shooting for a  film with Parambrata (Chattopadhyay) and I loved the concept and the twist in the end. It is his story. Incidentally, we had talked about this story six years ago... I had heard the idea from Param during the shoot of Bastu Shaap.
The viewing pattern of the theatre-going audience has changed now. No one is really sure which film will work at the box office. Are you keeping this factor in mind while selecting your scripts?
We have to keep on trying. The uncertainty is there. But we have to keep on fighting it out. And one of the biggest tools here is entertainment. The magic of the silver screen will always be there. We have faced challenges before, we are facing them now. But we will overcome them. Films like Aparajito, Belashuru, Kishmish, Habji Gabji worked at the box office. People are sending out this message that they will watch a film if it is good. They will go to the theatres. Once the habit of watching films in the theatre comes back, our job will be slightly easier. And we know how the audience are emotionally connected with the Byomkesh franchise.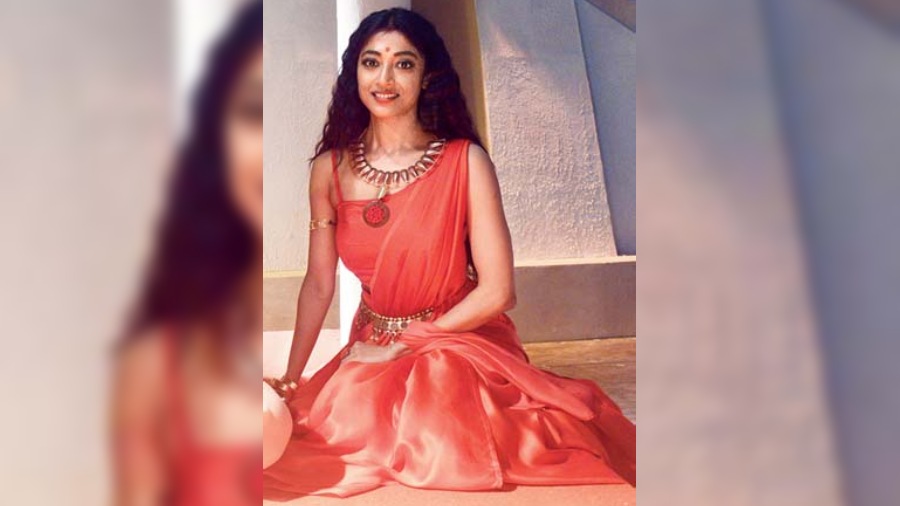 The new Byomkesh film comes after a gap of four years...
Yes, we needed a gap, so that we could give something exciting, new and innovative. I wanted to feel excited with my seventh Byomkesh film. I'll always be indebted to Byomkesh for everything. My journey, the kind of fan following I have, the love I get from the audience, everything started off with Byomkesh only. So I also have to give back something to Byomkesh. Which is why the wait... today the film is releasing and we are really excited. In the film, Byomkesh is concerned with the socio-economic changes taking place around him. He is concerned about the next generation. On a personal level, we also have similar thoughts. I wanted to relate with that side of Byomkesh.
Do you feel a change within you when you play Byomkesh?
Arindamda has said that... he has noticed a change within me. I don't do it consciously but when they tell me I realise that something has shifted.
What happens then?
I don't know. I have been playing Byomkesh for so many years, and it just happens organically. Maybe the ambience helps... the environment, the costume, the moment I stand in front of the camera as Byomkesh. Something inside tells me, 'You cannot be complacent, this is Byomkesh.'
How do you approach the character now?
It's also about what is happening around him. I am trying to capture the reaction to those social changes happening around Byomkesh... how the society, the politics is affecting Byomkesh. How people are reacting to it.
How was it like working with Paoli Dam and Sohini Sarkar?
Paoli and I started off together in the industry. She has seen my journey; I have seen her journey. It felt great working with her again. Byomkesh's relationship with Satyabati goes to the next level in the film. It felt great working with Sohini again. We have already done seven-eight films together. We share a great comfort zone. We discuss a lot of things, about work and beyond.
What is the USP of Byomkesh Hotyamancha?
It is a whodunit in the real sense. The screenplay was developed from an incomplete story. Also, film and theatre come together in this Byomkesh story. The shoot was quite challenging. And this time the crime happens right in front of Byomkesh. Satyabati also reacts. No one appoints him. He takes it upon himself to solve the crime. It becomes his moral responsibility.
Pictures: Rashbehari Das — Credit for cover picture
Styling: Abhisek Roy
Jacket: Jit Satya
Make-up: Ayan