Overall vibrant and clustered into different sets of prints, Abhishek Dutta's resort wear collection '22, 'Jole Jongole', was launched last month with a spectacular sundowner show at the premium terrace garden Le Jardin at Novotel Kolkata Hotel and Residences. The al fresco set up with lots of greenery and an ombre sunset sky complemented the collection showcase as models walked up through the wooden steps decorated with cage lantern props to walk through an illuminated panelled doorway structure on the runway.
The ambience was bustling with a spirited vibe as guests enjoyed the pleasant spring evening with a cool breeze, watching the colourful collection unfold against the setting sun, with drinks in their hand from the open bar accompanied with kebabs from the Ministry of Kebabs, the pop-up on the terrace. "With winter saying goodbye and spring saying hello, the showcase was planned for a sundowner. The whole set-up of a lit-up panelled door set and the different levels of ramp created drama," said designer Abhishek Dutta.
Comprising easy-breezy, flowy silhouettes, interestingly styled separates and the label's signature structured jackets, with prints of flora and fauna of the tropical regions, the collection showcase accompanied by Underground Authority's live music comes with a message too. "Jole Jongole is a fun, vibrant yet defining resort wear collection from the label this season. As the name suggests, it's all about the tropical jungle feel but also spreads the message of a meaningful cause of stopping deforestation and conserving our wildlife for a better future. It was a special collaboration with Underground Authority since the theme also interpreted an important cause of rainforest deforestation and EPR's band also writes songs about social issues and since the collection was young and vibrant it was a perfect amalgamation with the band. I wanted the guest to really enjoy the ambience and showcase through an unusual yet standout show," added Abhishek.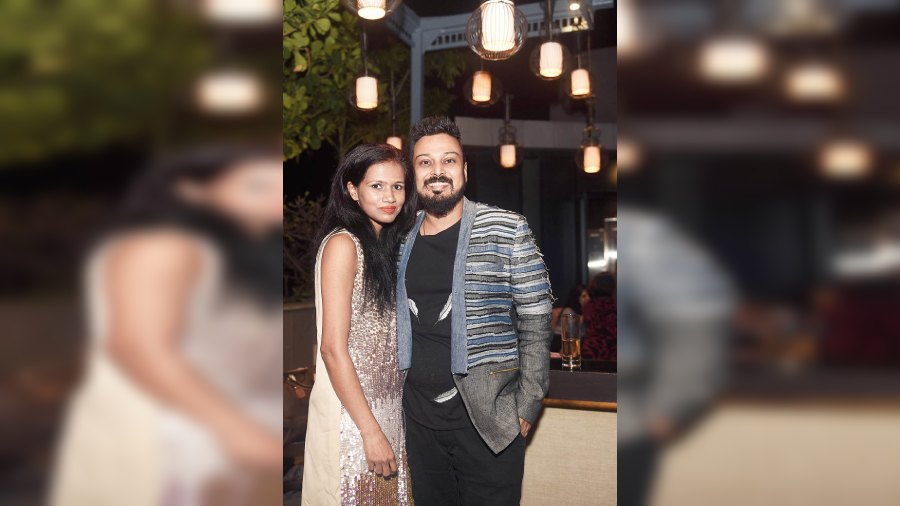 Abhishek Dutta and his wife Jayshree T Dutta
The common thread in the consecutive sequences were the jungle prints, like the name of the collection suggests. The silhouettes designed with asymmetrical cuts, drapes and structured jumpsuits are made of sustainable fabrics like cotton and chanderi, rooting for ethical fashion. "Flamingos and tiger prints are there throughout the collection, designed with neon contrast taping, zipper detailing and hand-embroidered leather appliques that add an interesting touch. This resort wear collection is all about vibrancy and joy post-pandemic," said Abhishek.
Underground Authority set the mood with live songs for the ramp walk like Ekla cholo re and You Can't Stop Us on their playlist. "Abhishek has been a friend of mine for quite some time now, so playing for his show was really special. We played the songs that we play best," said EPR Iyer, the frontman of the band. Pinky Kenworthy who choreographed the show, said, "I really loved doing it because firstly it was a great collection and the prints were beautifully done. The venue was great and I had never done a show during a sundowner before. The live music was super. It was just perfect, I loved it."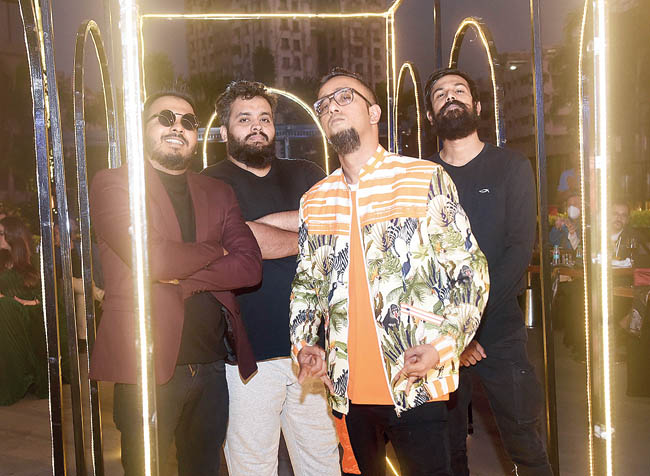 Jungle-leopard print and stripes in prominent shades of orange, yellow, blue and green on white defined the last sequence. EPR (third from left) sported a panelled bomber jacket from the last sequence in a jungle print with contrast tape detailing. Members of Underground Authority (l-r) Adil Rashid, Soumyadeep Bhattacharya, EPR Iyer and Sourish Kumar enlivened the sundowner with their live performance.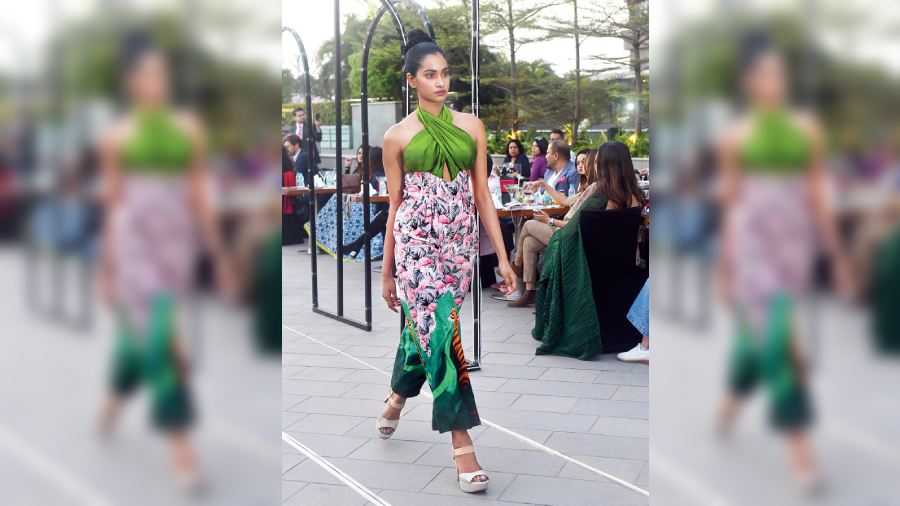 The third sequence featured the flamingo and tiger print in pink and grey shades on white, accentuated with green. On Meghna Bose, a tie-up yoke jumpsuit with flamingo-tiger print.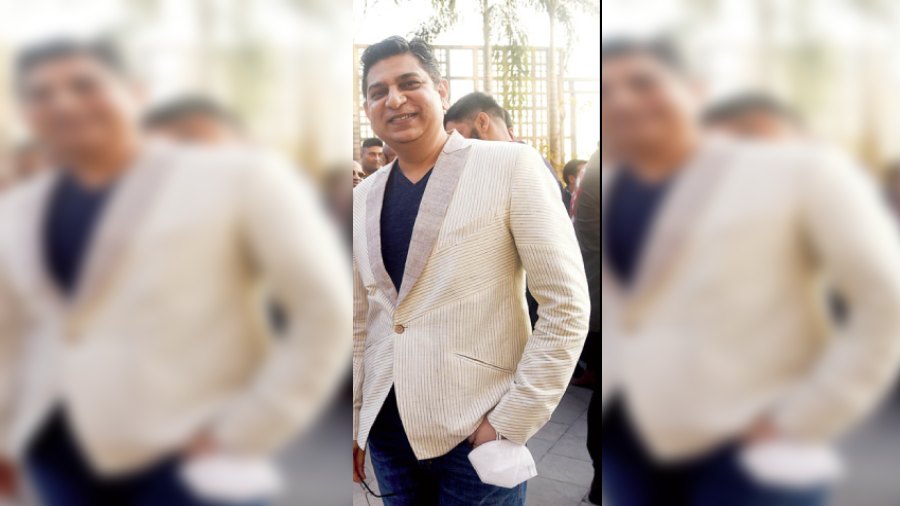 "The open-air ambience turned out to be an ideal venue to present a spectacular sundowner fashion show by Abhishek Dutta. We are happy to associate with him once again and soon we will be back with Ministry of Kebabs in coming winters, which is a-one-of-a-kind pop-up dining experience at Le Jardin. It is an ultimate unlimited offering of authentic veg and non-veg kebabs along with authentic biryanis and desserts," said Sandeep Johri, general manager, Novotel Kolkata Hotel and Residences.
The second sequence included fruit-leopard printed ensembles including separates, bikini tops, flowy skirts and structured jackets in dominating shades of pink and yellow. On Subhamita Banerjee, a fruit-leopard print bikini teamed with a handkerchief skirt with neon tape detailing.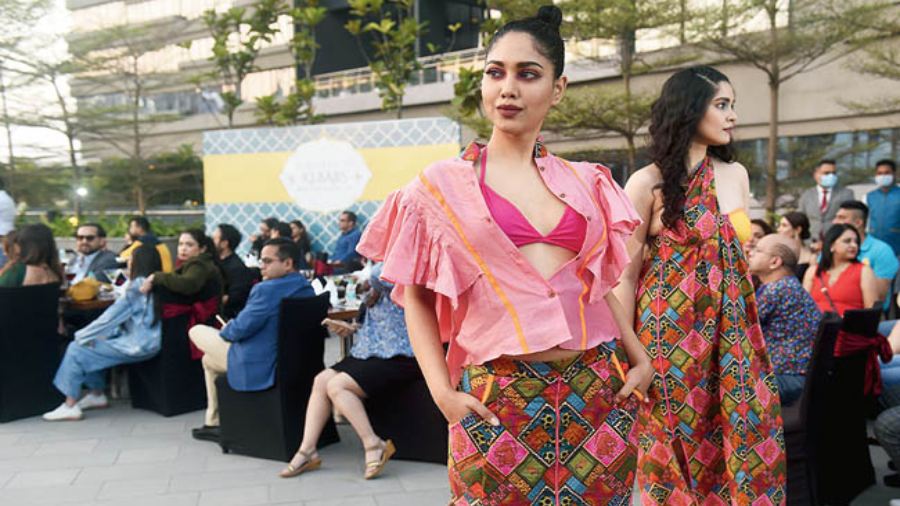 The first sequence started with a bright, colourful collage of tropical prints, leopards, birds and texts in shades of pink, blue and green, including silhouettes like flowy dresses, pencil skirts, rompers, men's blazers. On Tulip Dutta, a ruffled chanderi shirt designed with contrast neon taping, paired with a tropical-print pencil skirt. On Sushmita Roy, a flowy, summery one-shoulder dress with an eye-catching tape detailing.
Pictures: Pabitra Das