Lately, I have been hearing about Jhalana from some of my friends in Delhi but I never gave it a thought till the time I visited this place in the last week of September. I was astonished, stunned and mesmerised. Jhalana is perhaps the only leopard reserve in the country at the moment. Located within the city limits of Jaipur (6km from Jaipur International Airport), the leopard reserve is a haven for wildlife enthusiasts and photographers. Jaipur is guarded by the Aravalli Range and this is where Jhalana exists. Within 10 minutes from the city, wildlife enthusiasts can actually get lost deep within a forest with a spectacular view of the mountains.
Narrow valleys of the Aravallis and sharp cliffs dominate the landscape of Jhalana Leopard Reserve. The captivating natural surroundings of the forest of Jhalana and the tranquillity here are relaxing and a delight for the mind. The presence of such great wildlife in the urban region makes this land a unique site for nature enthusiasts.
Spread over approximately 23sq km, the reserve is home to over 40 leopards, of which 12-15 have their territory within the tourism area of the park. This otherwise shy, elusive cat is the apex predator here and does not have much competition, which makes it confident and therefore chances are extremely high for better sightings. It is one of those few reserved forests where one can book a full-day or a half-day safari. A full-day safari starts at 6am and continues till 6pm while the half-day option begins at 6am and continues till noon.
I had a weekend stay in Jaipur and I could avail three regular safaris and one half-day safari. What happened was beyond my wildest imagination.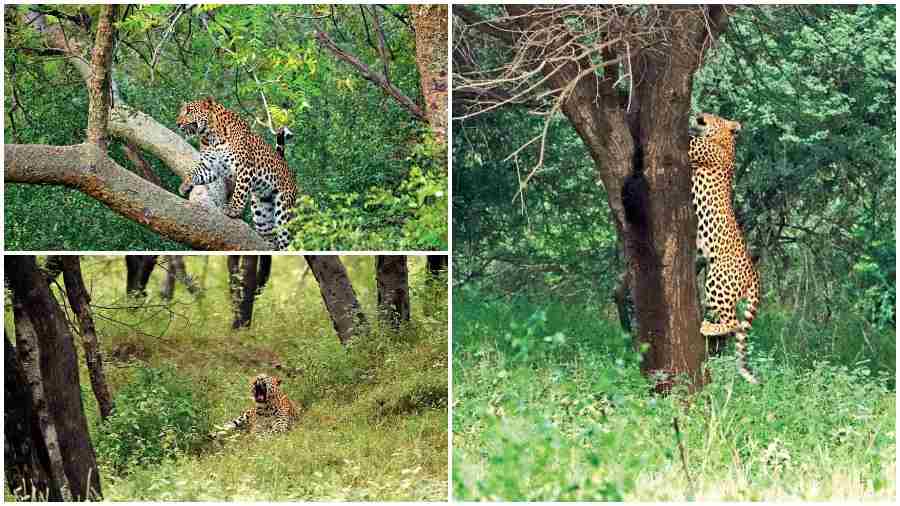 I managed to sight seven different leopards. In one of the sightings we saw two male leopards and one female leopard together, which is rare as leopards are very shy. I also had the opportunity of visiting Shikar Audhi, which used to be a three-storeyed hunting lodge of the royal families of Jaipur, which is located right in the middle of the reserve. It now has an animal-spotting platform from where one can also enjoy the sunrise and sunset on the vast expanse of the Aravalli Range.
Obviously, the majestic leopard is the prime and most celebrated mammal of Jhalana. It is also the top predator of the region and comes first in the food chain at the reserve. Although the leopard is known to be a nocturnal, solitary, shy and a rarely-sighted predator that has mastered stealth-hunting skills, here the animal is diurnal in nature, like tigers in Ranthambore and Sariska, due to which they are easily visible and they are not scared away by jeeps and humans, making it one of the most-visited reserve forests by leopard lovers.
Jhalana is also open throughout the year, unlike other national parks, which are closed during monsoon. Though one can enjoy and savour the view of the majestic leopard anytime of the year, November to April is considered the best time to visit Jhalana Leopard Reserve as the weather is delightful and nature is in its Sunday best.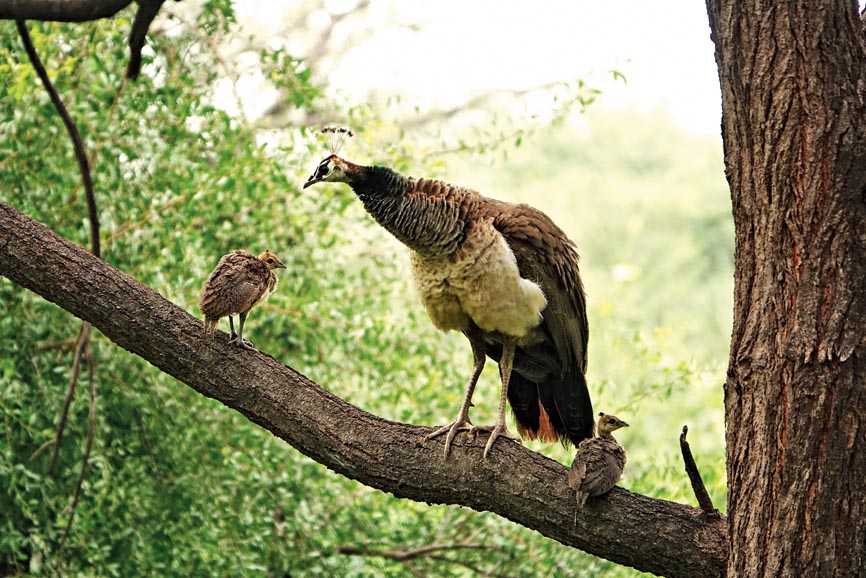 One of the three entry gates to Jhalana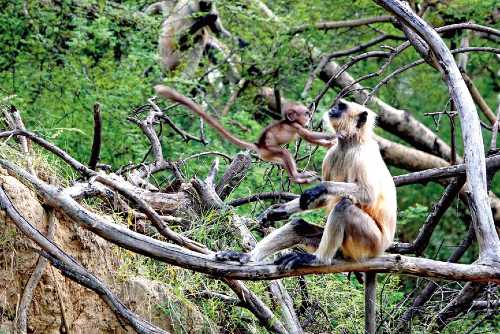 A common langur with its baby in a playful mood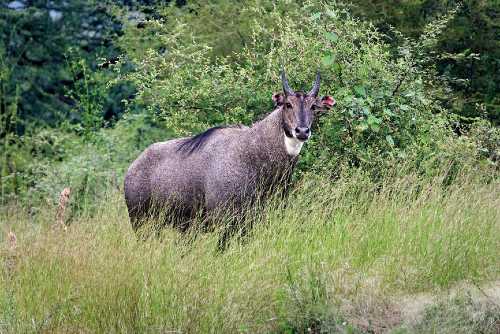 Blue Bull or nilgai, the largest antelope in India
Jhalana has always been home to leopards and other smaller fauna, including spotted deer, nilgai, Indian langur, Indian civets, desert cats, porcupine, monitor lizards, striped hyena, jackals, jungle cat, peacock and loads of resident as well as migratory birds and a variety of snakes. Organised wildlife safaris at Jhalana have been operational since 2017 and as of now three safari routes are open to visitors.
With over 400 acres of space for some of the rarest, most endangered and simply coolest species on earth to roam, Jhalana Leopard Safari is truly an experience beyond words and a fantastic gateway to an adventurous holiday that comes with an unforgettable sighting of exotic wild animals.
At a glance: Jhalana Leopard Reserve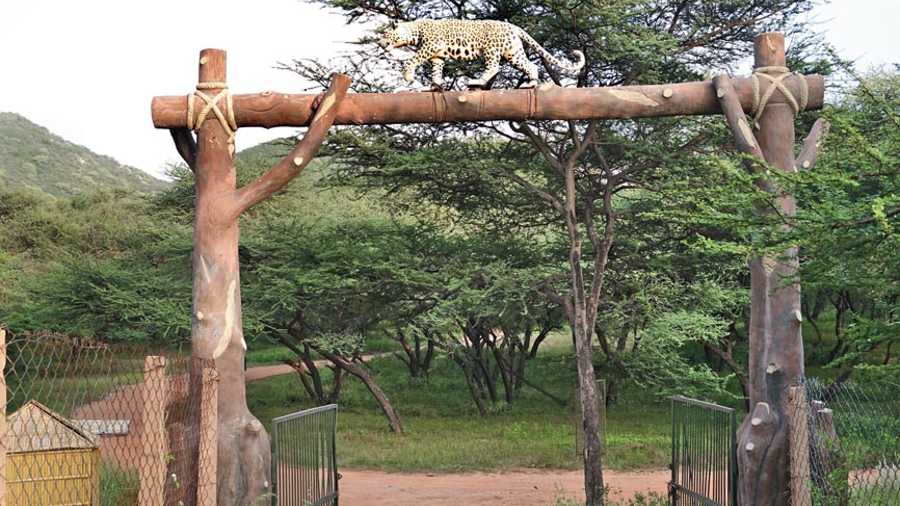 One of the three entry gates to Jhalana
• Jhalana Leopard Reserve is the first leopard reserve in India.
• It has more than 40 leopards, including cubs.
• The last tiger was shot in this region in 1948.
• Jhalana Leopard Reserve is spread over 23sqkm.
• In 2017, Jhalana was identified as a leopard reserve by the Rajasthan Forest Department.
• The reserve was opened for the first time to tourists in December 2016.
Jhalana is within the city limits of Jaipur and Jaipur International Airport is just six kilometres away. Jaipur is well connected with Calcutta and has daily flights. Closest hotels to stay are Marriott, Radisson Blu and The Lalit. However, there are a couple of budget hotels outside the gate of the park. One needs to book safaris well in advance as there are only 14 safari vehicles which are allowed inside the park.
Pictures: Shiladitya Chaudhury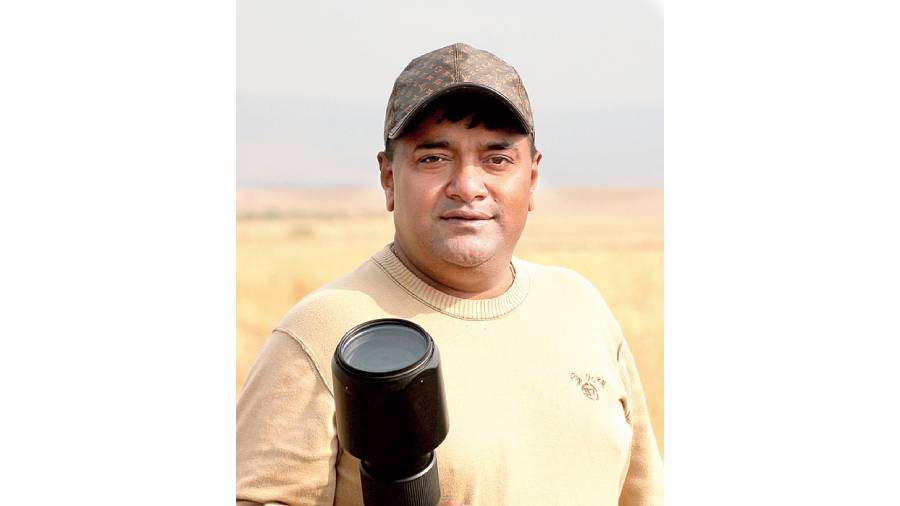 Shiladitya Chaudhury is a communication consultant and a restaurateur with brands like Oudh 1590 and Chapter 2. His passion for wildlife photography takes him to the remotest of jungles.
Camera used: Sony A7 Mark 3 with 200-600 lens and Sony RX10 Mark 4