Kolkata boy Rahul Dasgupta wowed with his spring-summer line Shetu at the just-concluded FDCI x Lakme Fashion Week in New Delhi. A play of patterns and textures teamed with sharp tailoring and creativity marked the line. Comprising mostly neutral shades, we spotted a pop of colour here and there. Rahul later decoded his collection for us.
Shetu looks fabulous! So, the Rahul Dasgupta man is dressing experimental this summer?
Thank you very much.… Rahul Dasgupta men thrive on classics and embrace the roots while still have their experimental game a notch higher. This summer for the men we are adding relaxed and cool vibes into the silhouettes, be it a high-waisted tie-up dhoti or open-neck kurtas or layered angrakha shirt. It's basically a version of cool formal Indian-wear.
How are more and more men dressing these days?
Men are slowly opening up for experiments with silhouettes and colours. Although with my label I try to stick to the age-old colour palette and experiment with the surfaces and silhouettes more. Details and fittings are the two major keys for modern men to be up with their fashion game. Not just fashion bloggers, now every urban man wants to dress good and different, which is a good thing for us as designers as it gives us the freedom to experiment.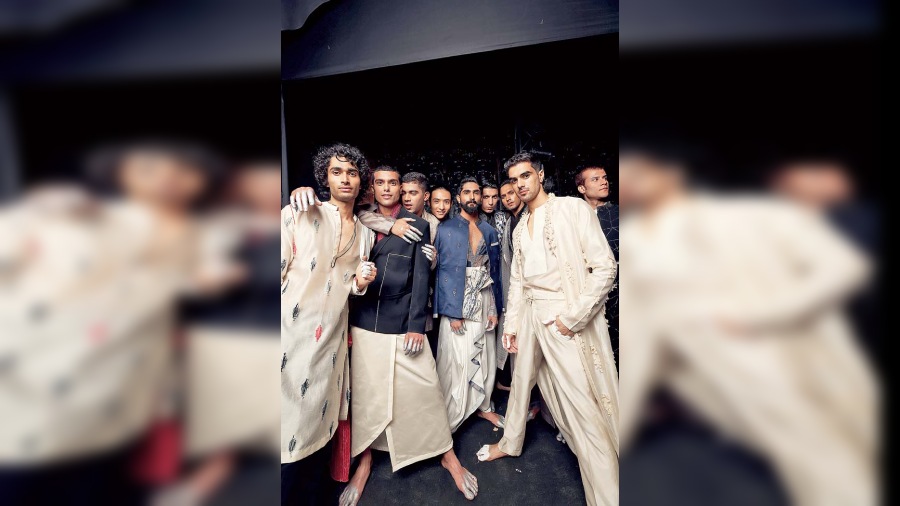 How was it showcasing at your first proper fashion showing?
My last year GenNext was digital. That experience was amazing too. This year it's my first physical show, so it was quite exciting, I was nervous, it was visible on ramp but I did enjoy every bit of that moment. Getting to show your collection along with designers who have been in the industry for years, is quite overwhelming, daunting and fun at the same time.
What are your top tips for men?
• Dress smart.
• Wear what works on you and what makes you feel good about yourself rather than what's "trending".
• Layer your summer fabrics like silk, Chanderi, mul and linen in a smart and interesting way to create a cohesive look.
• Less is more. Try editing out anything that you are not sure of. Confidence is what makes an outfit stand out more. So be confident with what you are wearing.
Pictures: Sandip Das
Highlight pieces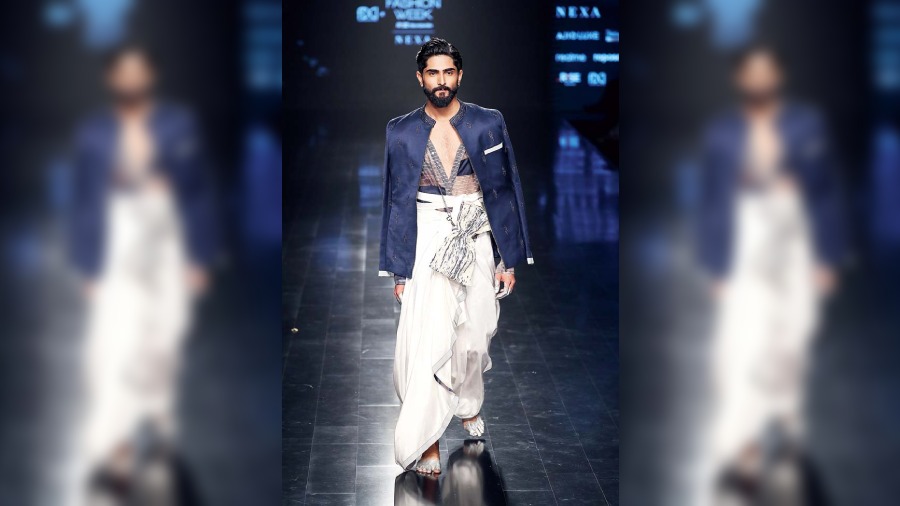 This is a high-waisted tie-up dhoti teamed with a woven silk organza shirt and a Jodhpuri jacket on top of it. To complete the look we added a man batua made out of our signature shibori-dyed cording technique. Dhoti is such a quintessential silhouette in Indian menswear fashion yet we hardly get to see men wearing it in any formal events, so the idea was to bring it in a palette where it inspires young men to embrace our root with contemporary style
Rahul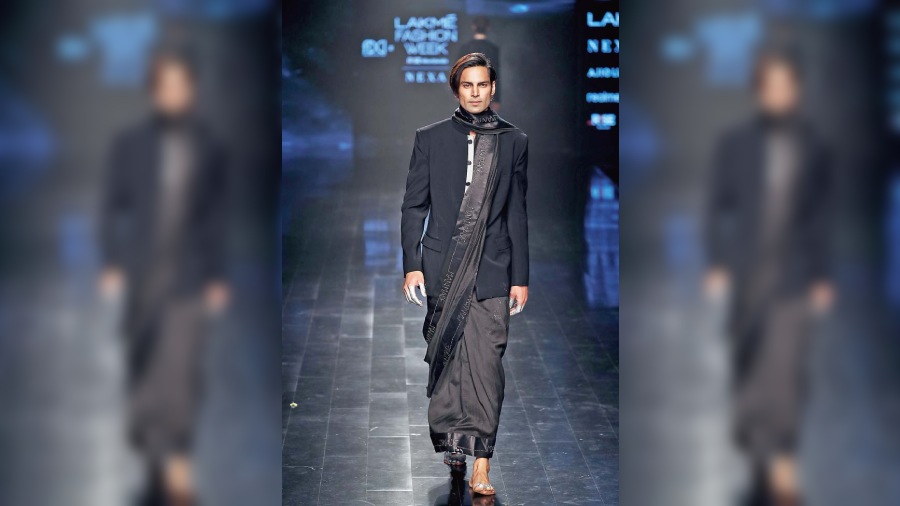 This ensemble comprises a classic black Jodhpuri jacket, which has a reflecting tape detailing on the button placket teamed with a striped silk Chanderi sari with peeta embroidered border. What fascinates me the most is that dhoti and sari are basically the same concept, one piece of fabric. The gender changes based on the draping style. I tried to break that stereotype and offer something that is more of a palatable idea. So I designed this piece of fabric, one can choose to drape it like a dhoti or a sari, either way, it's a symbolical representation of one choosing their 'gender'
Rahul