You can almost feel the cool breeze in the vibrant pictures that make up 'Illusions', Vizyon's spring summer edit that was shot in Mykonos, Greece. Shradha Murarka, the creative director and founder of the over-a-decade old fashion address in Ballygunge Place, tells The Telegraph about the theme and her vacay faves.
What about illusions attracted you as a theme for the spring-summer line?
Illusions are distortions of the senses that reveal how the human brain normally organises and interprets information. The emotions evoked signal a spiritual journey that lead to a higher state of being and a deeper understanding, thus bringing out a more conscious and self-aware state of mind. Illusion may occur with any of the human senses but optical illusions are best known and understood. Illusions have been a topic of curiosity and a subject for artists for decades, with many artists like Jean- Pierre Yvaral, Victor Vasarely, Bridget Riley and Marina Apollonio dedicating their life to OP and kinetic Art. Their work comprises fluid movements and stark illusions, with bold elements like colour and shape posing as a wholesome visual treat.
How have you interpreted it?
Fluid yet bold lines travel through the collection in various forms of expression, interpreted as prints, stitch lines, pleats and embellishments. The styles transcend from subtle hues of onion, sky blue and mint to rich tones of tangerine, royal purple and parrot green. Easy-to-wear silhouettes that fit all sizes are the highlight of the collection, focusing on a more comfortable yet versatile look. Exaggerated sleeves, asymmetric drapes, unconventional cuts and layering dominate, yet remaining subtle and understated in tone-on-tone hues with delicate and concentrated embroidery.
What is the predominant emotion? Is it laid-back and easy? We can totally visualise these silhouettes by the beach accessorised with wine and hearty laughter or just quietly soaking in the sounds of the sea.... 
We wanted to create an easy and comfortable yet mysterious and sophisticated collection. Walking on the beach listening to the sound of the waves , watching the sunset, and yes, hearty laughter, a glass of wine and a 'toast to life' are perfect accessories to our design.
This is a complete holiday line. What does the word bring to mind?
Vacations are synonymous with freedom, love and laughter. Taking a 'holiday' from our usual mundane work to explore nature, unwind, spend time with family, and find laughter within ourselves. This is what comes to mind when I think of my collection being a holiday line. I want those in my design to feel carefree, blissful, and at peace.
What vacation do you have in mind?
On an island, feeling calm, relaxing, unwinding, a blissful beach vacation… digital detox! Or even an exotic location in the Mediterranean with friends… Ibiza, Mykonos, Bodrum.
What are your vacay musts?
Explore and experience new destinations, art, culture, cuisines. Taking long outdoor walks, enjoying good food and having lots of time to relax, rejuvenate and refresh. A walk in nature walks the soul back home! Pack a wrap tie-up, sarong, hat and comfortable slip-on flats.
What is a vacay incomplete without?
I'm a sunset lover. My vacation is incomplete without seeing glorious sunsets with my beautiful family. They're just a reminder that endings can be beautiful too, in every part of the world.
What are your revised goals for Vizyon?
Vizyon is the perfect blend of bespoke style and international fashion. It is a place where classic chic and latest trends, all live in harmony. We would like to keep creating a distinctive style code with original and unique must-have cuts as well as luxurious timeless pieces. Over the years , the skills that I developed have been instrumental in helping me grow my brand Vizyon and shape me into the woman I am today. 
Who remains the Vizyon muse?
Vizyon's exquisitely crafted pieces celebrate the modern woman. A Vizyon woman is a truly cosmopolitan independent woman, with her own sense of style, and well-travelled but still deeply rooted to her home.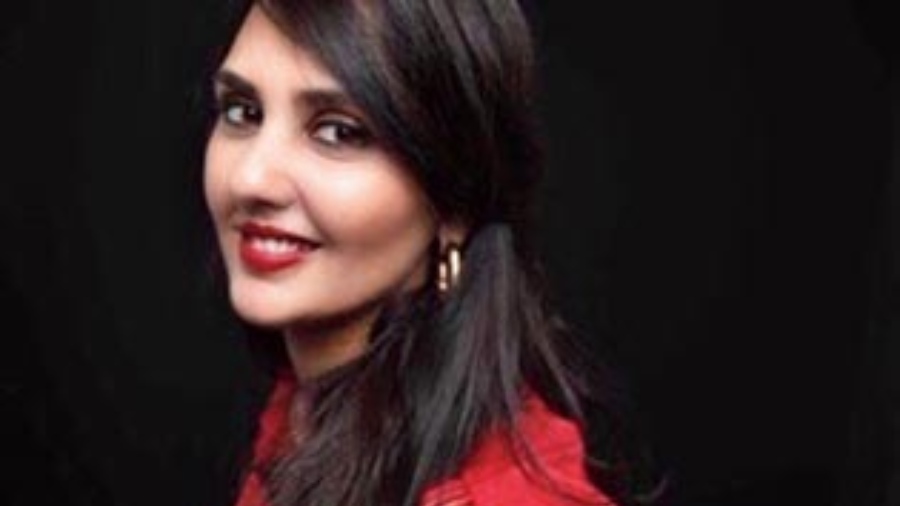 We wanted to create an easy and comfortable yet mysterious and sophisticated collection. Walking on the beach listening to the sound of the waves , watching the sunset, and yes, hearty laughter, a glass of wine and a 'toast to life' are perfect accessories to our design
Shradha Murarka, creative director and founder, Vizyon, on their spring-summer 2022 collection