Twelve minutes to reach Sealdah from City Centre Salt Lake on a weekday morning. As I ended my commute on a stretch that would have normally taken me at least 30 minutes by bus on a really good day, and that too discounting the fatigue of contouring my body in gymnast-style positions and stepping out smelling like someone else's armpit, I couldn't help but thank Metro Railway.
The opening of Sealdah Metro station on the East-West corridor is nothing short of a boon.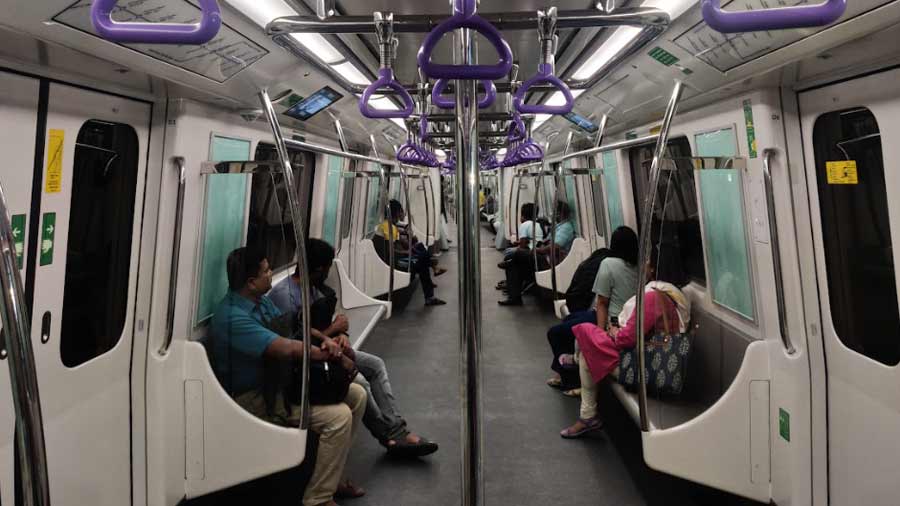 Travelling to Sealdah from City Centre Salt Lake was a breeze, with a near-empty train
I boarded the 9.07am Metro from City Centre station — the fourth station on the route, the previous ones being Sector V, Karunamoyee and Central Park — and reached Sealdah at 9.19am, past Bengal Chemical, Salt Lake Stadium and Phoolbagan. On my return trip, I took the 9.40 train from Sealdah and alighted at Sector V at 10am.
A few takeaways from the morning Metro ride on Day 1
Beautiful views
I enjoyed the elevated views of Hyatt Regency and Subhash Sarovar from the comfort of the air-conditioned coach, with the only complaint being that the ride ended too early.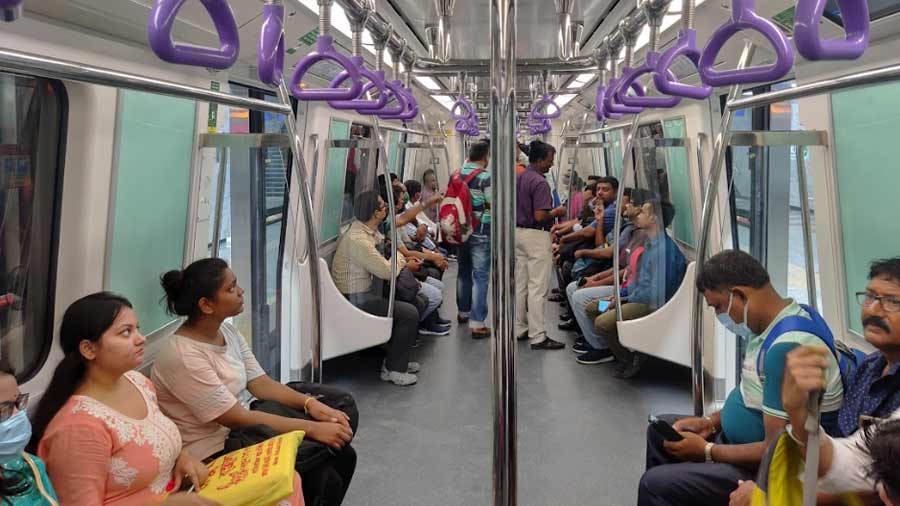 From joyriders to IT employees, the train filled up at Sealdah
Affordable ride
For Salt Lake residents like me, availing the Metro back in the day involved switching at least two autos and giving up on all loose change. The newly inaugurated Sealdah Metro station doesn't just make central Kolkata more accessible for us in terms of commute, it also eliminates the mental barrier, taking us from Sector V to Sealdah in 20 minutes for just Rs 20. Given that the Metro station opens directly to Sealdah's railway station, it can be a saviour for people coming to Sector V every day from far-off districts.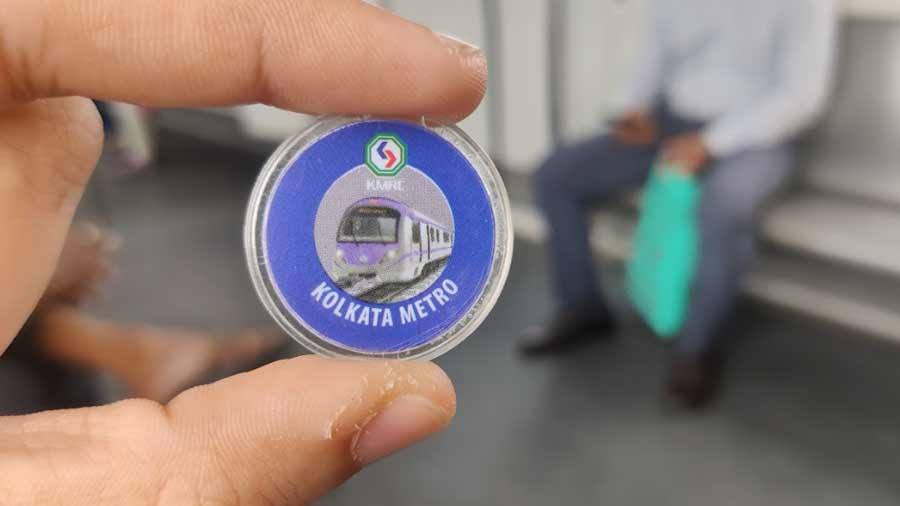 The new token bears the fresh look of the East-West Metro
Spick and span
The station is sparkling, with finishing that rivals the Delhi Metro. And yet, it retains the ethos of Kolkata's original Metro, with artwork reminiscent of the city's culture. Case in point: a group of four friends spotted taking a selfie in front of a painting of a Royal Bengal Tiger. Assuming that they worked in the IT hub, I asked them if they would be regularly commuting by the Metro, now that it had been extended till Sector V. They confessed to have woken up early, just to take the Metro from Sealdah to Sector V, and make it back to their office in Bowbazar by 9am. This wasn't just an isolated coincidence. Every other person had their phones out, clicking pictures and making vlogs, admiring the Metro like it was a snazzy sports car. When it emerged from the underground tunnel onto EM Bypass, it felt no less than one.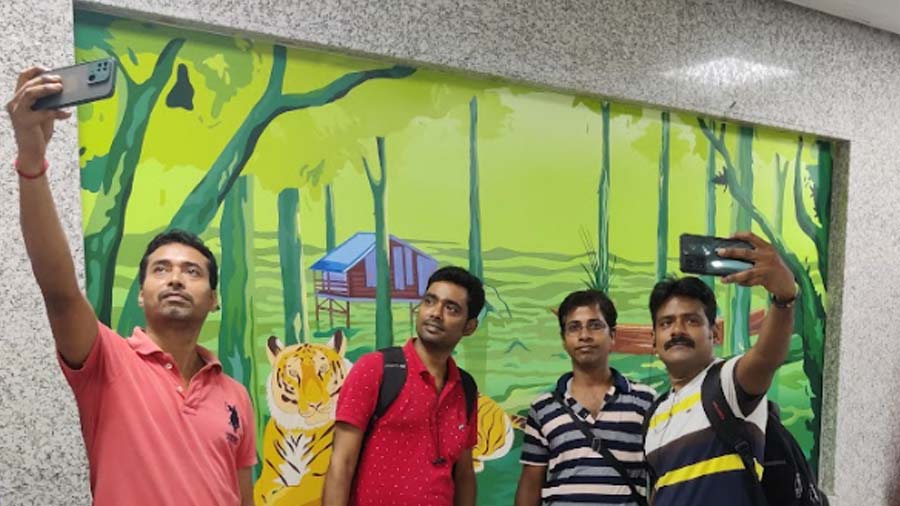 This group woke up early just to take the Metro from Sealdah to Sector V and back before their office started
Nostalgia trip
But beneath the novelty, I also took a trip down memory lane. The constant checking of the watch till the next Metro arrives, racing against time, the frustration of finding that your card had no balance, and the irritation of recharging it (the new station has an e-charging corner) … all these are inseparable, if annoying, associations of the Metro rides of yore. The joy of running down an escalator upon spotting your train with welcoming doors. And the heartache of seeing those doors close a second before you reach them, reinforcing that there was no justice in the world. Beyond the glitter, it's still Kolkatar Metro.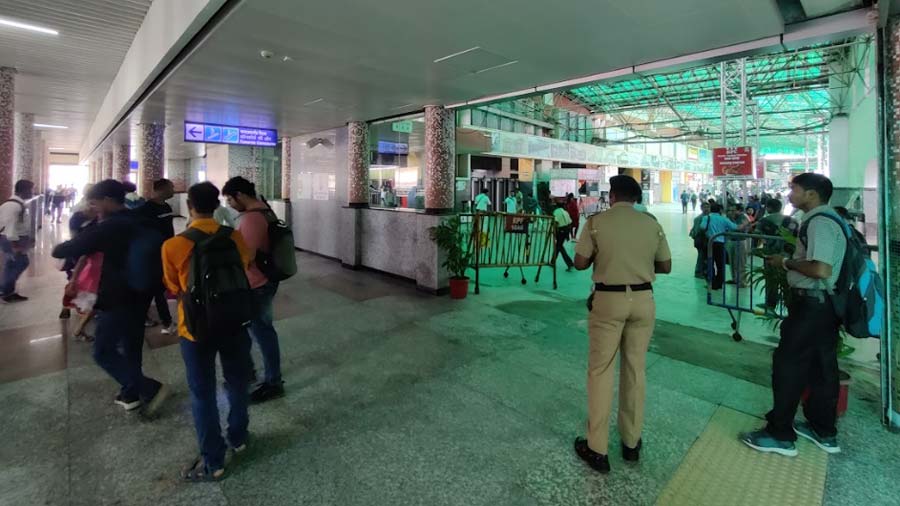 The Metro station at Sealdah directly opens up to the busy Sealdah railway station