To OPPO's credit, the brand has been able to build a substantial base of smartphone users in India and continues to enjoy excellent top-of-the-mind recall value. In case you already own an OPPO phone, it's but logical to take the next step — purchase something on the wireless audio front, like the OPPO Enco Air 2 Pro, which is modestly priced around the 3.5K mark. Though these sound cans work well with other brands, there is a sizeable crowd already invested in the OPPO universe.
Diving into the technical details, users are given 12.4mm large titanium-coated diaphragm drivers, which is bigger than on most wireless earbuds. The sound profile OPPO is targeting involves bass. After all, music these days get recorded keeping in mind how it will sound on wireless audio options. I can ramble about how these buds support SBC and AAC codec, which means one can expect a clean audio profile, about how there is vocal clarity, about how vocal separation is good and so on. But most will want to know about bass output — it's pretty good. In fact, if Realme earbuds win with its app and features that are accessible through it, OPPO goes for the sound rather than app, though the Hey Melody app is quite good.
Speaking of brilliance, there is enough of it on the microphone front. AI kicks in to ensure outside noises are well tackled while vocal clarity is acceptable. There is ANC or noise cancellation, which sounds like a great feature to have. But don't raise your expectations too high because all medium rumbles are taken care of — fans and humming of a refrigerator. But if you are hoping that all city street noises will be tackled, please reconsider. For 3.5K it does a very good job but for fantastic ANC, look at brands like Sony.
Battery life too is substantial. You can easily get 28 hours (includes charging case, 50 per cent volume) with ANC off while 20 hours with ANC on, which is a fair deal. In way of design, nothing new can be added because the shape and size of the earbuds container remains as good or boring as any other brand. Also, don't go by looks.
The other day I was on an assignment when one of my expensive buds dropped and rolled up to the feet of a lady who was kind enough to return the same. That's not always the case. It is here that inexpensive earbuds work well. OPPO has put the might of its brand behind the product and comes away successful. A clean sound profile makes OPPO Enco Air 2 Pro a success.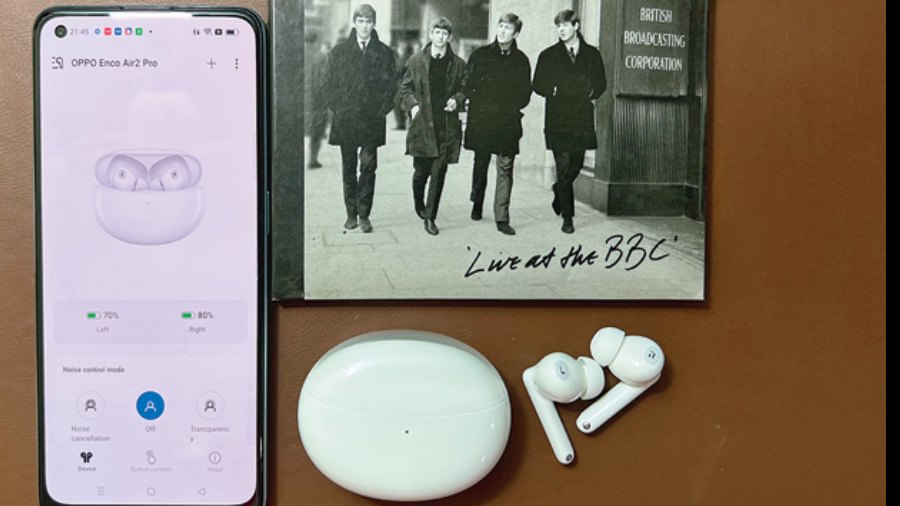 Use the wireless earbuds with the Hey Melody app
At a glance
Device: OPPO Enco Air 2 Pro
Price: 3,499
High notes
• Very good bass
• Long battery life
• IP54 dust and water resistance
Muffled notes
• ANC is acceptable