The word 'sadhya' originally translates to 'banquet' in Malayalam and designates a traditional feast served during Onam in Kerala. The traditional spread consists of 27 dishes covering the flavours of sweet, sour, salty, spicy and umami.
To share such a unique experience chef Marina Balakrishnan had taken over the kitchens at Guchhi in Hyatt Regency Kolkata last month with her Mumbai-based pop-up kitchen, Oottupura by @thatthalasserygirl. The exclusively seated experience saw the chef prepare her meal with seasonal and fresh produce using ancient cooking techniques intrinsic to her food.
Chef Marina is a certified plant-based food chef, having trained at the Natural Gourmet Institute in New York. Marina's gourmet sensibilities hail from her roots in her childhood in Malabar, and have been perfected by her training and honed by her experience at various restaurants.
After her training, she worked at Mercer Kitchen in New York along with pop-ups in New York with Marti Wolfson and Stefanie Sack, plant-based-health supportive chefs. She has showcased at Gaa, an Indian-inspired Michelin-star restaurant in Bangkok, Thailand, and has also conducted pop-ups in Geneva and Italy.
Being the founder of Oottupura, her Keralite vegetarian meal delivery service, she believes that the vegetarian food from Kerala is imbued with rich and deep flavours. And, it is her endeavour to work on this food with traditional recipes.
Coming back to the sadhya, the chef had readied a total of 11 servings. The feast was served on a banana leaf, the tip of which pointed to the left and each dish was served left to right. Traditionally, the dishes should be consumed from right to left and after feasting on it, the banana leaf must be neatly folded by hand, to communicate how much you loved it.
While for most people the spread was something for them to relish, the chef assigned it a spiritual and healing approach.
The banana leaf contains antibacterial properties and natural antioxidants. She looks at cooking and nourishing as healing energy and in the process honours her traditions and ancient principles. Her pop-up carries forward the Ayurvedic principle of the six rasas (tastes).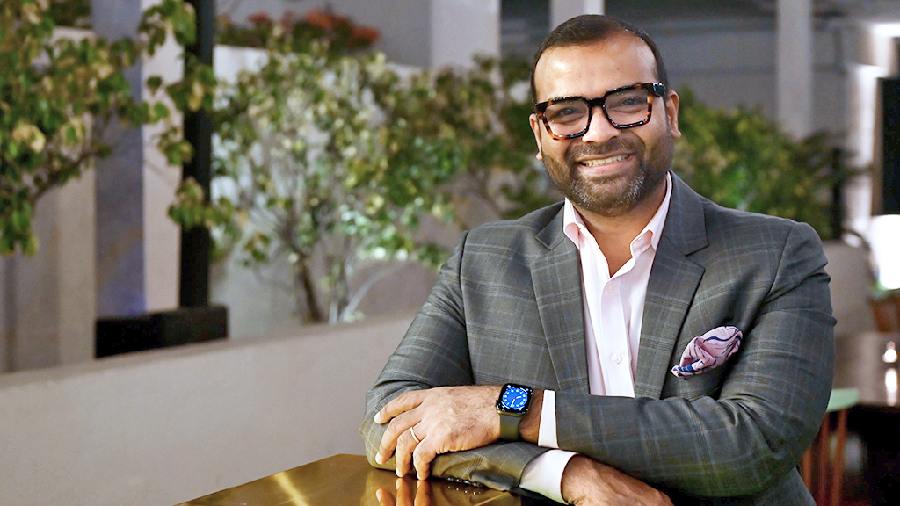 "Sadhya is a celebration of tradition, community and pristine Keralite flavours. This was about the celebration of simplicity and divinity of this cuisine," said Kumar Shobhan, general manager, Hyatt Regency Kolkata.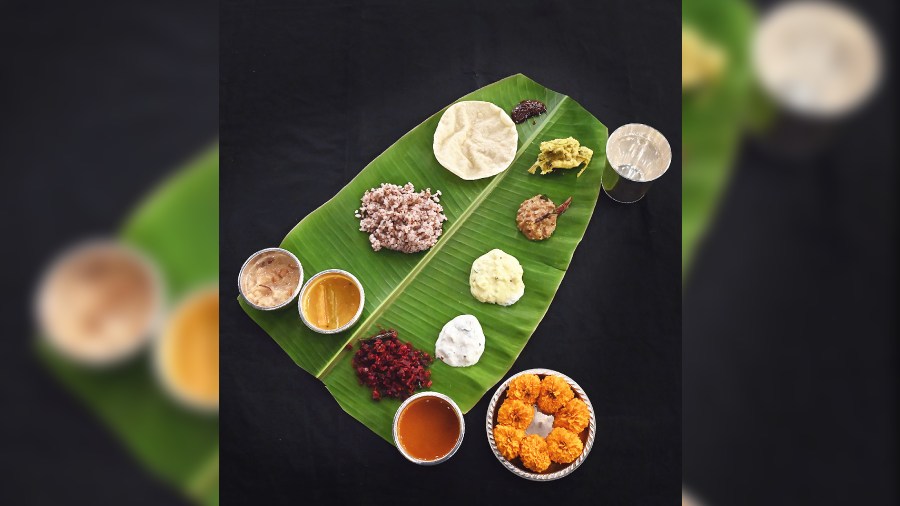 The sadhya spread laid out by chef Marina Balakrishnan at Hyatt Regency Kolkata
THE FEAST 
Sambaram: A light buttermilk welcome drink with Ayurvedic spices.
Kerala Matta Rice: A type of red rice grown in the Palakkad district in Kerala. This versatile rice is soft, easy to cook, and packs in nutrients.
Naadan Samber: This Kerala-style sambar is a mix of freshly-ground sambar powder and roasted coconut. Vegetables are also added to the dish for texture and flavour.
Avial: Made with coconut and curd, this dish has yam, raw banana, drumsticks and carrots and is an important part of the sadhya.
Vanpayar Matanga Erissery: A mix of cowpea and pumpkin cubes is cooked and stir-fried in a coconut mix with freshly-milled coconut oil. The two different textures of the coconut makes this dish stand out.
Pineapple Pullisherry: This dish is a pachadi (a traditional South Indian fresh pickle served as a side dish) which has a balanced sweet and sour flavour.
Ellerika Pacchadi: This dish is similar to raita but is made with Orange Madra cucumber and coconut in a mustard-spiked yoghurt gravy.
Inji Pulli: This relish is sweet and spicy and is made with ginger, tamarind, green chillies and jaggery.
Pappadam: This traditional rice pappadam is sourced from Guruvayur.
Ada Pradaman: This payasam (payesh) is made with coconut milk and local palm jaggery with flavours of cardamom and cashews.