Marrying a classic to the memories. That's The Biryani Canteen that has opened doors at Offbeat CCU, on the EM Bypass.
The quirky-cool restaurant welcomes its guests with colours, a youthful decor and eye-catching installations. It has an outside seating capacity for 80 people in addition to its 76 indoor seats and is equipped with air conditioning. Chef Paul Augustine, who has more than 28 years of experience under his belt, is currently in charge of the kitchen.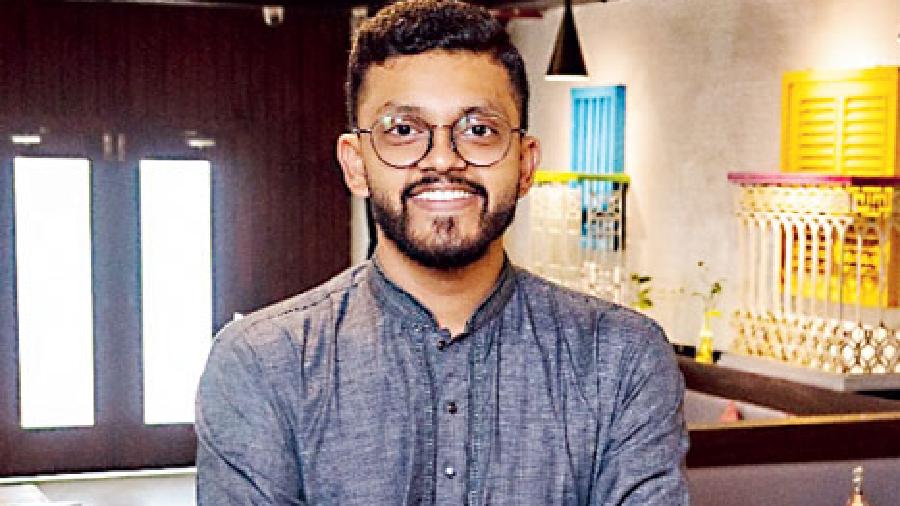 Meghdut Roy Chowdhury
"Everything here is about accessibility. We are not in the food business per se, but if we are building brands fromOffbeat CCU, we always make sure that they are innovative. Biryani is for everyone and the most nostalgic memories we have is from our school days. The Biryani Canteen hopes to bring that back" — Meghdut Roy Chowdhury, founder and chief curator, The Biryani Canteen & Offbeat CCU.
The menu offers a wide variety. There is a section called 'The 10 Min Menu' comprising rolls, Frankies, Canteen Special Pao and sweets like gulab jamun and Zafrani Firni along with the ever-popular comfort items like Maggi and more.
When it comes to biryani, there is a selection of over 20 different kinds to choose from, several of which are suitable for the vegan palate like Hyderabadi Veg Biryani, Mushroom Masala and Zaitooni Veg Biryani, to name a few.
Kolkata Chicken Biryani, Potlam Mutton Keema Biryani, Hyderabadi Mutton Biryani, Dahi Ke Sholay, Murgh Rozali Kebab and Gosht Cigar Kebab are the signature items on the menu.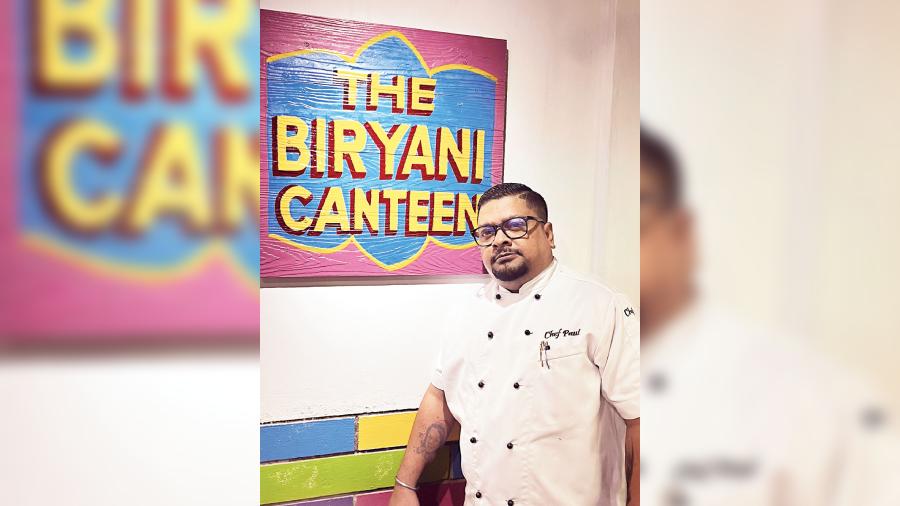 Chef Paul Augustine
"I want to bring new innovative versions of food that not only gives a better perspective and a new taste, but also helps us explore various cultures and fusions with our dishes here at The Biryani Canteen" — Paul Augustine, chef, The Biryani Canteen
You can sit down and enjoy your meal or opt for a takeaway, making it ideal for those who are looking to grab a bite on the go. The prices are affordable.
There is a separate section selling upcycled jewellery and clothes too. The Biryani Canteen has collaborated with brands like Two&Half and 145 East for reusing clothes and materials that will otherwise go to waste. This is in sync with the restaurant's environment-friendly no-waste policy.
The Telegraph gets you a first look.
What: The Biryani Canteen
Where: Offbeat CCU, 36F, Topsia Road, EM Bypass,
Timings: 11am to 2am
Meal for two: Rs 800-plus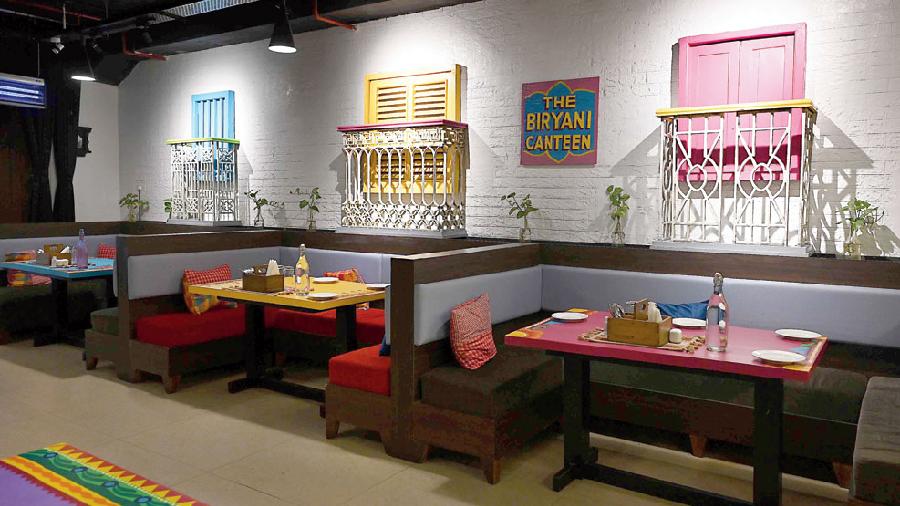 This interiors are an ode to Kolkata. The windows have a distinct North Kolkata feel. We loved these funky ones inside the restaurant. There are numerous phrases painted on the walls, in addition to the colourful tables and chairs.
Sip and bite: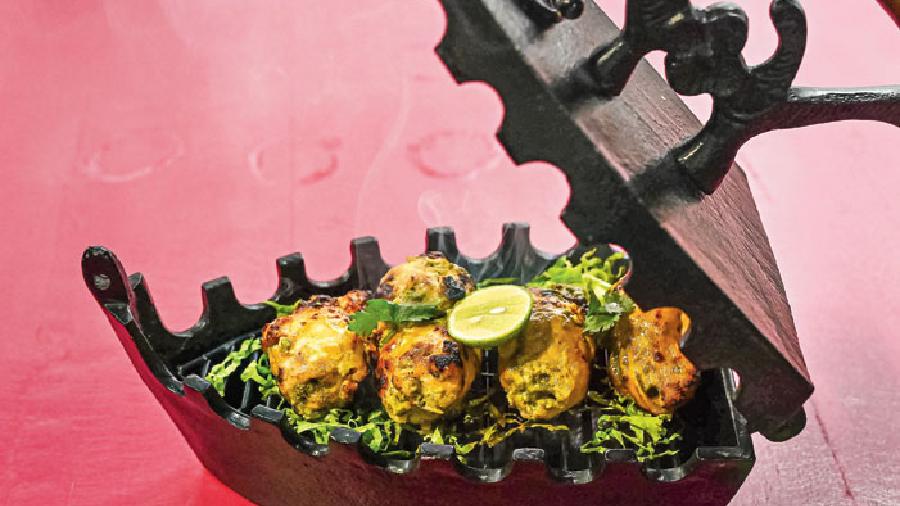 Murgh Rozali Kebab: This mouth-watering kebab is prepared with chicken stuffed with spinach and cheese, marinated with hung curd and spices, and cooked to perfection in a tandoor.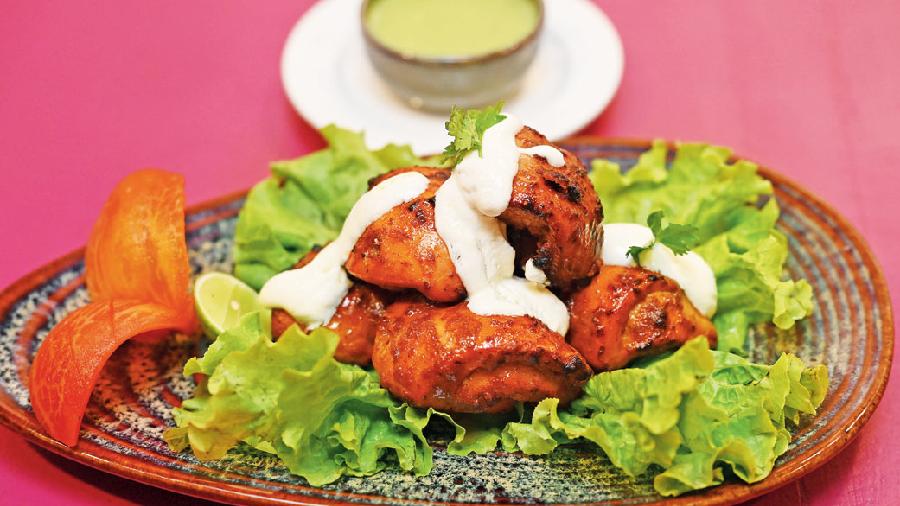 Murgh Lal Surkh Tikka: This is a chef's special where your regular Chicken Tikka has been innovated upon with new spices and a burst of flavours. The chicken is marinated with hung curd and a Thai marinade which not only makes it soft and delicious but also unique.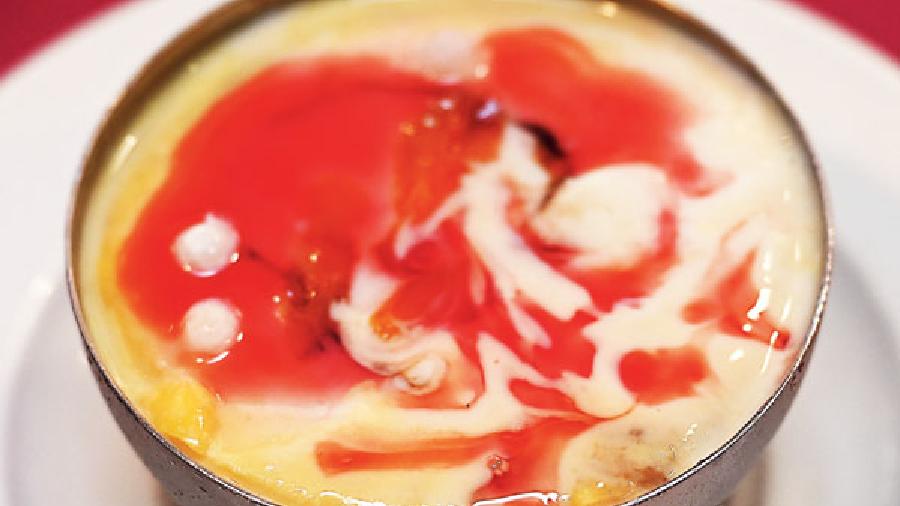 Apricot Delight: This dessert is not only perfect for the sweet cravings after the spices of the biryani and kebabs, but also fun with multiple layers of chocolate brownie, custard, apricot and fresh cream. It is topped off with a generous amount of rose syrup that not only makes it delicious but also beautiful to look at.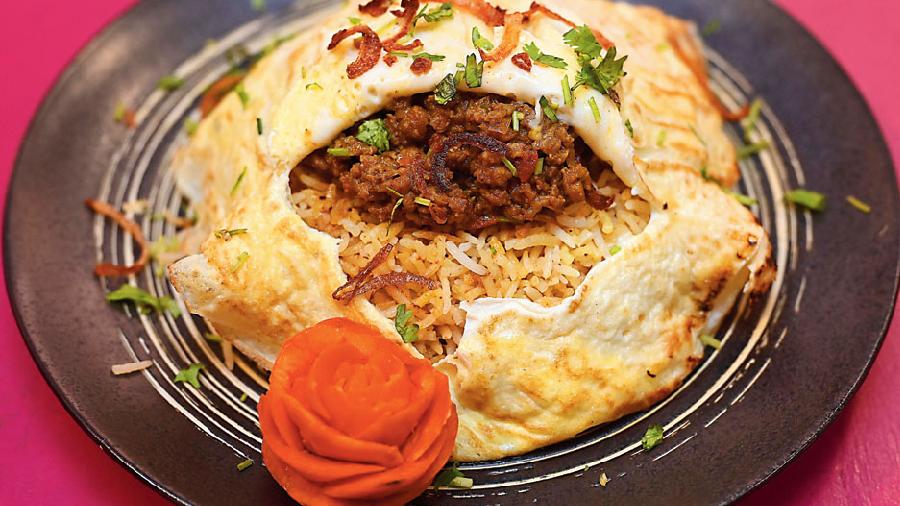 Potlam Mutton Keema Biryani: This minced mutton biryani is wrapped in egg. Thus the name! Cooked in Hyderabadi style, this unique biryani is garnished with sauteed onions.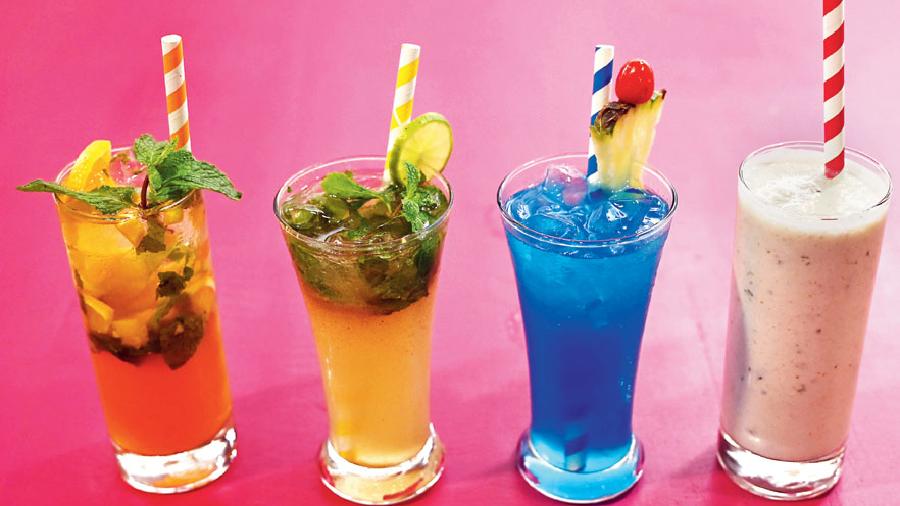 This is one refreshing series of sips — (l-r) Orange Mojito (made with orange juice, mint and soda), Soda Shikhanji (made with lemon juice, sugar syrup, mint soda and ice), Deep Blue Sea and Masala Chaas (available in the plain variety too).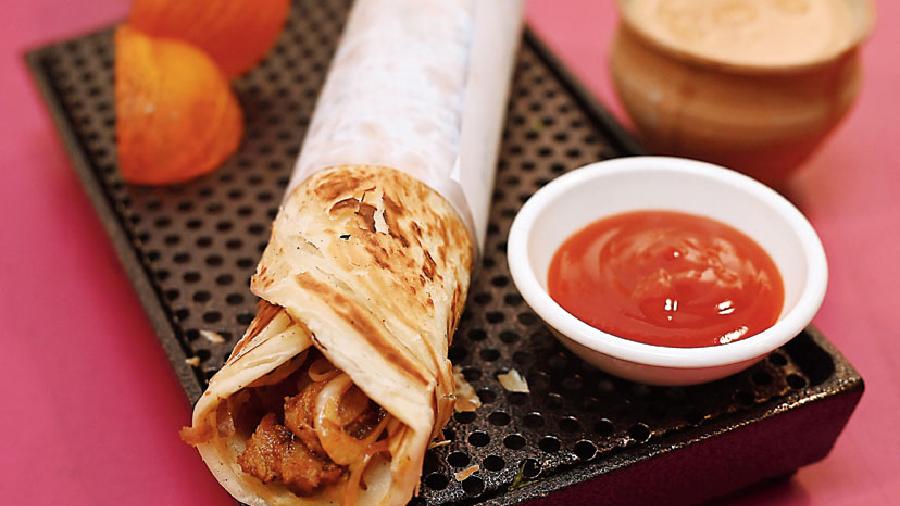 Chicken Tikka Kathi Roll with Masala Delight: A perfect juicy tender roll for your takeaways and quick meals.
Pictures: Pabitra Das