Food from northern India is often narrowed down to just paneer, naan and tandoori chicken. But like India's other regions, there is much more to north Indian food and every state of the region comes with its own distinct flavour profile. To acquaint Kolkata with the flavours of her home state, Himachal, Chef Sherry Mehta is returning to the city on January 5 and 6 to curate Taste of the Mountains, a modern Himachali Degustation Menu at an event presented by Gormei and Glenburn Culture Club, with My Kolkata as media partner. Guests will get an authentic taste of the northern Himalayan cuisine along with craft cocktails by Hapusa Himalayan Dry Gin at The Glenburn Penthouse.
"We at Gormei are curators of extraordinary culinary experiences and our focus is to celebrate regional Indian cuisine with specialist chefs both in the country and abroad. Mehta's expertise on Himachali and United Punjab cuisines makes her the right person to bring out the treasures of the region's food," said Argha Sen, founder, Gormei. "The menu will be a modern take on the food from the mountains. While traditional ingredients will be used, it will be presented with a contemporary style and technique," he added.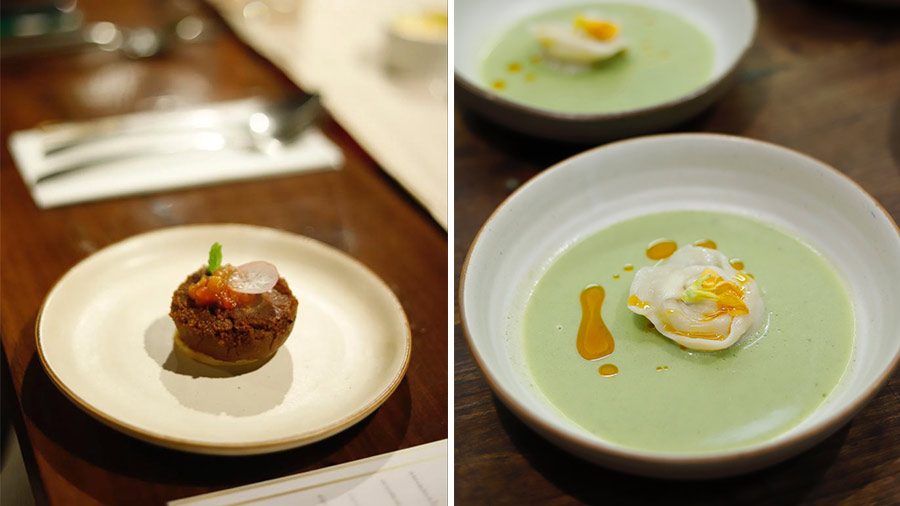 The degustation menu will feature dishes like Stinging Nettle Soup and (left) Lotus Stem Shammi made with traditional Himachali ingredients
When talking about the menu, Mehta said that a lot of finesse had gone into achieving the balance, while staying true to her roots. "Since it wasn't a straightward menu to curate, I thought of ingredients that were lesser known and selected dishes that would balance well with the cocktails by Hapusa. All the ingredients are local, and the culinary influences are a mix of classical and modern Indian," she said. "I constantly thought about how we could give our spin to known items. Chaa Meat is a traditional item from Himachal, but we have given it a twist with Lamb Shanks, served with purple yam mash and baby radish. I've constantly tried to go out of my comfort zone."   
Sen points out how this event will be a tribute to mountains in more ways than one, with seven hearty courses and four artisanal cocktails. "Hapusa is a super-premium Himalayan brand of gin. Their origin and ingredients are also from the Himalayas. Similarly, Glenburn also has a mountain background, with their tea estate near Darjeeling. Coupled with Sherry's expertise, this is a perfect combination to recreate the flavours of the mountains."
(L-R) A Chamba thali served from Mehta's kitchen with dishes like Chaa meat, 'rajma madra', 'sapu wadi', 'pataud' and the steamed bun-like 'siddu' which will also be served as part of the menu
Both Sen and Mehta agree that this event is far more than just having a great meal. "Himachali food has always been underrated and people still don't know about it. This event is a step-up since it is not about the dishes, but the lesser known ingredients. It will be a journey through every district of Himachal, and a complete culinary story of the region will be told on the table," Mehta stated. Sen elaborated that the chef would tell stories about the food, familiarising guests with the items on their plate. "We will take people behind the scenes to get a real taste of the mountains. It is all about creating an experience," he said.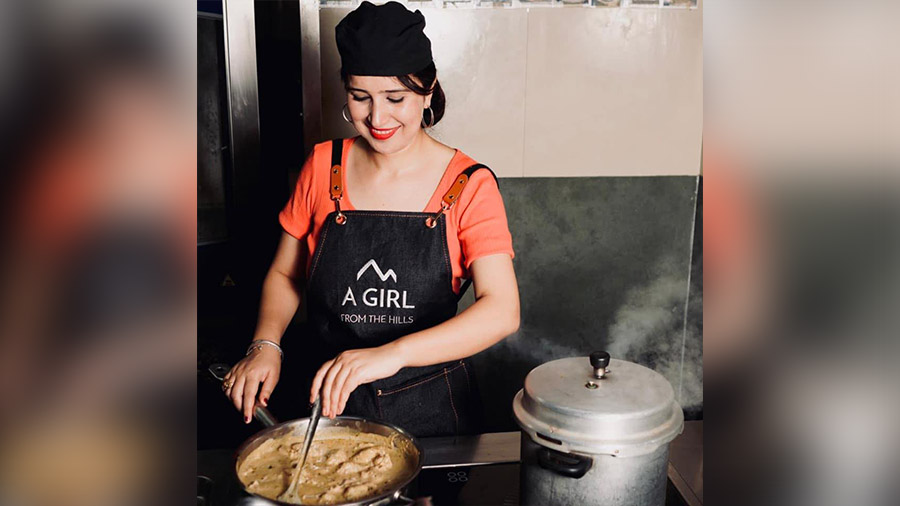 Chef Sherry Mehta is an expert on Himachali and United Punjab cuisine, and shares her food stories on her Instagram page @agirlfromthehills
However, this isn't to say that her Kolkata influences — Mehta spent many years in city — haven't played a part in the flavours. "In Himachal, we only have fish fried in mustard oil. Since I stayed in Kolkata for almost eight years, I know the love this city has for both mustard oil and fish. While the Ceviche is a Peruvian dish, we have introduced Kohlrabi and Manali Trout variants for it, which I am sure will be particularly loved by the diners," Mehta said. "I'm very emotional about Kolkata. When I started my journey as a homechef, I received a lot of love and acceptance here. I still have fond memories of being overbooked every weekend when I began throwing pop-ups here. The streets, food and friendships have a special place in my heart," she said.
Taste of the Mountains will be held at The Glenburn Penthouse on January 5 and 6 at 7pm. To book your seat, contact Stefan at +91 8617539147. Priced at Rs 3,800 all inclusive, per person.