Legend has it that London has more Indian eateries than Mumbai and Delhi. Whether that is true or not, there is no debating the sheer amount and variety of Indian food that is available in the British capital. As a student in London, I was overwhelmed by the choices, even though I am a vegetarian and a lot of the Indian vegetarian food available in the city tends to be on the blander side (to cater to the British palate). However, like most Indians back home, I love my spices! Which means that I want my Indian vegetarian servings to be as authentic as possible.
With that in mind, here is my list of recommendations in case you want to try out Indian vegetarian food in London that appeals, first and foremost, to the Indian palate.
Chaska Maska, Greenwich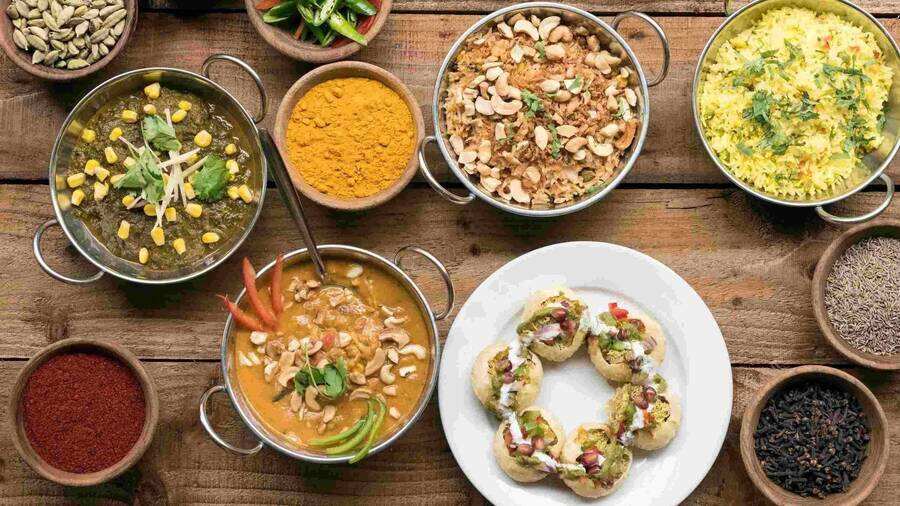 Chaska Maska is popular for its momos and chaats
Wikimedia Commons
Chaska Maska is located in a quaint corner in Greenwich. It is run by a local Himachali, who prides in the chaats and momos at the restaurant. At Chaska Maska, you can experience elegant Himachali interiors along with homage to cricket stars. You will be reminded of the fandom around cricket in India when you look at the West Wall at Chaska Maska. Their chaat is indeed to die for and I loved the momos, too. This is one of the only restaurants in London where I got momos just like Delhi, Himachal, Uttarakhand and Nepal. It has the same kind of spiciness as the sauce. I strongly recommend Chaska Maska to college students since it is also budget friendly.
Bikaneri, Hinckley
Bikaneri is a short train ride away from London. The trains from London are well connected to Hinckley, a small town near Leicester. Bikaneri is an ode to Rajasthani cuisine in the UK. I have not tried better Dal Batti, Aloo Tikki Chaat, Gutta Curry and lachcha paratha in all of the UK The hospitality at Bikaneri definitely follows the "padharo mhare desh" (welcome to my homeland, a traditional Marwari song from Rajasthan) motto. The interiors of the restaurant are also designed to be Rajasthani with paintings from Bikaner. As someone who loves Indo-Chinese cuisine, I really enjoyed the Chilli Paneer here. I was also humbled to see the second generation owners working at the restaurant themselves while taking keen interest in the food and culture they represent. To top it all off, Bikaneri is also a pocket-friendly restaurant.
Dishoom, Shoreditch
Dishoom is a classic. Its tagline is "with love from Bombay", which tells you all you need to know about what sets them apart. It is hands down the best Indian food I have tried in central London. Their vegetarian options are vast and delicious, not something you can say about every Indian eatery in the city. My favourites at Dishoom were chhole, lachcha parathas and their trademark Aloo Tikki Chaat. Their Pav Bhaji is also sumptuous. At the upper end of the budget spectrum, Dishoom is best enjoyed with friends and family on special occasions.
Madhu's of Mayfair
This is not a casual dining restaurant, as it is located in the heart of London, that too very close to the hustle and bustle of Oxford Street. The ambience here is upbeat and will take you back to the Mughal era, with buzzing chandeliers and fake peacocks adorning the dining hall. The portion sizes are small but the prices are high. Even then, the garlic asparagus, black daal and naan are totally worth trying. This place is great for students to celebrate special occasions such as birthdays, milestone jobs or graduation dinners.
Saravana Bhavan, Charing Cross
Good South Indian food is a rarity in London, with Saravana Bhavan among the finest. They have an extensive menu of dosas and starters and their filter coffee tastes just like what you will get in India. The ambience is simple with no pretentiousness. You know you are there for the food, which is also light on the wallet.
Mowgli Street Food, Charlotte Street
Mowgli Street Food is a restaurant I came across by chance while taking a stroll. The ambience is the cute kind of attractive with fairy lights everywhere. Little did I expect that the food would be equally good. If there is one place in London that reminds me of homely comforts, it is this. The food here is served in dabbas, similar to the ones in which my mother would pack my school tiffin. I was impressed to see this concept in London, since it captures the heart of India. The standout dishes here are the chaat items, with the sweet potato and aloo tikki at the top of the list for me. The restaurant is also budget-friendly, so I would definitely recommend it to youngsters and college goers.