In the quaint bylanes of Kolkata's Jodhpur Park lies Mrs Wilson's Cafe, known for its homely decor and tasty food. But did you know that you can place an order for an authentic Assamese thali at this cafe run by Abhishruti Dutta, who has her roots in Guwahati?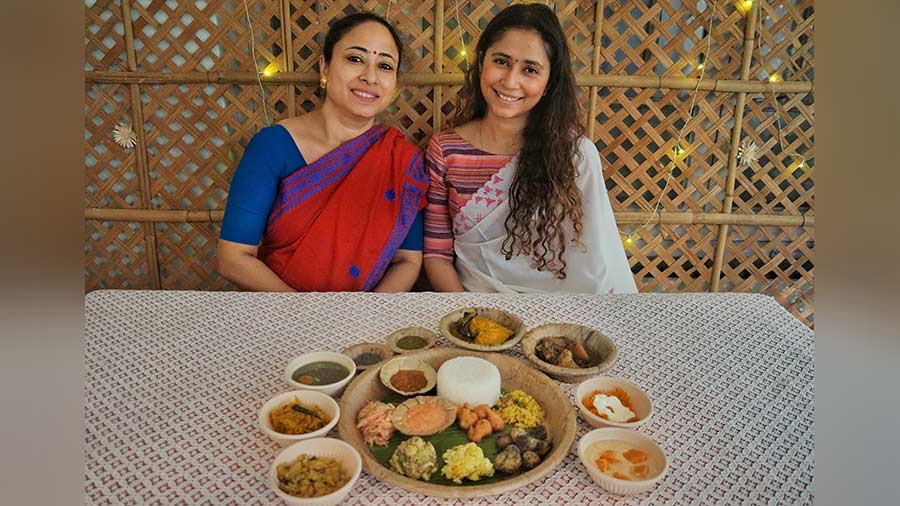 Nabaneeta and Abhishruti Dutta
When Abhishruti's mother Nabaneeta shifted to Kolkata from Assam after marriage, she carried with her a treasure chest of culinary knowledge and recipes. While Nabaneeta's day job is a travel consultant, she often takes to the kitchen to whip up regional cuisine from Assam using native ingredients like black sesame seeds, thekera and khar. 
Abhishruti, who founded the pet-friendly Mrs Wilson's Cafe in 2021, saw the growing demand for cuisine from the Northeast and recently introduced it to the menu, on pre-order basis. "I have my roots in Guwahati and wanted to spread the word and cuisine across to people in Kolkata. I have seen people getting excited about Northeast food. So, I thought why not try it here when we have the space as well as someone who can cook authentic Assamese food?" says Abhishruti.
Assamese cuisine is very different from Bengali cuisine. "It is less spicy and oily. The main ingredients are jeera paste, ginger paste and garam masala. It is not that the food does not have chillies but it's almost always the King Chilli or green chilies that are used. In Bengali food, a variety of masalas are used," explains Nabaneeta, who only steps in when there are Assamese food pre-orders or pop-ups.
The home chef has also tried fusing both cuisines. "While preparing chicken, I use black sesame seed powder. In Assam you get an ingredient called Lye Shaag which is not available in Kolkata. It's very similar to Shorshe Shaag. I add that to the chicken as well. I get the shaag, blanch it and keep it in a deep freezer for preservation for two to three months," she says.
My Kolkata made a stop at Mrs Wilsons's Cafe and got all the deets on the Assamese food on offer…
What can you order?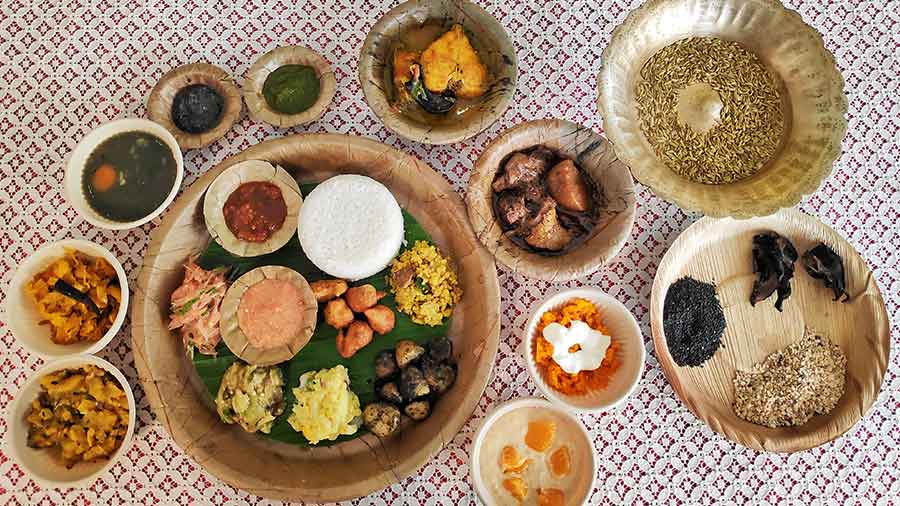 Authentic Assamese Thali that one can pre-order at this cafe
One can order the whole platter or a la carte. Here's the complete list:
Robab Tenga Salad: Pomelo with bird's-eye chilli and a drizzle of mustard oil
Mahor Bor with Tomato Relish: Split black gram fritters served with a sweet and tangy relish
Til Diya Aloo: Baby potatoes fried in black sesame seed paste with a drizzle of sesame oil
Omita Kumura Diya Masor Muror Khar: A traditional mix of vegetables and fish head, flavoured with Khar
Masor Tel Aaru Bhaat Bhaja: Rice, tossed with fish belly oil and spices
Mati Mahor Dal with Kon Bilahi: Split gram lentils with cherry tomatoes (kon bilahi), mustard oil, panch phoron and green chillies
Trio of Pitika: Mashed potatoes, tomatoes and herbs
Bondha Kobi Xoriyah: Cabbage in creamy mustard sauce
Masor Tenga: Lightly-fried Katla in a tart curry
Jeera Jaluk Diya Haahor Manxho: Tender duck in black pepper and cumin seeds
Chutney
Mihidana with fresh cream
Kamolar Payosh: Kheer with orange
For seasonal dishes, alternatives can be discussed while placing an order.
How can you order?
Robab Tenga Salad
One needs to pre-order at least a week prior to the date of delivery as the ingredients are sourced from Guwahati. Delivery charges are applicable for distances greater than 2-3 km. For further enquiries one can call / WhatsApp on 9167419756. Click here for the location on Google Maps.
Native ingredients in Assamese cuisine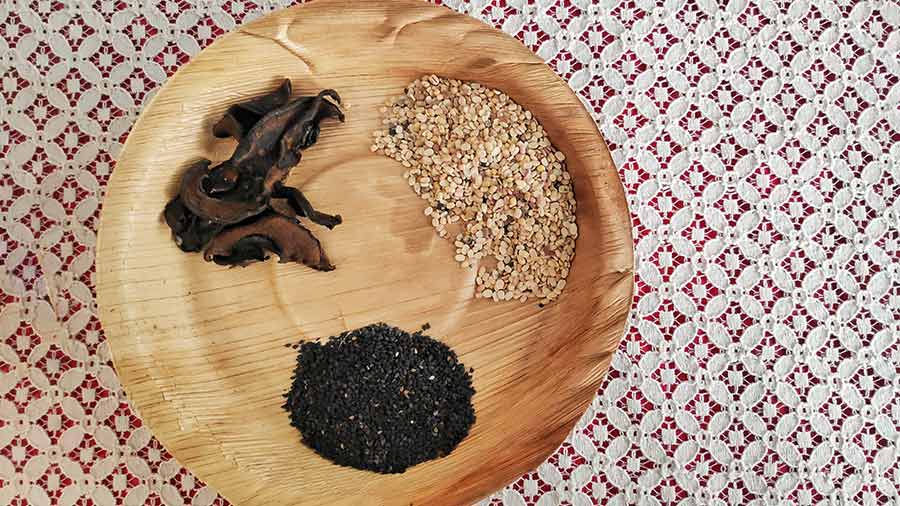 Black sesame seeds (bottom); Thekera (L); Beulir daal (R)
Black Sesame: In Northeast India, sesame is used in savoury dishes. "The seeds are washed, roasted and ground. Then we use the powder to make maacher jhol or to marinate brinjal before frying," shares Nabaneeta.
Thekera: Thekera is similar to chalta (Elephant Apple) but smaller in size. "We cut it into pieces and dry it. It is tangy in taste so we use it to make Maacher Tok or Daaler Bora. Tangy in Assam is only tangy, no sweet is used. In Bengali cuisine even if it is tangy, some amount of sugar is added to it," explains Nabaneeta.
Khar: Khar is another interesting ingredient used in Northeast India. "The skin of Bichi Kola is roasted and soaked in water. Then this water is used to cook papaya or chicken. This helps in digestion or gastric problems," says Nabaneeta.