With six outlets in the city, the humble Himalayan kitchen Momo I Am, that began in a tiny set-up in Lake Gardens with minimal seating and no air-conditioning, is today standing at a successful 10th-year mark, with a massive micro-brewery-cum-lounge soon to open right adjacent to their current outlet in Sector V, Salt Lake. On this occasion, The Telegraph went on a journey down memory lane as we sat down with co-owners Reevu Wangdi and Pravakar Yonzone, who recalled moving from Australia to Calcutta after 10 years with all their savings to make their mark in the F&B space. Excerpts.
From Lake Gardens to now expanding in a huge space... what has the journey been like for the both of you?
It's been a very challenging one, but at the same time, we've enjoyed it a lot. Totally. We did hotel management and everything, so we love food. There have been many ups and downs where, you know, we have opened up our outlets in certain places where we had to shut down, and we incurred a lot of losses too.
What was going on in your mind when you started?
So, we were just back from Australia, we'd completed our hotel management degrees and we'd lived there for a good 10 years. And then we just decided that we'll go back home to India and start something of our own. And life was good in Australia, you know, like everything was sorted, but then we wanted to be our own bosses. So we came to India, Calcutta being the first choice, because we had lived here for five years before that.
And we came here and then, you know, like, we'd come with our savings, whatever we managed from Australia, half of it, we just blew it off partying and stuff, you know? One day we woke up and we were like, okay, let's go look for a place in Lake Gardens. It was a broker's office; it was actually smaller than what it is now. Our vision had always been like this (the outlet in RDB Boulevard in Sector V) was the dream, you know.
And how did the name come about? It's a very catchy name.
We thought 'I am Momo', but then it sounded boring. So we made it Momo I Am; we wanted to be like the momo bosses. We knew our product would be so good that, you know, it'd be the best in the market.
What was the most gratifying part of the journey?
Opening this outlet. It was the dream.
And now what is the reaction from the families?
Oh, they're like. Happy for us. Initially they were like, oh, why did he come back? You know, all that. But then we had belief in ourselves, we would see crazy ideas, and find out a way to make it work.
What are your future plans?
So there is a little bit about like, this entire thing behind the you (points to their upcoming lounge space adjacent to the RDB outlet) that we guys are coming up with pretty soon. So we want this space to have like two sections; it's a very big space. We want to utilise the space and we want to set up a brewery as well for the kind of vision we have for that space. So we wanted to like separate this, make it a different entity.
The entire area with the new space would be about 10,000sq ft. And the seating capacity would be around 300.
Why did you guys choose the name 'Yak Brewing' for your microbrewery?
Actually a friend of ours who we met in Sydney, his father ran a distillery in Nepal and he came back to Nepal at around the time we left Australia too. So, he took over his dad's business and he got into like the brewery aspect of it, and he started a new brewing plant called The Yak. He has a brand of beers called Barasinghe, which we are bringing here. So the new space will have brewed as well as specially bottled beer as well.
Plus the space is huge so it's apt for brewing tanks as well. We personally love this new brand of beer. It's fairly new in the market, and our friend from Nepal is helping us set up this brewery.
So, what has been the after-thoughts with regards to the menu?
We started off with specialty Himalayan cuisine, but now we have also gravitated towards a lot of Asian and specially Japanese food with a wide range of sushi and ramen on the menu. We also have baos, cocktails, desserts and even beer now.
This place has a focus on a lot on live music, what are your faves in this scene?
It's a mix of say like, you know, modern English with the Hindi, Instagram music, which is very famous these days. We do like the modern, like Justin Bieber songs, you know, Peaches and all those. Young people, young fun songs but all the bands cannot  do upbeat songs. We have a few bands who specialise in this. So we want to make this place one with a music scene... it already has one, but then now as you can see, we have a proper stage, the lights will be like crazy with smoke machines. We are getting a big 10ft-long LED TV at the back of the stage. This is gonna be a place where you want to come, chill and party. Party with the band and then immediately the DJ takes over, and you go on until late night. A lounge-cum-club.
I think any restaurateur interview currently is incomplete without this question — how did you guys stay afloat through the pandemic?
It's been two years since the pandemic, and this is a huge space. This was very challenging. This outlet was very challenging. It was such a big space. When we came back later to open this space, it was smelling of rats and had dust and spider web, plants all dead. It was like a shock, you know, we thought we might have to close the space and sell it to someone.
Anything you want to say for the city, since you guys chose Kolkata?
I mean, Kolkata has been very kind to us. I'm sure we've been able to live up to our customer's expectations. For 10 years, we've been pretty consistent, you know, like we walk around through all the outlets, tasting our food pretty much every day, you know, and we are happy that the food tastes the same like it did back in 2002. And that's what the customers say too.
Do you now want to expand to other cities. Is there any plan like that?
There are no plans as of now, because we really have our hands full. But then obviously if something comes up then in the long run, our main focus after this would be opening up a bigger restaurant in the South (Kolkata). We would like a more formal set-up where people have more amenities there. We're very thankful to them for visiting even our small outlets in Gol Park and Lake Gardens.
Food Picks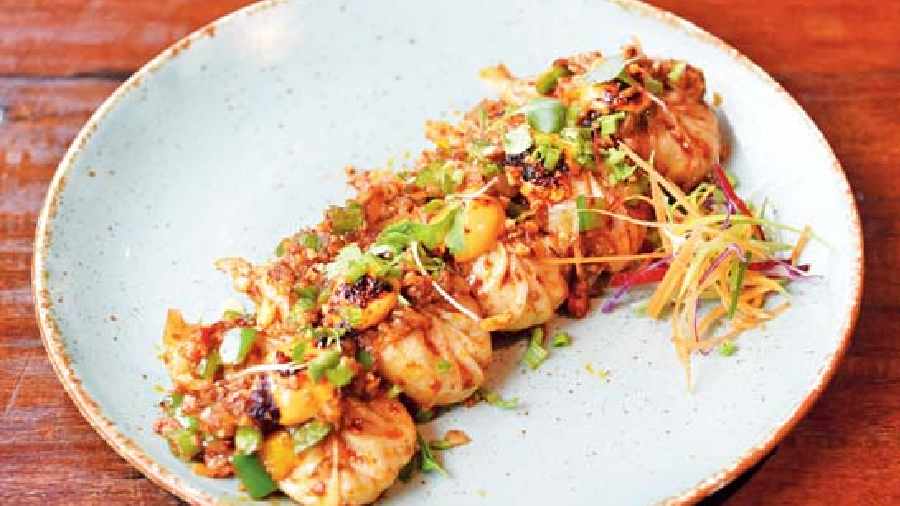 Hangover Momos: A signature from their Lake Garden days, it's a spicy veggie momo with mashed potatoes layered on the bottom. It also comes in a non-vegetarian variety. Rs 300-plus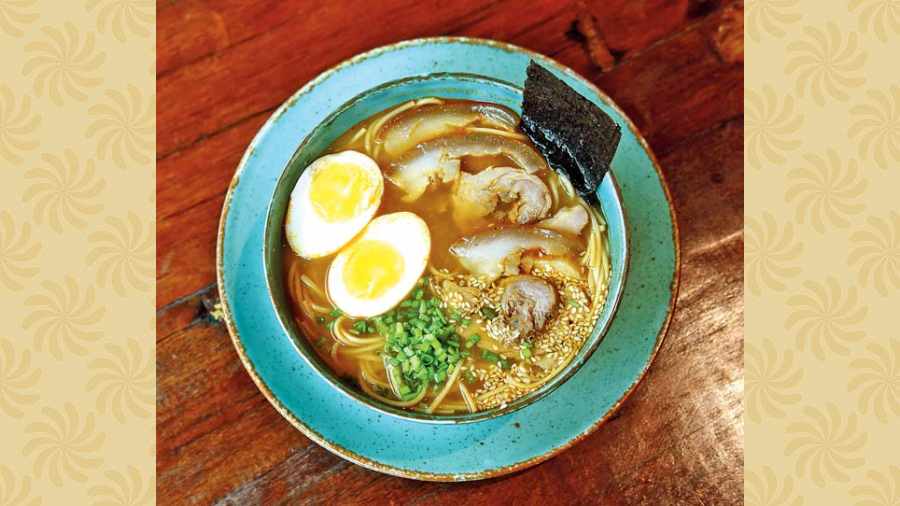 Pork Miso Ramen: It has slow-cooked char siu pork slices with a broth that has been cooked for over 20 hours in slow heat, moved around and stirred... you get all the juices from bones. It is served with a soft-boiled egg. Rs 480-plus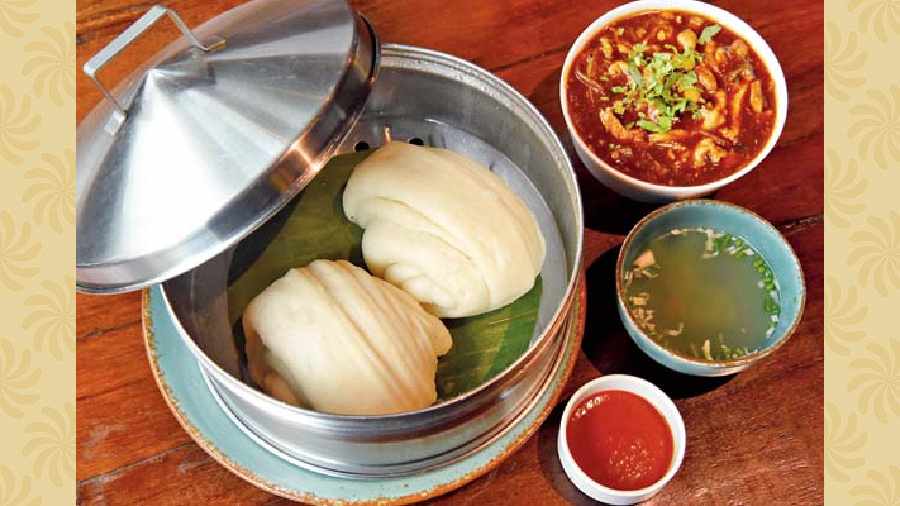 T-Momo Combo: It's a Tibetan steamed bun served with chicken Shapta, a Tibetan chicken curry, along with chilli sauce and soup on the side. Rs 330-plus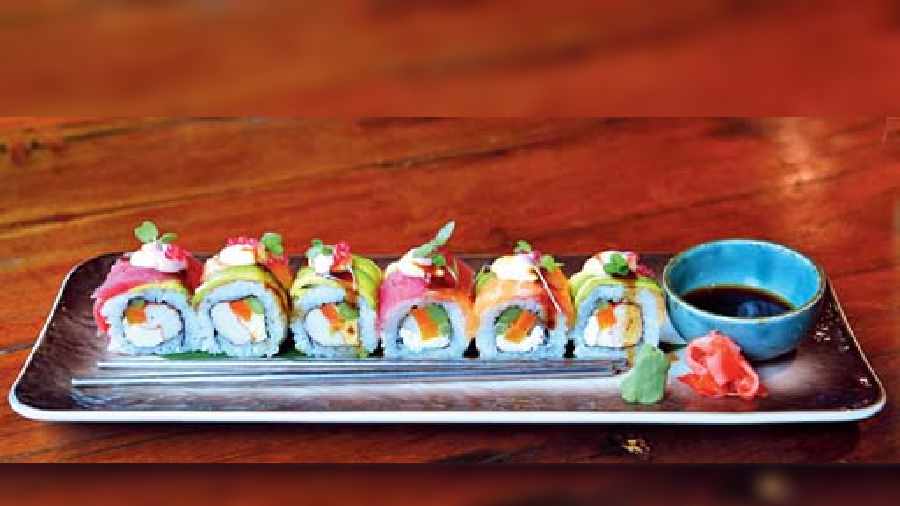 Rainbow Maki: A latest addition to the menu, this colourful dish has crab sticks, salmon, tuna, avocado and asparagus. Rs 570-plus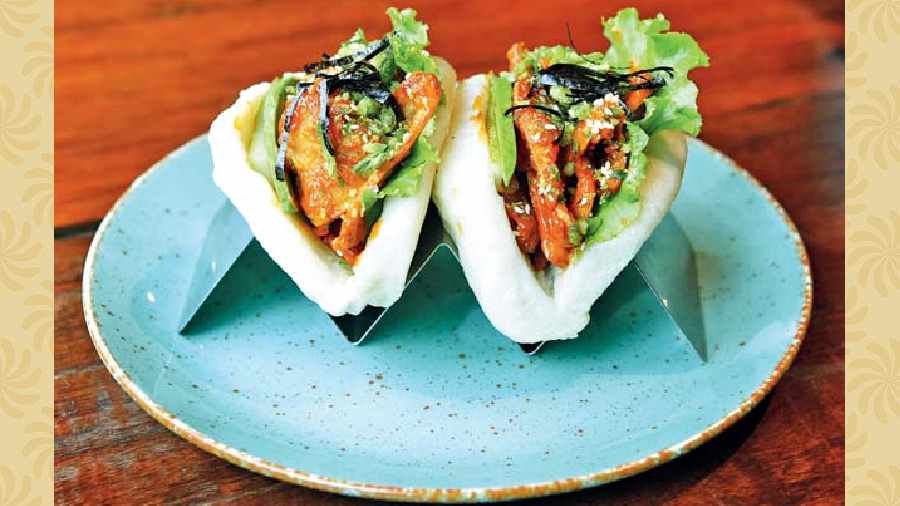 Spicy Cloudy Mushroom Baos: Milky mushrooms are deep-fried and tossed in mayo and chilli paste and served with avocado and pickled cucumber and lettuce. They were the first to introduce this to the city. Rs 280-plus