Zen, the Asian speciality restaurant at The Park hotel, has carved a niche for itself over the years. Taking this value higher is their new creative genius, chef Raul Borja who has three decades of experience in iconic properties all over the world, and is now bringing in his touch of modern sushi to Zen. The Telegraph caught up with Borja for a quick chat. Here's what transpired.
Is this your first time in Kolkata?
No, I have been here previously at The Oberoi Grand for over four years. I love Kolkata as a city and I really enjoy being here.  
You have worked all over the world, which has been your most preferred place to work in?
I would say India, because I have spent over 10 years in the country. I love the vibe, the people, the energy in India. In fact, I even like Indian food a lot. Phuchka, poori sabzi is something that I have tried and liked in Kolkata. I have also tried the biryani in Aminia, New Market.
Zen is a very famous Asian dine den in the city, so what is the responsibility like for you?
I am going to put up a new style of modern fusion sushi that has been gaining prominence all over the world. Training the staff here on that terms is one of the first and foremost of my responsibilities.
What exactly is modern fusion sushi?
It's something that started years back, and actually varies depending on the region that you're eating it in. It was actually started by the crowd in Vegas. The note of teaching people how to each sushi because raw meat might not be palatable to all, is how modern fusion sushi came into being.
At Zen, we are going to stick to our classics, such as the Blue Fin Tuna, the Hamachi, the scallops, and then comes the fusion that has the maki, the California rolls and all sorts of vegetarian sushi that has been specifically catering to the Indian market. This is what we are going to do, and we will also begin taking pre-bookings for teppanyaki and live sushi.
Also, where are you from and what made you delve into the culinary arts?
I am from the Philippines. The idea of cooking and cuisine came to me from my father as he was a chef himself. So, I was always going with him to Hyatt Manila, and would always look around and that is where the journey began.
What inspired you to venture into the area of Japanese and sushi specifically?
My speciality is Japanese, because I saw my father in that zone. When he retired, I asked him to put me in place of him. It all started in Manila at a time when you had to make most ingredients yourself, as nothing was available pre-prepared. I've trained in places all over the world, and taken a part in opening a lot of new restaurants.
What are some of the local influences in your sushi?
I always try and incorporate local elements depending on the area that we are in. Our Fire Cracker sushi here is a representation of papdi chaat from the streets of the city.
What is your vision for Zen?
My goal is to attract as many diners as possible. Zen is already a popular venue in the city, so our goal is to take it a notch higher. We don't want to limit it to just a dinner space, but also market and present it as a chill place for people of all age groups to hang out with and relish some sushi and pre-dinner stuff as well.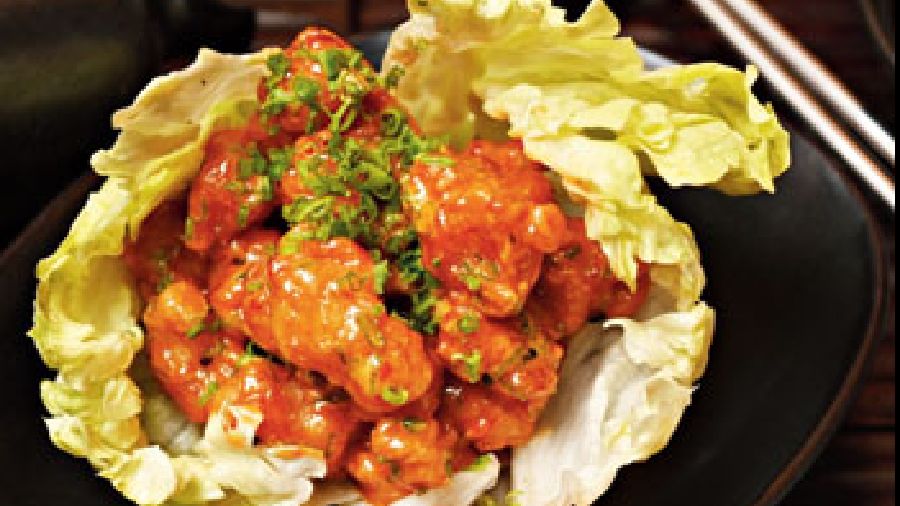 The Pop Corn Shrimp is a close cousin of dynamite prawns. Black tiger prawns are fried to perfection and then laced with a spicy chilli mayonnaise.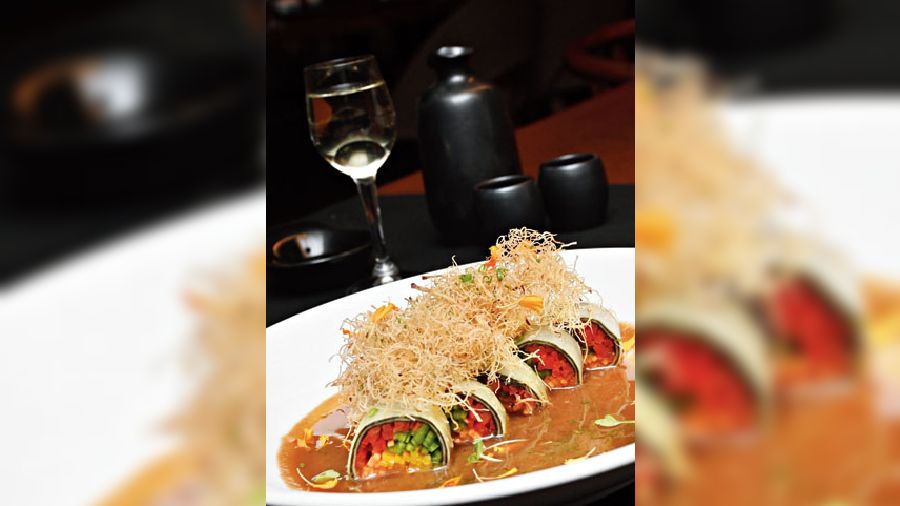 Vegan Maki: This will blow your mind. This colourful sushi has red and yellow capsicum topped with shredded fried yam. The USP is the sauce that is sesame based and has the right acidity and umami flavours.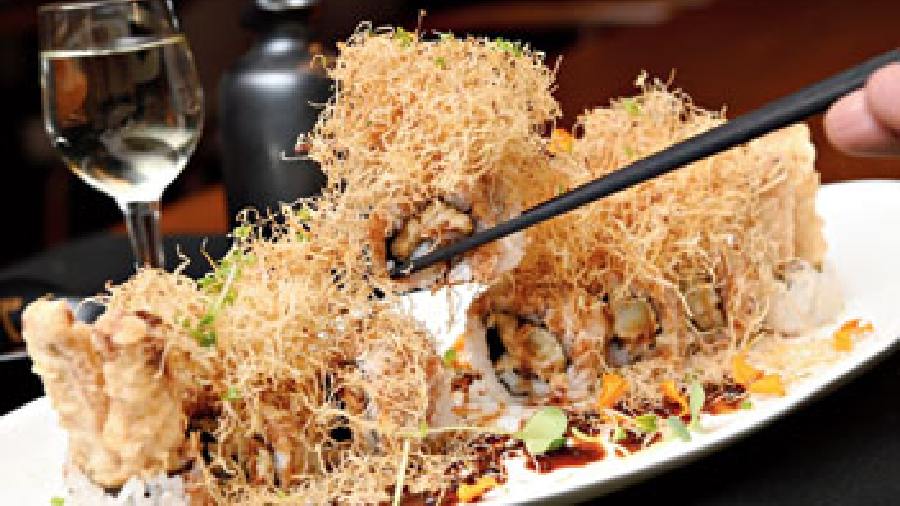 Yam Tempura Maki: Another veggie surprise is this sweet potato tempura-based sushi with shredded sweet potato and a vegan sauce.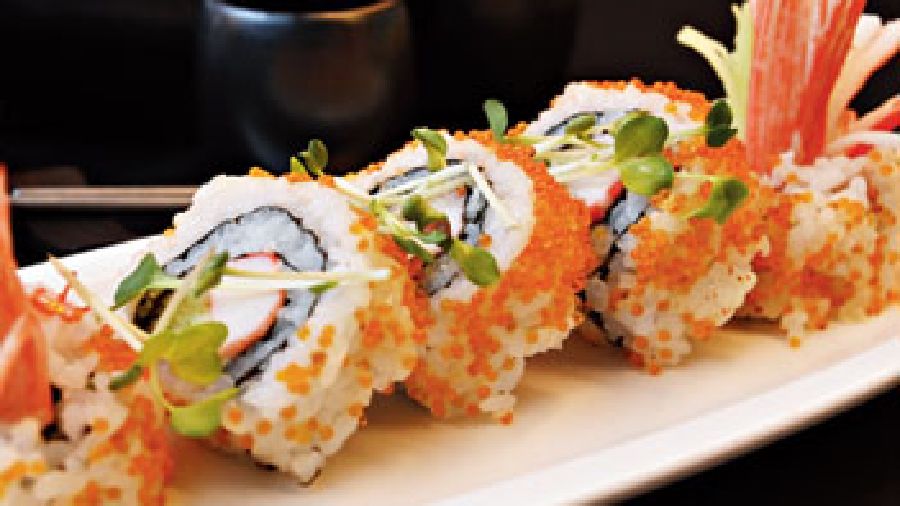 Real California Maki: This has crab sticks, imported avocado, cucumber tobiko, and Japanese mayonnaise. A quintessential American invention.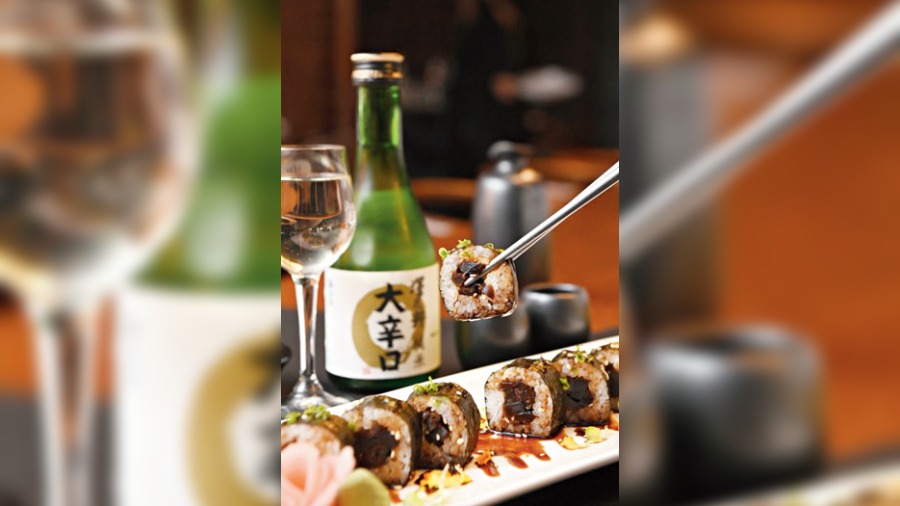 Sweet Shiitake Maki: Mushroom lovers rejoice! This shiitake sushi has a sweet and hot teriyaki sauce, and has a nice, chewy bite to it. Sesame seeds on top has a nice crunch to it.
Pictures: B. Halder