Makar Sankranti or Poush Sankranti or the last day of Poush. A chilly winter morning when the sweet aroma of khejur gur (or nolen gur) fills the house. It is that day of the Bengali calendar when pithe puli is prepared in almost every home. 
The main ingredients of pithe are rice flour and date palm jaggery. The filling of the pithe is made with a mixture of coconut and jaggery, popularly called çhei, or kheer. Pithe are usually steamed or fried and sometimes dunked in sugar syrup or served with jhola gur.
Poush Sankranti is the festival to celebrate the new harvest like Bihu in Assam, Lohri in Punjab or Pongal in Tamil Nadu.
The pithe is first offered to Mother Nature thanking her for the harvest. In many households alpona is also given using rice flour.
Bengal is known for its wide variety of pithes but neighbouring states like Assam and Odisha, too, have their own versions of the pithe. Bangladesh has its own pithes as well.
'Pithes' of Bengal
Doodh Puli seems to be the queen of all pithes. Made with rice flour and a coconut jaggery filling, the puli is usually shaped like a half moon. Milk is simmered with nolen gur and the pithe is boiled in milk. It requires skill and expertise to make the puli soft. Using the right kind of rice flour is very important so that the puli does not become chewy or hard to bite.
Another very popular pithe is the Choshir Payesh. Rice flour is rolled with the hand to make tiny flakes and then simmered in milk condensed with jaggery.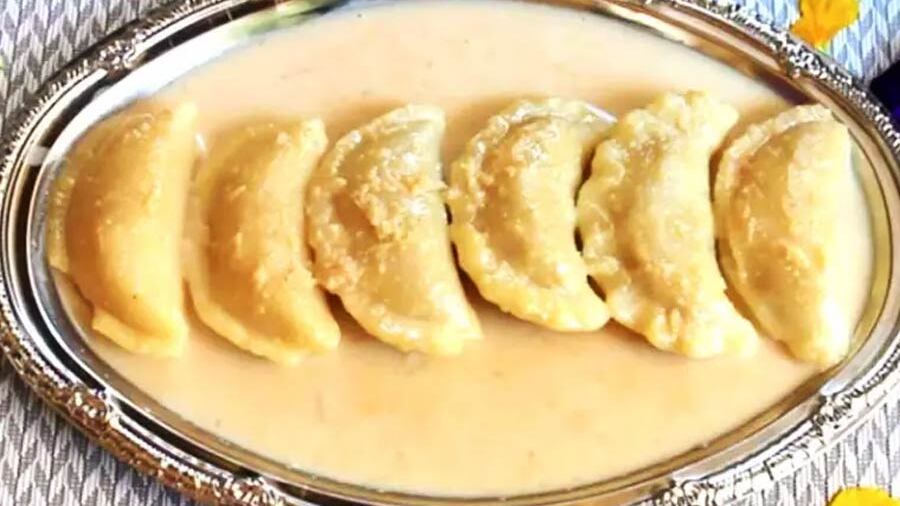 Doodh Puli
ABP Archives
Then there's the not-so-common Jhinuk Pitha. It is shaped like shells, fried and then simmered in milk.
The most popular and widely made pithe is perhaps Patishapta. It is said that the name patishapta comes from the concept of pati (mat) and how it is rolled. The pithe batter is made with rice flour and milk. Some use sooji or even maida. The filling is usually made with coconut and jaggery. Kheer or even sandesh is also used as a filing.
Then comes Gokul Pithe. It is said that this pithe was Krishna's favourite and hence the name. These are made with a batter of maida and a filling of coconut or kheer. It is deep fried and then dipped in sugar syrup.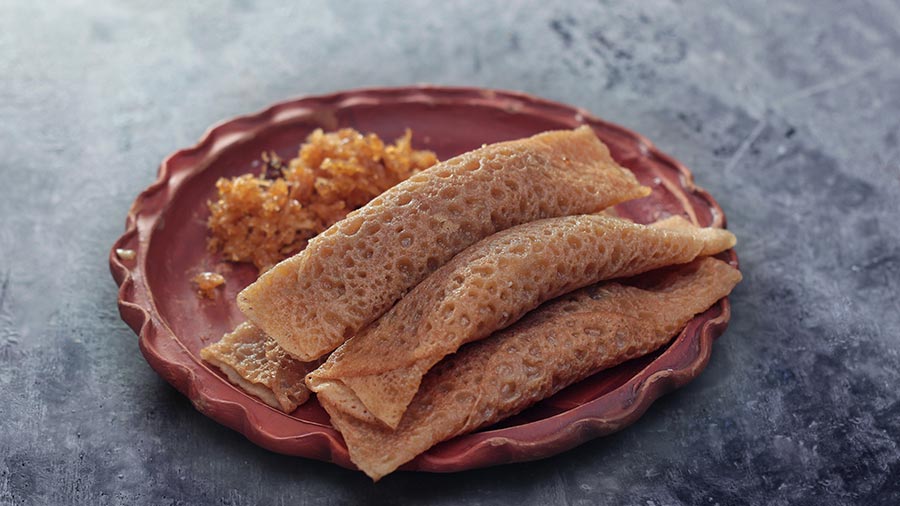 Patishapta
Shutterstock
Chitoi Pithe or Shora Pithe is made with rice flour and steamed. It is called Shora Pithe because it is steamed in a shora (clay pot). It looks like idli but the flour is not fermented. It is usually eaten hot with raw jaggery or jhola gur. In many families, it is a custom to make a Shora Pithe first and offer it to God. Many keep the pithe beside the oven on which the rest of the pithe will be cooked. Bhapa Pithe is another delicacy made with coconut and jaggery and rice flour batter on the top. The whole thing is steamed. This has a savoury version, too, where a filling of peas is used instead of coconut and jaggery.
Moong Shamli or Moonger Puli is a fried pithe. Shoru Chakli is a pithe that looks like a dosa but is much thinner. Soru Chakli is served with gur or even vegetables. The outer shell is made with ground moong dal and the filling is of jaggery and coconut.
Nokshi Pithe or Pakon Pithe is very popular in Bangladesh. These pithe are deep fried. Made with rice flour, dal or even maida, different designs are etched on them. After deep frying, they are dipped into sugar syrup.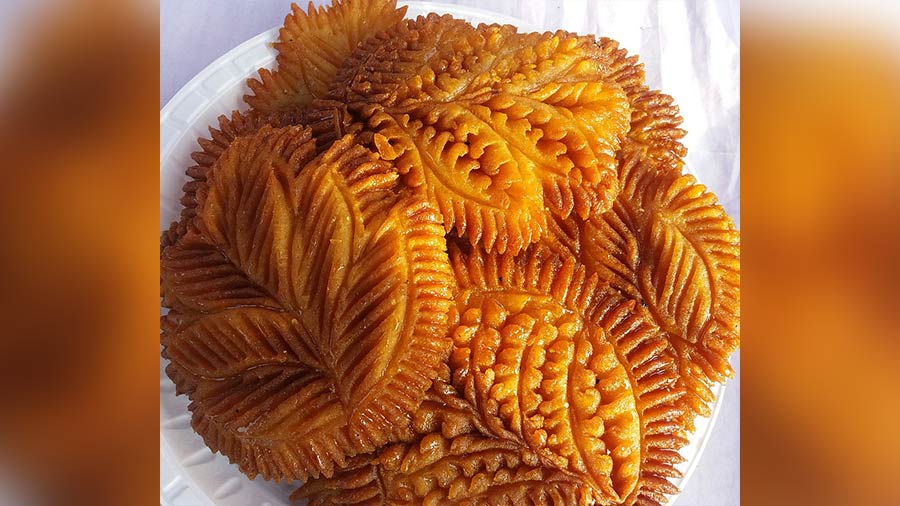 Nokshi Pithe
Wikimedia Commons
Here's how you can make Nokshi Pithe—
Ingredients:
Rice flour: 2 cups
Salt: ½ teaspoon
Sugar: 1 cup
Water: As required
OIl: For kneading and frying
Method:
First boil water and put the rice flour and salt in it. Stir and make a thick dough. Rest for 15 minutes.
Knead the mixture well with oil.
Make small balls and roll them. Make designs using a toothpick.
Deep fry in oil.
After frying, put them in syrup for five minutes and take them out. Nokshi Pithe is ready to serve.
'Pithes' of Assam
Many kinds of pithe (or pitha, as it is called in the region) are made in Assam during Maghi Bihu. One such pithe is Til Pitha. The batter for this pitha is made with bora rice flour, which is steamed and then rolled into a cylindrical shape. The stuffing is made with til (sesame) and jaggery. The same pitha is also made with coconut and sugar filling and called Narikel Pitha.This pithe looks like patishapta.
The Kholasapori Pitha is like Bengal's Shoru Chakli (in picture)
Wikimedia Commons
Sunga Pithe is another delicacy of this region. The pithe is made with rice flour and mixed with jaggery. The entire batter is put inside a young hollow bamboo. It is corked with banana leaf and roasted on fire. After cooking it is cut into pieces and served.
The Kholasapori Pitha is like Bengal's Shoru Chakli. The batter is made with rice flour and water. The batter is thin. It is poured on a tawa and shallow fried with just a little oil. This is consumed either with gur or to give it a salty taste is served with pickles.
Then there is Ghila Pithe, which is a round-shaped pithe resembling the shape of a kneecap. Ghila in Assamese means kneecap and hence the shape and name. The pithe is made from bora rice flour and jaggery. Often, salt is also used to make it savoury.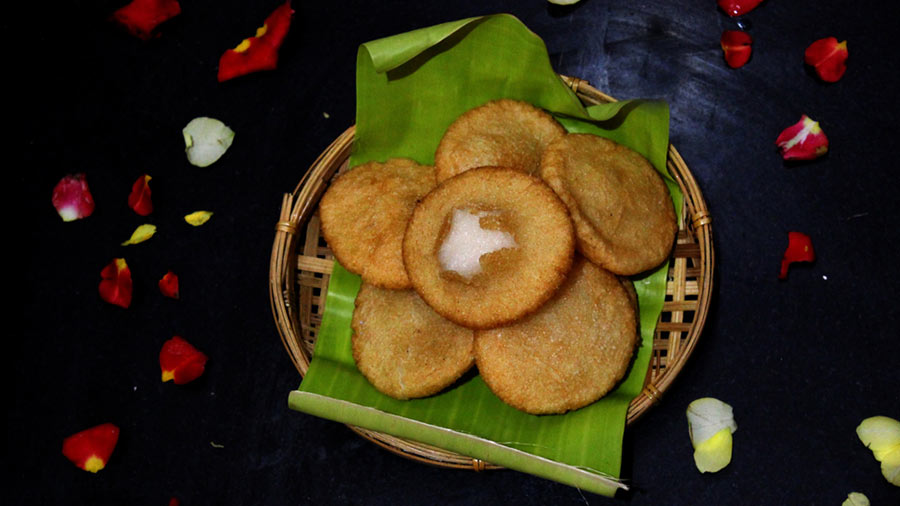 Ghila Pithe
Shutterstock
Here's how you can make Ghila Pithe —
Ingredients:
Rice soaked in water: 2 cups
Cooked rice: 2 tablespoons (for binding)
Jaggery: ½ cup
Cardamom powder: 1 teaspoon
Baking powder: a pinch
Oil: for cooking
Method:
Soak rice in water for 2 to 3 hours. After that, pat dry.
Grind the rice coarsely.
Melt the jaggery and mix it with water.
Make a dough with the rice flour, jaggery, baking powder and cardamom powder. The dough should neither be hard nor very soft.
Now, grease your hands with oil and make small balls from the dough. Flatten them a little and place them in a pan. Fry until the sides turn golden brown.
'Pithes' of Odisha
Odisha boasts 13 varieties of pithe that are prepared for 12 festivals in 12 months. The main ingredients for the pithes are rice and urad dal.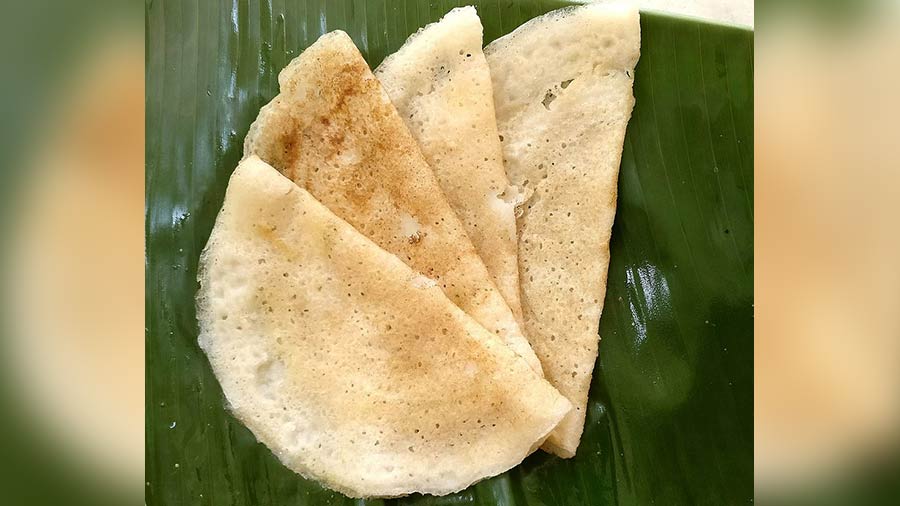 Chakuli Pithe
Wikimedia Commons
A popular pithe (or pitha as it is called in Odiya) of the region is the Chitau Pithe. It is made during Chitou Amavasya, when a special ritual is held at the Jagannath Temple. Rice flour and coconut are mixed together and fried. After putting the batter in, the pan is immediately covered with a bowl. It is served with milk, sugar or ghee.
Poda Pithe is a delicacy of this region. It is prepared by slowly baking fermented rice, black gram, jaggery and coconut overnight. Its crust is crunchy while the middle is soft and white. This is served to Lord Jagannath on his way back after Rath Yatra from Gundicha Temple to Jagannath Temple.
Chakuli Pithe is made by fermenting rice and urad dal for hours and then fried on a skillet like a dosa or Shoru Chakli. It is served with gur, milk or even vegetables.
Another popular pithe of Odisha is Enduri Pithe. It is also called Haldi Patra Pithe. The main ingredients are rice flour, chhena, jaggery, coconut water, urad dal, black pepper and turmeric leaves. This is served on Pratthamastami, which is a rite held for the prosperity and life of the first child on completion of a year.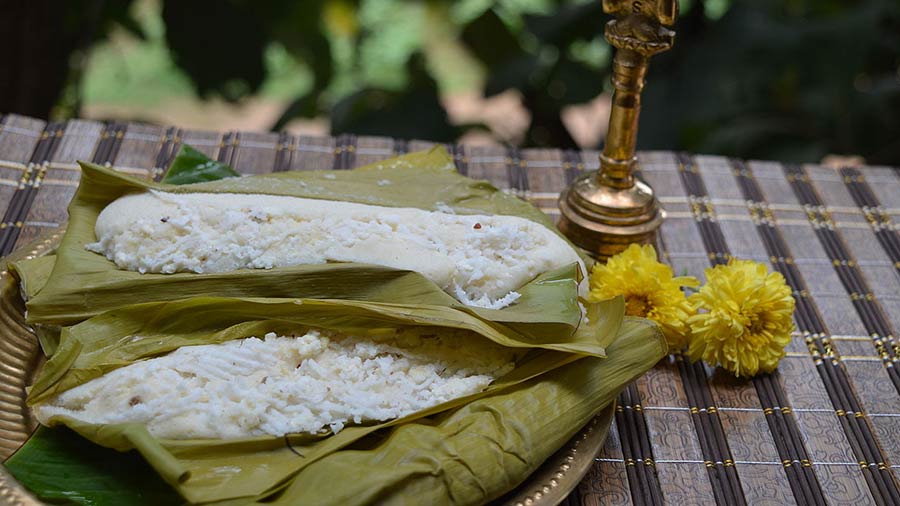 Enduri Pithe
Here's how you can make Enduri Pithe —
Ingredients:
Rice: 3 cups
Urad dal: 2cups
Grated coconut: 1 cup
Chhena:1 cup
Sugar: 1 cup
Cardamom powder:½ teaspoon
Salt: a pinch
Turmeric leaves: 8 to 10 leaves
Method:
Soak urad dal and rice for four hours. Grind it coarsely. Add salt and let it ferment overnight.
Cut the turmeric pieces into three portions as they are big.
For the filling, add chhena, sugar, coconut and cardamom powder and dry roast in a pan till caramelised.
Now put some batter with filling on a turmeric leaf and steam for 15 minutes.