The self-effacing jhola gur or a slab of patali need no hashtags to stay relevant. Nolen gur cheesecake may have its niche, but the traditional renditions of nolen gur rank high on epicurean value.
In Bengal, especially across rural agrarian communities, the Khejur gur (date palm jaggery) is emblematic of prospering seasonal bounties. Harvested between the months of November and February in West Bengal and parts of Bangladesh, this prized seasonal produce is most commonly available in a runny, liquid (jhola) form and as a hard, crystallised mass (patali).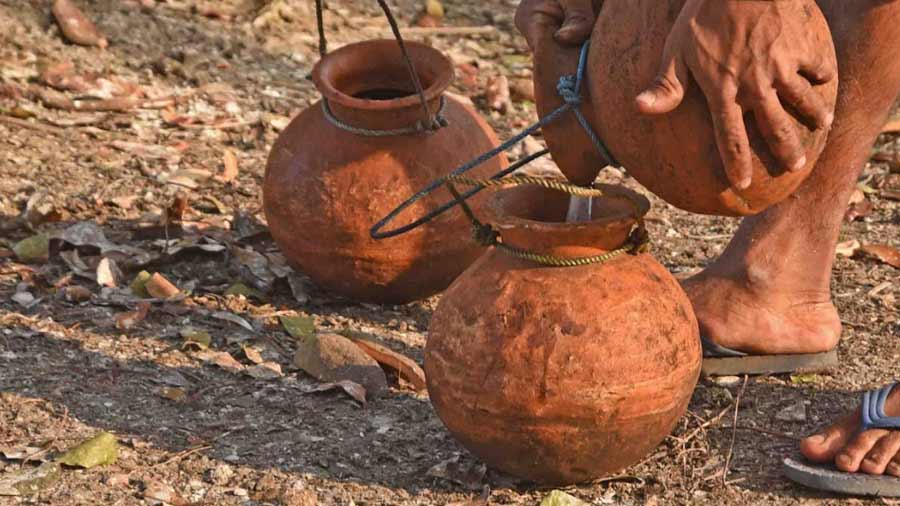 A jaggery cultivator pouring khejur rosh
Amit Datta
The earthy, caramelised sweetness of the nolen gur serves it well in the 21st century. Besides the classic narkeler naru, murir moa, chirer moa, badam patali, Kolkata's dessert makers and even neighbourhood sweet shops have been able to update the gur er sandesh and the traditional kora paak for the newer crop of sweet lovers.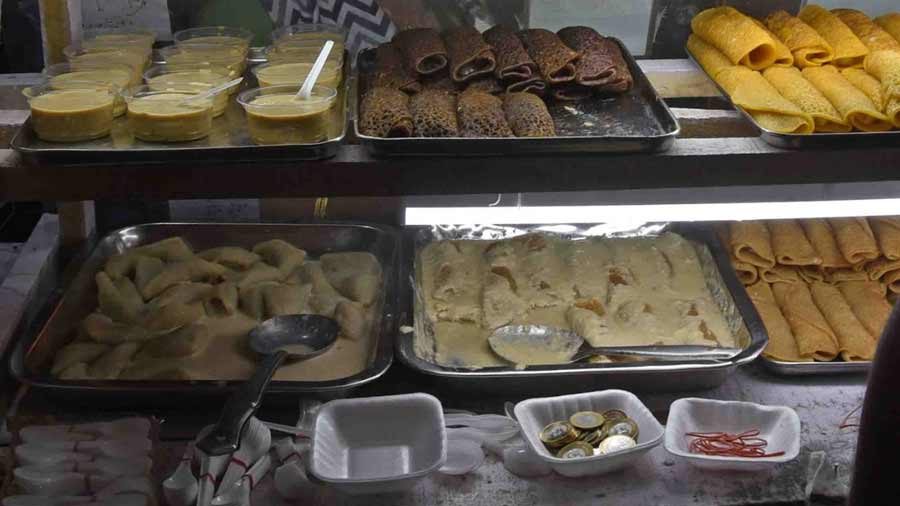 A variety of Patishapta pithe
Amit Datta
During the Bengali month of Poush and specifically during Makar Sankranti, the demand for gur reaches a crescendo. Like every other harvest festival, Poush Parbon in Bengal is marked with celebratory treats made with native, seasonal ingredients like the earthy gur. Pithe – the hero of every Bengali winter is usually made with maida, sooji, powdered rice, milk, and of course, a luscious gur and coconut filling (some old school iterations also use kheer as a filling). Be it patishapta, doodhpuli, gokulpithe or ashke pithe, this delicate Bengali crepe remains one of the most enduring elements of the Bengali winter, thanks to the amber-tinged, ambrosial gur.
A rush of liquid gold
Gur is made from the 'rosh', or juice, of the date palm tree, usually collected by making an incision below the leaves. A pot usually hangs beneath to collect the drops of the sap. This juice is then boiled for hours to attain the syrup, known as nolen gur.
If the juice is left untouched for two days, on the third day it delivers the first flush (known as Jiran in Bengali), which makes the most aromatic, heady and premium nolen gur. The syrup is often moulded into blocks known as patali.
Presently, gur from Majhdia in Nadia and Jalangi in Murshidabad are highly coveted. In Kolkata, the Baithakkhana bazaar in Sealdah (just beside Koley market) has an entire stretch known as Gur Patti, which exclusively sells gur and Joynogorer moa. The gur from this area also travels to other states. Online platforms like Bong Haat are now making it easier for people to have Nolen gur, patali gur and Joynagarer moa delivered.
The versatility of the ingredient is what defines its long-lasting legacy. Kolkata's new-wave cafe culture has managed to adopt the Nolen gur to usher in cheeky, ingredient-driven fusion picks such as nolen gur latte or nolen gur cheesecake (at Potboiler Coffee House). Lord of the Drinks has introduced a nolen gurer panna cotta and a nolen gur sandesh tart which features chena, nolen gur and cream mixed together and poured into a crisp, sweetened pastry shell. Of course, the silky, burnt sienna colour of the nolen gur also makes it effortlessly Instagrammable.
The novelty factor
The Joynagarer moa, which enjoys a cult status in the state, has a rather storied history. Made with Kanakchur Dhaner Khoi (puffed rice), gur, kheer, ghee and dry fruits, this delicate, popped rice sweet originated in the town of Joynagar in the South 24 Parganas. Most of the karigars who make this cult dessert live in a cluster in and around the Baharu village of Joynagar. Ranjit Ghosh of Baharu's Shyam Sundar Mistanna Bhandar shared with us the story of this moa's birth.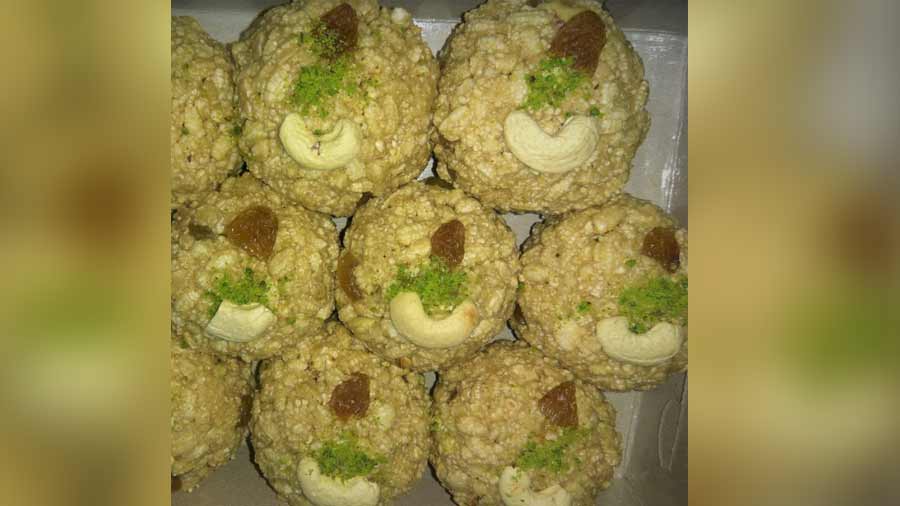 The famed Joynagarer moa
Courtesy: Joynagar Moa Nirmankari Society
To please a zamindar, a common villager presented him with a moa made with only khoi and gur. Impressed, the zamindar ordered the man to make some more so he could send it to his near and dear ones. The villager was also asked to sell it in the Dol er mela in their village. Back then it was called 'Khoichur', but as its popularity grew, it came to be known as Joynagarer moa.
In 2014, the moa also received the GI (geographical indication) tag, which means only a few manufacturers in Joynagar are authorised to make this product. In fact, there exists a certain Joynagar Moa Nirmankari Society whose objective is to monitor the authenticity of this sweet. The society has made it possible for anyone across the world to place an order to have authentic Joynagarer moa delivered to their doorstep. Orders can be placed at www.joynagar.com. You can also call 9831719906.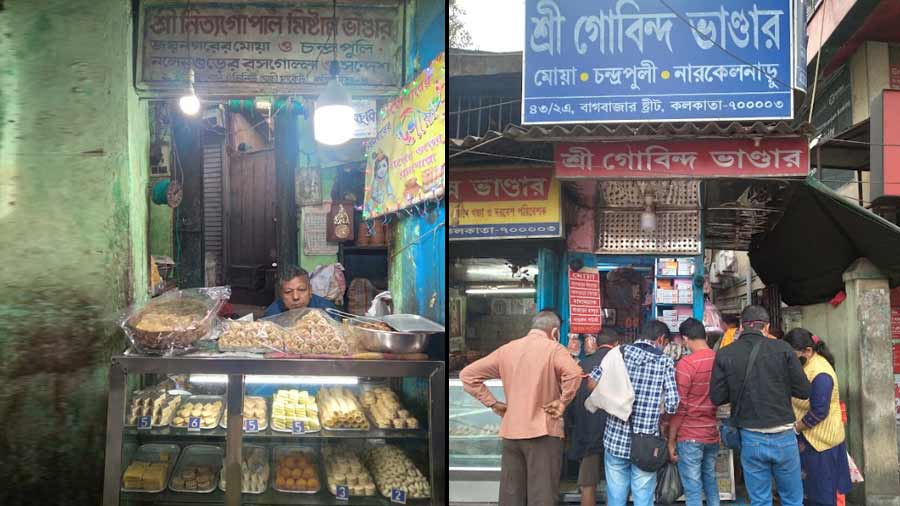 (Left) Shree Nitya Gopal Mistanna Bhandar and (right) Shree Gobinda Bhandar in Shyambazar sell novel gur-based sweets
Barnini Maitra Chakraborty
The Joynagarer moa is the source of livelihood for many small-town sweet makers who have migrated to Kolkata to set up makeshift stalls or shops to sell novel gur-based sweets. Shyambazar's Shree Gobindo Bhandar (bang opposite Bagbazar Bata) is one such joint. Besides their gur-er moa and narkeler naru, the Chandrapuli and Badamchak pull in big crowds every winter. Another modest shop near Shyambazar Metro gate one, called Shree Nitya Gopal Mistanna Bhandar, sells delicious badam patali made with peanuts and patali gur along with gorom gurer rosogolla.
From the pages
Bengali literature has been quite key in establishing the dominion of gur. 'Kintu shobar chaite bhalo — pauruti aar jhola gur,' Sukumar Ray wrote in his celebrated book of nonsense verse Abol Tabol. Sudhendu Roy's 1973 film Saudagar, starring Amitabh Bachchan and Nutan, was based on Narendranath Mitra's Ras, a gur trader's love story. Pragyasundari Debi, Rabindranath Tagore's niece, who was credited with writing the first cookbook in Bengali, had a recipe for Khejur Rosher Kheer. Here's how it goes:
Ingredients:
Water: 1 litre
Atop chal: ½ cup
Kherjur ros or date palm juice: 1 ½ litre
Cardamom: 1 pinch
Cinnamon: 1 pinch
Milk: ½ litre
Method:
In a kadai, pour 1 ½ litre of khejurer rosh and sprinkle some cardamom and cinnamon. As it comes to a boil, mix the 'atop chal'
After the rice comes to a boil, add the milk. Mix well till thick. Then remove the kadai from the heat and mash the rice with a ladle
In another kadai, boil a litre of water and add minced coconut to make coconut milk
Add this coconut milk to the boiled rice and add some khejurer gur. Keep stirring till it thickens and acquires the consistency of kheer