Punjab is wellknown as the land of five rivers and endless lush green fields. It has nurtured poets like Baba Farid, Bulle Shah, Waris Shah and so on. Punjab is the home of tandoor and a robust cuisine that is richly influenced by its many invaders, from Alexander (Greek) to Nadir Shah (Persian) to Sher Shah (Afghan) to Babur (Mughal). Punjabi cuisine reflects an abundance of vegetables, fruits, milk, butter, wheat and a multitude of spices. Traditionally meat dishes were prepared by men, specially on holidays or special occasions. Here, I have chosen a few popular dishes of Punjab.
Chicken Butter Masala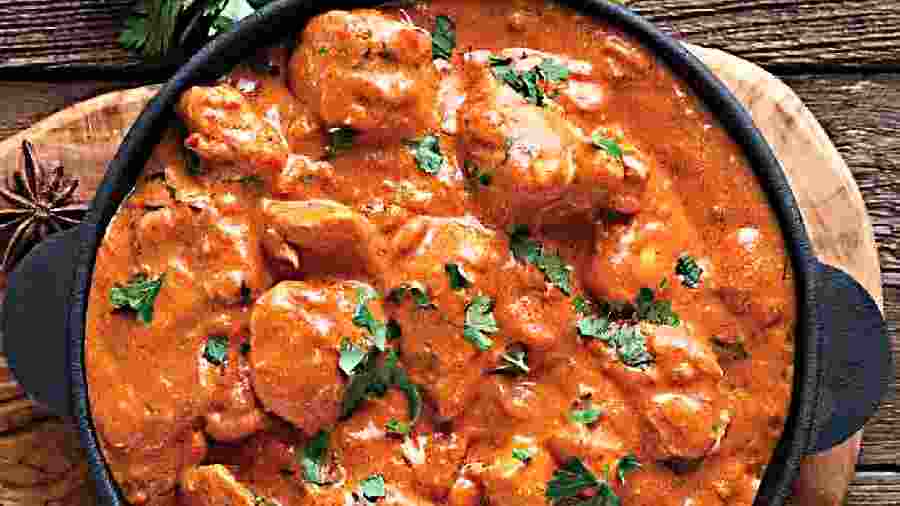 I think by now the whole world knows about Butter Chicken. It has become the national dish of the UK. That's how popular it is. Basically, the chicken is first cooked in a tandoor and then slow-cooked in a creamy tomato sauce. And, of course, lots of butter. It is a famous North Indian dish which quickly spread throughout India and, since the UK has a large population of Punjabis, it became a favourite dish there too.
Ingredients
Boneless chicken pieces (you can even make it with bone on): 900g
Oil: 3tbsp #For the marinade Yoghurt: 400ml
Garlic: 6 big cloves
Ginger: 1-inch piece
Kashmiri red chilli powder (this powder gives more colour than heat): 2tsp
Coriander powder: ½tsp
Cumin powder: ½tsp
Garam masala powder: ½tsp
Red colour: A pinch
Oil: 2tbsp
Salt: ½tsp
Lemon juice: 2tsp #For the makhani sauce
Tomatoes blanched and pureed: 700g
Kasoori methi (dry fenugreek leaves): ½ tsp crushed
Butter: 75g chilled
Paprika: ½tsp, or according to taste
Vinegar: A few drops
Garam masala powder: ¼tsp
Salt: To taste
Cream: 40g
Method
Hang yoghurt to remove excess water.
To it add minced garlic and ginger, chilli powder, coriander powder, cumin powder, garam masala powder, red colour, salt and lemon juice. Mix well.
Make gashes in the chicken if making with big pieces with bone. Add the chicken to the yoghurt mix and coat it well. Marinate it for a minimum one hour. Overnight is the best.
Heat oil and put chicken with its marinade in it. Cover and cook on low heat till the chicken is tender.
In a pan, cook tomato puree for 5 minutes till the water evaporates. Then add chilled butter. Add paprika after the butter has melted. Cook for a few seconds.
Add the chicken at this point. Mix well. Add garam masala powder and crushed fenugreek leaves. Cook the chicken in the sauce for about 2-3 minutes. Let the chicken absorb the sauce.
Now add cream. Stir well and serve hot.
Best had with butter naan, tandoori roti, etc. #For Tandoori Chicken ÞFor tandoori chicken the pieces of chicken have to be big size. (Thigh and leg piece or half/whole chicken breast). Make a few gashes or long slits. Apply the same marinade as for chicken butter masala and massage well into the chicken. Let it marinade for at least 6-8 hours or overnight. I like to add a tbsp of raw papaya mince as a tenderiser in the marinade.
Then cook in a tandoor or oven. You can even cook on a griddle pan over gas flame.
NOTE: In restaurants they barbecue or grill the chicken. If you have those appliances then you can do the same. Anyway, both techniques will give excellent results.
Saag Mutton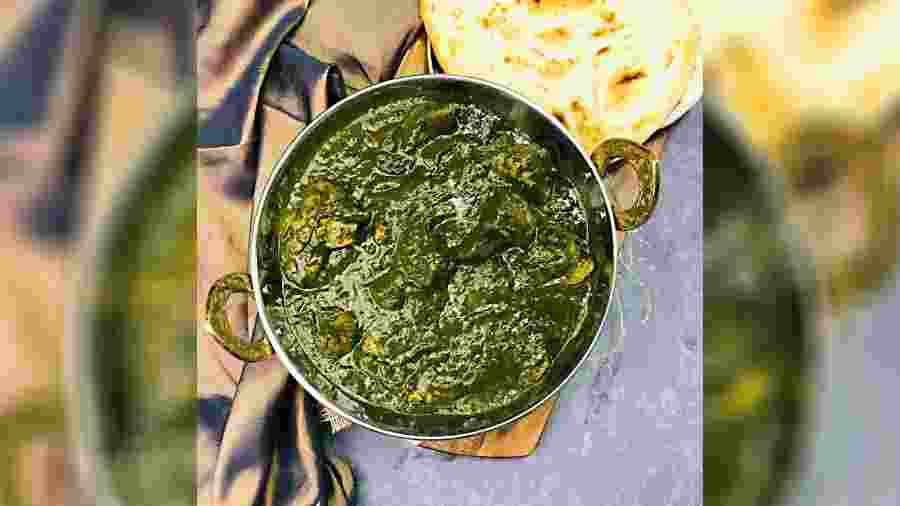 The legacy of Saag Mutton can be traced right back and straight into the kitchens of the Diwans of Multan and areas close by. Khyber was developed by the Saraiki, the oldest ethnic groups of Pakistan, and their food sees a lot of culinary influences from Persia and the Arabs. Hence the use of meat is prominent in Punjabi cuisine. Saraiki cooks are famous for using all kinds of produce in their meat dishes, including lots of leafy vegetables, and they are masters of the whole art of using spices that are freshly ground.
The combination of palak and mutton in itself is very irrestible and a powerhouse of nutrition. The clever and minimal use of spices gives the dish that extra flavour and taste. Paired with some piping hot rotis/ naans/ kulchas, this combination is surely a gastronomic delight.
Ingredients
Mutton: 700g ÞSpinach leaves: 1kg, washed and chopped
Mustard oil: 4-5tbsp
Onions: 2, chopped fine
Black cardamoms: 3
Cinnamon: 2 medium sticks
Cloves: 4
Bay leaves: 2-3
Salt: 1tsp ÞRed chilli powder: 1tsp
Turmeric powder: ½tsp
Cumin powder: ½tsp
Coriander powder: 1tsp
Garlic paste: 2tsp
Ginger paste: 1tsp
Tomato: 1 large, chopped fine
Curd: 4tbsp
Garam masala powder: ¼tsp
Method
Cook the spinach in boiling water for 3 minutes. Drain and refresh in cold water to retain the green colour. Squeeze out water. Then in blender add 2 green chopped chillies, 2tbsp chopped coriander leaves and the spinach. Blend to a coarse paste (do not make a smooth paste). Remove and keep aside.
In a pressure cooker heat the mustard oil. Add cardamoms, cinnamon and cloves.
Once it splutters, add the onions and sauté till golden brown. Add the ginger and garlic paste and sauté for a few seconds till the raw smell goes.
Now add the mutton and sauté till the colour of the mutton changes.
Now add cumin powder, coriander powder, red chilli powder, garam masala powder, turmeric powder and salt. Saute for a few seconds.
Now add the tomatoes. Saute for few seconds till the tomatoes go mushy.
Now add 150ml or 200ml water. Mix well and put the lid on. Pressure cook on high for 1 whistle and then put flame on medium and cook for about 20 minutes. Check if the meat is tender. Bhunno the meat till you see the gravy is reduced and specks of oil appearing.
Now add the curd and bhunno again.
Now add the palak and roast till 7-8 minutes.
Check for seasoning.
Now you can add ¼tsp green cardamom powder with javitiri powder. Add 3-4 whole green chillies. Mix well and cover the cooker and on very low flame and cook for 5 minutes.
Then open the lid and serve hot with piping hot rotis or naans.
Kaleji Gurda Keema Masala (kidney, liver And mince mutton)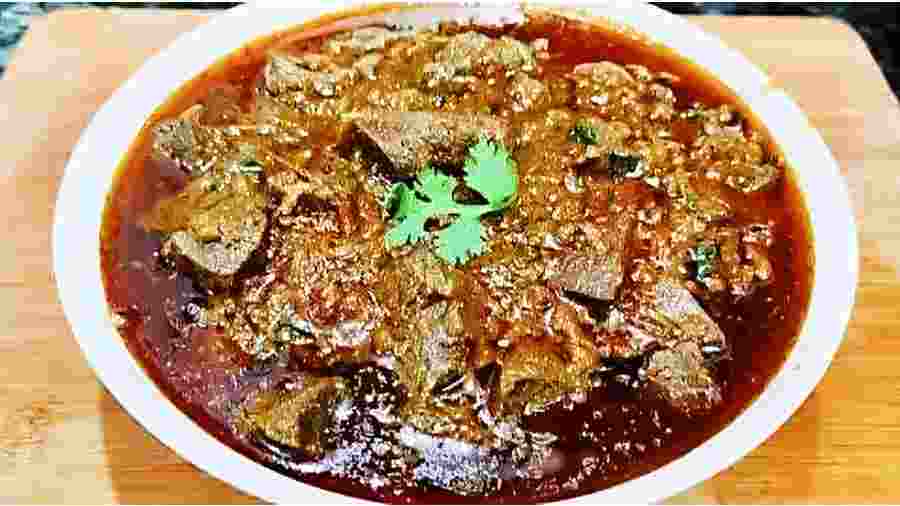 Punjabis love this combination of meat. They will rarely have mince mutton on its own. They love combining it with gurda and kaleji or either one. An extremely popular dhaba dish as well as in small restaurants dotted all over Punjab. It has a rich gravy with wellblended spices and is best had with paranthas, naan, roti.
Ingredients
Mutton mince: 250g
Mutton liver: 150g. Chop into small pieces and wash 2 times in water and then soak in a little milk. Keep for ½ hour and then wash it thoroughly.
Kidney: 150g, cut into tiny pieces. Wash well.
Onions: 3, finely chopped ÞCurd: 2tbsp
Meat masala (brand of your choice): 2tsp
Salt: To taste
Turmeric: 1tsp
Red chilli powder: 1tsp
Kashmiri red chilli powder: 1tsp
Coriander powder: 1tsp
Ginger garlic paste: 2tbsp
Green chilli paste: 1tsp
Garam masala powder: ½tsp #For the tempering
Bay leaves: 2
Methi (fenugreek seeds): ¼tsp
Mustard oil: 4tbsp
Method
Heat oil in a kadai and add the onions. Saute till light goldenbrown. Remove the onions. Cool it and grind in a blender. Keep aside.
In the same kadai heat the oil and add bay leaves and fenugreek seeds. Saute for a few seconds. Then add ginger garlic paste and green chilli paste and saute well till it changes colour and the raw smell goes.
In a small bowl, put turmeric, red chilli powder and coriander powder. Add a little water and mix it. ÞNow add the mixed powders. And saute for a minute or so.
Now add mince meat and saute well for at least 4-5 minutes.
Now put the mixture in a pressure cooker, add the kidneys and half a cup of water and pressure cook for 1 whistle. When you remove the lid you will see that the mince has given out water too.
Now put this mixture in the same kadai. Saute till the water evaporates.
Now add the liver and onion paste which we had made and curd. Add the meat masala also. Saute this for at least 7 minutes.
Now add the garam masala and ¾ cup water. Cover and cook for 5 minutes on medium heat. Do not overcook, or the liver will become hard.
Check for seasoning. Serve garnished with coriander leaves.
Tastes best with rotis, paranthas or naans.
Amritsari fish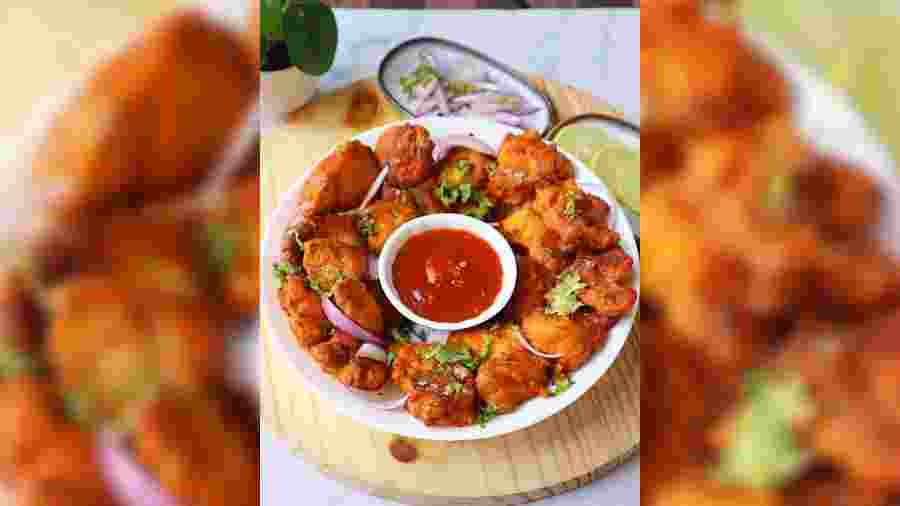 Punjabis rarely have fish curry. They prefer to marinade the fish and make it in a tandoor or fry it. You get excellent river water fish considering it is called the land of five rivers. They are fond of trout, singhara, surmai, katla, etc., freshly caught from the rivers. Here, I will show a very popular fish dish of Amritsar.
Ingredients
Boneless fish fillet: 600-700g cut into your choice of pieces. I have used singhara fish.
Lemon juice: 1tbsp
Red chilli powder: 1tbsp
Ginger paste: 1½tbsp
Garlic paste: 1tbsp
Salt: To taste
Vinegar: 1tbsp
Besan (gram flour): 1 cup
Ajwain (carom seeds): 1tsp
Egg: 1
Curd: ½ cup
Rice flour: 2tbsp
Oil: For deep frying
Chaat masala: 1tsp
Method
Marinate the fish with lemon juice, red chilli powder, ginger, garlic paste and salt. Keep aside for ½ hour.
Then you put vinegar, besan, ajwain, beaten egg, curd, rice flour, and mix well with your hands so that the fish is well coated. Keep aside for ½ hour.
Heat oil for deep frying. When hot add fish pieces gently into it and fry till golden brown.
Remove. It should be nice and crispy on the outside and soft inside.
Sprinkle chaat masala and serve with onion salad and green chutney.
Paaya/Trotters/Kharore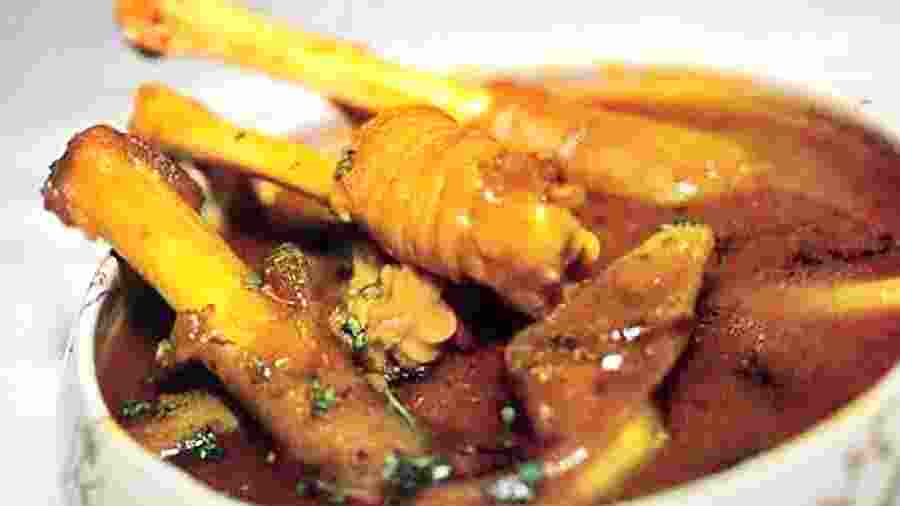 Paaya is actually an acquired taste. It is very popular in Punjab and also with the Muslim community all over India. It has a lot of health benefits. Good for the bones and people suffering from cold and fever. Children are often given paaya soup for medicinal purpose. This dish is pretty simple to make. The only tedious thing is cleaning the paaya.
Ingredients
Goat paayas: 6, cut into pieces (Tell the butcher to clean the paaya, removing all the hair. Then, at home, rub each and every piece under running water till they turn white and it is totally clean.)
Onions: 3 large, chopped
Ginger paste: 1tbsp
Garlic paste: 1tbsp
Green chilli paste: 1tsp
Coriander powder: 2tsp
Cumin powder: 1tsp
Garam masala powder: ½tsp
Kashmiri red chilli powder: 2tsp
Green cardamoms: 4-6 ÞCloves: 6
Cinnamon: 2 small sticks
Bay leaves: 2-3
Tomatoes: 3, chopped
Coriander leaves: For garnishing
Oil: 4tbsp
Method
Heat oil in a pressure cooker. Add bay leaves, cloves, cardamoms, cinnamon. Saute for a few seconds.
Now add the onions and saute till golden brown. Then add the ginger, garlic and green chilli paste. Saute till the raw smell goes.
Now add the paayas and saute for about 4-5 minutes. If the masala sticks add drops of water.
Now add the tomatoes and salt. Saute till the tomatoes get mushy.
It is time to add the red chilli powder, cumin powder and coriander powder. Mix well and saute for 2 minutes with the paaya.
Now add 6 cups of water and pressure cook it. After the first whistle, put the flame on medium and cook for at least another 40 minutes.
Open the cooker and see if the paaya is cooked. Now add the garam masala powder. ÞIn case the paaya is watery, you can cook it on high flame till you get the required consistency.
Serve hot, garnished with coriander leaves. Enjoy with khameeri roti, rice.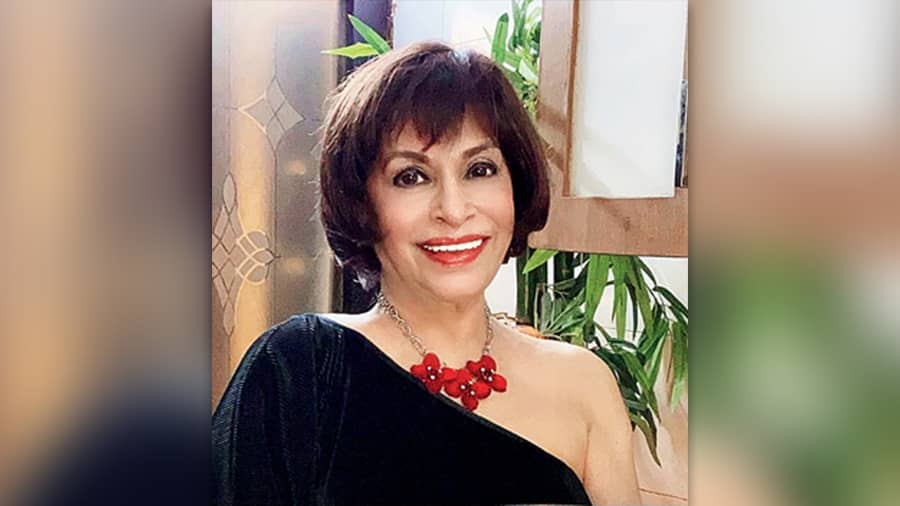 Durri Bhalla is a cookery expert and author of Indian Bohra Cuisine and Inner Truth To Good Health And Weight Loss. You can find her @ durribhallakitchen on Instagram, @ Durribhallakitchen on Facebook and Durri Bhalla on YouTube