in Kolkata, nothing earns you more goodwill than a good cup of cha. But the humble cha is part of a booming global tea market, currently valued at around $207.1 billion (as per a 2020 study). And modern food culture was quick to figure that the tea's relevance goes beyond the cup.
Functional tea-based beverages like the kombucha, reached their tipping point during the pandemic, while the instant food market hustled to make the chai even more adaptable than it already is. Two young Kolkata brands, Chaika and The Kombucha Co. are re-imagining the tea's versatility — Devanshi Chitlangia and Aradhita Agarwal's Chaika is an instant tea premix brand and John Grams and Avantika Jalan's The Kombucha Co. is Kolkata's first commercial Kombucha brewery.
My Kolkata takes a deep dive into the two new-age products to ascertain their relevance in the Kolkata market.
Tea-on-the-go: Chaika
Devanshi Chitlangia and Aradhita Agarwal came up with their instant tea premix label Chaika, when they realised making chai needed quite a bit of patience and precision. Chaika's minimal-effort premixes simply need some hot water and you've got yourself a perfect cuppa in 10 seconds. My Kolkata sat down with Chitlangia to know more about the fun brand.
Tell us how Chaika came about. How did the idea for a tea premix hit you?
The idea for Chaika came to us when we were working in Singapore. Aradhita and I both craved masala chai, but we failed to make it! Even when we tried, it was just too long a process. This made us realise that there were many people like us who were lazy or didn't have the time to make proper tea or simply failed to achieve the perfect consistency with every brew.
Both of us come from families that have been in tea manufacturing for over 50 years. We tasted tea even before we started eating solid food! We grew up in households where everyone is very particular about how their tea tastes. The first-hand experience with our family businesses and getting exposure to tea blenders, tasters and auction houses, helped us out. We managed to develop expertise on a professional level before venturing into Chaika.
Tell us a little about your early years in Kolkata and if that inspired your brand in any way?
The early years in Kolkata comprised Sunday visits to the share market for chai. Offering this sense of nostalgia, this Indianess is what we aim for. Our flavours are local regional flavours and our packaging is old school. Do take time to read the short poem on each box to transport you down the memory lane!
Have you expanded your line-up since you first started?
In order to test the market, we launched with two flavours — Bombay Cutting and Kolkata Kadak 3-1 Instant tea. Overwhelmed by the positive response, we introduced six hot tea flavours. We have a no-sugar-added variant for diabetics and conscious consumers and a no-milk version for vegans. Moreover, we have launched an iced-tea 3-1 premix so people can perfect café-style iced tea at home.
How have Kolkatans been responding to Chaika considering the city loves tea?
Kolkatans love it! We first launched in Kolkata and did sampling through farmers' markets and offices. We got great feedback. When we set up a temporary stall outside the Lake — it was a big hit. The Royal Calcutta Golf Club also serves Chaika on their golf course. Moreover, retail stores that feature our products have also shown great demand. Overall, Kolkata as a tea-drinking city has really taken to Chaika.
The fine ferment: The Kombucha Co.
Kolkata-based entrepreneur Avantika Jalan and her husband John Grams started Kolkata's first Kombucha brand in 2019. Jalan's family has been producing artisanal Assam teas since 1943. Their line of kombucha is made in Kolkata, with high-quality organic teas from their estates in Assam and also features locally grown ingredients as flavourings. My Kolkata spoke to Jalan to learn more about the brand:
How did Kombucha Co. come about?
I come from a family of tea producers, our estates are in Assam. We also export organic tea to the States under our brand Mana Organics, which is a brand I started in 2011. My husband John and I realised that a lot of our teas were being bought by quite a few kombucha companies in the States. John is from the US and is also really passionate about brewing, he suggested we experiment with making kombucha here.
We brewed some for ourselves first, and it turned out pretty well. Our family members loved it too. It helped us out with our gut issues and also boosted our overall wellness. That's how it all started around October 2019. Karma Kettle was the first Kolkata venue to feature our products, Sienna also picked up our products and eventually quite a few brands followed suit.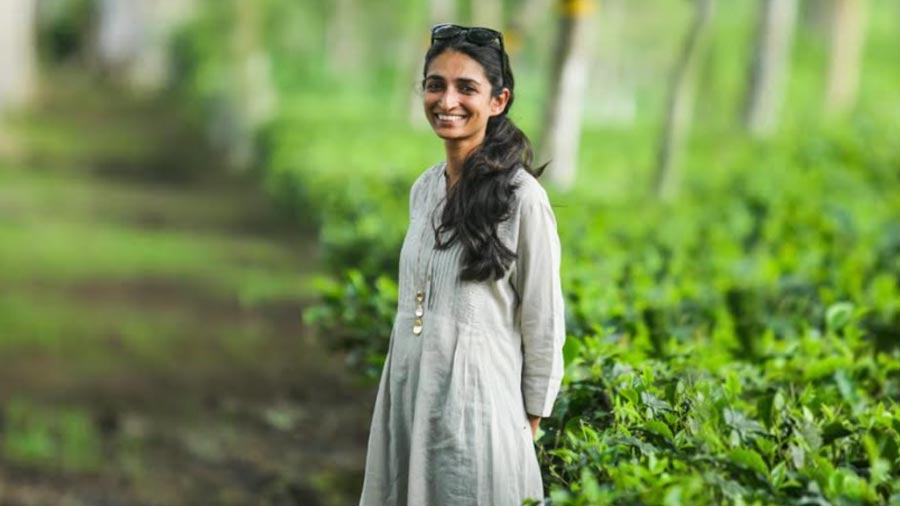 Avantika Jalan of The Kombucha Co.
Did the post-pandemic wellness culture have a part to play in the brand's growth?
We started just a few months before the pandemic and the situation hit us pretty hard. But we were also able to fine-tune our product during this time. John came up with the recipes and some new flavours, it's been an interesting journey. We have five flavours and we're planning a sixth.
Tell us a little about the production. Is it made to order?
It depends. We do made-to-order for some B2B orders, for instance, if someone wants 100 bottles for an event or a batch. Otherwise, we have a small batch system, which is quite crucial to making kombucha because it needs a lot of supervision and a lot of care. Kombucha is more like a life culture, it's not too different from the probiotic kanji. John does a tasting on every batch because you can't go wrong with the profile and the flavours
Are you shipping overseas?
Not at the moment. There are some logistical issues we need to sort out. A lot of bottles break during the shipping, for example, because we use glass and can't switch to plastic. With railways, the costing becomes an issue and we've been trying to iron out these problems. Meanwhile, we're focusing on the local market.
Tell us how Kolkatans received the product…
People in Kolkata are now ready to spend on wellness, especially as compared to other cities. When we started out, cities like Mumbai, Delhi and Bengaluru had a market for kombucha. In just a couple of years, quite a few kombucha brands have popped up here so people are more aware. But the product matters for sure. I would say the Indian market is yet to understand the product fully. We did have a first mover's advantage in Kolkata though.
Commercially, has it been a viable model for you?
I would say it's viable at the scale we're operating. In some ways, it's self-sustainaing since we have the infrastructure built already. We want to scale it up but we want to work out the logistics first.