Once you walk into Highland Nectar, the newest bar at ITC Sonar, there is an almost instant warm and comfortable vibe that wraps you and that can be attributed to the classy decor and the service. With 45 covers, Highland Nectar is located exactly where West View Bar & Grill used to be, but the decor has been completely changed. The music focuses more on retro and then shifts to lounge as th evening progresses. "We are going to start with English live music evening from this weekend. It is going to be a daily thing except Tuesdays," said Nitin Bahl, hotel manager.
No F&B place is complete without a good food menu, and Highland Nectar pays equal attention to the food as they do on the tipple menu. "The food menu is interesting! We have sushis, dimer chop, jhaalmuri from our Local Love menu; in modern cuisines we have dishes like Crispy Prawn Popcorns, Barbecue Chickens to something like Bacon Olive Cheese Roll because we have many international travellers too! There are so many other dishes which one must explore," said Nitin.
The Telegraph took an exclusive walk-through and here's what we loved...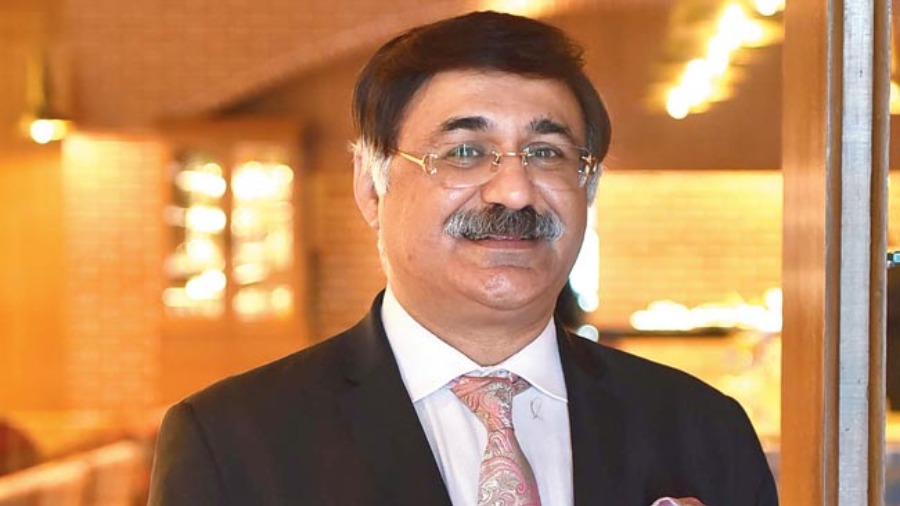 GM SPEAK
"It's avant garde design combined with woody appeal and thematic accessories, Highland Nectar offers an unmatched ambience. A beverage connoisseur's delight, the extensive selection of fine spirits, rare labels and unique concoctions set the tone for a truly spirited experience. An array of delicious fingerfoods and specially chosen music complete an experience redolent of the Scottish Highlands," said Nitin Bahl, hotel manager, ITC Sonar
There are three beautifully done alcoves with wooden walls, decorated with artefacts, paintings, classic furniture that blends luxury and an old-world charm. A part of the wall is done with glass that offers a stunning view of the fountain outside.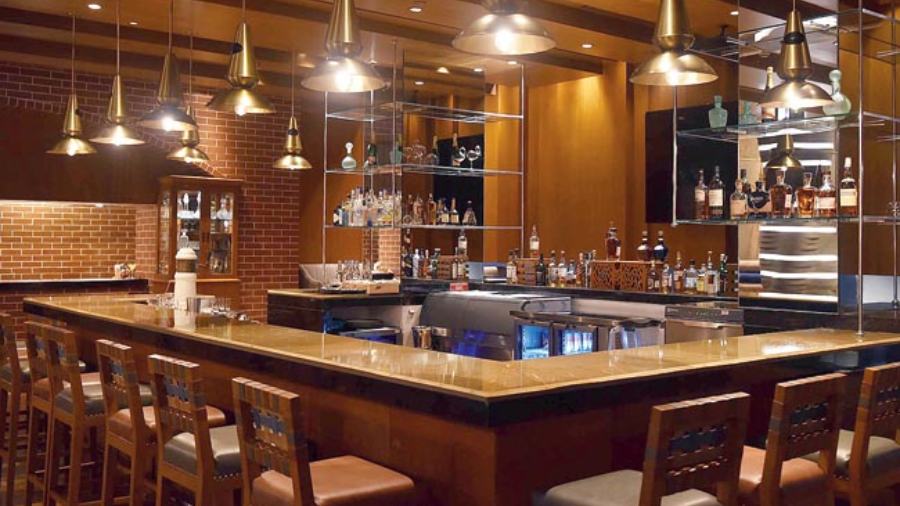 Highland Nectar has a beautiful island bar with glass top that has golden barley inside. The vibe here is of an English bar with wooden furniture and warm lights. "This is more of a whisky place and it is catering to various types of whisky that are known for their distinct taste. We have 10 whisky cocktails with a twist in terms of the ingredients. That aside, we do have an elaborate menu with vodka, gin and wine," said Nitin, while proudly showing us the whisky collection that comprises brands like The Balvenie, Dalwhinnie, Glenfiddich 1975 (private vintage for ITC Hotels). "My all-time favourite whisky is Scapa because I love the balanced taste of it but it's not available everywhere," said Nitin.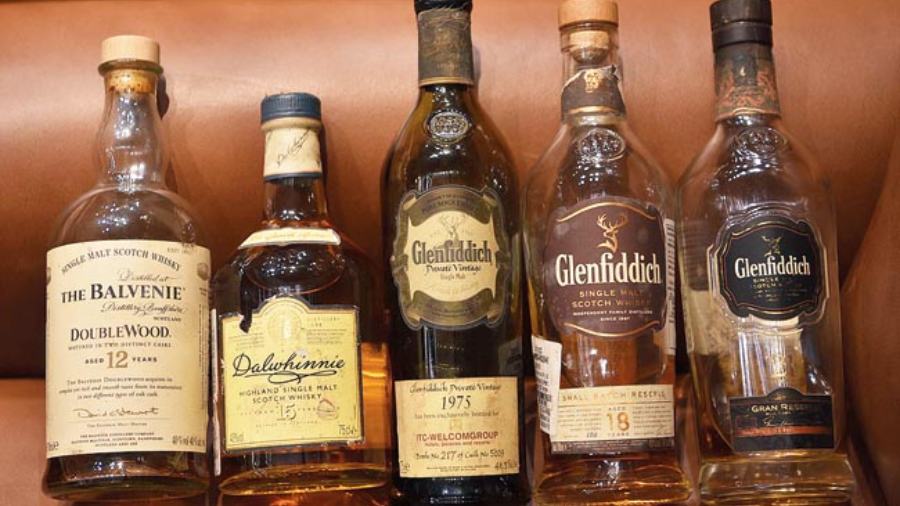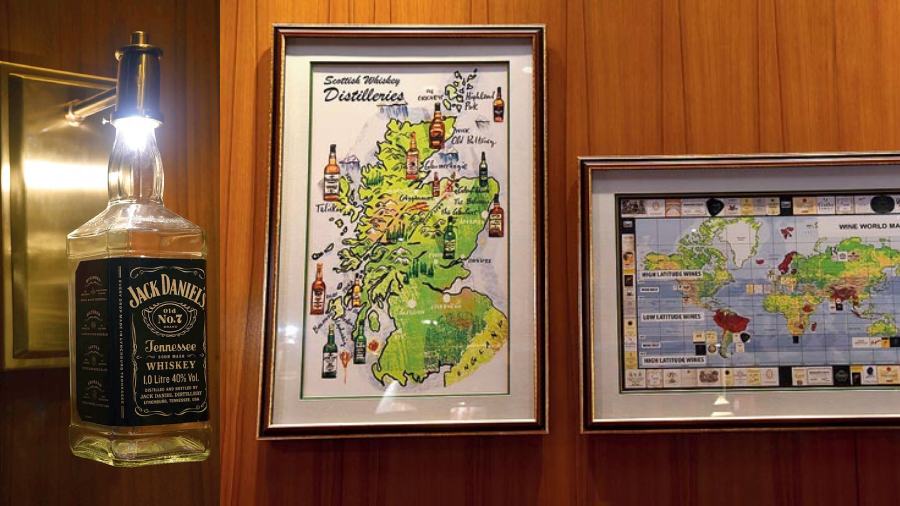 EYE-CATCHING: You will know you have walked into a whisky-driven bar when you spot Jack Daniel's bottles used as wall lights and beautiful illustrations on Scottish whisky distillaries.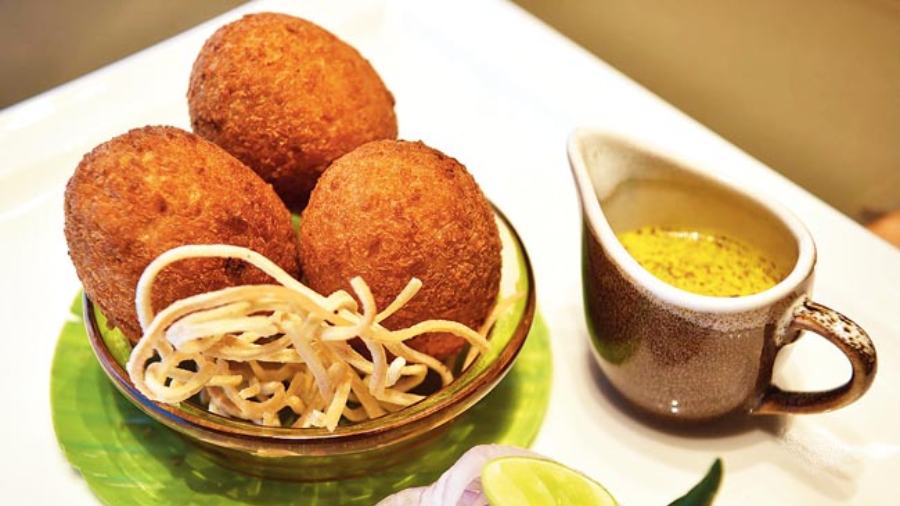 Enjoy the monsoon and unwind post a hectic day at work with gorom gorom Dimer Chop served with salad and kasundi.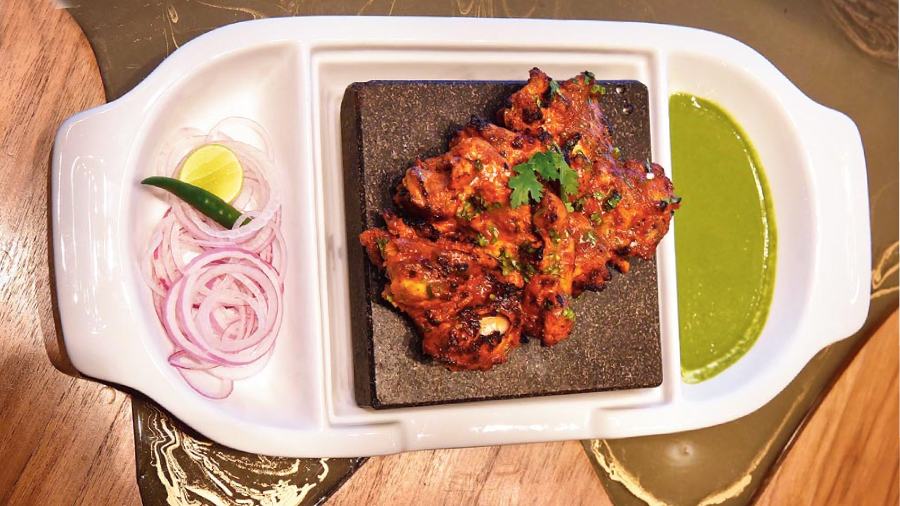 Pair your drinks with the super spicy Murgh Angaar. It is marinated with yoghurt and Indian spices. The pieces are tender, juicy and even though you will feel the kick of the chilli, we bet you will crave for more.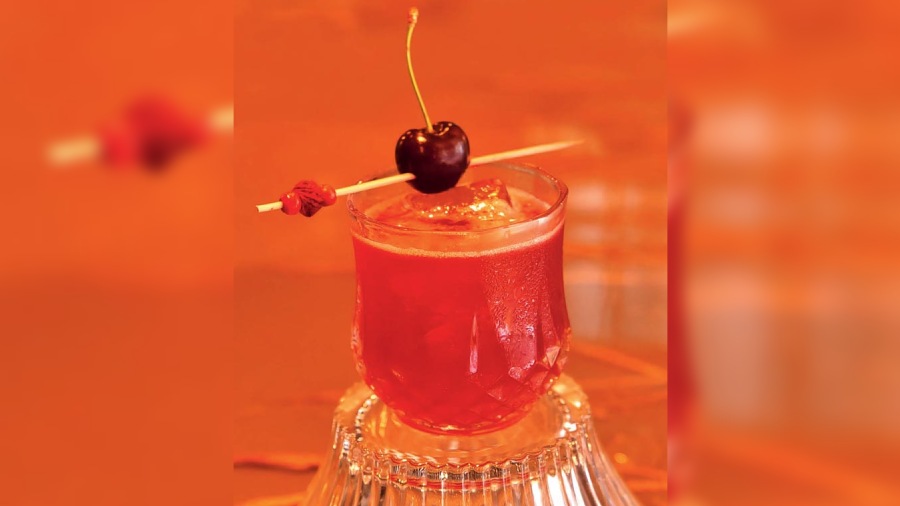 Bordeaux Sour is a pretty cocktail that has a heady dose of red wine, whisky, maple syrup and a zing of lime!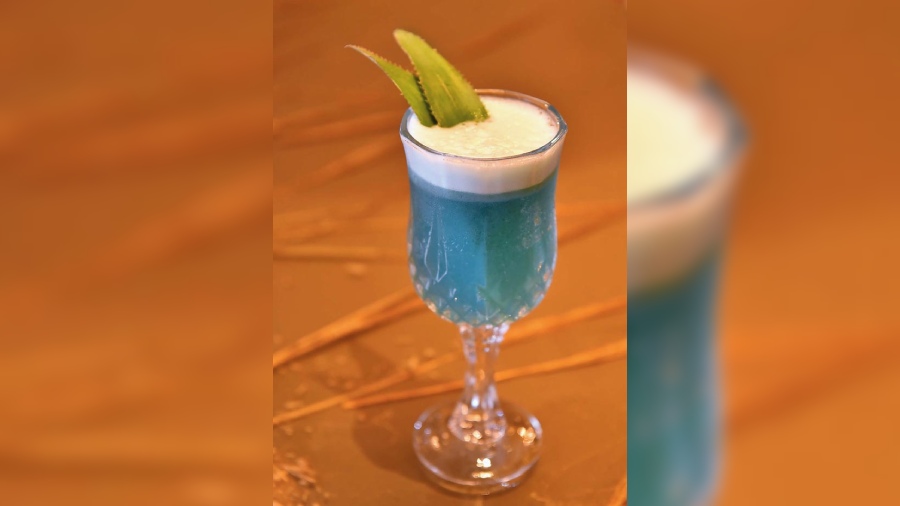 Some cocktails win you over with their looks and Jack Frost is one of them. This fruity blue cocktail has vodka laced with coconut, pineapple concoction with a dash of blue curacao.
Chomp on Drums of Heaven that are tossed in lip-smacking barbeque sauce. Have it when it's hot!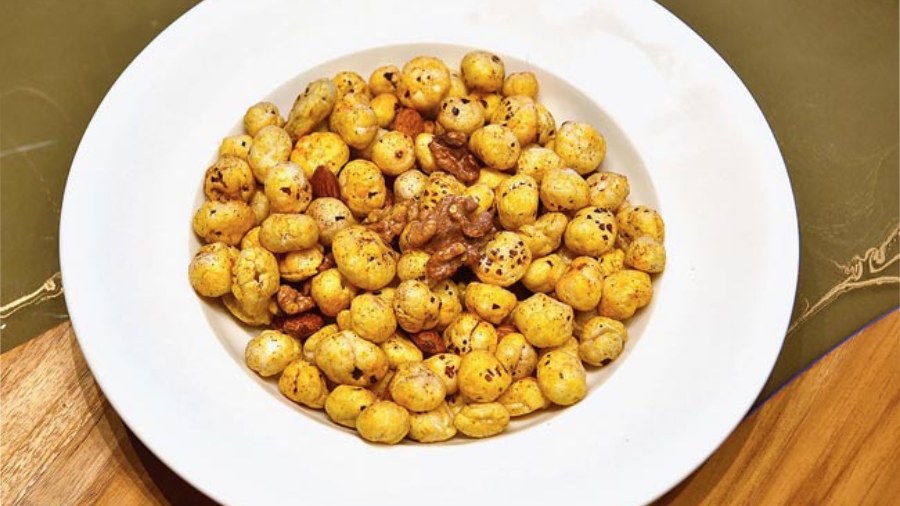 Not on the menu but we found love while digging into a bowl of Spicy Makhana that is a part of the indigenous snacks served here.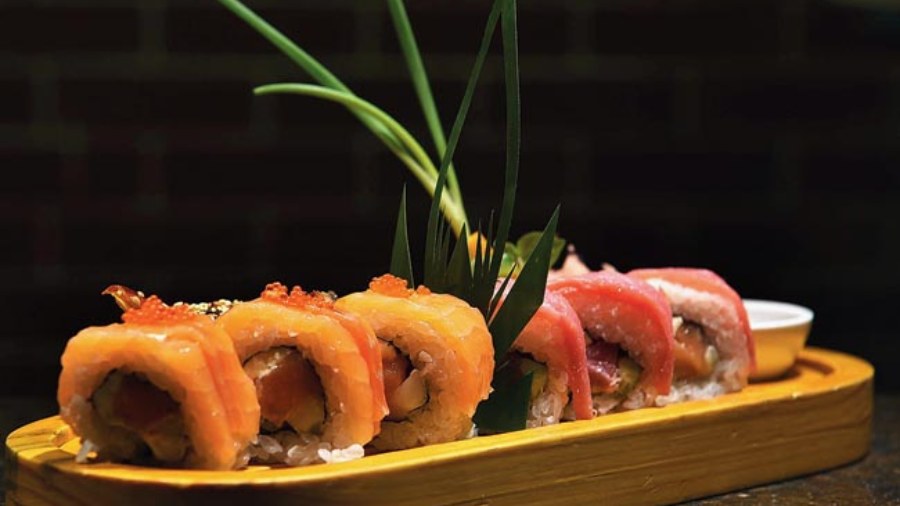 Sushis are healthy, so call for the Non-Veg Sushi Platter that's loaded with tuna, nigiri, crabstick and eel, accompanied by soya sauce, gari and wasabi.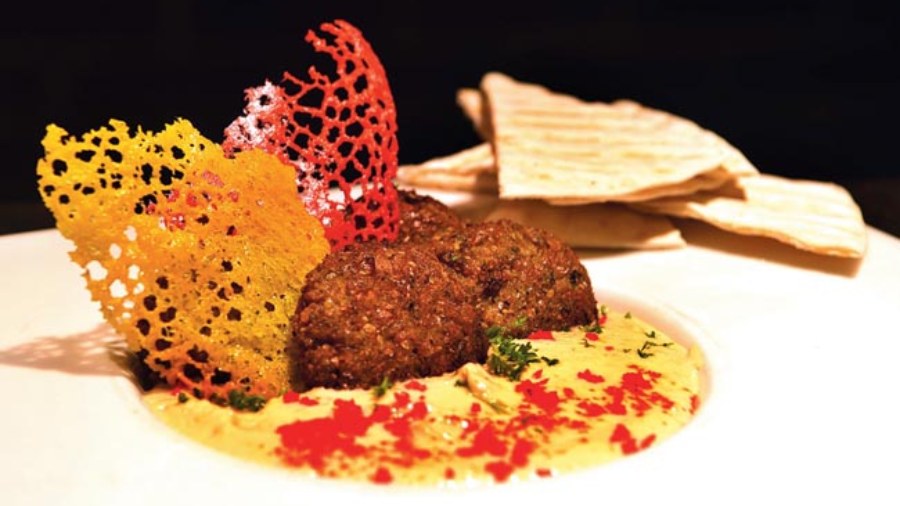 Vegetarians must-try Quinoa Falafal with hummus served with labneh, hummus and pita bread.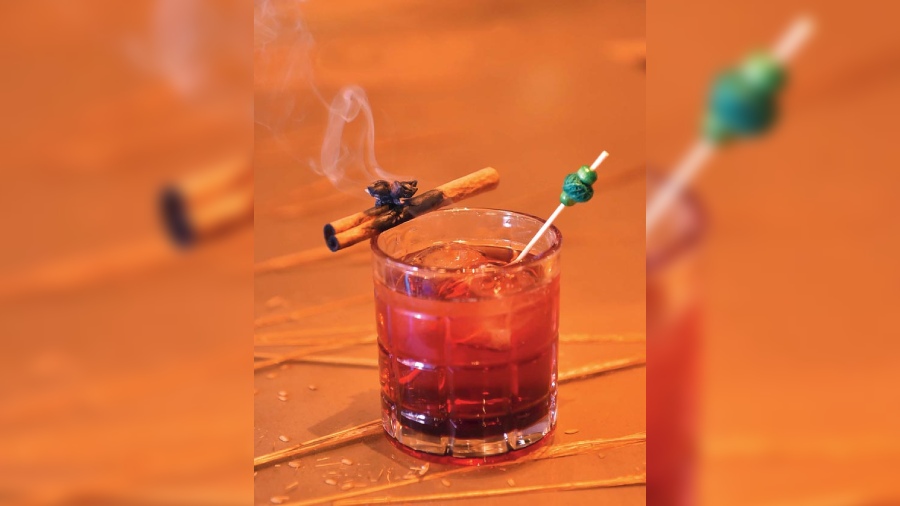 The Executive is one of the highlights on the cocktail menu. It has a fine blend of whisky, dark rum, campari and delicate note of vanilla. It's yummy and quite potent.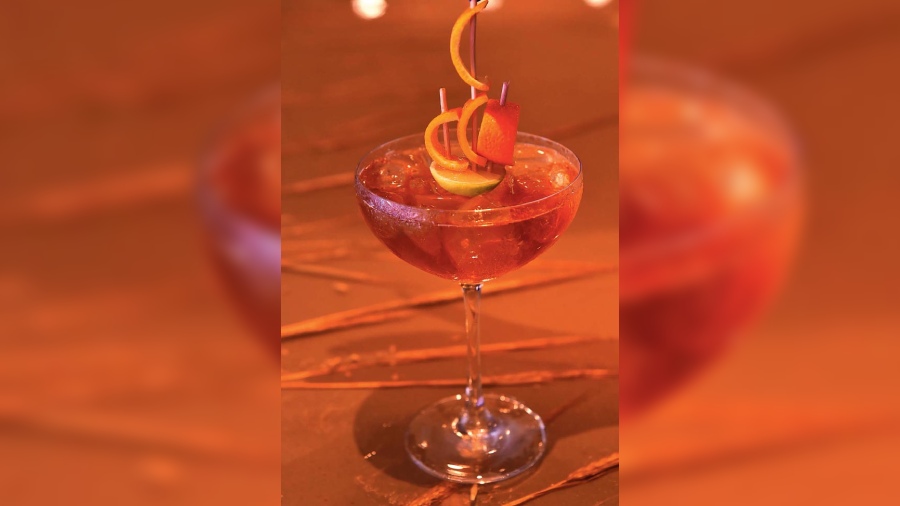 Man o' War is a classy single malt (Glenlivet) cocktail with orange curacao, sweet vermouth and fresh lemon sauce, topped with ice.
Pictures: B. Halder