If you've attended a Bawi wedding or dined at SodaBottleOpenerWala, you're most likely a fan of the fare. Mutton Berry Pulao, Patrani Macchi, Lagan No Patio, Dhansak and Sali Boti are a few hallmark dishes, sporting flavours that are unmatched. In addition to the scrumptious savouries, Parsi pickles, desserts and of course, Lagan nu Bhonu (the wedding spread) holds a special place in many a foodie's heart. 
So, what makes the fare such a hit? 
Parsi cuisine stems from two parent cuisines — Persian and Indian — whose roots still shine through. Every concoction is punctuated with lavish flavours and exotic spices. You'll spot cardamom, cinnamon, cloves and nutmeg tangoing together in most savoury offerings, and sometimes, even in sweets. Unique ingredients such as jardalu (dried apricot), charoli seeds and kharik dates, along with almonds, cashews and golden raisins are also a popular part of the cuisine. 
The underlying flavour of the food is a blend of spicy, sour and sweet notes, which gives the cuisine a robust edge. "Tikhu-Khatu-Mithu (Spicy-Sour-Sweet) is considered the Holy Trinity of Parsi cooking, and perfecting its balance is the key to any Parsi dish," writes Niloufer Mavalvala in her book, The Art of Parsi Cooking: Reviving an Ancient Cuisine. My Kolkata takes a look at the role of Tikhu-Khatu-Mithu in Parsi fare.
The mainstay of Parsi cuisine
"Many Parsi dishes incorporate the spicy-sour-sweet flavour. The sweet probably is an influence of Gujarati cuisine on our food, while the dry fruits, which are used as the base of our curries to add a sweet flavour, is the Persian influence on Parsi food," reveals Nilufer Babaycon, a 63-year-old Parsi home chef who caters authentic Parsi and Sri Lankan food.
Tikhu-Khatu-Mithu is usually achieved by adding a dash of jaggery and E.F. Kolah's matured sugarcane vinegar (you can use any vinegar, but a Bawi wouldn't use any other!) or lime to a dish packed with spice. Mainstays of the cuisine — Sali Boti, Prawn Patio, Patrani Macchi, Khattu Meethu Keema Patis — have flavours with a Tikhu-Khatu-Mithu foundation.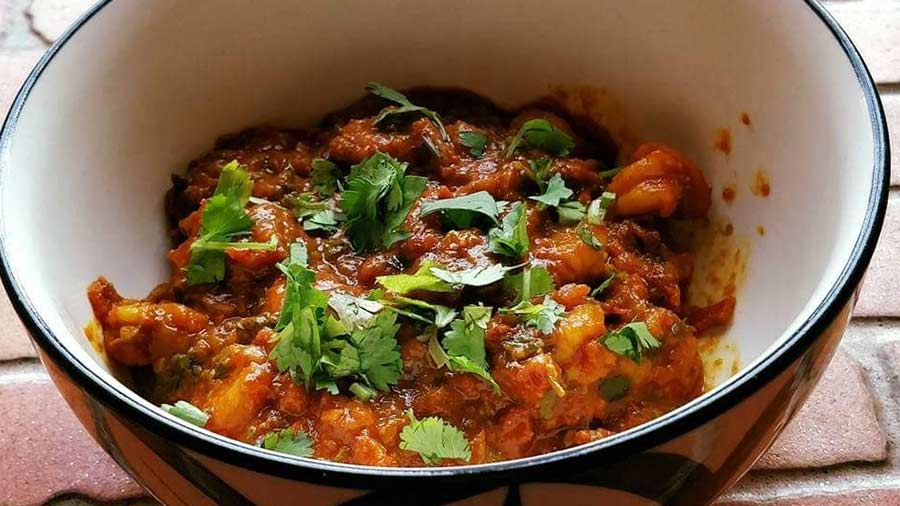 Prawn Patio
"The dish that best describes our love for Tikhu-Khatu-Mithu is Patio. It's a part of the ultimate 'Sagan nu Bhonu' spread that is cooked on all auspicious occasions. It's the perfect celebratory meal laid out in a bawa house!" says Shelley Subawalla, the solopreneur at the helm of Zarin's Secrets, a brand on a mission to take Parsi fare global with their traditional spices.
Patio is undoubtedly the dish where Tikhu-Khatu-Mithu reigns supreme. Typically made with tiger prawns in a rich tomato-based gravy, the dish gets its spice from coriander seeds, jeera and garlic, its sweet from sugarcane and sour from brown vinegar. There are various versions of Patio — Tarapori Patio (a pickled recipe originating from the town of Tarapore in Gujarat that heroes the Bombay Duck), Lagan no Patio (featuring Sankeshwari chillies, coconut and pomfret) and Koru no Patio (a vegetarian offering made with red pumpkin and Kashmiri chillies). Patio goes hand-in-hand with earthy flavours that allow the tangy delight to take centre stage. So, pair it with Dhandar (dal) and steamed rice or a simple yellow khichdi.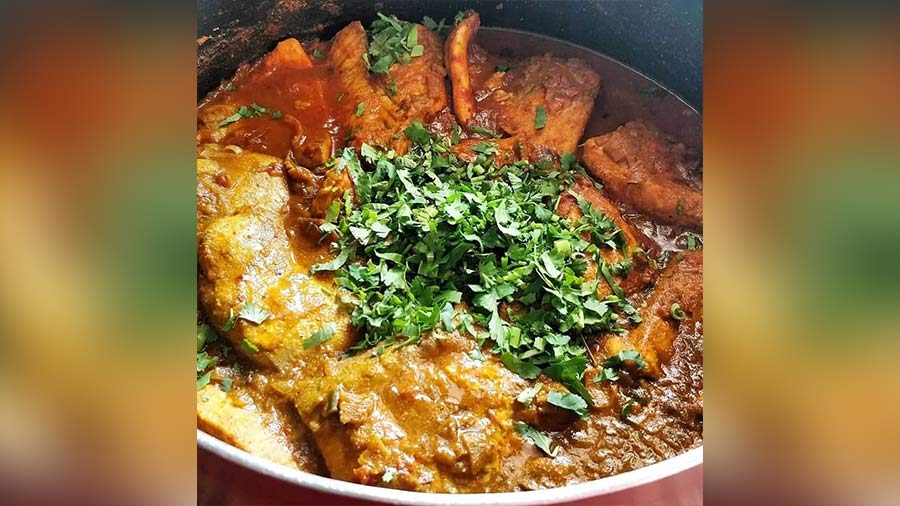 Lagan no Patio
"One can even play around by incorporating two of the three flavours. Some dishes are Tikhu-Khatu or Khatu-Mithu! If you don't get the subtle notes of these flavours, it's not a typical Parsi dish," says Roxanne Bamboat, aka The Tiny Taster, who's a food and travel blogger and runs a home kitchen that serves Parsi fare.
A dish that uses two flavours of the 'Holy Trinity' is Jardaloo Salli Murghi — a must-have on festive days and occasions. Salli Murghi is a vermillion gravy (you can tweak the gravy to your liking) made with chicken, a mix of spices and apricots. "A traditional recipe would have all three Tikhu-Khatu-Mithu, but most of us tweak the spice level or add more apricots so two flavours stand out in the dish," explains Roxanne. The chicken is cooked to perfection and served with a drizzle of salli (crispy fried potato straws) on top — which is always the highlight of the dish.
When talking about Tikhu-Khatu-Mithu, Parsi pickles are very significant. They include vegetarian and non-vegetarian varieties — both equally palatable. Vegetarian pickles that accentuate all grub are Gharab nu Achar (roe cooked in a blend of spices), Gajar Mewa nu Achar (carrot, dried fruit, and whole mangoes stewed in spices), Buffena (whole ripe mangoes stewed and cooked in spices), Lagan nu Achar (carrot, apricots, figs pickled in spices) and Vengna Nu Achar (brinjal pickle).
"The spice is from chilli and other vibrant masalas, while the sweet is mostly from jaggery, very rarely from sugar, and the sour is of vinegar. We usually keep our pickles oil-free and that helps bring out the Tikhu-Khatu-Mithu flavour," explains Shelley.
Here's a Sukka Boomla Nu Patio recipe that works as a pickle:
"In the heydey, dals were often garnished with sweet at the end (either jaggery or sugar), but we've moved away from wanting sweet in our dals lately," says Shelley. "However hints of Tikhu-Khatu-Mithu remain in our dals even today."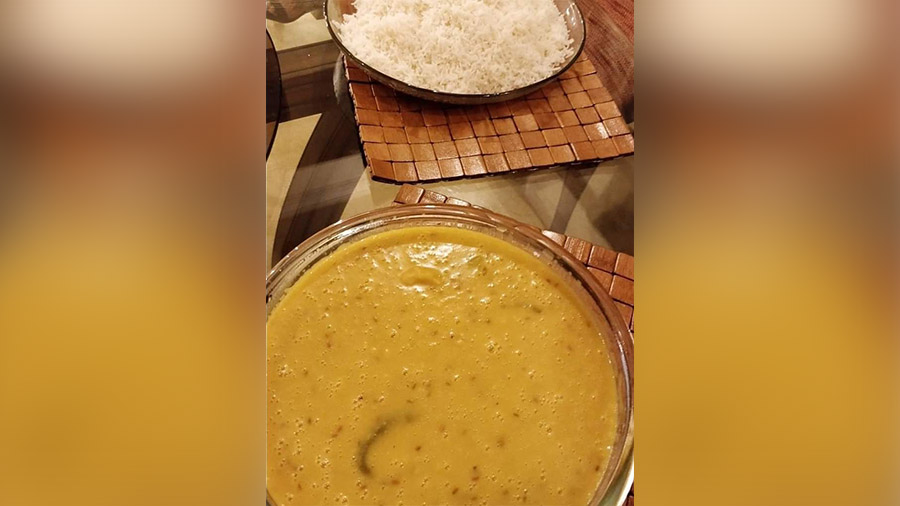 Dhan Saak and steamed rice
In Parsi dal preparations, simplicity is key — the tadka is often light and the flavour, unique. "Add a touch of gur or sugar at the end to bring out the flavour!" advises Nilufer. Roxanne reveals that Parsis are famous for making a dal and throwing bits of chicken and meat into it because they can't do without their protein. "Dhan Saak is a dal! It's basically the dal and then the addition of meat. If you want to make it vegetarian, then just add kachumbar," she says.
Whip up a comforting Dhan Saak at home:
The fact that Parsis aren't huge fans of vegetables has expensed many a chuckle over the years. "Serve a Parsi a vegetarian dish and see what happens!" — is a one-liner cracked often.
In the event that a meal is more rooted in flavour, Parsis often add a zesty salad on the side — a vegetarian salad! The Gor Amli nu Kachumber is the most popular one — a briny combination of cilantro, cucumber, red onion, green chillis and tamarind pulp, once again incorporating Tikhu-Khatu-Mithu. "In order to achieve a good balance, use malt vinegar and sugar as a dressing and keep tasting till you're happy with the balance," says Nilufer. Another famed (maybe, even preferred!) salad is one that's dotted with Bombay Duck.
Khichdi Saas is another age-old recipe from a Parsi family that has become an iconic dish. "This dish has been eaten in old Parsi households for generations. Khichdi Saas is unique, delicious, amazingly easy and definitely one for the books!" shares Shelley.
A recipe for Khichdi Saas (Asal na)
Khichdi Saas (Asal na)
Ingredients:
8-10 fish fillets
5-6 cloves of garlic
1 large onion
2 green chillies
½ tsp cumin
2-3 tbsp Kolah vinegar
1 tbsp sugar
Salt to taste
3 tbsp flour
Chopped coriander leaves
Method:
Grind the garlic, onion, chillies and cumin into a fine paste.
Take oil in a pan and add in the paste. Let it cook till the raw smell goes away.
Add in the flour and blend it into the paste.
Add 1.5 cups of water and whisk well so no bumps arise.
Boil on low flame and keep stirring till it thickens.
Add the fish and cook.
Add in sugar and vinegar.
Garnish with coriander and serve with khichdi.
Recipe courtesy: Zarin's Secrets