What started as a transitional job for students, or someone without mainstream educational qualifications, bartending now has evolved into a celebrity-like gig with an enviable pay scale. It is also a profession that requires you to have deep-rooted knowledge of all drinks, entertaining qualities, while delivering on delicious cocktails.
In the second chapter of our #RaiseTheBar series, My Kolkata chats with Anwit Sarkar, flaring head bartender at Toy Room, Ho Chi Minh Sarani, to reveal the tricks of the trade and valuable lessons for aspiring mixologists. Edited excerpts from the conversation… 
My Kolkata: How did your bartending career take off?
Anwit Sarkar: I joined the bar force at Radisson Hyderabad Hitec City as the assistant bartender in 2017. Soon, to switch gears and become a flaring barman, I attended Kossmo Bartending School in Bidhannagar for a six-month course, while simultaneously applying what I learnt at Middleton Inn. After that, I bagged a job at Kolkata Mixtape, a lit club on Allenby Road.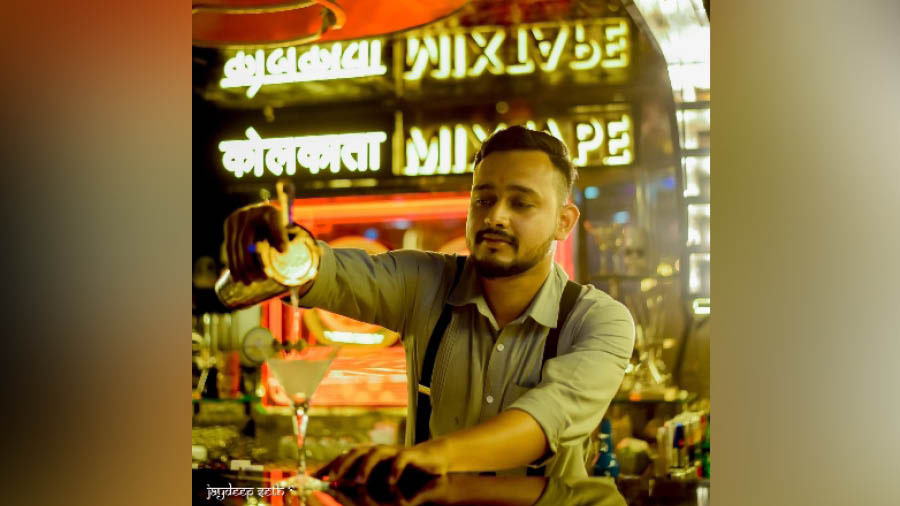 Anwit at Kolkata Mixtape
Later on I did short stints at Lord of the Drinks (LOD), Goa; Fiasco Bar & Grill in New Town and Botanik in Golden Parkk, all popular spots for Kolkata revellers to hit during weekends. Botanik was where I became a senior bartender, which meant handling bar books, instructing juniors and managing customer expectations. Eventually, my work there brought me an offer to bring my craft to the Toy Room.
Anwit first became a senior bartender at Botanik
What are the qualities to look out for in a bartender in present times?
Apart from product knowledge, there is a need to be a showman in front of customers. The entire story of how capable a bartender is can be seen through his dealings with clients. When it comes to serving your cocktails, knowing the tastebuds of the customer and being quick to recommend drinks with instant facts – like tequila contains zero calories – is a major plus point.
A drink that you think is a great example of creativity behind the bar?
Once a regular customer approached the LOD bar in Goa, asking for an off-the menu cocktail with an Indian touch. And Panarasi, a gin-based paan-flavoured cocktail, was born. The lip-smacking cocktail reminiscent of the famed Banarasi paan was made with ingredients in sight – gulkand and betel leaves.
Panarasi, a gin-based paan-flavoured cocktail
What does it take to be a flaring bartender?
Flair bartending can broadly be divided into two categories – exhibition flaring and work flaring. When done with gusto, both are quite a treat to watch. The first type can be done using fire with the liquid content in the bottle being nearly two ounces. This technique does demand constant practice and know-how of some techniques like stall, juggling, and throws. Work flaring on the other hand is done in the usual bartending pace heightened by spinning and pouring skills. Barjockey in Pune is a good school for flair bartending.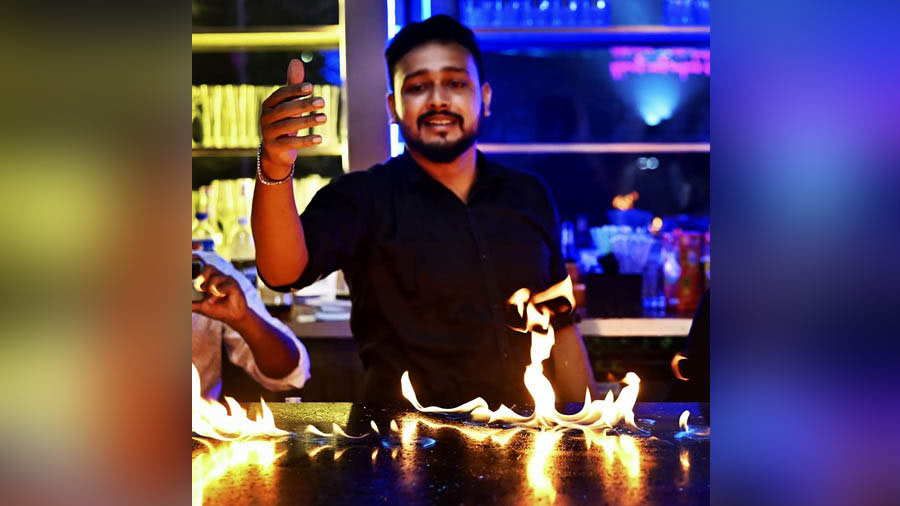 Anwit displays his flaring skills
How do you give your best everyday as a bartender?
Bartending is like attending a comic opera. Humorous instances of people grabbing your attention, grooving to their tunes, and constant chit-chat that might reveal a secret or two, is always on the cards. People look for a work-life balance, I find the measurement to be exact behind the bar, which is exactly where my motivation lies.