Remember the time when packing food for train journeys was a crucial part of travelling? Dabbas packed with sandwiches, parathas, puri and sabzi along with the mandatory bhujia or boiled egg would open to eager hands and mouths. While it is nostalgic, it would not be wrong to say that that train is slowly leaving the station. The scene has changed drastically over the years. Thanks to train food-delivery apps like Zoop, RailRestro, Rail Mitra etc, a ticket to a hot meal is a click away. One can order meals up to an hour before the train stops at any of the stations along the route. While the apps offer options for pizzas, burgers, Indian, Continental, Chinese and other cuisines from popular eateries, Bengali food is topping the charts for passengers going by, from or to West Bengal.
My Kolkata got in touch with Zoop (founded in 2016), a platform that has witnessed a year-over-year growth of 200 per cent on food delivery on trains, to understand the food trends of travellers ordering food on the go from various stations in West Bengal. We also spoke to train food-delivery app RailRestro (founded in 2015), which partners with around 2,000 restaurants and services over 450 railway stations in India.
Maachh, mishti and more in high demand
The maachhe-bhaate Bangali phrase might sound stereotypical, but it's also right on point. "We delivered 4,200 meals in April 2023 which included 3,300 Bengali thalis. This is because Howrah is one of the biggest railway stations in India — connecting most of the main line routes of Indian Railways," says Manish Chandra, founder, RailRestro. The most popular items ordered from the RailRestro app are fish curry and rice combo, Bengali thali, Kathi rolls, kosha mangsho and luchi.
More than 10,000 orders received from stations in West Bengal by Zoop in April were also for Bengali food.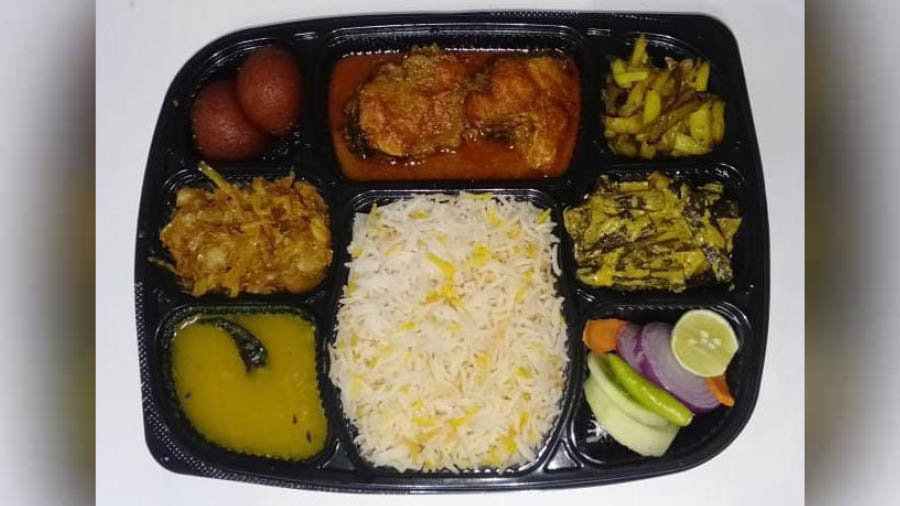 A fish thali from a restaurant available on Zoop
Photo by Zoop
"The Bengali Fish Thali has emerged as the most popular dish on trains. More than 3,500 fish thalis are ordered on board, accounting for a good 35 per cent of all orders in a month," shares Puneet Sharma, founder of Zoop. Different freshwater fish preparations of Rohu, Katla, Hilsa and others native to Bengal are also ordered everyday. A typical Bengali thali usually includes rice, dal, potato fries, non-vegetarian curry, papad, chutney, achar, vegetarian curry and a sweet dish. The items vary from restaurant to restaurant.
On Zoop, the king of sweets in Bengal — the rosogolla — is travellers' favourite followed by kheer and gulab jamun. On RailRestro, it is sandesh, closely followed by rosogolla.
Kharagpur, Malda and Asansol hold the track record as favourite stations for foodies on board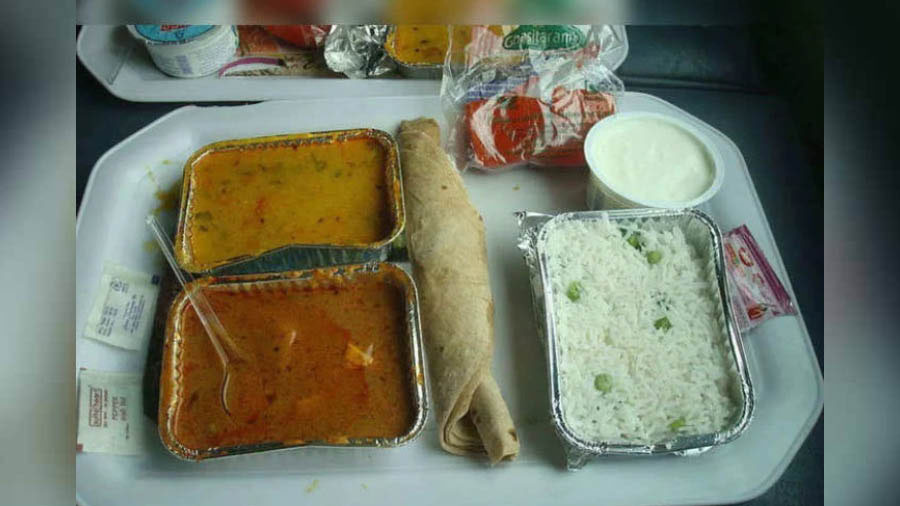 Say goodbye to the bland food from the train's pantry
TT Archives
The demand for Bengali food has grown in stations such as Malda Town, Hijli, Kharagpur, Asansol, New Jalpaiguri, Durgapur, Burdwan, and Bolpur (Santiniketan).
According to RailRestro, the popular restaurants in West Bengal that passengers order food from include Red Chilli (Asansol Junction), Indian Restro (Malda Town), Annapurna (Asansol), Dhani Lanka Restaurant (Durgapur) and Roti Restro (Howrah).
According to Zoop, Lime Lite Hotel & Restaurant at Malda Town railway station and Hot Box restaurant at Kharagpur station are the top-rated restaurants for Bengali cuisine. The thalis are priced between Rs 175 (Bengali Vegetarian Thali at Lime Lite Hotel & Restaurant) and Rs 230 (Kolkata Fish Thali at Hot Box, which comes with two pieces of the day's catch)
Sumita Dutta, who works in a NGO, travels frequently via train and loves ordering food from various places in Bengal. "I order the meal boxes from Hot Box restaurant on the train at Kharagpur station. I love their fish and chicken preparations. The quality is great, the food is always served hot and the quantity is just right for one person," said the foodie.
Food habits that are jumping the track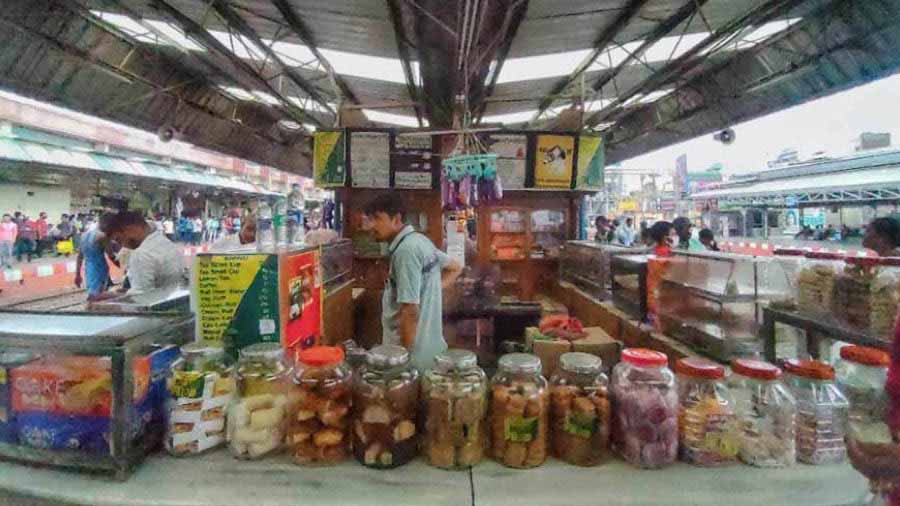 Earlier, the train's pantry and station vendors were the only options for passengers
TT Archives
The train food-delivery apps have made travelling all the more easier. Subharthi Ghosh, an IT professional in Kolkata, takes a train to his hometown in Siliguri at least twice a month to spend time with family or for short weekend trips around West Bengal with friends. Ghosh has been ordering food via apps for the last couple of months as opposed to eating from the train pantry. He says, "Carrying packed food is a hassle as I live alone. The pantry food on the train has limited options and the next best option was eating from the station hawkers. Ordering from the apps has opened up a whole new range of food. My orders range from luchi alur dum to fish meals."
Ordering food from the train is as simple as ordering food from any other food delivery app. You can place your order from the moment you've booked your ticket up to an hour before arrival at the chosen station for delivery. For example, if you want delivery at Patna Junction at 2pm, then the latest you can order is at 1pm. If the restaurant levies a delivery fee, it will be mentioned on the app. You will need your PNR number to place an order.
The delivery apps are looking at making food delivery on trains more hassle-free with better customer service and increased food outlets at untapped stations. "Train travel is always popular, and Zoop is happy to participate in this journey by bringing online services to the table. We will soon be delivering food from more stations like Howrah, Sealdah and Titlagarh," signed off Sharma.
Booking steps for RailRestro and Zoop
Enter PNR
Choose station/restaurant from list displayed
Select Menu
Pay Online Or COD
Get delivery in train