Fresh flowers adorned the Kadirs' den in Ballygunge. The table was laid with tempting plates of food and the dining room was filled with the enchanting aroma of biryani. The ambience in every way was set to feel like Eid. Farah Kadir, chef's apron in place, peeped out from her busy kitchen to inform us that she'd be joining in a bit.
This Eid, My Kolkata joined Farah Kadir and Rubayat Kadir of Beyond Biryani for a grand Dawat-e-Eid with family and friends.
Prelude to the grand Dawat
As Farah conjured up the Eid menu, her husband Rubayat joined us to chat about their family traditions of celebrating the special day. "Eid is mostly about celebrating with close family and friends with lots of food made by Farah. This time our daughters, Zarish and Ifrah, are not in town as both of them are in the US. But we are expecting our close family members for lunch," he said.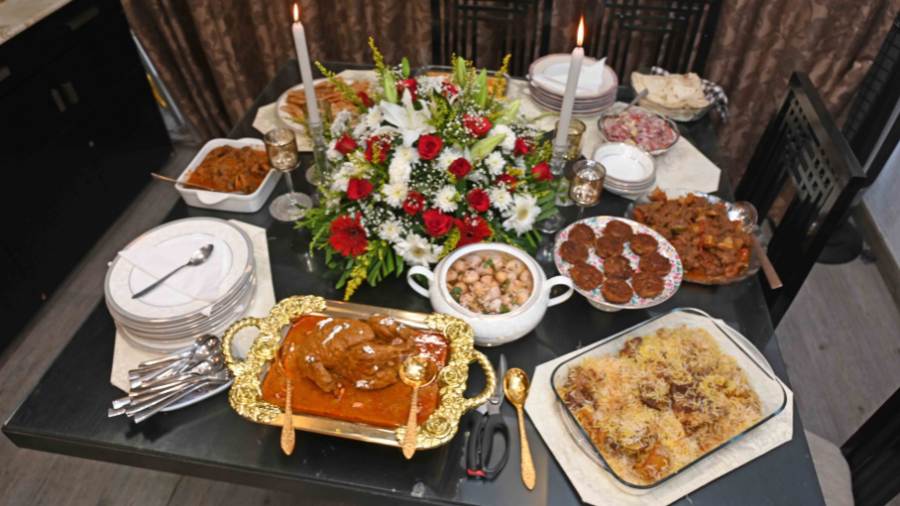 The grand Eid feast at the Kadir home, all cooked by Farah
Rubayat went on to narrate the experience of flying to Mumbai in January to cook a splendid meal for Adar Poonawala, of Serum Institute of India, the world's largest vaccine manufacturer. Farah cooked 24 dishes in one evening and garnered compliments from the who's who of Bollywood and Mumbai, including Gauri Khan and Shweta Bachchan.
Soon Farah joined the conversation dressed in a pretty pastel coloured salwar kameez, after putting away her chef's apron. She had been in the kitchen since morning preparing about 10 dishes for the dawat. "Everything was brought from the market this morning. Nothing was prepared last night. I go to buy the mutton myself and it has to be fresh," said Farah, who prefers not to refrigerate meat.
We got a sneak peek at the menu before the guests arrived. Beyond biryani (Kolkata-style, of course), there was shammi kebab, Mutton Kundan Kaliyan with parathas and rumali roti, Murgh Musallam, Paneer Makhana and more. "Today's special is the Taj Kebab which I invented this morning," said Farah, whose cooking skills are inspired by her mother and grandmother. The novel dish consisted of mutton pieces on skewers with cubes of potatoes and tomatoes. It was further cooked in a flavourful, light gravy.
Eid, a time to celebrate with loved ones
Soon the guests started arriving — from the couple's siblings and their families to in-laws. The house was filled with banter, warm hugs and wishes of 'Eid Mubarak!' as glasses of sharbat-e-mohabbat did the rounds. The refreshing milk-based drink with watermelon juice and Roohafza topped with rose petals was a befitting start to the feast!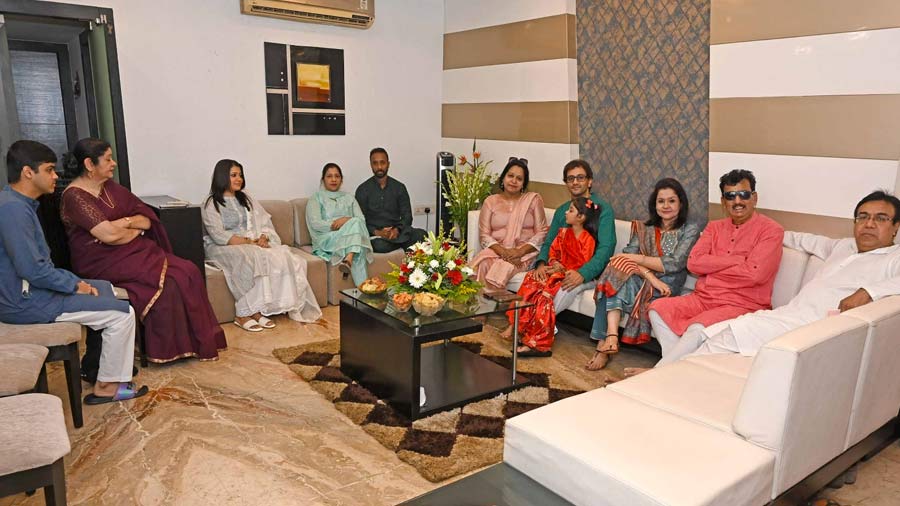 The Kadir's family and friends at the Eid gathering
After everyone settled down, the conversation steered to Farah's magical cooking that brought them to the Kadirs' home time and again. "Her cooking is beyond imagination. I wouldn't be doing justice if I picked just one dish as my favourite. But I must still say her Biryani, Bihari Kebab and Shami Kebab are just out of the world," said Shabnam Faiyaz, mother-in-law of the Kadirs' elder daughter, Zarish.
Brought up in Shahjahanpur, Uttar Pradesh, Farah's family is originally from Afghanistan. "Over the years, Farah has picked up the art of cooking so well that she can list the ingredients of any dish by tasting it. That gives her the talent to experiment with dishes that turn out amazing," said Rubayat, who is her true critic and greatest supporter. The duo gave the home-cooked Mughal food a face-lift through Beyond Biryani during the lockdown.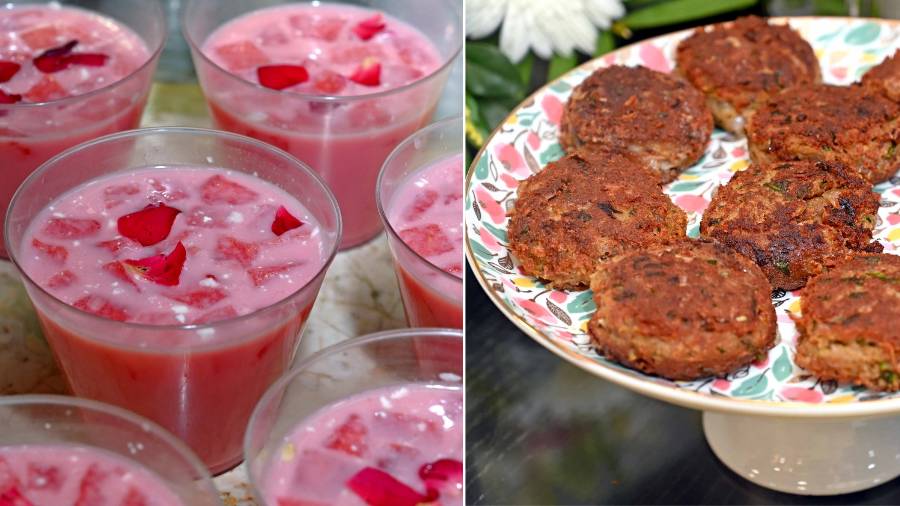 The watermelon and milk-based 'sharbat-e-mohabbat' and (right) Farah's special Shammi Kebabs
And in case you were wondering, Beyond Biryani also whips up some fantastic dishes that are 'beyond Mughlai'. "Farah also cooks wonderful Chinese and Continental dishes. Her Chicken 65 is so good that you won't find a match in any restaurant," revealed Reemana Kadir, Rubayat's sister.
The grand feast!
Dahi Phulki and (right) Taj Kebab
The table looked heavenly with all the dishes spread out. Each platter for the Dawat-e-Eid looked right out of stock photos.
The dawat began with some soft mutton shami kebabs and the day's invention, Taj Kebab. Next in line was some mutton Kundan Kaliyan with parathas and rumali roti. The mutton was perfectly cooked and it just melted in the mouth. The red gravy was flavourful but at the same time didn't feel overly rich or oily.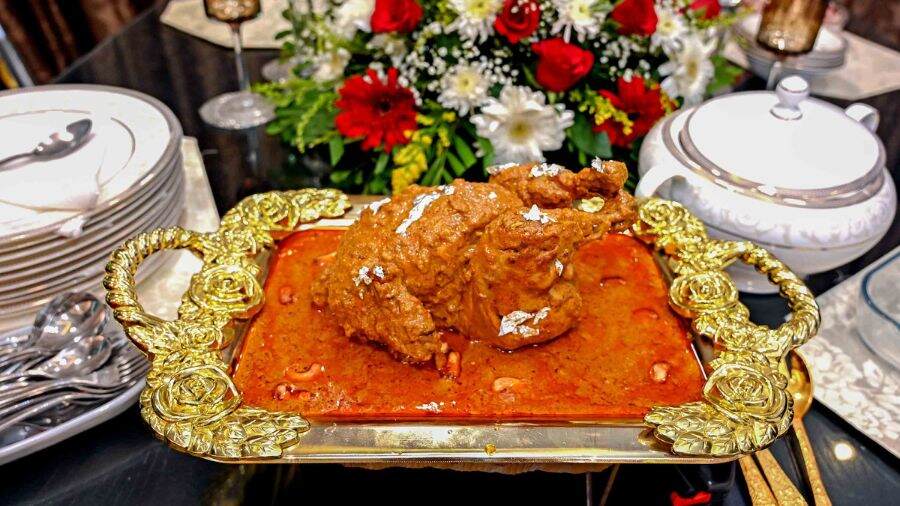 Murgh Musallam
"You will never feel uneasy after you eat Farah's food. It's prepared with little oil and the right quantity of spices," assured Reemana Kadir.
From the kitchen, Farah got a big shear to make pieces of the Murgh Musallam which is a whole chicken in gravy, stuffed with boiled eggs and keema. The chicken was soft and juicy with a perfect balance of spices.
As a vegetarian option, Paneer Makhana was on the table and it did not get much attention until Rubayat insisted. "I am not a paneer fan either but I insist on trying it. It is soft and the gravy is creamy," he said. It was!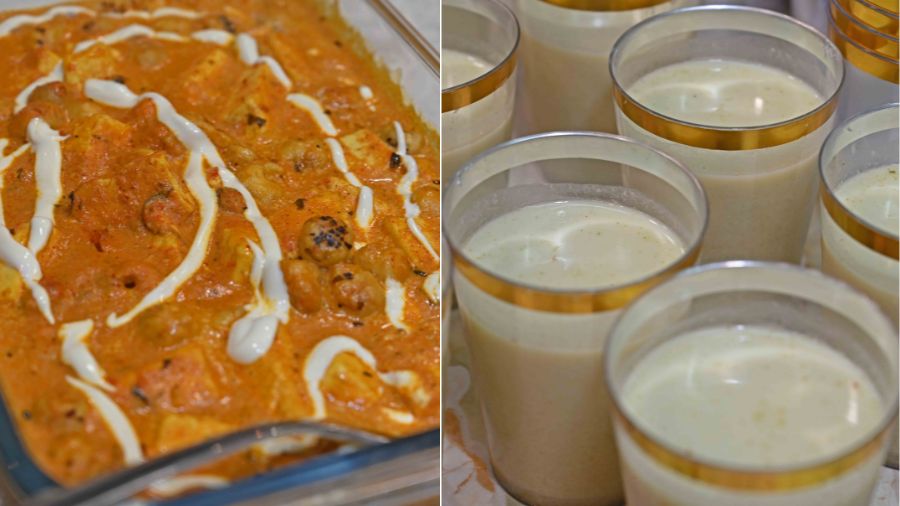 Paneer Makhana and (right) Borhani
That Farah's vegetarian dishes taste equally good as the non-vegetarian dishes was reflected in the Dahi Phulki, small fried besan balls in curd with a tadka of cumin seeds and topped with chopped fresh coriander.
Everyone showered Farah with compliments as they dug into the food. Introverted by nature, she obliged with only a smile.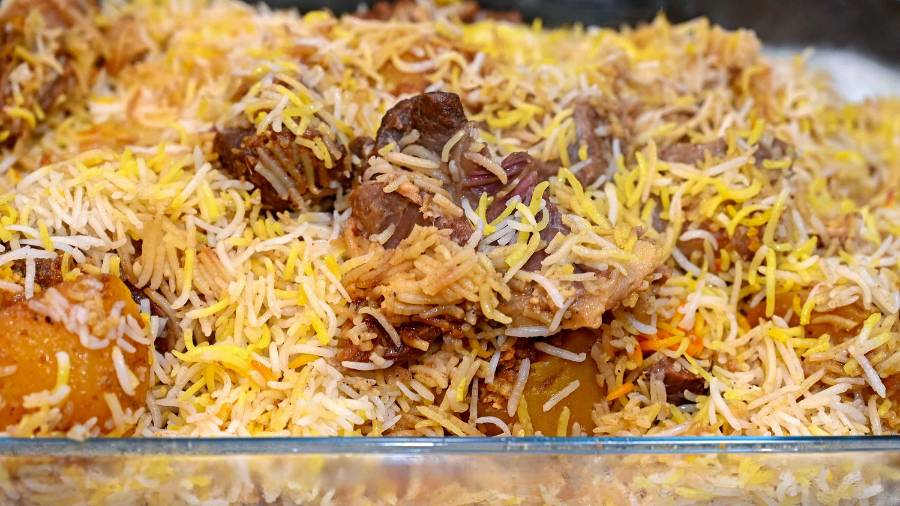 'I believe food that tastes good also looks good,' exclaimed Rubayat, helping himself to some Kolkata-style Mutton Biryani
Hashim Khan, husband to Farah's elder sister, sat there listening to all the compliments proudly. Everyone pointed towards him demanding him to speak. After all, he was the matchmaker for Farah and Rubayat. "I came to know that Farah was a great cook after my marriage. I knew she had it in her through her genes and was god-gifted. I wanted her to come to Kolkata from UP so that I could enjoy her food. Then I came across this man and paired them together," smiled Khan.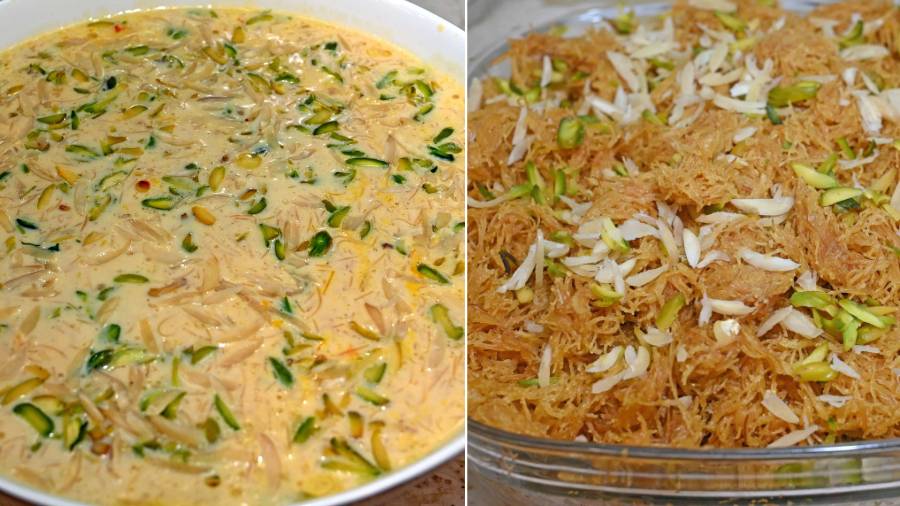 Sheer Khurma and (right) the dry version, Sewai Ka Zarda
From the kitchen finally emerged glasses of Borhani, and bowls of Sewai ka Zarda and Sheer Khurma. The Sheer Khurma was packed with dry fruits and had just the right amount of sweet while Sewai Ka Zarda was a dry version of this popular sweet dish.
The glass of Borhani washed down the food and the paan completed the meal.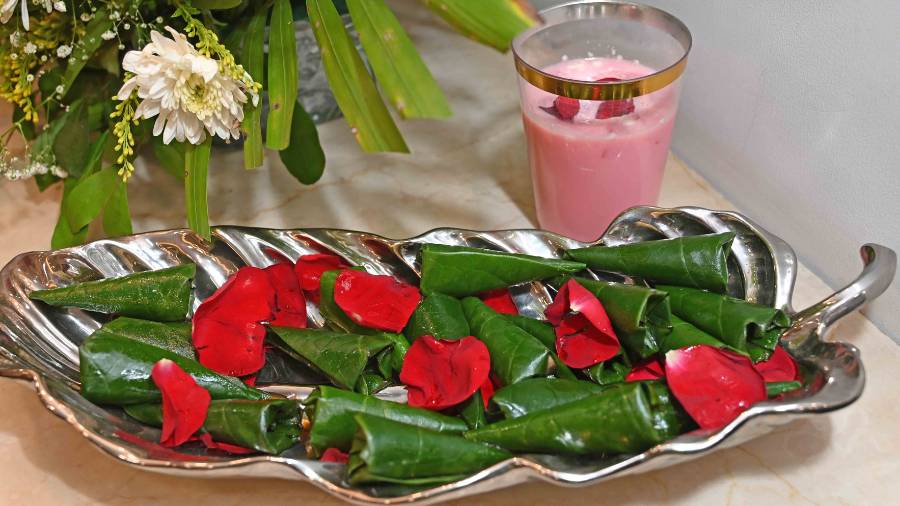 Paan to end the meal
A surprise call
As we wrapped up, another fan of Farah's food called from Mumbai to wish her for Eid. It was acclaimed Bollywood singer and former Indian Idol runner-up, Rahul Vaidya.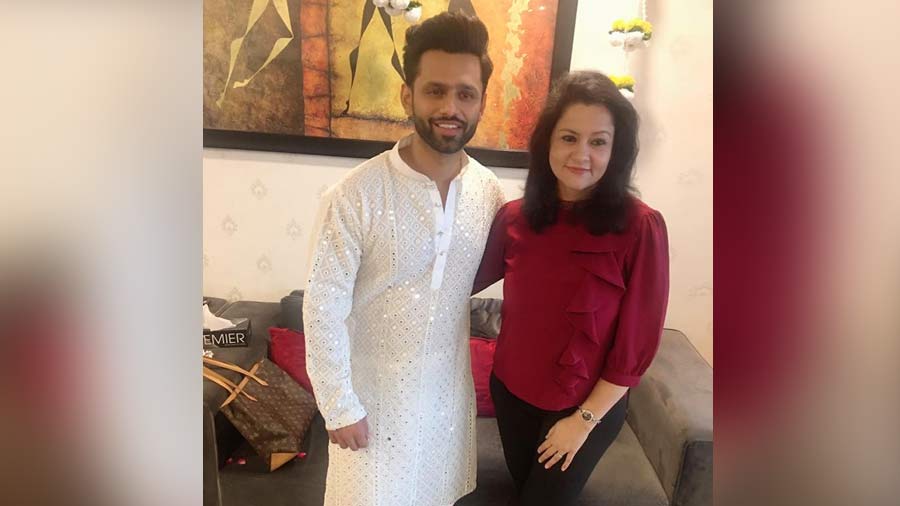 Rahul Vaidya with Farah Kadir
Courtesy Rubayat Kadir
Hearing what's on the menu, he said, "I can imagine how tasty it must have been! I just love what she cooks. Especially her Sindhi Biryani and Mutton Korma. That's why I keep calling her to my house so that she can make these amazing dishes for me," he said.
My Kolkata wishes its readers happiness, health and success for Eid ul-Fitr!