Like mother. Like daughters. Shivanie Mirchandani (34) and Gayatri Rattha (32) have loved polishing off their mother Preah Narang's home-made ice cream and are now treating people to scoops of the same sinful goodness. The sisters launched Minus Thirty, a gelato brand, in 2016, which has launched in Kolkata too recently. A quick chat with the lovely Shivanie.
Tell us all about Minus Thirty! How was it formed? Tell us a bit about yourselves too!
Minus Thirty started in 2016. The idea was born because we grew up eating my mother's ice cream, she's a trained chef and we used to see her send it to a lot of people so we thought why not sell it. And, so we decided to try and sell this. My sister and I decided to start this together. My sister went to Italy to learn how to make gelato and train there. She eventually started working at a gelato shop. She came back, we worked on flavours and we decided to launch it. We launched in Delhi in a very small way. We sort of moonlighted into this because we both had full-time jobs at the time. We started out from our home kitchen. We had a small machine and it was just the both of us and one delivery guy that we had hired.
At Minus Thirty, we strive to recreate what we grew up enjoying. Memories of fun-filled decadence of our mother's home-made chocolate ice cream — fresh, free of preservatives, healthy and full of love, inspired us to do the same.
We make irresistible gelato with the finest ingredients. For those that prefer it, we have sugar-free and vegan options that are as good if not better than their counterparts — you have to taste it to love it!
Was gelato always the choice?
It's lighter than regular ice cream, healthier. There is no egg in it and vegetable oil. There is no oil in it actually. Also, we saw a market opportunity. There weren't too many gelato brands.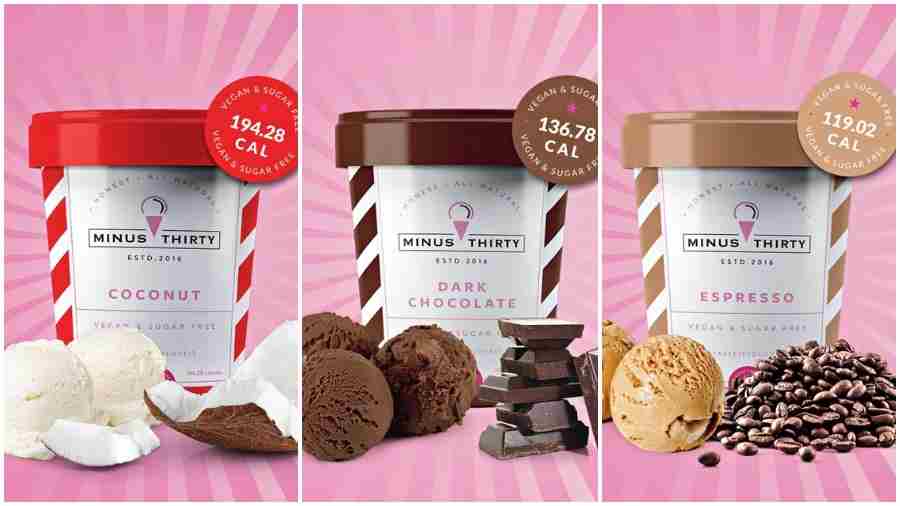 Minus Thirty flavours
Do you guys love ice cream yourselves? What are your favourite ice cream memories?
We do love ice creams! Our vegan and sugar-free selection is our personal favourite as well! Our favourite ice cream memories are eating our mother's home-made chocolate ice cream straight out of the machine. To us, it's still the best flavour in the world!
What is the USP of Minus Thirty?
Our USP, I would say, would be our vegan and sugar-free products. They do exceedingly well and they're super healthy and we use really simple ingredients to make it. I think that comes out in the taste and it reflects in the product. That would be one. And the second USP would be that all our gelatos have 30 per cent less sugar than what's actually available in the market.
What kind of flavours have you started with?
We started with Belgian chocolate, French vanilla, salted caramel, cookies and cream and then did some really fun stuff and did a Baileys white chocolate, dark chocolate Cointreau and of course our vegan and sugar-free range. The dark chocolate vegan and sugar-free, espresso vegan and sugar-free, coconut vegan and sugar-free are top sellers. The flavours are fun and the recipes are simple and that comes out in the taste.
What do you grandparents Sunita and Naresh Kumar love?
We do a special flavour for my grandmother, which is a Decaf Espresso. They also love the Belgian chocolate with Cointreau.
What else do you want to do with the brand?
We are looking to expand Minus Thirty in India and outside. We want our gelato in all retail stores with maximum reach to the customer and our aim is to be the number one ice cream company in India. Expand both our regular and vegan and sugar-free offering so that everyone can enjoy it!
Other passions: Running, wildlife, music
Minus 30 is available in: Delhi, Kolkata, Chennai , Mumbai, Bengaluru, Jaipur, Dehradun, Goa
Order online www.minus30.co