I'm at one of Indore's finest addresses, a new retail, residential and entertainment zone and home to one of the city's newest luxury hotels – The Park Indore. This neighbourhood, called MR 10 Road, might remind you of emerging zones in big Indian cities like New Town in Kolkata or the posh neighbourhoods in Gurugram. But there's one special thing here. This part of Indore and most of the city doesn't just look good from a distance. Indoris are proud of their status as India's cleanest city. In fact, Indore has been ranked as the cleanest city in India for the sixth year in a row in 2022, according to the Swachh Survekshan ratings.
Almost every Indian city has a unique foodscape and scores of street food options. With Indore's reputation as a clean city, it's the perfect destination for food lovers and street-food enthusiasts to visit.
Indore's iconic breakfast: Poha Jalebi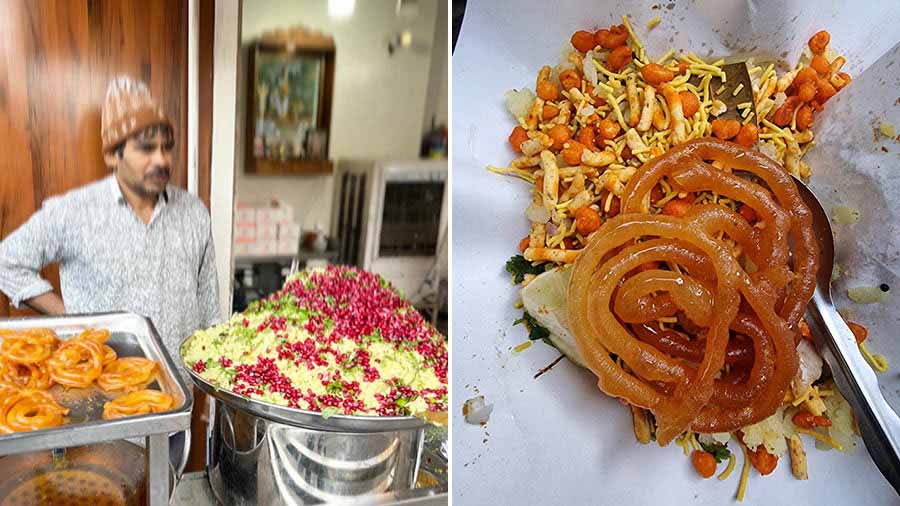 'Poha jalebi' is synonymous with breakfast in Indore
If there's one dish that's synonymous with Indore, it's the city's world-famous poha jalebi. While it might seem excessive to start a weekday with piping hot jalebis, it's easier to convince yourself when you're a visitor. The sight of heaps of steaming hot poha on a chilly morning and jalebis being fried and flung out of a large kadhai is a quintessential slice of Indore's daily food scene. In my opinion, I haven't found better poha anywhere else in India — topped with crunchy sev and finely chopped onions. And those jalebis? They're the cherry on top. For the locals, Guru ke Pohe in the Gorakund area is a popular spot while Vijay Chaat House is equally loved by tourists and Indoris. Trust me, you can't leave town without indulging in this signature breakfast.
Park Street panache in the heart of the city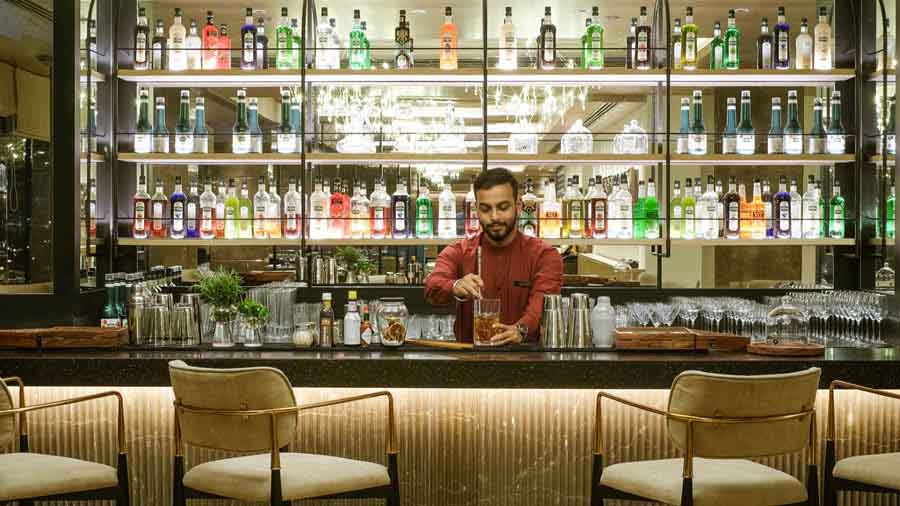 The Park brought Aura, Aqua, Someplace Else (in picture) and Flurys brands to Indore for the first time in 2022
Courtesy The Park Hotels
When you step inside The Park Indore, you'll feel a discerning energy that's transformed how Indoris dine and party. Someplace Else, one of the city's nightspots, offers a slice of Kolkata's nightlife in the heart of India. Here, you won't hear Bollywood music, and the mixologists have the same creative licence as their counterparts at Aqua – the hotel's al fresco bar and restaurant with a view of Phoenix Citadel, the city's newest retail and entertainment destination. The hotel's culinary team has pushed the envelope with trendy international cuisine at Aqua and Epicenter, the hotel's all-day diner.
56 shades of Indore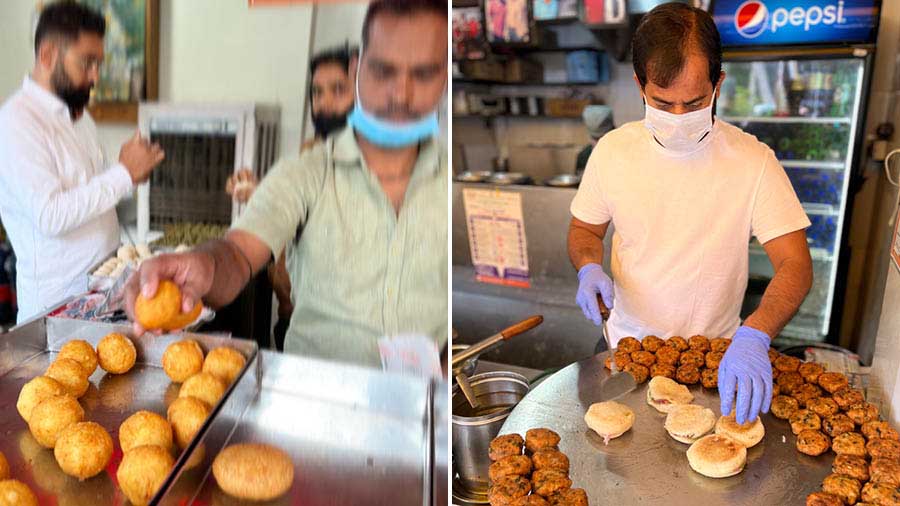 Pattice at Vijay Chaat House and (right) Johnny Hotdog at Chappan Dukan
Ashwin Rajagopalan
Nowhere is Indore's status as a clean destination more evident than Chappan Dukan, one of the many locations that has benefited from Indore's 'smart city' initiatives. This is a street-food zone that more cities should emulate. Fifty six food stalls make up this dedicated food zone with a contemporary vibe and multiple Instagram-ready photo spots. Vijay Chaat House, one of the city's iconic food establishments, has an outlet here. Try the deep-fried potato pattice with a smidgen of grated coconut in the centre. Indore's street food scene is predominantly vegetarian – this is one of India's most vegetarian cities. Johnny Hotdog at Chappan Dukan is a rare exception. The Indore spin on the hotdog is dabbed with butter and stuffed with a choice of egg, meat or vegetarian fillings.
Campus food haunts
Fun fact: Indore is the only city that is home to both an IIT (Indian Institute of Technology) and an IIM (Indian Institute of Management). This has created a slew of campus hangouts that offer a cool dimension to the city's dining scene. Wanna Puff is one such hangout that can test Google Map navigation — it's not far from IIM and offers specialty coffees and anytime comfort food including a fully loaded Maggi. Cafe Terraza in Vijay Nagar and Mr Beans are popular cafe options in the city.
Night food market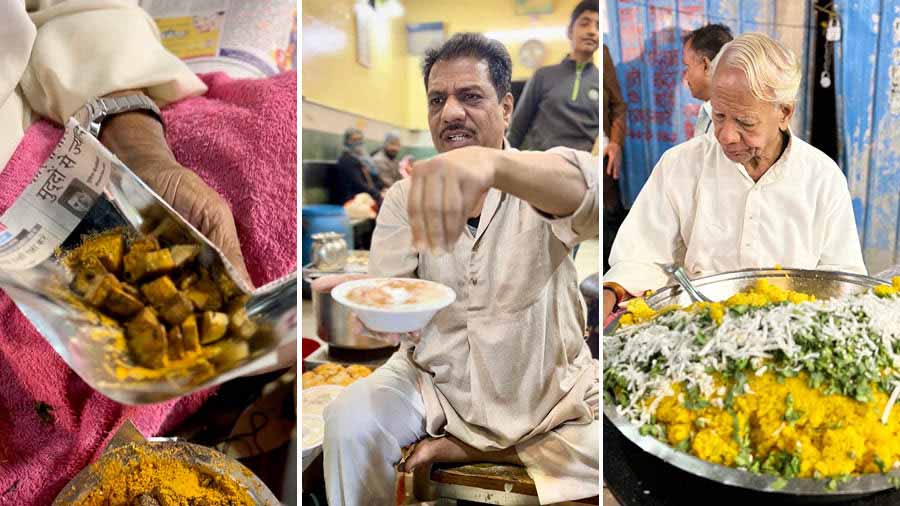 L-R: Garadu (fried yam dusted with chatpata masala), the spectacle of the flying 'dahi bada' at Joshi Dahi Bada House and 'bhutte ka kees' are some of the pop picks in the night market
Ashwin Rajagopalan
When food streets and markets in many parts of India wind down for the night, Indore's famous night food market comes to life. Sarafa Bazaar, a jewellery market by day, morphs into a bustling food market that stays open until 2 am. It's the best spot to savour one of Indore's favourite winter delicacies – garadu. Slices of yam (garadu) are tossed into large frying pans and dusted with a typical chatpata Indore masala. The market has its share of Instagram celebrities. Most visitors stop at Joshi Dahi Bada House to witness the spectacle of the flying dahi bada – the owner skillfully tosses up the dahi bada (in a cup) in a routine perfected over years. Try the popular bhutte ka kees, a dish made from mashed corn cooked with milk and spices that's best enjoyed piping hot.
Indulge your sweet tooth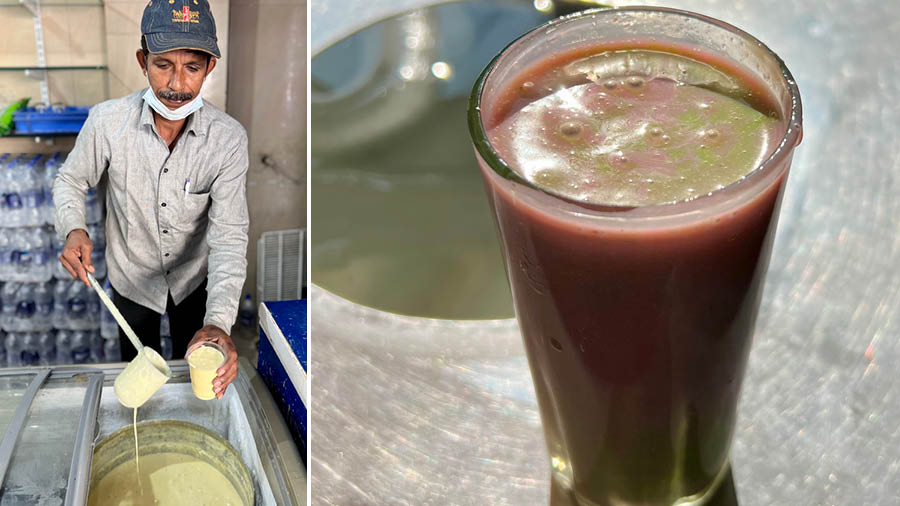 Shikanji is a glass of rabdi and milk loaded with dry fruits, while (right) Paan Gulkand Juice at Sagar Juice Centre is a refreshing counterbalance to Indore's spicy meals
I'm a self-confessed 'dessertarian', and that's one reason I find the same comfort in Indore that I experience in Kolkata's sweet shops. There's the Indori shikanji, that local sweet shops like Madhuram Sweets are famous for. Unlike the lemonade-like north Indian shikanji, this one is a thick drink with rabdi and milk loaded with dry fruits — the perfect recipe for a Sunday siesta. The paan gulkand juice (try it at Sagar Juice Centre) is the perfect antidote to Indore's spicy favourites like usal poha. Most locals will direct you to Bhanwarilal Mithaiwala that has multiple outlets in and around Indore and is best known for sweets like the Sangam Barfi and Milk Cake. These sweets are the perfect souvenirs to take home after a food trail in one of India's cleanest food cities.