Taj Vivanta EM Bypass caters to an entire crowd of patrons on the South Kolkata-Ruby-EM Bypass stretch. The quintessential fave in the region as noted by the hotel over the years has been Bengali food as well as Bangladeshi-style meals. Keeping this in mind, the hotel has come up with a Sunday brunch that has the tag line 'From the Mountains to the Seas of Bengal'. And as the name suggests, the menu is a combination of simple Bengali dishes ranging from momos from the hills, to seafood from the coastal zones as well as biryanis from the royal kitchens of Murshidabad, and even Panta Bhaat, a simple peasant dish.
The menu is a blend of live counters as well as plated and buffet dishes, making it an interactive and fun food experience. For entertainment, there is also live music that spans across genres, ranging from jazz to baul.
The Telegraph gets you the experience in a nutshell.
What: Sunday Brunch
Where: Vivanta by Taj EM Bypass
Timings: 12.30pm to 3.30pm
Pocket pinch: Rs 1,700-plus per person with mocktails, Rs 2,400-plus per person with alcohol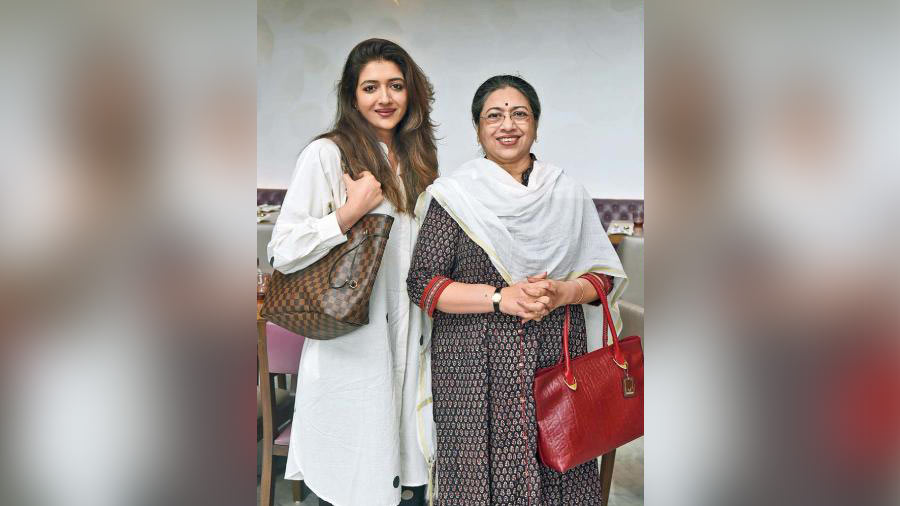 #Spotted: Mother-daughter duo Sreenanda Shankar (left) and Tanusree Shankar dropped by for brunch. While mom Tanusree loved the street food section and went straight for it in the first go, daughter Sreenanda opted for salads, as well as the live grills first.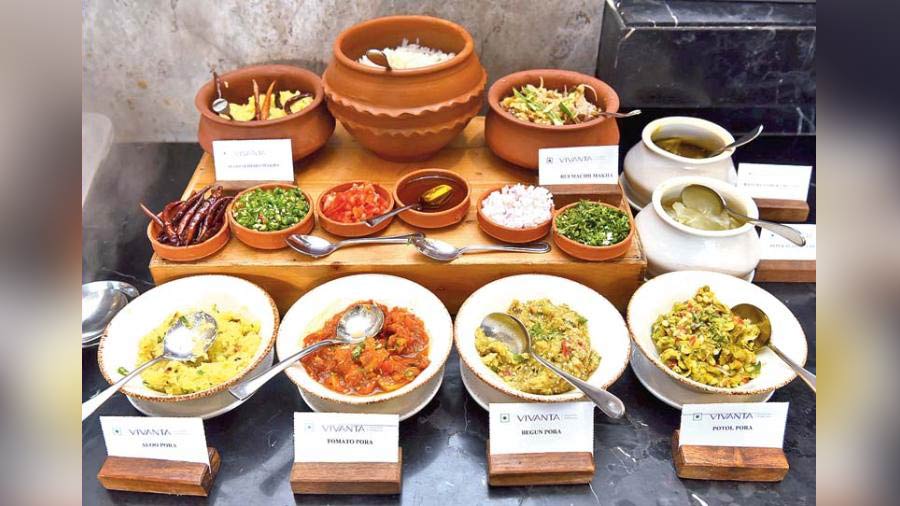 Special shout out goes to the Midnapur Panta Bhaat section that has Mourola Maach Makha and Aloo Seddho Makha to go with the rice along with varieties of bhorta, chillies, lime, tomatoes and masala to create the panta bhaat of your choice.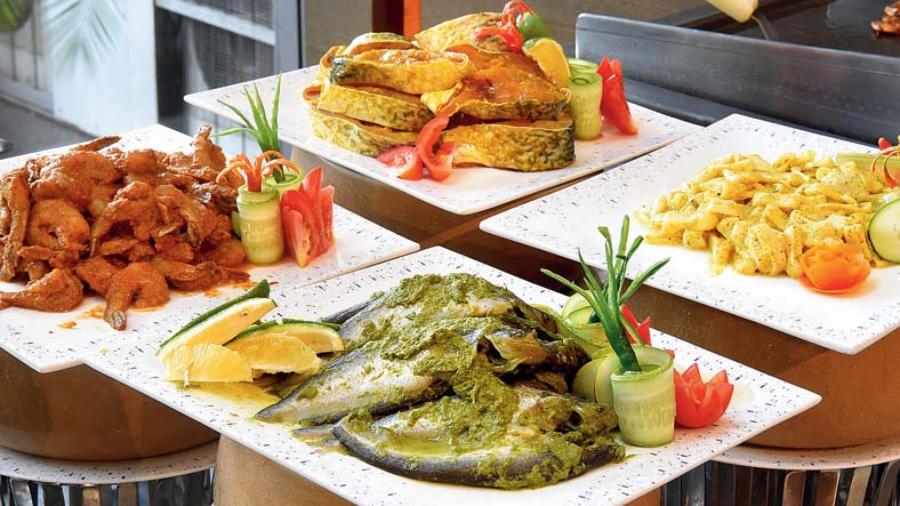 Fish, chicken, squids and prawns, the grill station was a non-vegetarian lover's hotspot with made-to-order freshly grilled protein flying off the counter.
No Bengali meal is complete without Luchi, Guri Aloo Dum and Chholar Dal, and it was the same at the brunch with a live counter to serve them hot and fluffy luchis. There was also a live chop counter that had Dimer Chop and Howrah-r Aloor Chop served fresh, with kasundi and dhone pata chutney on the side.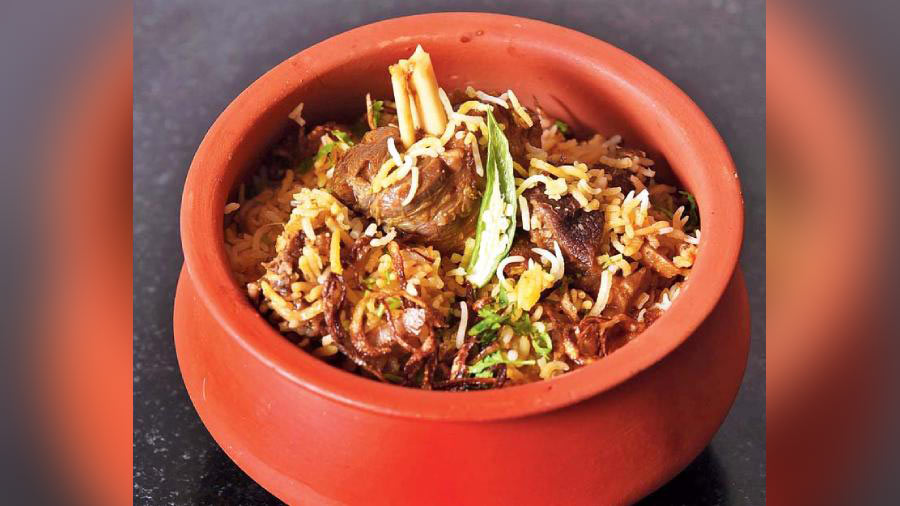 A forever favourite for most Bengalis is their biryani, and the Murshidabad Biryani Station attracted diners by the whiff of its fragrant biryani that was available in both mutton as well as vegetarian variants.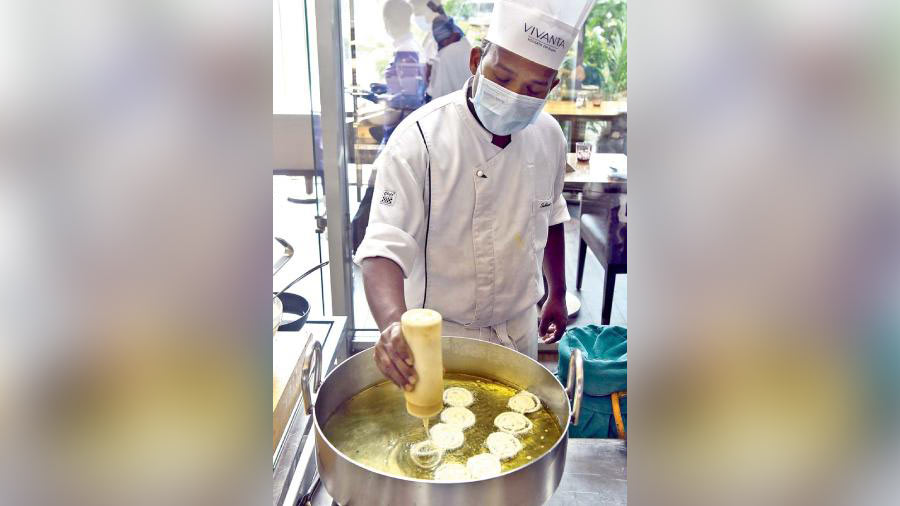 While there was an extensive dessert counter that had a mix of pastries, choux buns, Bengali mishti, tarts, entremets and more, the live jalebi station that was dishing out piping hot jalebis on a rainy afternoon was a major hit with diners.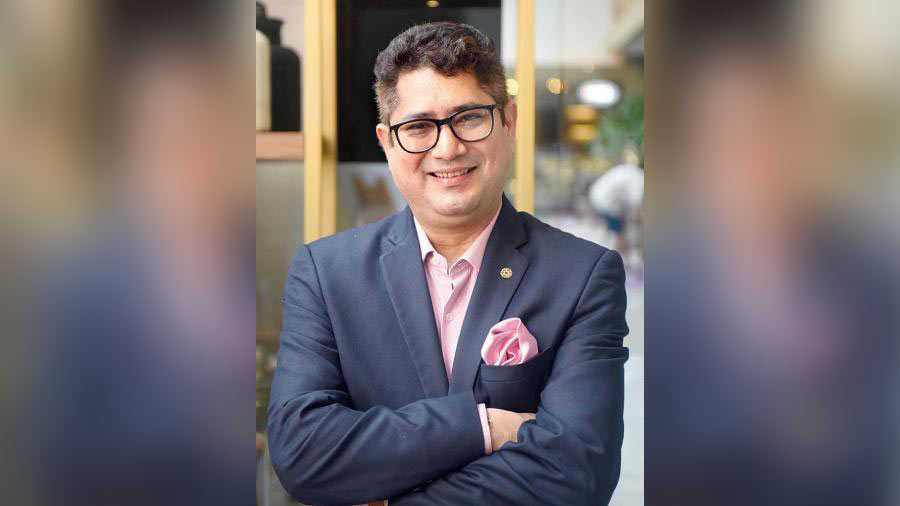 "There are many Sunday brunch options in the city, but ours is a standout because it caters to the palate of the patrons. We have a lot of Bengalis in the area, specially with a range of luxe housing spaces coming up. We want to target that audience. From luchi and dal, to chops and biryani , we've got it all covered for the gourmet Bengali audience," said Vishal Sharma, general manager, Taj Vivanta EM Bypass.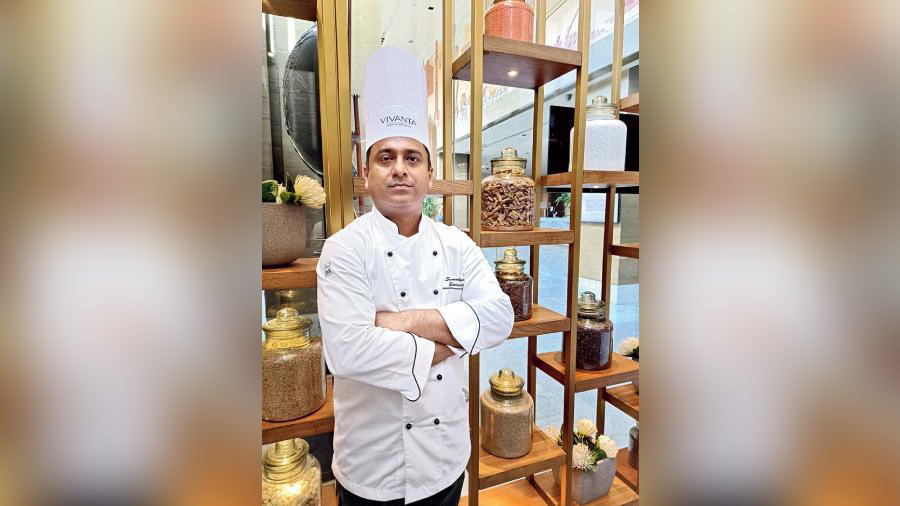 "To give you an example, we wanted to give our connoisseurs a taste of Turine-Gyathuk Meat Ball Soup the way it is famous in Darjeeling, a Murshidabadi Gosth Biryani in an earthen pot from the kitchens of Murshidabad and a Chicken Steak with Bow Barrack Vin Demi Glaze, which epitomises the flavours from Anglicised delicacies of Calcutta. The sumptuous spread will also house dedicated sections consisting of delicacies from the Italian oven, the mandatory selection of all-time favourites consisting of European and North Indian delicacies and Tangra wok, comfort food and an eclectic array of desserts and traditional confectionery for the sweet tooth," said Sumalya Sarkar, executive chef, Taj Vivanta EM Bypass.
Pictures: B. Halder