Young Indians Kolkata organised Solar2Solstice, a poolside party for its members by JW Marriott Kolkata's expansive infinity pool on August 6. The breezy afternoon by the poolside had some well-heeled ladies and gentlemen in attendance. Having drawn inspiration from various luxurious international beach clubs, YI Kolkata, which is the youth wing of the Confederation of Indian Industries, hosted a fun and luxe event.
DJ Yafi kept the party-hoppers grooving to some Tribal and Latin House music with a blend of old as well as contemporary popular numbers. Energy level soared on the dance floor as the DJ made guests revel in 90-minute melodic techno tunes set with a few PSY numbers. Bollywood beats towards the end extended an added charm to the party. It was one truly pleasing, light-hearted afternoon of celebrations with a lot of hearty laughs shared over some sumptuous food and fine wine.
Speaking on the occasion, Riddhi Jain, Yi Kolkata members' engagement chair, said, "At YI Kolkata, we are doing some amazing work. We are doing our bit towards nation-building and today's party is a gesture to celebrate the amazing work the members have been doing. I hope everyone is having a fabulous time here today. We work hard at YI, and party harder. We all come together like a family and celebrate what we do."
Commenting on how the venue resonates with the spirit of the party, Neha Patni, Yi Kolkata members' engagement joint chair, said, "JW Marriott was the first venue that came to my mind the moment I thought of having a poolside party. This place just exudes so much vibe and grandeur, exactly what we wanted to give our guests."
Sonam Karnani, Yi Kolkata members' engagement socials chair, said, "It's a celebration of our fellow members. The vibe is crazy out here. The decor is just next level, complementing the aesthetics of this place overlooking the flyover, besides the bliss of this beautiful infinity pool and the spectacular city skyline visible from here."
"The flavour of the season is beach club, considering all the top luxury fashion brands have opted for beach clubs. So we decided to transport the ambience here, with the perfect blend of a lot of colours and the mesmerising infinity pool adorning our pool deck party. We just wanted to pamper our members a little bit. It's their day, they should relax, breathe and enjoy the decor," said Rohit Patni, Yi Kolkata Chapter chair.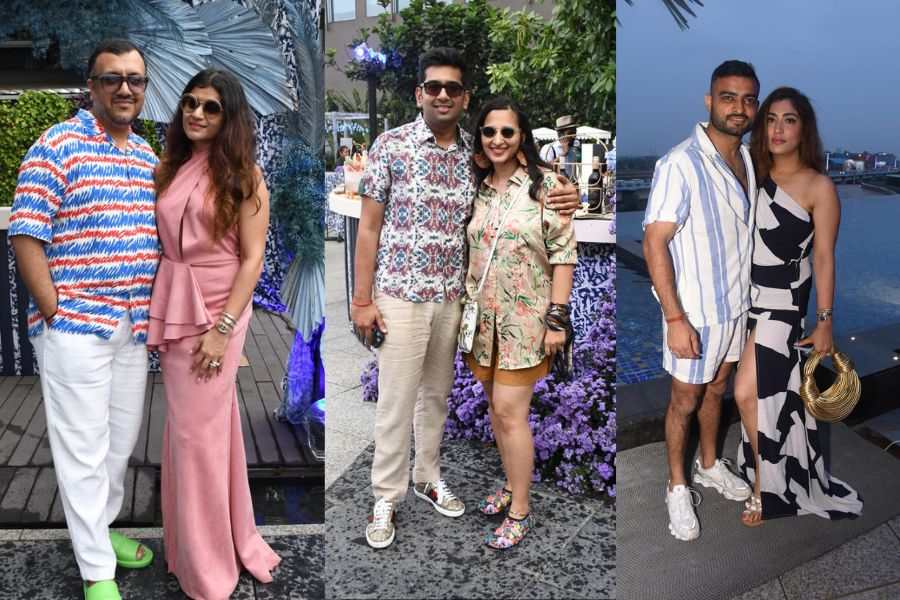 (L-R) Anil and Sweta Agarwal; Baibhav and Priyanka Agarwal; Rahul and Alankrita Soni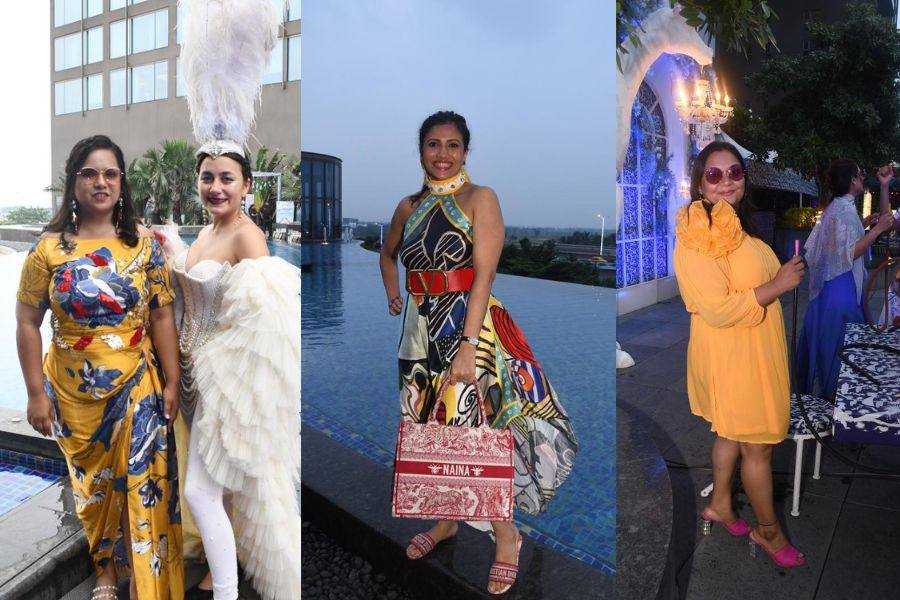 (L-R) Riddhi Jai; Naina Patni; Surbhi Jain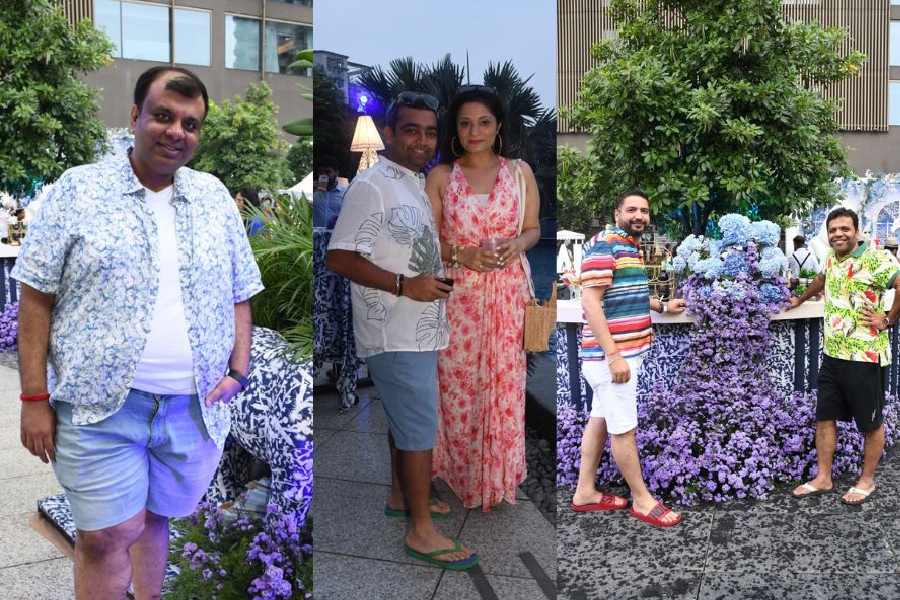 (L-R) Anirudh Poddar; Varun Sarda and Anisha Chadha; Anand Banka and Rahul Agarwal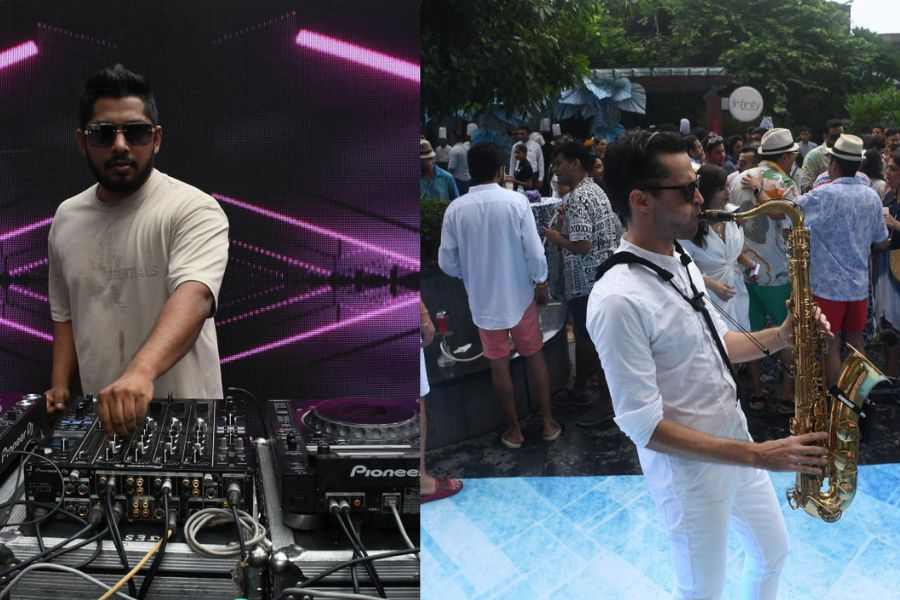 (L-R) DJ Yaf; Spanish saxophonist Antonio Garcia
On the menu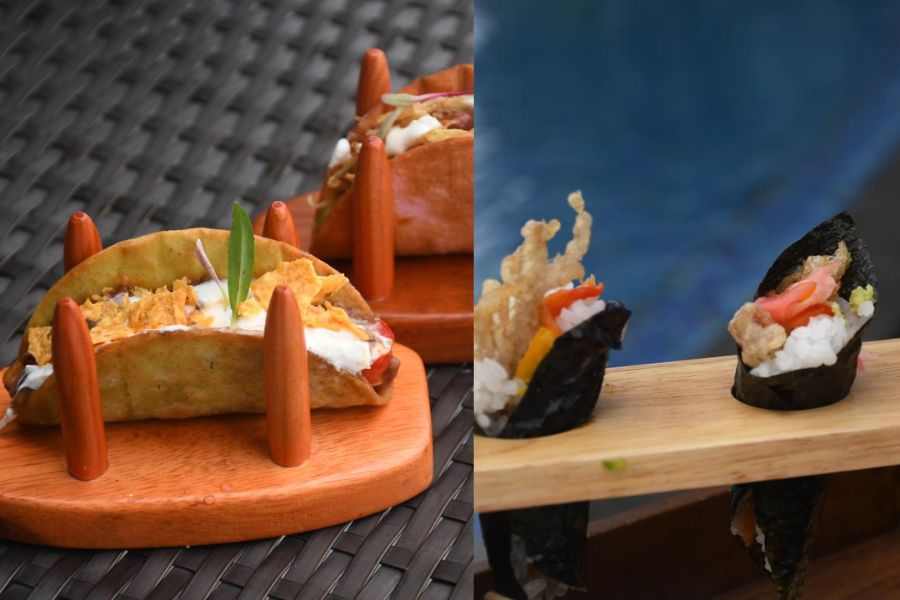 (L-R) Avocado and Cream Cheese Taco Bar made of fresh avocado, Arugula, sesame, Yuzu soy and edible flower was a top pick on the menu; Yasai Tempura was everyone's favourite