Kolkata concluded its Pride Month celebrations with Pride Walk on December 18 and as someone who has been attending the event since 2017, Sunday's march was nothing like the earlier ones. It was more electric, more fun as more people from different walks of life joined in solidarity with the LGBTQIA+ community. 
Kolkata Pride Walk is considered to be South Asia's oldest Pride Walk. The first march in India was held in Kolkata in 1999 and was known as the 'The Friendship Walk'. Kolkata has been the chosen hub of such a movement because of its history of hosting several human rights movements, holding a torch to, among others, issues concerning children and Dalits.
Nearly 3,000 people attended the 17th edition of Pride Walk as it returned to the city after a two-year hiatus. It was fascinating to be present among a community so kind and giving. To me Pride is about celebrating Black transwoman Marsha P. Johnson who stood up and fought for gay rights. When I celebrate Pride, I celebrate her.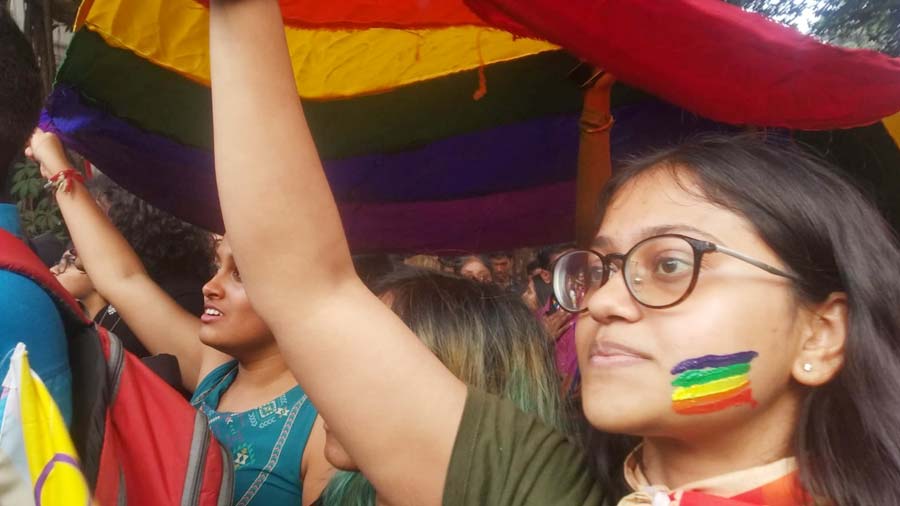 Several participants painted their faces before joining the walk
I saw people dancing, sloganeering and singing during Sunday's march. We need Pride because it's a way to show up and lend support to the community which has been oppressed and exploited in a heteronormative patriarchal society since time immemorial. And frankly, there hasn't been much change to the status quo.
People clad in rainbow colours walked and danced their way through the streets of Kolkata boldly to make their presence known, to raise their voice against the oppression and to fight for their basic human, queer rights. Pride Walk is about fighting for rights of intersectional equality.
There was a lot of cheerful bonhomie among the participants of the 17th Kolkata Pride Walk. It was such a wholesome moment to witness queer people walking hand in hand alongside their partners, allies who came out in support, making space for others, raising awareness with their witty placards, shouting 'azadi' while walking through the streets, waving the Pride flag.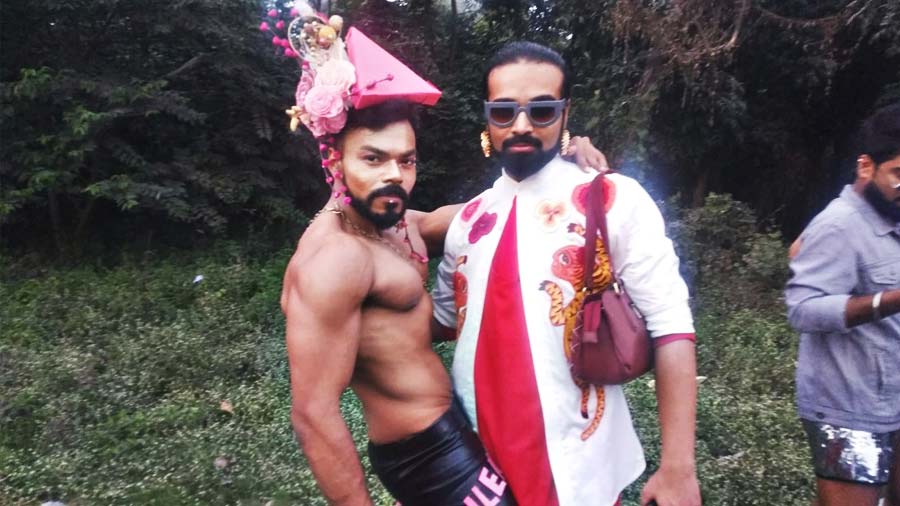 Pushpak Sen aka The Bong Munda with (left) Bhaskar Das, one of the organisers of Kolkata Pride Walk
Ruprekha Dutta, a resident of Kolkata who is studying in Italy, attended the Pride Walk for the first time, which started from Park Circus Maidan and ended on Mayo Road via Park Street.
"I've started attending Pride this year. To me, Pride means like a way to show support to the community of LGBTQIA+. It was amazing to see so many different people, see their performances and to see others who have come together to show support and walk through all the time," she said.
Shreya Banerjee, a 23- year-old Kolkatan, said, "Pride means a form of expression, Pride means freedom, Pride means love to me. It means supporting the LGBTQ community. I felt so inclusive on Sunday. There were so many colours, people were so bold, people were expressing themselves out loud, being there and also the kind of talent these people have, it was mesmerizing to watch them perform."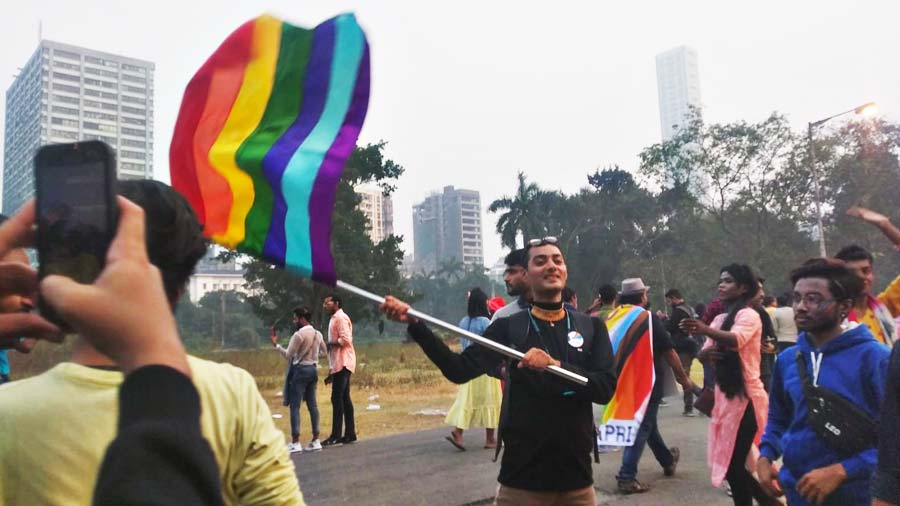 Participant waving the Pride flag at Maidan
Shayanki Roy Chowdhury, who also attended Pride Walk for the first time on Sunday, said she couldn't have been happier.
"Pride means revolution to me. Pride means a day to remember and be thankful for the Stonewall uprising and the ample number of activists fighting every day to ensure basic rights and to stop the atrocities against the LGBTQA+ community, it also means rebelling against multiple issues that we collectively face as a society such as casteism, sexism, transphobia, racism, capitalism, and the list goes on. Lastly, Pride means loving who you are and being comfortable in your skin," she said.
Throughout the time I was at the walk, one thought kept coming back to me. This is home. This is my city showing solidarity. It felt good.
"I have been attending Pride walks for eight years now," Shrey, another participant, said as if echoing my thoughts.
"Pride is a sense of belonging. It's like finding family and acceptance in a place least expected. We walked, danced, and raised slogans, it was like a big family reunion," Shrey added.