Both Ushoshi Sengupta and her passion child Playfest, in association with The Telegraph, are back 'break ke baad'. And, the smile on Usho's lips and the spring in her steps will tell you how keen she has been to stage the third edition of the fashion-music festival. In the run-up to the July 21 extravaganza at JW Marriott Kolkata, the Miss Universe India 2010 tells The Telegraph what's in the pipeline this year and the kind of work she is looking to do going ahead.
Playfest is back after a break...
Yeah and I am really excited to start the journey again. Covid was difficult for everybody. This season is more exciting. The idea of getting back on ramp and a physical show... the idea of getting back to that buzz is exciting. I really think that we missed this.
But it has been difficult, right? You were planning it last year too...
It has been. We were planning it in 2021 too and when things were about to start, the third lockdown happened. That's when I think a lot of us were down with Covid. I am glad that now vaccines and boosters are available and people have access to them and they have started going back to the physical space and the entire industry has opened up.
What is the line-up this year?
We have Nehha Nhata from Kolkata who is showcasing for the first time and Rajdeep Ranawat from Delhi. We have our pool of models from Kolkata, all my colleagues will be there and we also have Candice Pinto coming down for the show. Rajdeep was quite excited to merge Kolkata's jazz music with his collection. Shakir (Shaikh) is choreographing our show, Sandy has styled our campaign, Somnathda (Roy) has shot it and Mainak (Das) has done the make-up.
This year we have also associated with Kolkata Thunderbolts and we'll have their captain Ashwal Rai walk as one of the showstoppers.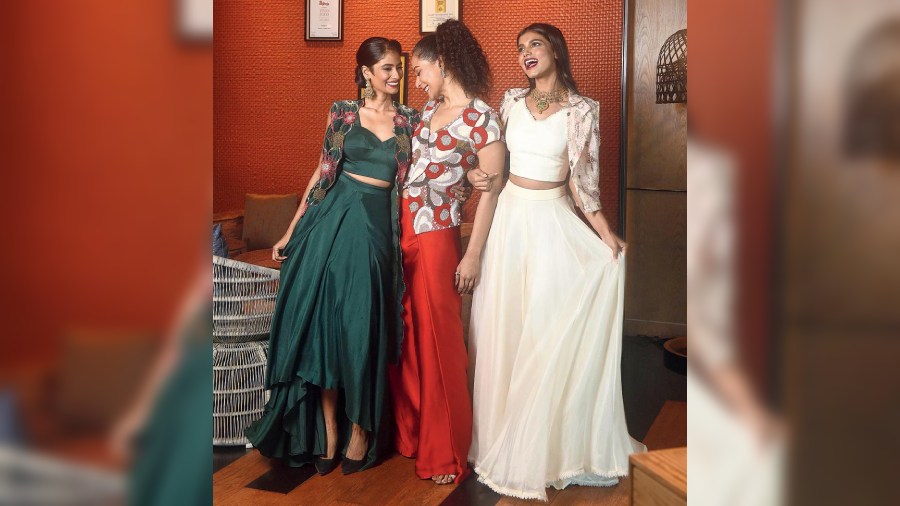 (L-R) Priyanka Das, Ushoshi Sengupta and Ankita Singh are all giggles, dressed in Nehha Nhata's rich hues. "Most of my garments are inspired from nature and my travels. I am excited and grateful to Ushoshi for the opportunity," says Kolkata girl Nehha.
Are you nervous?
More than being nervous, it's always the excitement of the show and we have really worked hard for it. Putting up an entire event is not easy, especially when you are doing it yourself. There is a lot more passion involved. This season is a tribute to two of my friends who were part of Playfest who I lost during Covid — Ram Indranil Kamath and Viraj Rai. And, every year we remember Sonu (Sonika Chauhan) through our platform.
Playfest has always been about friends, which is heart-warming...
Till the time I am capable, I would like to do something in my city where I can bring my people together for that one day to celebrate fashion. I know a lot of girls and boys want to take up modelling and they are often misguided. I hope Playfest can serve as a community through which they can reach out to their role models. I am so excited to have Priyanka (Das) and Ankita (Singh) for the shoot. It's a first for both of them. Genuinely for me, it is about putting my city back on the map. In our own way, we are all trying to do that. Whether it's our sponsors or partners or JW Marriott Kolkata, our team is the same from Day One. That makes me proud. Play is a space where we are celebrating the experience of bringing people together. In the next few years, my vision with Play would be to get unique experiences where we look at lifestyle, food, beverage.
The Ushoshi organising Playfest in 2019 and the one now, how has she changed? You are for sure calmer!
(Laughs) The person I am right now has easily learnt to accept that things that don't work out, let it go. The fact that we have to let go of people and opportunities and experiences... that's what Covid taught me. What works works, what doesn't... it's fine. I used to be a perfectionist. The me right now is much calmer. I give it my 100 per cent though. I want to make every day of my life 'play'.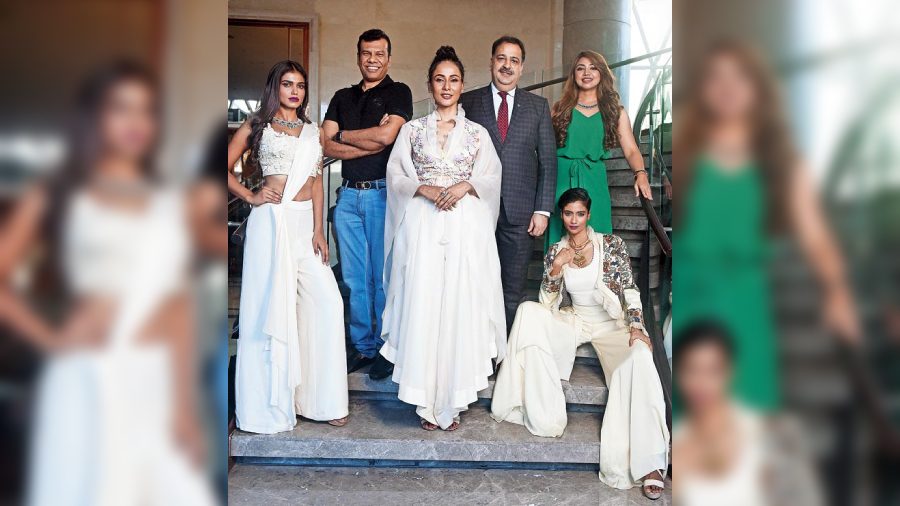 (L-R) Ankita Singh, Abhishek Kajaria of Avama Jewellers, Ushoshi Sengupta, Sumeet Suri, general manager, JW Marriott Kolkata, Nehha Nhata and Priyanka Das at the preview photocall at JW Marriott Kolkata. Avama Jewellers and JW Marriott Kolkata are the collaborators with Playfest this year. "I am excited to have the 'Play' Season 3 back again at the JW Marriott Kolkata. The city is back on its feet and Gold is a perfect venue for the evening," says Sumeet Suri. Ankita, Ushoshi and Priyanka are in Nehha Nhata outfits.
Was Playfest never coming back because of the circumstances, an anxious thought?
You know actually, but every time I met people, they would keep asking: 'When are you doing Play?' (Laughs) Every partner said 'yes' on Day One. The support and faith tells me that we are not going to stop. I realised as humans, we cannot live without another human. Play is a community for me. The last couple of years have taught me if you have trust, the right kind of help will come.
And, like Playfest, you also took a break from work...
The first love of my life is me. If I love myself, I can keep 100 people happy. In the last two years, one thing that was constant in my life was my family. I got a lot of time to spend with my parents, sister and dog and I realised that love is something that never binds you, but often there is a guilt and shame attached to what you want to do. I will continue to love doing what I do. Money is not the only thing that drives. (I cut down on work consciously) because it was draining me out. You really need to wake up and love doing what you do. The last two years were anxious times. I will work till I die. I think I have that from my dad. He started working when he was 16 and till date, he will find something to do. The kind of projects I will do will have to creatively engage me. I am a people's person. Play gives me a lot of love. That drives me. I am lovesick. A person with love can never be poor.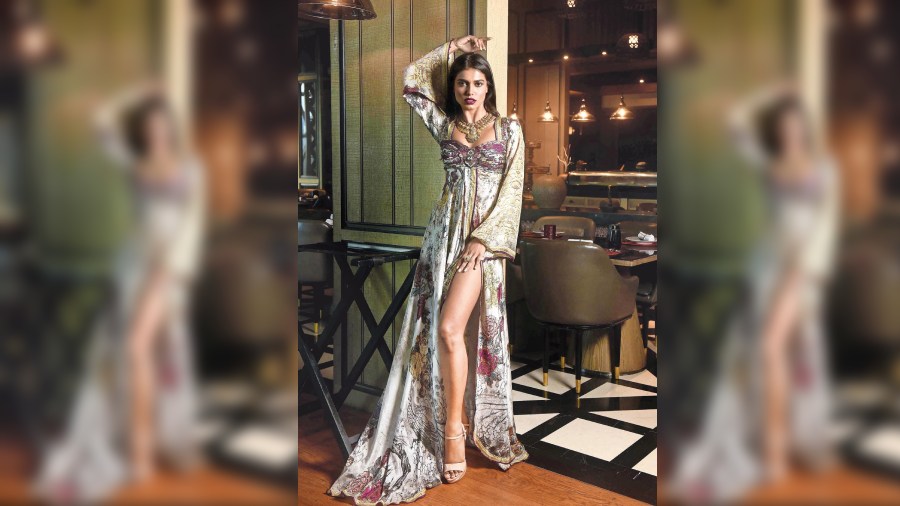 Ankita Singh looks gorgeous in a Rajdeep Ranawat design. "We would be showcasing our latest festive launch for this year, 'Sayuri' inspired by the Japanese movie Memoirs of a Geisha. The collection is a fine blend of Indian silhouettes and aesthetics fused with the intricate details and fine floral embroideries of vintage Japanese kimonos as prints on pure silks. Highlights of dazzling Swarovski crystals and delicate hand embroideries make this collection an elegant staple for any wardrobe," says Rajdeep. He is eagerly looking forward to Playfest. "Playfest is a fabulous foray into showcasing the best of the talents from the country and sprucing up fashion scenario in Kolkata as well," he says.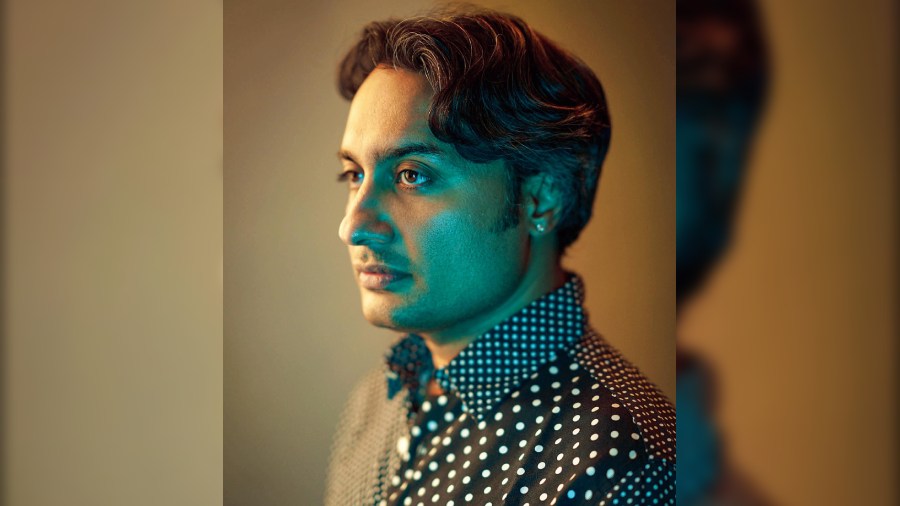 Rajdeep Ranawat
Pictures: Pabitra Das
Location: JW Marriott Kolkata
Hair and make-up: Mainak Das
Styling: Anupam Chatterjee
Jewellery: Avama Jewellers