Twenty English language teachers from government-aided schools of West Bengal have undergone a comprehensive training on effective teaching in a first-of-its-kind initiative by the US Consulate General in Kolkata for the Department of School Education.
The TESOL Core Certificate Program (TCCP) is offered by the US Embassy in New Delhi in collaboration with TESOL International Association (Teaching English to Speakers of Other Languages). The participating teachers were nominated from various districts like Midnapore, Murshidabad, Sagar Islands and Birbhum.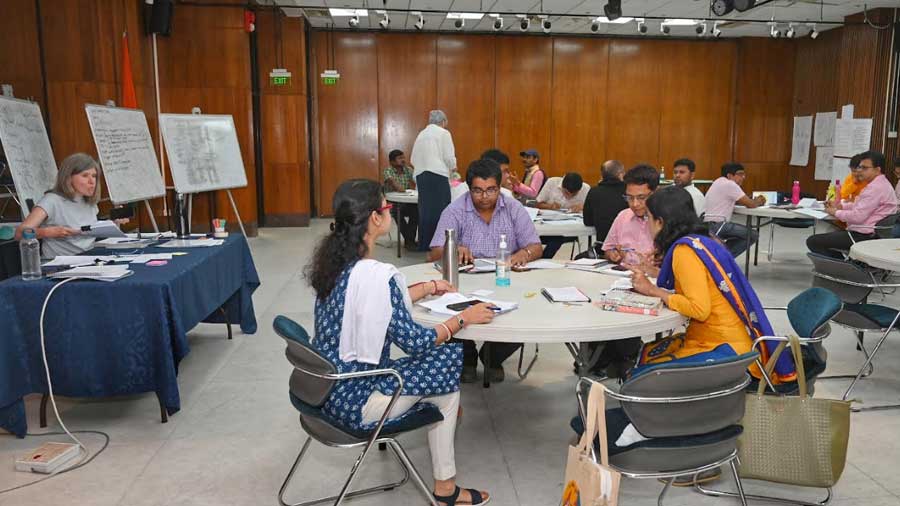 Participants, in small groups, engage with each other during a training task
The aim of the TESOL program is to enable teachers to take back innovative and adaptive teaching methodologies to simplify texts for their students who come from diverse backgrounds and where some are even first-time learners.
"We worked with the West Bengal government for the first time on the TESOL course and they were very helpful. The participants are people who are practically in their mid-career and want to upskill themselves and I think it's going very well," said James Moore, public diplomacy officer, American Center Kolkata.
The program is being conducted in three phases. The foundation course on theoretical nuances was held virtually in February. The in-person training, which began on April 18, is a two-week activity-based curriculum focusing on the use of various teaching aids like music, theatre, craft, art and poetry.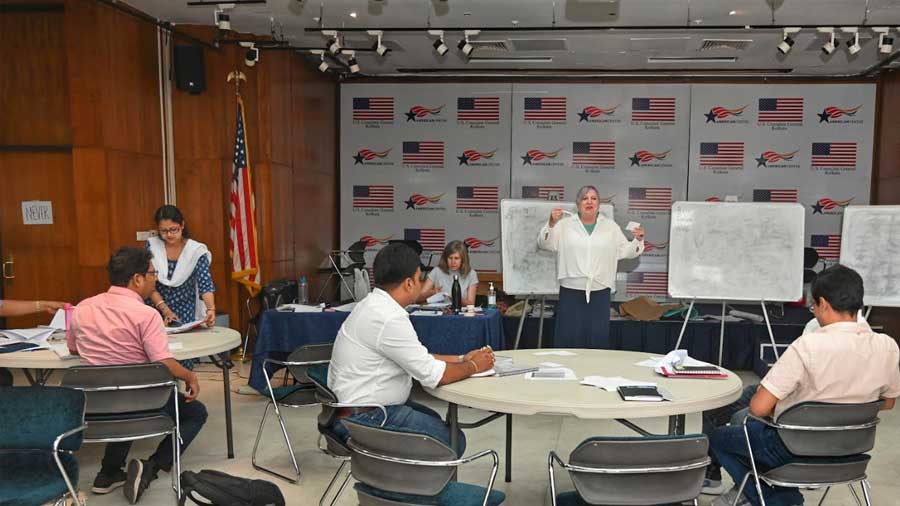 Trainer Lisa Mann addressing the participants and introducing them to teaching methodologies in a classroom
The third phase, or the practicum, is scheduled in mid-May or June; this would enable the participants to implement the techniques learnt so far. The sessions were facilitated by TESOL trainers Lisa Mann and Wendy Colson at the American Center Kolkata.
The 20 teachers have been equipped with a student-centered teaching process so that young people of varying intelligence levels can be accommodated. They trained in transitioning from teachers to facilitators, and picked up ways of teaching a text through body gestures, graphics, skit and music.
"This course is benefitting me because I can cater to the needs of students with multiple intelligences. In phase three, we will have practice teaching and I hope to use the learnings here in my classrooms. The first thing I would implement is collaborative group work. Each student will participate and contribute in the group work. Even the shy ones will be motivated to participate," said Chandrima Sarkar, who teaches Classes VI to XII at Bethune Collegiate School, Hedua.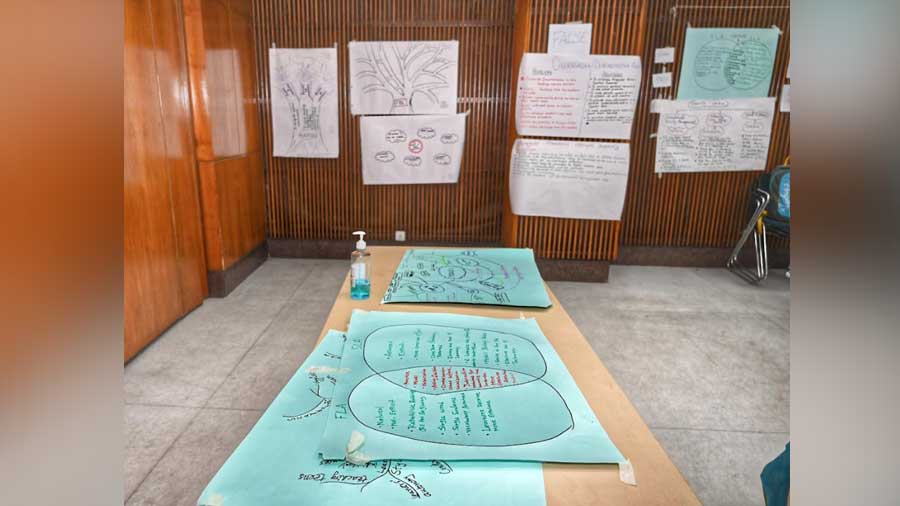 Charts and notes prepared by the participants during the training period
Mijanur Shah, who teaches Classes V to XI at Ramakrishna Mission Vidyalaya, Narendrapur, feels this would be an effective way to engage students who often don't respond to the teaching. "Here we are learning how to modify the teaching so that every student can be engaged by the teacher through tasks. I have talked to our Maharaj [ headmaster]. He has promised to provide me with resources to initiate the implementation of these activities in our classrooms," said Shah.
The teachers will be awarded certificates of completion of the foundation course on April 30, which also marks the conclusion of their in-person training course.